Managing construction projects is like being in a race against time on a track littered with unpredictable twists and turns. Challenges are part of the usual daily schedule, and if the issues they bring are not dealt with accordingly or prevented from taking place, productivity will suffer.
Low productivity is an ongoing issue in the construction industry, occurring on a global scale. An in-depth study of this problem reveals that the construction sector has only recorded a 1% growth in productivity in the last two decades. Although there's quite a number of underlying issues that hold the productivity rate down, including poor communication, the most prominent would be the slow adoption of technology that can help address scheduling issues. According to a recent report, 40% of construction businesses still stick to paper and pen tools. While this could have worked before, this traditional approach can no longer keep up with the scheduling demands of the digital world.
Technologies dedicated to construction management and planning have been in existence for some time now, and construction scheduling software is among them. In this article, we will give you the best software solutions in the market, as well as walk you through how they work and how they can benefit construction companies.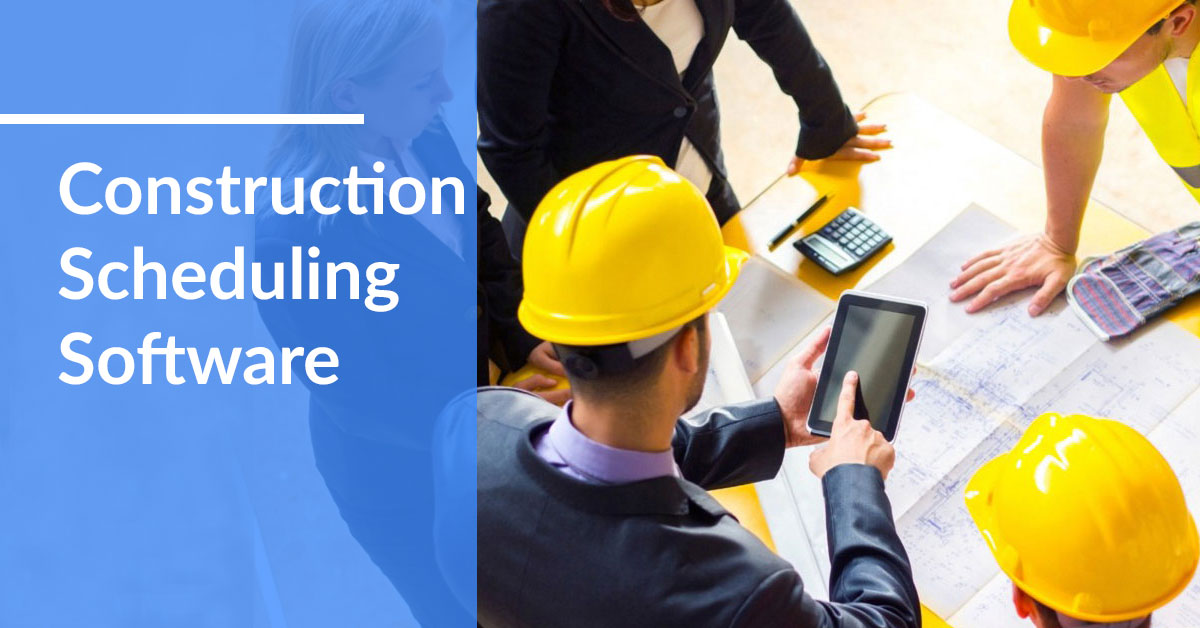 Construction Scheduling Software Table of Contents
What Is Construction Scheduling Software?
Construction scheduling software solutions help construction project managers and companies in planning and organizing projects to deliver quality work within the scheduled time frame. This involves planning and creating a proper timeline not only for tasks but also for the staff, subcontractors, and other teams involved in the project. Some software solutions also have other tools for collaboration, communication, document management, and more to create a centralized platform for the core functions needed in managing construction-related schedules.
List of Best Construction Scheduling Software
We look through some of the leading construction scheduling software today and below are those that emerged on top of the list:
Toggl Plan: This construction scheduling software is free, easy to use, and highly visual.
Created for teams and companies involved in residential construction projects, Toggl Plan simplifies the scheduling process by creating a color-coded visual overview of the entire project schedule. Using the app's drag-and-drop function, you can set milestones, create checklists and memos, and assign tasks to one or multiple people. You can also upload files and allow team members to collaborate on specific tasks by using the comment and mentions function. Toggl Plan integrates with third-party applications, including Trello, GitHub, Google Calendar, Slack, and more. As for the pricing, this construction scheduling solution is free for a team of five users or less. If your team has more than five users, you will have to pay $8 per user per month (billed annually), which also gives your team access to the premium features.
CoConstruct: This is a comprehensive software solution that manages construction projects from the bidding stage to invoicing clients. CoConstruct also provides robust scheduling tools that encompass every stage of the project, which include keeping track of job site activities and the progress of all assigned tasks. Coordinating schedules and tasks between office and field teams is also possible using CoConstruct's single list view. Other tools offered by CoConstruct are tracking of change and order expenses, file and photo sharing, communication with clients, mobile application, accounting system integration, and more. Pricing starts at $49 per month.
Procore: A scheduling integration software solution for construction, Procore leverages the traditional Gantt chart view for project managers and teams to stay on top of scheduled tasks. Views can also be customized to calendar view

—

daily, weekly, or monthly

—

so you can focus on more urgent deadlines. Aside from filtering, Procore's advanced search tool can help you find the information you need faster. Procore integrates with Microsoft Project, Oracle Primavera, and other third-party applications. Pricing starts at $375 per month, billed annually.
Pro Crew Schedule: This construction scheduling solution streamlines the scheduling management process. Pro Crew Schedule provides powerful monitoring features that can track daily productivity hours down to the last minute. These monitoring tools not only help ensure that all tasks are being accomplished within the scheduled timeline but also make sure that the productive hours being recorded are accurate for payroll purposes. Pro Crew Schedule also offers data storage for free, team communication tools, and a dedicated mobile application. Pricing starts at $99 per month for a team with a maximum of three users.
monday.com: Primarily a collaboration and communication platform, monday.com offers advanced scheduling capabilities for different industries, including construction businesses. This highly customizable software solution is designed to enhance collaboration among teams and team members, whether on-site or on the field. monday.com utilizes a unique board concept for task scheduling and progress monitoring of individual team members and the whole team. Pricing for monday.com starts at $49 per month ($39/month if billed annually) for a maximum of five users.
STACK: This free cloud-based software solution provides a comprehensive suite of tools for managing all types and sizes of construction projects. STACK's primary function is to provide qualitative and quantitative estimations of construction materials to contractors and subcontractors. By delivering accurate estimations, STACK helps prevent issues that may arise later on due to inaccurate estimates. STACK is also equipped with a robust calendar management tool to help teams plan and ensure that all tasks are progressing smoothly. STACK's free plan is limited only to two concurrent projects. If you would like to upgrade to paid plans, pricing starts at $999 per user per year.
Corecon: Also a web-based construction management solution, Corecon offers a scheduling module that simplifies not only the scheduling process but also monitoring. Corecon's scheduling module encourages active collaboration and open communication among team members to avoid communication gaps that can result in serious issues later on as the project progresses. Corecon also supports importing schedules from Microsoft Project and Excel files, utilizes shared project calendars, and allows for easy sharing of schedules in PDF format. As an independent solution, Corecon supports third-party integrations with accounting systems, such as Intuit Quickbooks, Sage 50, and Xero. As for the pricing, Corecon Technologies only offer quote-based plans.
RedTeam: Created for contractors, this software solution utilizes the Gannt schedule and calendar to ensure that projects and tasks are on the right track. RedTeam's flexible system adjusts as the project moves to different phases, allowing for more organized and systematic progress tracking and monitoring of deliverables by different teams. This cloud-based solution also offers finance-related features, such as invoice tracking, customer billing, financial overview, and others. Pricing starts at $4,200 a year.
ComputerEase: This is a fully integrated platform for construction project management, job costing, payroll, purchasing and inventory management, and more. Under its project management suite is an intuitive scheduling module that takes care of all factors necessary for successful planning. These factors include having a timeline for each phase of the project, efficient and balanced task allocation, and flexibility to adjust according to the needs of the project. The pricing for this software solution is also quote-based.
PlanGrid: This intuitive software solution is the first one to utilize RFI (request for information) functionality. PlanGrid's RFI technology provides an end-to-end solution to all processes, including scheduling and project monitoring. Other features include issue tracking, auto hyperlinking, progress photos, and more. PlanGrid's paid plans start at $49 per month ($39/month if billed annually).
Features of Construction Scheduling Software
Some construction scheduling solutions are integrated into project management or other software solutions. Below, however, are some of the key features that you can commonly find among construction scheduling tools:
Project schedule/task creator. This lays down the foundation of the project schedule. This feature must also be capable of assigning tasks and projects to individuals or teams.
Comprehensive project dashboard. This helps project managers and teams keep track of project status at a glance.
Document support. Construction projects involve important files and documentation, and having the ability to import data from external documents or upload them directly to the scheduling tool makes the process more efficient.
Mobile app. Having a dedicated application for mobile devices makes managing schedules on job sites easier. This also prevents data loss, which has a higher chance of happening when using the traditional paper and pen approach.
Multiple project views. Those who have been in the construction business for some time may be more familiar with Gann charts, but it is also important to have other project view options, such as calendar view, timeline, mind map, and more.
Benefits of Construction Scheduling Software
Having a good construction scheduling solution brings the following advantages:
Better organization. Tasks and projects are all laid out in sequence, each with its own timeline and responsible teams or individuals.
Enhanced efficiency. Construction scheduling solutions come with automation tools for manual tasks to save time and reduce the risk of human errors.
Flexibility. Construction businesses' unpredictable nature requires teams and project managers to be more agile. While construction scheduling solutions help reduce unforeseen circumstances that can affect the progress of a project, they are also designed to quickly adjust to sudden changes while keeping everything on the right track.
Factors to Consider When Buying a Construction Scheduling Software
Construction scheduling solutions features can range from basic to sophisticated, and they can cost zero to thousands of dollars. But disregarding both features and the price, here are some of the things you should consider when browsing for a construction scheduling solution:
Deployment. Cloud-based solutions are currently more popular and cost-effective, but on-premise construction scheduling software also have their own sets of strengths. To determine which deployment suits your business better, assess the benefits and disadvantages of each when applied to your business operations.
Accessibility. Being in the construction business means that you will have teams working in various locations. A scheduling software accessible from different devices and locations keeps your project's data updated in real-time without the need to manually log in reports and project developments.
Ease of use. Software solutions with straightforward interfaces reduce the time needed to train new users.
Integrations. Scheduling affects other aspects of business operations, particularly documentation and finance-related aspects. The ability of your construction scheduling software to integrate with accounting systems, document management software, and other relevant tools drives better efficiency.
Latest Trends in Construction Scheduling Software
SaaS products. Software as a Service (SaaS) tools are web-based solutions that have become popular due to the extensive list of benefits they offer, including lower cost, easy implementation, accessibility, improved collaboration, and easy integration.
Mobile applications. Construction managers are always on the go, and having mobile access to the construction management system can help them stay productive both in the office and in the field.
Potential Issues in Construction Scheduling Software
User adoption remains as one of the leading issues not only in construction scheduling software but construction software solutions in general, including construction project management software. Despite the known benefits software solutions like construction scheduling offers, there still are companies that are hesitant to break away from traditional methods. One of the reasons behind the decision to stick to old practices is the challenge brought by learning new technology. This mindset, however, can be reversed by having a better understanding of how construction businesses can grow and benefit from construction scheduling software solutions, among others.