Nobody wants to file for bankruptcy, be it from business insolvency or an individual's inability to pay for personal loans. Aside from its usual adverse effects, filing for bankruptcy is a complicated and cumbersome process.
In addition to the related consultation, attending to bankruptcy preparation, filing, and management is a time-consuming task for any attorney and paralegal. These legal professionals also need to carefully monitor their clients' data as well as keep them accessible and secure.
All of these demands can be efficiently addressed using the right bankruptcy software. It's good to know that today's bankruptcy platforms can offer all the necessary tools and much, much more. We've prepared this article to provide you with the critical information on today's top bankruptcy software systems, their core features, benefits, and other key aspects.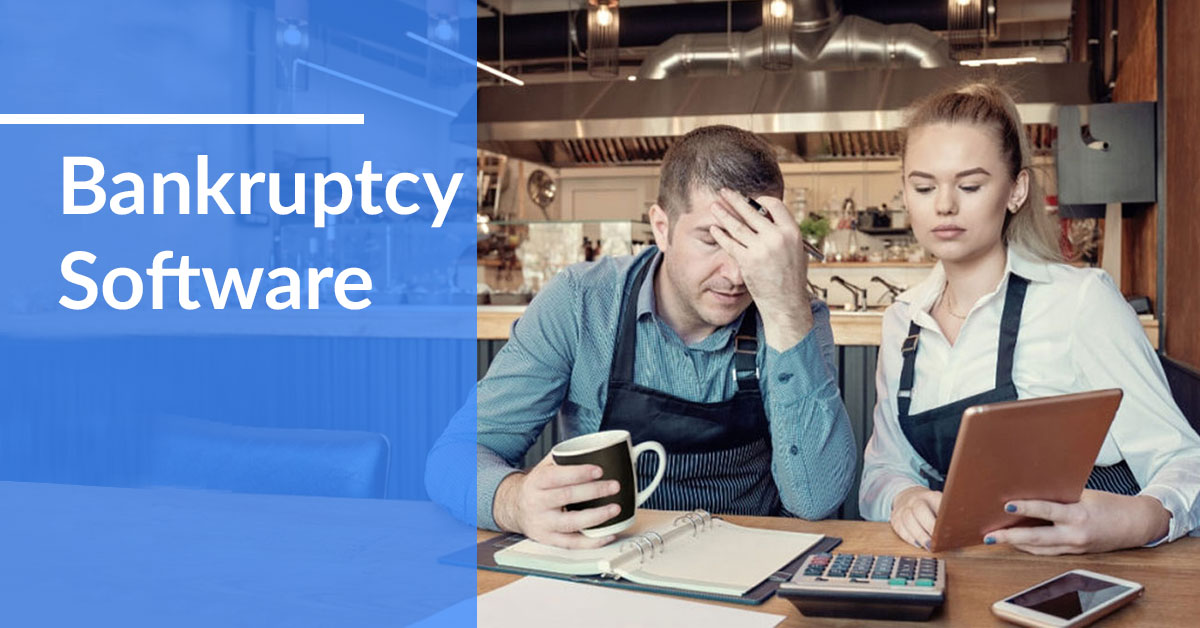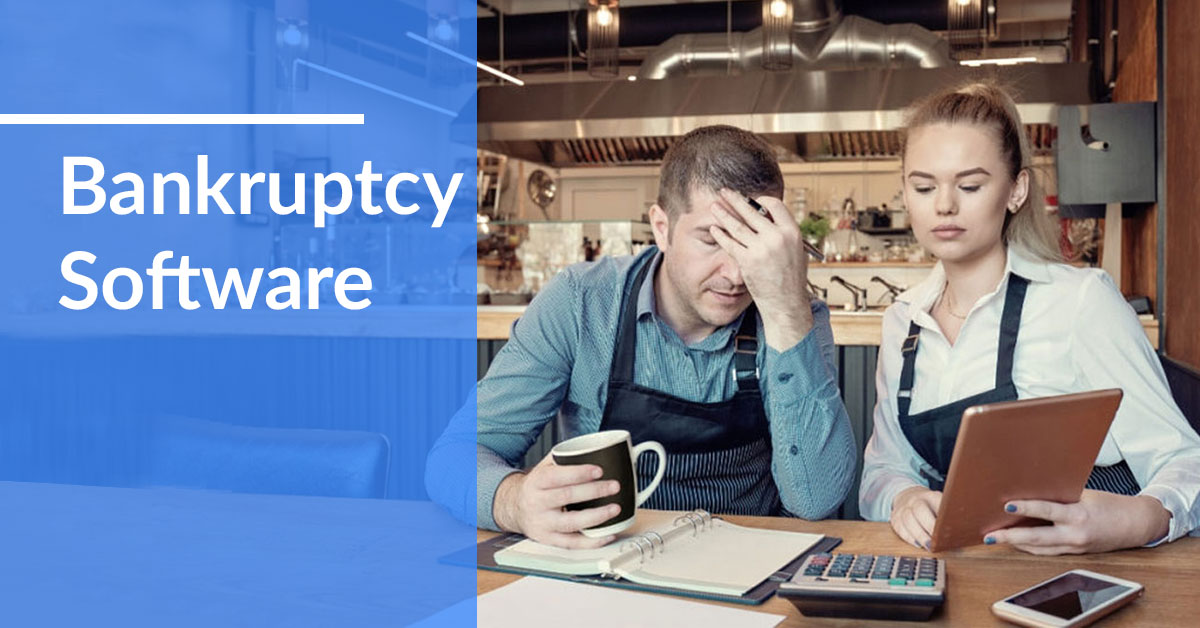 Bankruptcy Software Table of Contents
What is Bankruptcy Software?
Bankruptcy software is a technology solution that helps attorneys and legal firms to improve the entire bankruptcy filing and management cycle. The software accelerates and increases the accuracy of processes, such as legal calculation and data entry, through smart automation.
This type of software also transforms traditional bankruptcy filing to become an entirely digital process. Its key features include forms library, electronic filing, calendars, and forms automation. It offers numerous benefits, including time savings and error elimination.
With the global individual and business insolvencies predicted to continue rising across the world, bankruptcy software is expected to further expand in importance and usage.
List of Best Bankruptcy Software
Pricing of Bankruptcy Software
Similar to most software, the pricing schemes of bankruptcy solutions vary from free to use to premium rates. Most products in the market are priced on a "per user (or per case) per month" basis. The prices of the above list of top bankruptcy software are as follows (from cheapest to the most expensive):
Free-to-use
UpSolve is 100% cost-free, others like JubileePRO offers a free version
Entry Level
JubileePRO's pricing starts at $20.00 per month

Clio is $39 per user a month

BankruptcyForms is $44/month

Amicus Attorney pricing starts at $49 per user/month
Mid-Level
Fastcase BK is priced at $65 per month

CINcompass costs $75 per month

NextChapter is $79 per case
Premium
bankruptcy-cpr.com's Chapter 7 Bankruptcy Software is $149.99, while its Chapter 13 Bankruptcy Software is $299.99

Best Case by Stretto charges a one-time payment of  $995.00
In general, this list contains the base plans of the above bankruptcy software products. Many of these products offer several subscription plans, while more expensive ones typically include built-in business apps like client management, billing software, and other relevant legal practice apps.
Benefits of Bankruptcy Software
This type of legal solution offers many advantages versus manual preparation, filing, and management of bankruptcy cases.
Automatically populate legal data – This software is primarily designed to help a legal practitioner to shift to a paperless office. As such, one of its key benefits is enabling users to automatically populate data in frequently recurring fields. A bankruptcy solution can instantly fill details such as case numbers and the debtor's details into schedules and forms.
Update bankruptcy rules automatically – This technology tool also eliminates the need to manually update bankruptcy protocols and relevant forms. Using automation, attorneys are assured that the forms used and rules followed are automatically updated in a consistent manner in the bankruptcy system.
Automate legal calculations – It also automates calculations for commitment periods, exemptions, repayment plans, etc. A good bankruptcy tool also utilizes vital information, such as the median family income, to measure things like the commitment period and the presumption of debtor abuse.
Faster petitions filing – Another core advantage is that it empowers attorneys and paralegals to digitally file bankruptcy petitions to allow for the transfer to all case management/electronic case file courts. This significantly cuts the typically considerable turnaround time.
Key Features of Bankruptcy Software
Although created to prepare, file, and manage inherently complicated matters, the various types of bankruptcy solutions in the market today tend to share some standard features. These are:
Electronic filing – It allows users to share and send bankruptcy documents digitally to the regulatory authorities.
Calendar management – Enables lawyers and private individuals to create, manage, and share several calendars with staff, clients, etc.
Legal forms automation – Automates cumbersome, repetitive tasks like creating forms and entering data.
Case management – Enables lawyers and legal staff to easily manage cases through automated workflows and centralized document storage and access.
Calculators – Accurately measure means tests, repayment plans, and exemptions of bankruptcy cases.
Legal forms library – Use pre-designed, industry/context-specific compliant forms.
Integrations – Some offer several integration capabilities with third-party apps like appointment scheduling solutions, etc.
Bankruptcy Software Trends
Here are some notable trends in bankruptcy solutions:
Artificial Intelligence to spearhead bankruptcy investigation – AI is increasingly being utilized to manage intricate insolvency research. It can easily probe through huge volumes of raw and structured data. AI can deploy complex algorithms to quickly and more intelligently process unstructured information from numerous sources. Likewise, this technology can make bankruptcy research sophisticated, precise, and cost-effective.
Machine learning to assist in bankruptcy prediction – Machine learning had been found to accurately predict the occurrence of bankruptcy two years before it occurs. This can be made by incorporating huge datasets into a machine learning-based learning model for evaluating the probability of bankruptcy. Its predictions are based on the relationship between insolvency risk and relevant financial metrics.
Factors to Consider when Buying Bankruptcy Software
While these types of solutions are typically earmarked for lawyers and legal firms, they can also be used by individuals and business enterprises for self-service bankruptcy filing and management. Here are some important factors to consider when searching the market for bankruptcy software:
Determine your specific needs – Each type of bankruptcy software caters to a particular set of end-users. This is why it's best to make a shortlist of your actual needs and compare them to a vendor's offerings before selecting one.
Professional vs. self-Service – Many bankruptcy solutions enable attorneys to prepare and file petitions. Some platforms provide non-lawyers/private individuals with DIY/self-service capabilities. As such, it's important to verify the targeted users of every software before buying one.
Assessing post-filing forms – Both lawyers and private individuals typically need features related to post-filing forms like motions to convert forms. Confirm if the pre-built forms and editing processes correspond to the requirements of your law firm, including the vendor's post-filing forms.
Integrations with business apps – Legal firms typically use other software systems like contract management apps. So it is best to know if the bankruptcy software you'll choose can integrate and work with your existing solutions to ensure continued workflows.
Verifying for compliance with related laws – Although most US states tend to have some similar laws, each often has its own specific bankruptcy laws. Therefore, you must ensure that the software you'll use is designed to help you comply with these laws, aside from relevant court-specific requirements.