The way businesses conduct meetings and conferences has changed considerably with preferences shifting towards video conferencing that offer instant messaging and collaboration features.
Zoom Meeting and Cisco Jabber are two of the biggest players in this market. Which one is better? Learn more about how these video conferencing solutions can help your organization with your communication and collaboration requirements.
Zoom vs Jabber Comparison: Overview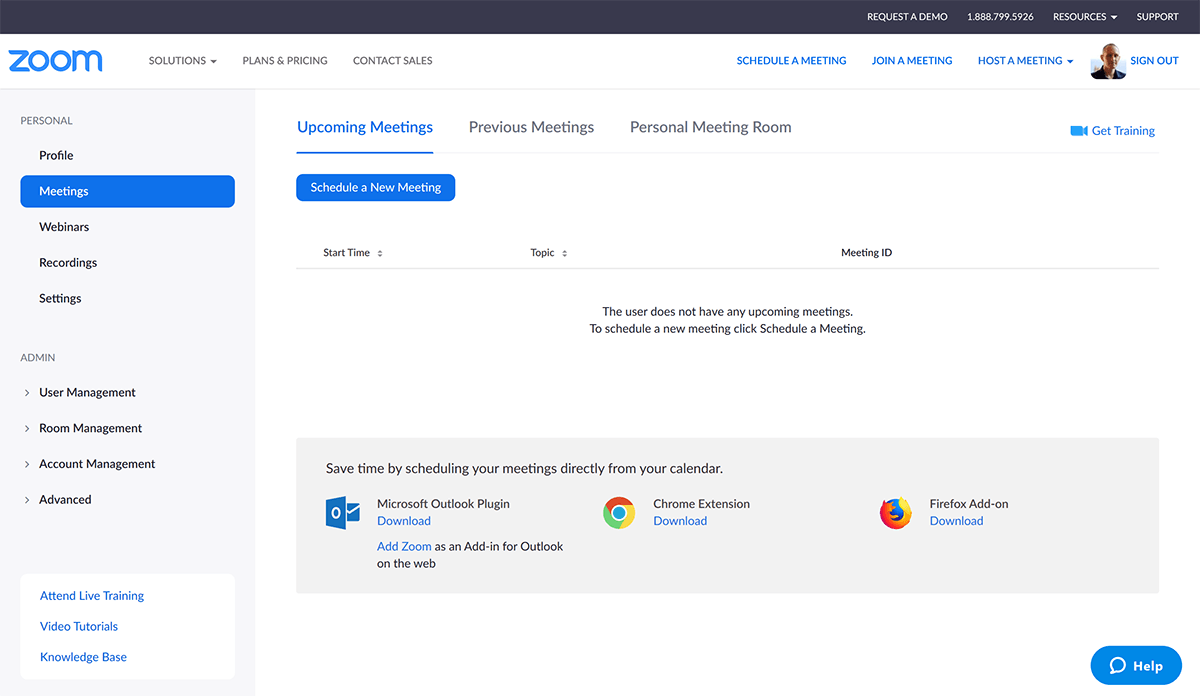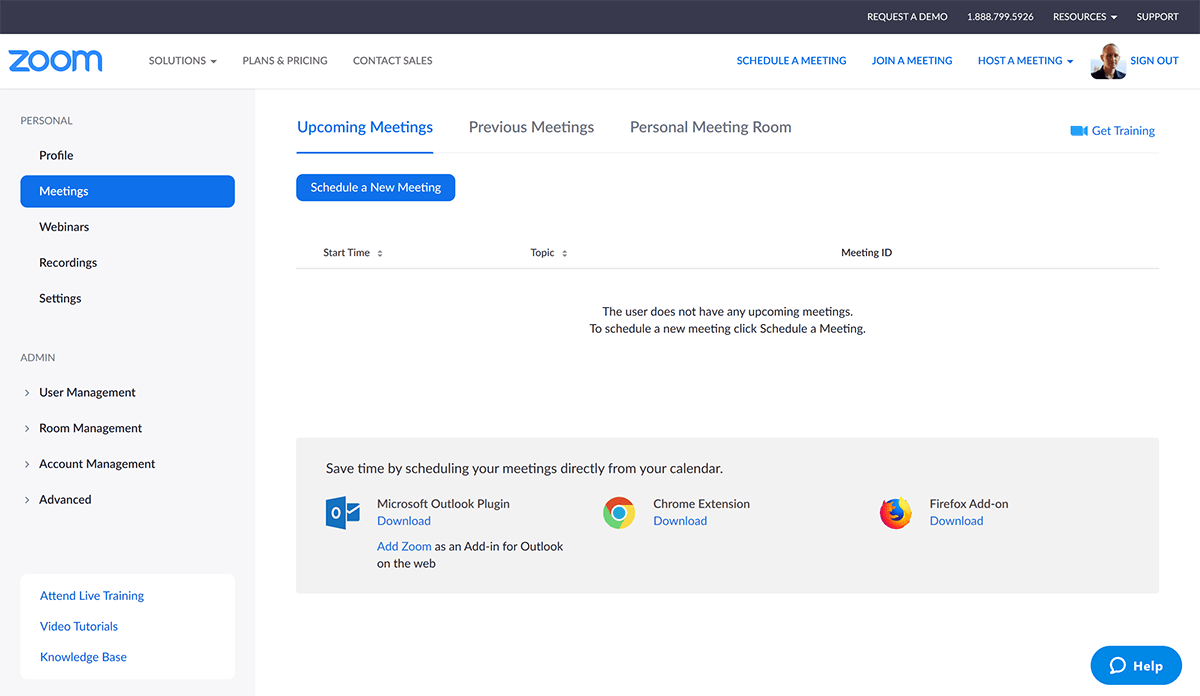 Overview of Zoom Meetings
Let us begin our Zoom vs Jabber comparison with an overview of what these platforms can do. Here is an overview of Zoom Meetings.
Zoom is a cloud-based application for video conferencing, online courses and training, demonstrations, and virtual meetings. This tool caters to individual users, small businesses, enterprises, educational institutions, and other organizations. 
Zoom Meetings is one of the popular video conferencing applications on the market. It allows participants to virtually communicate when physical interaction is not possible. The application can be used with a video or audio-only, or with both. It allows users to conduct live chats while the video conference is in progress. There is also an option to record the session for viewing at a later time.
Zoom Meetings support dual-screen mode that lets you view both the presentation screen and the panelist's screen at the same time. Users can share their entire screen, an active browser window, or a whiteboard showing diagrams and illustrations. These features are ideal for use not only in small meetings but also for corporate discussions and online 
Zoom's group collaboration functionality allows participants to share images, text, and audio files in real-time. Meanwhile, the Whiteboard is ideal for brainstorming, sharing ideas, and planning for projects. This functionality allows users to draw on the virtual whiteboard and save it as an image that can be shared. 
Zoom's Virtual Background lets you alter your background to make it more professional looking while adding a layer of privacy. There is also a Breakout Room that lets you split your Zoom meeting and put participants into separate sessions.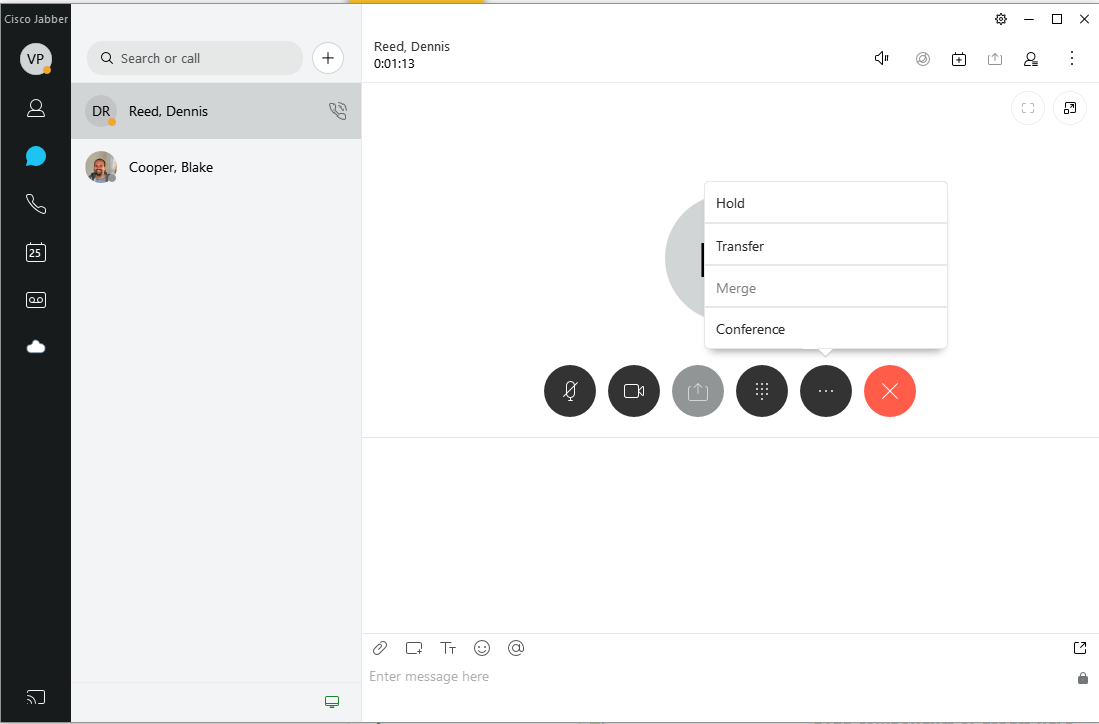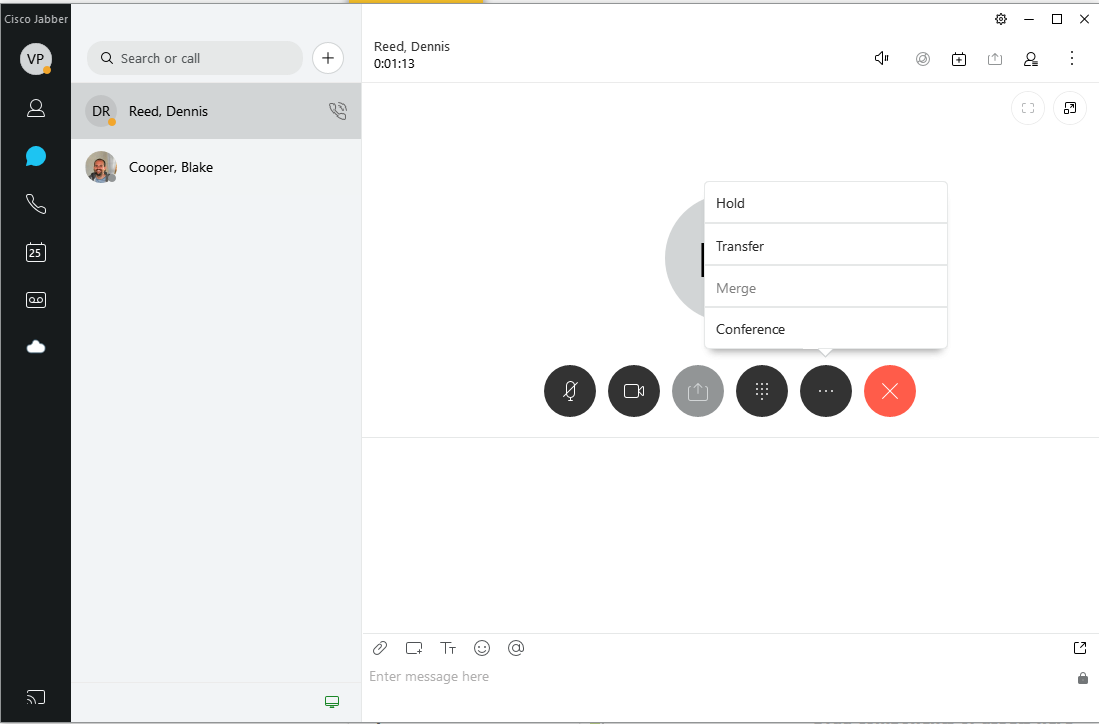 Overview of Cisco Jabber
Jabber is a web conferencing solution that combines IP telephony, desktop sharing, team messaging, and remote collaboration features. The application combines the allows users to make direct calls either from their desktop or mobile device. 
Jabber also offers multilingual support, as well as an integrated phone and a unified communications management integration. This application also integrates a bot framework for automatic receiving and sending of messages, answering calls, and handling of active chats. Jabber is available for Windows, Mac, Android, and iOS.
Plans and Pricing Comparison
Zoom Meetings
The following are the pricing plans for Zoom Meetings:
Basic plan

is free to use regardless of the number of meetings. The free plan can host up to 100 participants and can be used for unlimited 1-to-1 meetings and up to 40 minutes of group meetings. Additional features include group collaboration, standard video conferencing, web conferencing, and security.

Pro plan

is billed $14.99 monthly per host or $149.90 annually per host.  You can add up to 9 hosts per account. The Pro Plan includes all the Basic plan's standard features with up to 24-hour meeting duration. 
It can accommodate up to 100 participants but there is an option to add up to 1,000 participants with the Large Meeting add-on. This plan has additional features including assign scheduler, admin feature controls, user management, customer personal meeting ID, reporting, and 1GB of MP4 or M4A cloud recording.
Business plan

is billed $199.90 monthly for 10 hosts or $1,999.00 annually for 10 hosts. You can add up to 99 hosts per account. The Business plan has all the Pro plan features and includes 300 participants with an option to purchase slots for up to 1,000 participants. 
Some additional features include Vanity URL, single sign-on, dedicated phone support,  on-premise deployment option, company branding, managed domains, custom emails, cloud recording transcripts, and LTI integration. 
The

Enterprise plan

starts at 100 hosts

Contact the

vendor

for a quote. Enterprise plan includes all the features that the Business plan has. Enterprise plan accommodates up to 500 participants per meeting while the

Enterprise Plus

can accommodate up to 1,000 participants. 
Other features of the plan include unlimited cloud storage, executive business reviews, a customer success manager, and bundle discounts on Webinars and Zoom Rooms. Find more webinar software options on our list.
Cisco Jabber
Consumers looking to purchase can call Cisco sales for a price quote or buy from a Cisco Partner.
How do they compare in terms of features, benefits, and integrations?
Last, in our Zoom vs Jabber comparison, we will look at the features and what benefits users get from them. Also, we will look at their third-party app integrations capabilities.
Features of Cisco Jabber
Communication integration. Jabber uses a single but intuitive interface where users can send instant messages with an individual or group, visual voicemail, voice and web conferencing, IP telephony, and integrated directories.
Enterprise real-time messaging. Jabber provides instant messaging capability, which helps you save time and reduce phone tag. It supports chat modes including point-to-point chat, group chat, chat rooms, and personal instant messaging.
Integrated voice and video telephony. Jabber allows users to make, receive, and control phone calls. It provides business-grade video communication and supports high-definition and high-fidelity wideband audio. Call control options to include impromptu conferencing, available, mute, call transfer, and call forwarding.
Features of Zoom Meetings
Virtual Background. Users can use any background of choice to add privacy and eliminate distractions while the meeting is in progress.
Calendar Integration. Scheduling Zoom meetings is made easy using either the  Zoom Scheduler Extension or the Plug-in for Outlook. 
Waiting Room. Once enabled, the Waiting Room adds a layer of security in your Zoom meetings. You have the option to admit one or let everyone join at once, and send a message to the participants waiting.
Multi-Share. Zoom offers a real-time collaboration that allows multiple users to share their screens all at the same time. And when you have your dual monitors enabled, you can view the two most recent share screens side by side. Click on the link and check out how Zoom fares in our collaboration software ranking.
Encrypted meeting. Zoom Meetings makes sure that your meetings are secured meetings by encrypting them with role-based user security and passcode protection.
Record meetings and transcripts. Zoom provides a recording function for meetings that can be saved either to the cloud or your local storage and an automatic audio transcript option. The transcript will be displayed as a .vtt text file in the list of the recorded meeting. Users can choose to display the transcript within the recorded meeting.
Benefits of Cisco Jabber
Instant messaging and presence. The real-time presence information and instant messaging feature help reduce delays in communication. You can view the availability of your contacts whether they are from within or outside your organization. Compare contact management software solutions here and see which application fits your contact management needs.
Business-grade voice and video. Users are provided with secure and reliable communication complete with soft-phone features that include HD voice and video with desktop sharing capabilities.
Access Communication from Microsoft Office. You can access Jabber for Windows from the Microsoft Office from your PC or Mac device. Simply click it to initiate a voice or video call, chat,  or multiple-party conferences.
Collaborate and connect anywhere. Jabber for Android and iOS allows access to features found on desktop devices such as video conferencing. You can also use the application for instant messaging and placing voice and video calls. Jabber for mobile helps save money in making calls since it uses wireless LAN and WiFi.
Benefits of Zoom Meetings
Simplicity and ease of use. Setting up and using Zoom is easy and straightforward. It takes just one click to initiate or join a meeting, no elaborate training required. Zoom provides users with collaboration tools and participant controls that are easy to use as well.
Scheduling your Zoom meetings is easy as well. Zoom can be integrated into a range of calendars including Google Calendar and Microsoft Outlook Calendar.
Cost-effective. Whether for personal or business use, Zoom is perfect to use without the need to invest heavily in equipment or training. Also, Zoom has been constantly upgrading its technology with virtual backgrounds among its newest additions to its updated features. And Zoom packs a lot of features and capabilities even with its lowest-tiered plan. 
Host controls. Zoom provides the host with the ability to control and manage the meeting. The host can also share his hosting privileges with another Zoom user including managing participants and initiating or stopping the recording.
Zoom Meetings Integrations  
Zoom Meetings can be integrated with the following:
Scheduling and Starting Meetings:

Workplace, IBM Watson Workspace, Salesforce, Skype, Microsoft Outlook, Google Calendar, Firefox, Hipchat, Appointlet.

Content Sharing:

Microsoft One Drive, Google Drive, Box, Dropbox, Panopto.

Unified Login:

Microsoft Active Directory, Google, Okta, Facebook, Centrify, RSA

Marketing and Process Automation:

Eloqua, Marketo, Zapier, Pardot.

Room Collaboration:

Intel Unite, Creston.
Cisco Jabber Integrations 
Cisco Jabber can be integrated with a variety of business systems and applications whether on-premise or cloud-based, including IBM Connections, IBM Notes, Office 365, Exchange, WebEx, SAP, SAP Jam, Google Calendars, and SharePoint.
Zoom Meetings or Cisco Jabber
:
Which tool should you choose?
Zoom users love the quality of its video conferencing tools, quality of video and sound, and the ease of use. However, some say that many of Zoom's features and services require that you either upgrade or purchase an add-on.  Another downside to using Zoom is that users need to download an app which can delay the meeting if one of the participants forget or have difficulty downloading the app.
Jabber users like that the application is simple and straightforward. They also love that you can see if a contact is active at their computer or not. On the other hand, Jabber users find that when using mobile, voice quality is quite poor. They also find the interface quite outdated and dull compared to other applications and that the chat history is saved only for a short time.