The Portable Document Format (PDF) file type is one of the most popular file formats in use today. Launched in 1990 by Adobe, this file format is extensively used in fields such as real estate, business medicine, law, and even in schools and universities.
After the PDF file format achieved open standard status in 2008, it has experienced massive support from all types of solutions today with most contemporary browsers and software applications having the capability to open and display PDF files. Perhaps two of the most revered names within the PDF file reader industry include Nuance Power PDF and Adobe Acrobat. In this Nuance Power PDF vs Adobe Acrobat comparison piece, we will take a look at how both solutions help users copy, share, and view PDF files with ease so that you can find a solution that suits better for your business. 
Nuance Power PDF Overview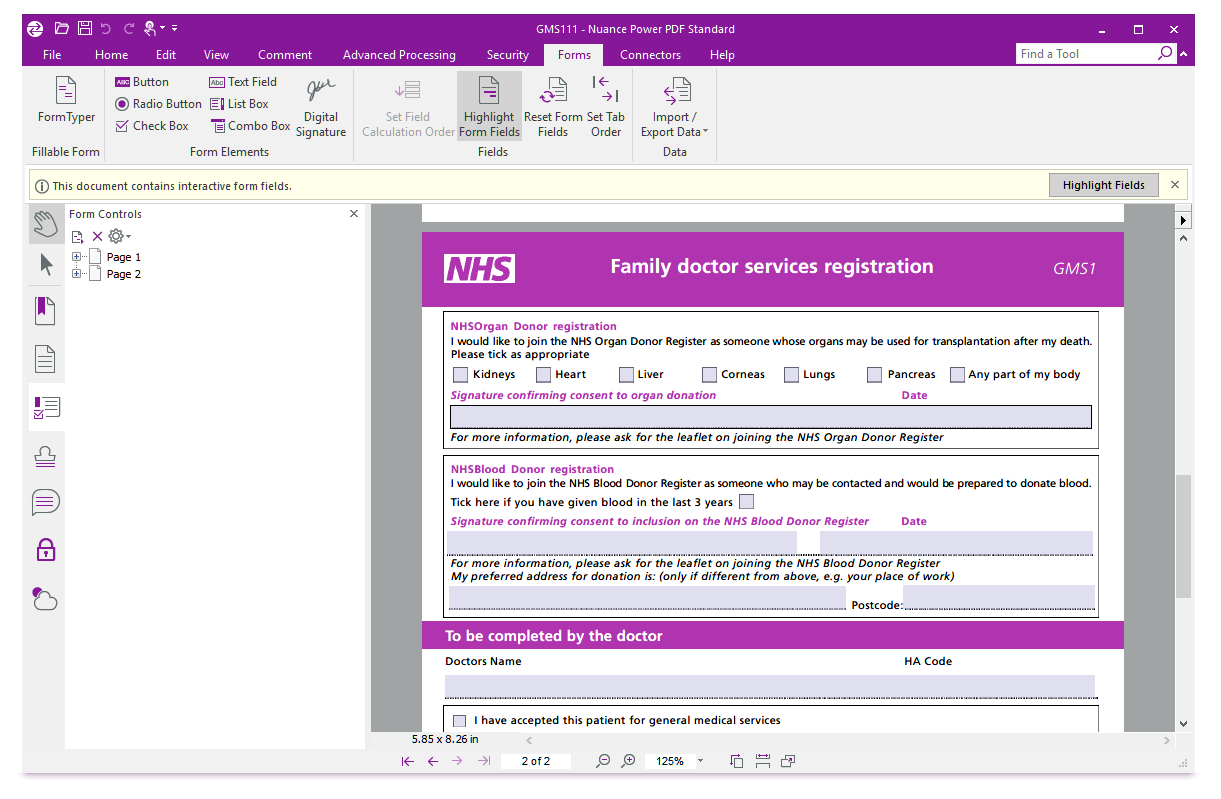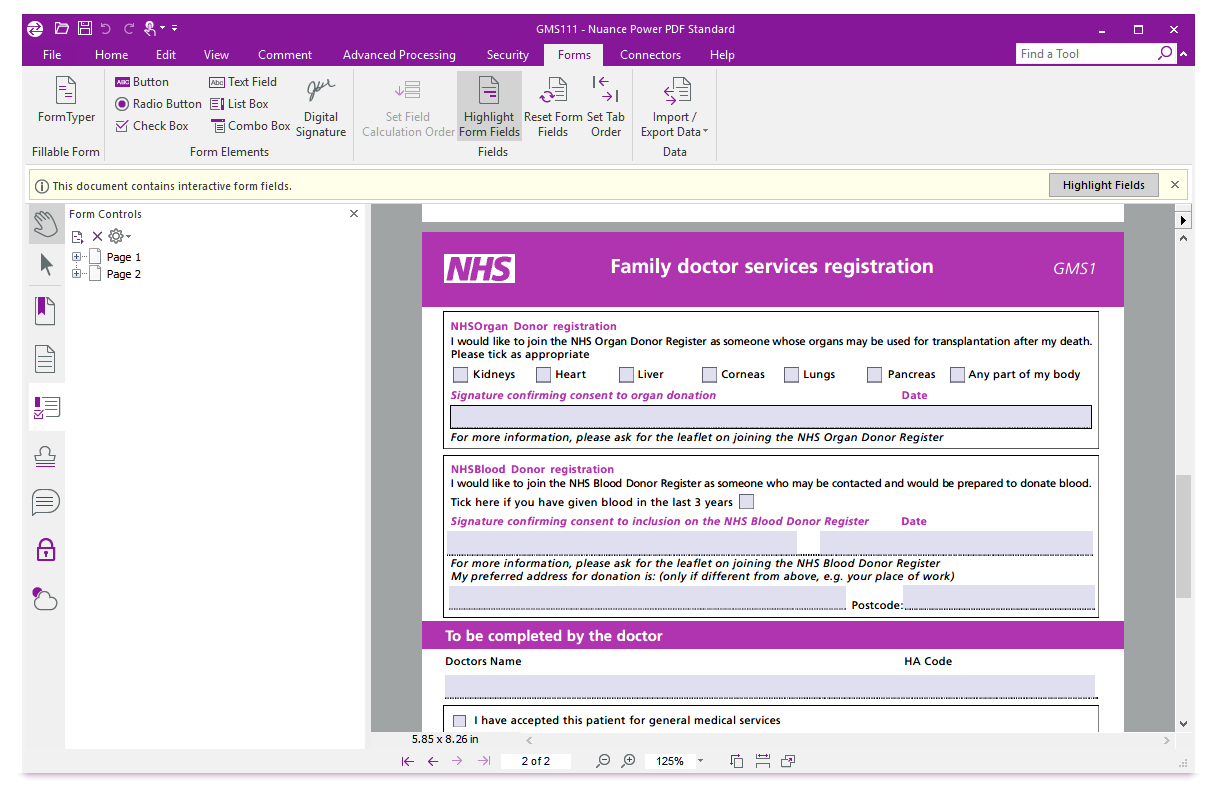 Nuance Power PDF is a dynamic PDF application that centralizes the distributing, editing, conversion, and annotation of documents from and to any third-party app. The software was initially launched by Nuance before it was acquired by leading intelligent automation company Kofax in 2019. 
After the acquisition, Kofax has added critical technologies into the software which included an end-to-end automation platform, print management, document security, scan-to-workflow, scan-to-archive, and cloud compatibility. Similar to many PDF solutions, Nuance Power PDF sports a clean and easy-to-use interface that is customizable and intuitive, not to mention a Microsoft Office layout, which makes it easier to get oriented once you are using the software.
Moreover, Nuance Power PDF also packs some excellent tools for marking up and editing files. Users can also take advantage of the Typewriter to add text anywhere in the document. At the same time, the Compare Documents plugin can be utilized to compare new documents with previous versions or even an original Word Document right after the conversion process to ensure that every text and photo in the document is copied effectively. 
What's more, this PDF solution also boasts powerful security features such as password security and text redaction, which ensures that only authorized personnel can gain access to confidential data. Besides the management of digital signatures, Nuance Power PDF also allows users to draw stamps on the program and apply it to their PDF file to make it as robust as the file management solutions in this software ranking. 
Nuance Power PDF also makes collaboration a breeze as the software is optimized for touchscreen and Windows 10 devices. Plus, it allows connectivity to top cloud services to ensure that confidential documents are protected from unwanted access. On top of that, the Nuance Power PDF also allows users to convert a PDF file to Office documents for easier collaboration. 
While the software has a functional desktop app, it is worth mentioning that the solution lacks a mobile app or an online portal, which means that users can only access it on the computer it is downloaded. Nuance Power PDF offers a generous free trial, but users may have to subscribe to a paid plan to enjoy the full benefits of the solution.
Pros:
Easy Multimedia Editing

Interactive Document Creation with JavaScript

Easy Conversion

Comprehensive Document Management
Cons:
Lack of Mobile Apps and Online Version

Only Opens a Single Document Simultaneously

No ePub Conversion

Can Only Merge PDF Documents
Adobe Acrobat Overview
Adobe Acrobat is a suite of application software and services designed to view, develop, manipulate, print, and handle PDF files. Adobe initially released it in 1993 in the hopes of importing standard document and image formats and save them as PDF. 
With Adobe Acrobat, users can modify the contents of the document, including paragraphs and images, not to mention, redact specific parts of the document to ensure its compliance with PDF/A standards. Unlike other solutions, this PDF software has a centralized menu bar that emphasizes essential functions such as viewing commands, editing panels, and signing and commenting tools.
Each PDF file can be viewed in the tab itself using the Document view. Users can also take advantage of the Adobe Acrobat toolbar, which has essential editing tools and operates throughout the top of the navigation and document sections. Besides that, the software also optimizes the files for mobile and website viewing for remote collaboration. 
Adobe Acrobat is also loaded with plenty of collaboration and document management tools. This makes the software relatively ideal for group projects and for sending a document to management for approval. While it does not have innovative features of some of the document management software here, Adobe Acrobat does integrate with Adobe Document Cloud, which makes the solution capable enough to manage document workflows.
Other than that, Adobe Acrobat also has robust security plugins which include the ability to set specific permissions and password-protect versions of your documents. You can also safeguard the files directly from Microsoft applications by using the Acrobat toolbar tab. Alternatively, Adobe Acrobat also allows users to modify a PDF by eliminating essential information such as content specifics and metadata. 
Adobe Acrobat offers a free trial and paid pricing packages. Although the software packs comprehensive PDF editing features and a centralized sharing plugin, users may have to commit to a paid plan to get the hang of the solution because of the limitations that come with its free trial. 
Pros:
Easy to Navigate User Interface

Directly Edit PDF Documents

Easy Export to Other Formats

Streamlined Sharing Plugin
Cons:
Lack of Support Tools

Slow Signature Option

Weak Search Functions

Takes Time to Open Large Files
The importance of PDF solutions cannot be understated thanks to its ability to ensure accessible document viewing and excellent file security. Outlined in this Nuance Power PDF vs Adobe Acrobat comparison section is essential information you need to pick a solution that is suitable for your document viewing and conversion needs. 
Usability
Nuance Power PDF and Adobe Acrobat all come with excellent usability plugins thanks to its ability to convert scans and image PDFs into searchable documents. Besides that, these PDF solutions are also equipped with predefined profiles for credit card numbers, phone, dates, and emails so that users can create patterns for specific documents. 
This provides users less time and more flexibility to find specific information within the PDF, thereby achieving maximum levels of productivity. Both Adobe Acrobat and Nuance Power PDF can also perform an in-depth scan of this searchable PDFs, though, the Look Like Search function of the latter makes it easier to discover particular formats of texts. 
Additionally, Nuance Power PDF can annotate documents with sticky notes using either the keyboard or speech. This is primarily because of the software's Dragon Notes' speech recognition tool which is solely responsible for helping users mark up documents for instruction or review. 
While Adobe Acrobat lacks these powerful speech recognition tools, it is worth noting that the solution still has an extensive list of commands which include adding backgrounds, texts, and images. Furthermore, Adobe Acrobat users can apply encryption on batch conversions to ensure that each document is protected from unauthorized access.
Integrations
Nuance Power PDF offers amazing third-party integrations with Enterprise Connect, eDocs, NetDocuments, Microsoft Office, and WorkSite. It also works well with remote storage solutions such as OneDrive, Google Drive, Box, and Dropbox, allowing users to work with clients and companies efficiently through advanced editing and sharing. 
Also, these remote storage solutions support optical character recognition which allows users to pull text from any PDF into a text document in a single click. While it does not have all the features of the best remote software in our list, the integrations of Nuance Power PDF would certainly help businesses keep more client assets and improve their overall workflow. 
Similarly, Adobe Acrobat also integrates with NetDocuments, though, its storage software integrations are only limited to Dropbox and Box. Nevertheless, users can still resort to its Microsoft integrations to enhance the collaboration process. Among the Microsoft solutions that bodes well with Adobe Acrobat are Word, Excel, PowerPoint, and SharePoint. 
Pricing Packages
Adobe Acrobat provides users with three pricing packages which include the Acrobat Standard DC and the Acrobat Pro DC, which are pegged at $12.99 and $14.99 respectively. All plans include PDF creation, export capabilities to PowerPoint, Excel, and Word, PDF sharing, and Microsoft Information Protection for Open PDFs. 
However, users may need to upgrade to Acrobat Pro DC to compare versions of two PDF documents and review all differences. The Pro DC plan also includes advanced mobile editing plugins, searchable PDFs, and PDF validation to ensure that it meets the accessibility standards of the International Standardization Organization (ISO). 
On the one hand, Nuance Power PDF also has two pricing packages, namely the Standard and Advanced Plans. The Standard plan, which charges users $129, comes with a simple Office-style interface that is optimized for Windows 10, PDF conversion plugin, comprehensive PDF editing, digital and stamp-based signatures, and JPG to PDF conversion and vice versa. 
Though optimized for Windows 10, the Standard Plan does have a solution that is specially designed for Mac users available for $129. The Advanced plan, meanwhile, is equipped with all Standard features plus Box, Dropbox, SharePoint, NetDocuments, and OneDrive integrations, information redaction, Bates stamping, MSRP, and PDF automation creation. It also comes with a free trial but has a price tag of $179. 
Selecting The Best PDF Solution
In this Nuance Power PDF vs Adobe Acrobat comparison guide, readers found out that both software does make a strong case for the best PDF solutions out there. Although Adobe Acrobat may seem like the standard of PDF solution, Nuance Power PDF is undoubtedly not far behind with its progressive features that include robust security, batch processing, and PDF to Word conversion. 
That said, Nuance Power PDF is ideal for medium businesses to large enterprises that process a massive volume of PDF documents because of its automation capabilities. Nonetheless, beginners and small businesses may be better off using Adobe Acrobat with its intuitive yet straightforward layout, not to mention its affordable pricing packages.