A payment gateway is now an essential technology in commerce. Employers need it to pay the salaries of remote workers, and globally distributed employees likewise need it to receive their pay. This way, each party can complete transactions securely and quickly because payment gateways have strong encryptions. On top of that, they have numerous security certificates.
In this article, we will talk about two of the most used payment gateway software: Skrill and Payoneer. But before we compare the two, let us look at them individually.
Skrill
Skrill has been around since 2001 to assist customers with their global transactions. When it first launched, it only provided services for ecommerce. The company later expanded its offerings to include money transfers, however, to meet the growing demand for global payments. 
Through this service, individuals and companies can send money to any country in the world. Skrill even accepts credit and debit cards, as well as bank transfer and SOFORT, for money transfer. 
If a user utilizes the Skrill wallet online, receives money from a friend, uploads funds, or sends money to an email or another Skrill wallet, they do not have to pay a fee.
So how does Skrill make money? It depends on the country and the depositing and withdrawal methods. For example, someone in the UK depositing funds through Neteller have to pay a 1% fee. And withdrawing through Visa in the country would have a 7.50% fee.
Payoneer
Payoneer is a popular go-to tool for freelancers and their employers or clients. It began offering its services in 2005 from its New York office. With it, employees can request payments for their services, and employers can send money in response to the demand. 
This is great for organizations and individuals who have dealings with people in different parts of the world. This is because Payoneer supports cross-border transactions and facilitates exchanges in more than 150 currencies. 
Other than that, Payoneer integrates with most of the best ecommerce software like Airbnb, Fiverr, and Upwork. 
Concerning fees, Payoneer has some of the lowest in this arena. Paying somebody on the network in USD, EUR, GBP, and JPY is free. Receiving EUR, GBP, JPY, AUD, CAD, and MXN is free. For USD, the fee varies by country. 
Payoneer also exacts a 3% on credit card transactions when people use its Billing Service.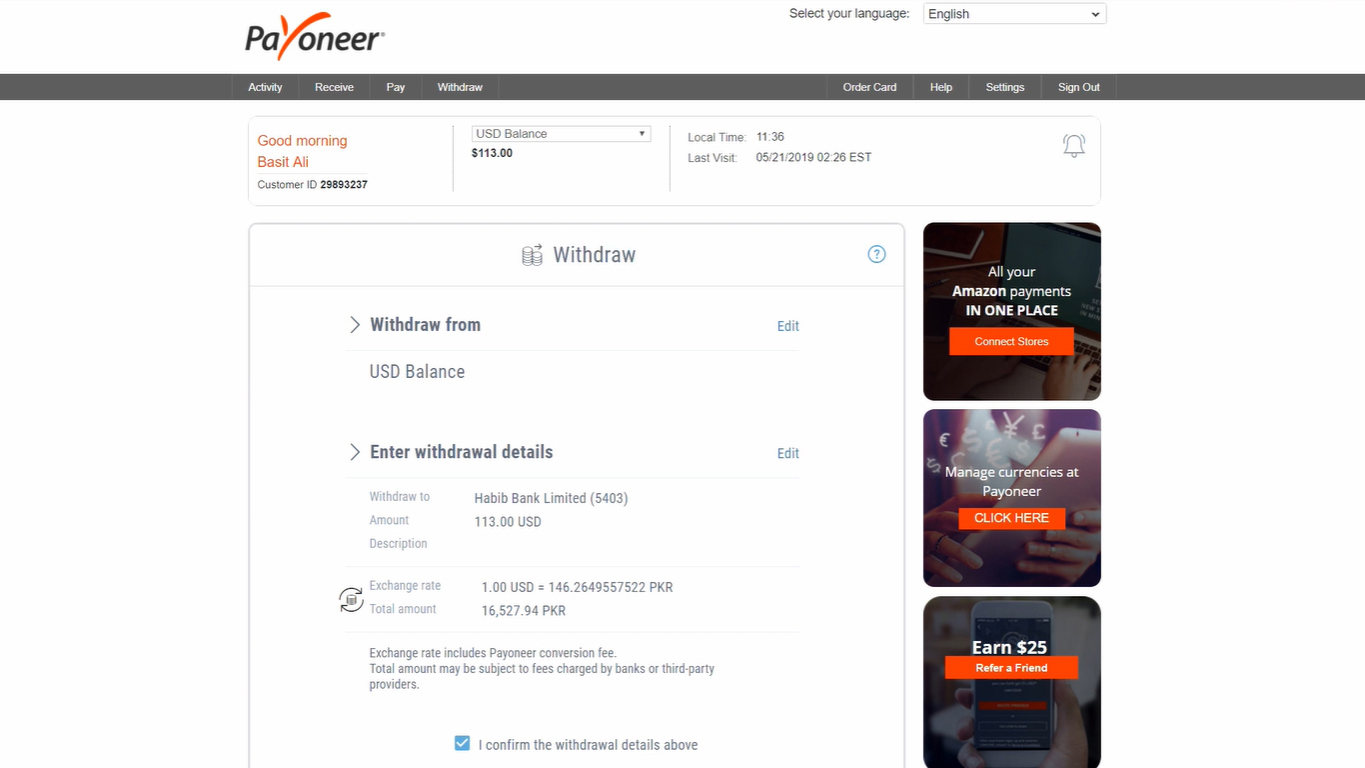 Payoneer supports cross-border transactions and facilitates exchanges in more than 150 currencies.
Comparing Skrill vs. Payoneer
For this Skrill vs. Payoneer comparison, we will have five categories. First, we will start with their products and services. Next, we will move to their fees. Third, we will tackle their customer service and support. Fourth, we will examine the reputations of both platforms. Lastly, we will discuss the contract lengths and cancellation fees of the platforms.
1. Features
In this stage of Skrill vs. Payoneer comparison, we will delve into the products and services these platforms offer. These include the wallet, mobile app, physical card, and others.
Skrill
Skrill has a mobile wallet that lets customers receive and hold funds. This works for businesses that accept Skrill as a payment method. It merely redirects the consumer to a secure website to finish the transaction.
Apart from that, Skrill has an inframe that keeps customers on a business site. This means that they can accept payments from purchasers without redirecting them to Skrill.
Mass payments are also possible with Skrill. This is a great service, especially for companies that pay their workers through the site. The platform has recurring payments, too. So if the payment for services does not change, businesses can use this to save time.
But if using the online platform is a hassle every time, Skrill has a prepaid Mastercard. This means that users can add funds to the card to pay online, withdraw cash, and spend while traveling.
Lastly, is the Skrill mobile app. It is available for both iOS and Android. It has basic functions, such as balance check, money transfer, funds acceptance, and adding money to the Skrill Mastercard.
Payoneer
Payoneer has a Global Payment Service available to all users. This lets individuals and businesses send funds in different currencies. The most common currencies in the platform are USD, EUR, and GBP.
When it comes to receiving funds, Payoneer has a Request a Payment feature. With just a few clicks, businesses or freelancers can request payment for their services rendered. Employers can acknowledge requests by paying the specified amount with their debit or credit cards or even with their bank accounts. If the recipient of the request does not have a Payoneer account, they can still complete the transaction with the platform without creating an account. Payoneer also offers the bonus of a built-in integration with Time Doctor, which sits at the top of our list of time tracking software.
Just like Skrill, Payoneer has a prepaid Mastercard. Customers need to pay to acquire this, and there is an annual fee of $29.95. This can be costly, especially for individuals who do not use their Payoneer accounts often.
For its mobile app, Payoneer has the basics like balance check and payment history. It has recently added the capability to request money and withdraw funds from the app.
Additionally, businesses can offer Payoneer as a payment option through API.
Verdict
Skrill has the most products and services to offer. It is also widely recognized, which is why it has numerous partners who have it as a payment option. It also does not exact a high fee for the use of its prepaid Mastercard. Other than that, the platform lets merchants utilize it as a payment option easily.
2. Platform and Currency Exchange Fees
What fees do people have to pay to use a platform and its services? Are they worth it? Read on below to know more.
Skrill
As mentioned in the overview, Skrill is mostly free. That depends on the country and the currency, however. Here is a list of fees with Germany and EUR as examples:
Funds deposit (local payment methods): 1% of the total amount
Funds deposit (global payment methods): 1% of the total amount
Funds withdrawal (local payment methods): EUR 5.50 (bank), 7.50% (Visa)
Funds withdrawal (global payment methods): EUR 5.50 (SWIFT)
Apart from those, Skrill has an inactivity penalty. If a person or organization does not use their account in 12 months, the platform will exact a service fee of $5 or its equivalent. To avoid this, users must log in or make transactions within the platform at least once a year.
Payoneer
Payoneer, on the other hand, waives the fees for sending USD, EUR, GBP, and JPY. Additionally, it has a minimal fee of 1% maximum for USD transactions in various countries.
Meanwhile, credit card transactions done via the Billing Service have a 3% fee. Transactions using ACH in USD have a 1% fee.
Withdrawing to local bank accounts and bank accounts in the same currency is not steep either.
Local Bank Account

Up to 2% above the mid-market rate

Additional bank fees may apply

Bank Account in the Same Currency

USD

EUR

GBP

$1.50

€1.50

£1.50
Verdict
Payoneer takes this round because its fees are less costly. It is also the same across the board, regardless of the country, except for USD transactions. Nevertheless, they are still cost-effective.
3. Customer Service and Support
Customer and service and support are two of the deciding factors for choosing a payment gateway platform. After all, it is essential to get in touch with the support team quickly whenever there is an issue.
Skrill
Skrill's customer support is accessible via telephone and has local numbers for the US and the UK. There is also a messaging option available directly from a user's account. By using this, customers can send messages to the team directly. Responses can be expected within 24 hours.
VIP members can get answers faster, though. There is a dedicated phone number, and the team is also available around the clock.
Payoneer
Payoneer has a live chat feature as well. This is only available during certain hours, however. The chat is available in different languages: English, Russian, and Spanish.  Customers can also contact the support team via email. While they also have telephone numbers, those are limited to reporting stolen or lost cards.
Verdict
Payoneer is a clear winner in this round. While it does not have all-around telephone support, it does have a live chat feature, albeit with limited hours. Plus, the chat has three languages, which is beneficial to people who are familiar with other languages aside from English.
4. Credibility
The fourth round is all about credibility. Customers would want to work with companies that they can trust with their data and their finances.
Skrill
Skrill has been around since 2001 when it was still known as Moneybookers and focused on gambling. The platform is well-regulated and has the necessary certifications for operations, privacy, and security. From the day it launched, it has been assisting organizations and individuals in making local and international transactions alike online.
Payoneer
Payoneer may be a fairly new player, but it does not mean that it lacks credibility. The testament to that is the fact that millions of people use it for paying and receiving funds anywhere in the world.
What's more, Payoneer has backing from well-known companies like Expedia and Dropbox, the same organizations that funded Facebook.
Verdict
Both platforms are credible and have been around for quite some time. Millions of people use them, too. However, Payoneer wins this round by a margin. Since it has Expedia and Dropbox behind it, it means that they are trustworthy. This is not to say that users cannot trust Skrill, though. The payment gateway's mother company has a presence in different countries.
4. Contract Length and Cancellation Fees
The final round deals with the contract lengths and cancellation fees of Skrill and Payoneer. This is critical in case a company or a user decides to take their business to another platform.
Skrill
Skrill has a per-transaction fee so there is no monthly or regular subscription payment to deal with. Plus, there is no early cancellation fee. It has to be noted, though, that depending on the arrangement of a company with Skrill, there could be additional charges.
Payoneer
Payoneer charges companies monthly so there is no lengthy contract to which organizations are obligated to stick. There is no cancellation fee, either, so when a business decides to use another platform, they can do so at no cost. Nevertheless, it is essential to follow the outlined steps for account closure. This way, there is no doubt that the account is closed fully.
Verdict
Skrill and Payoneer are tied in the final round. They do not have cancellation fees, and there are no regular subscription fees to deal with either. Skrill may have additional charges, but that depends on a company's deal with the vendor.
The Final Winner
As we've seen in this Skrill vs. Payoneer comparison, the latter is the clear winner. It works well for international business transactions and is friendly to freelancers, too. And since it can support currency conversions and have cost-effective fees, it is beneficial for both the sender and recipient.