Before, products can only be sold in physical stores. But, due to technological advances, businesses can now sell physical and digital items through the internet. Individuals and start-ups can display their products even without paying expensive rent for a physical store. However, there is also a tight competition due to the number of sellers that offer the same items.
For business owners to present their products, they will need a program that allows them to reach out to their target audience. Shopify and ShipStation are two of the most well-known software solutions in the said niche. Check this list to know the top 15 ecommerce platforms; both Shopify and ShipStation are mentioned in this article.
In this Shopify vs ShipStation comparison article, you will know how they perform based on shared functionalities. This way, you can decide which program is best for your business.
Shopify Overview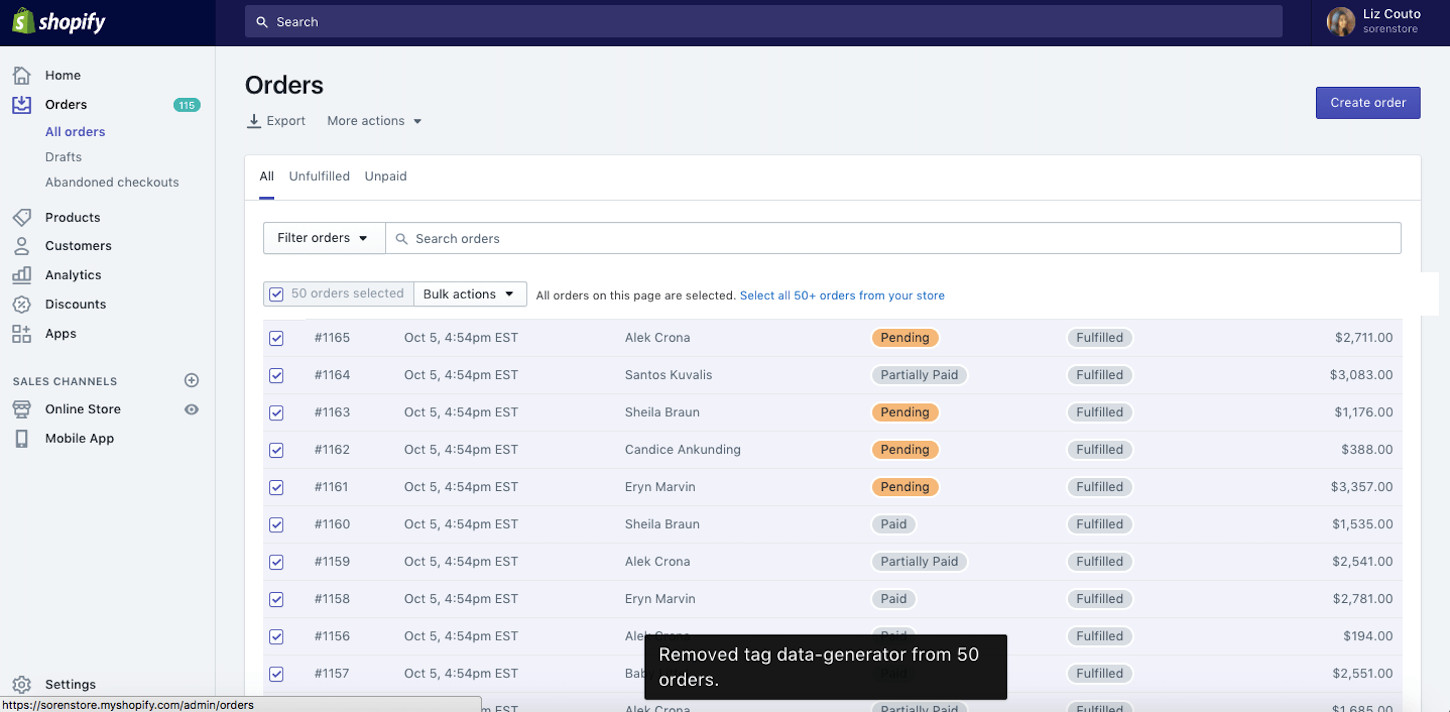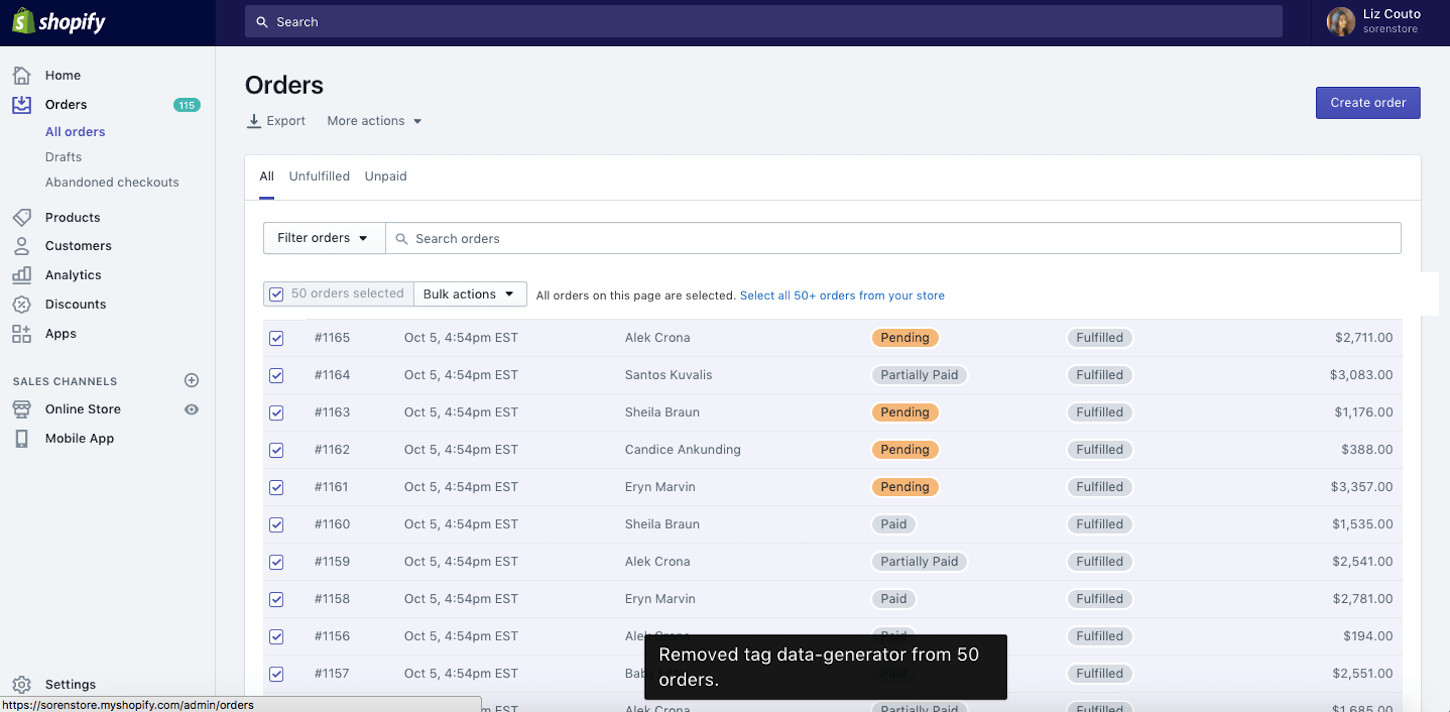 Shopify is an ecommerce platform that allows individuals and businesses to set up an online store. Since 2006, Shopify has been helping freelancers, start-ups, and big companies to engage in online transactions with their customers. Before its launch to the public, this platform started as a store for snowboards.
Due to its effectiveness and easy-to-use interface, the company introduced it to other merchants. Hence, Shopify is one of the go-to software solutions, especially for starting sellers. It offers affordable pricing options that cater to every business' unique needs. Now, the system even helps individuals sell on social media sites and physical stores.
ShipStation Overview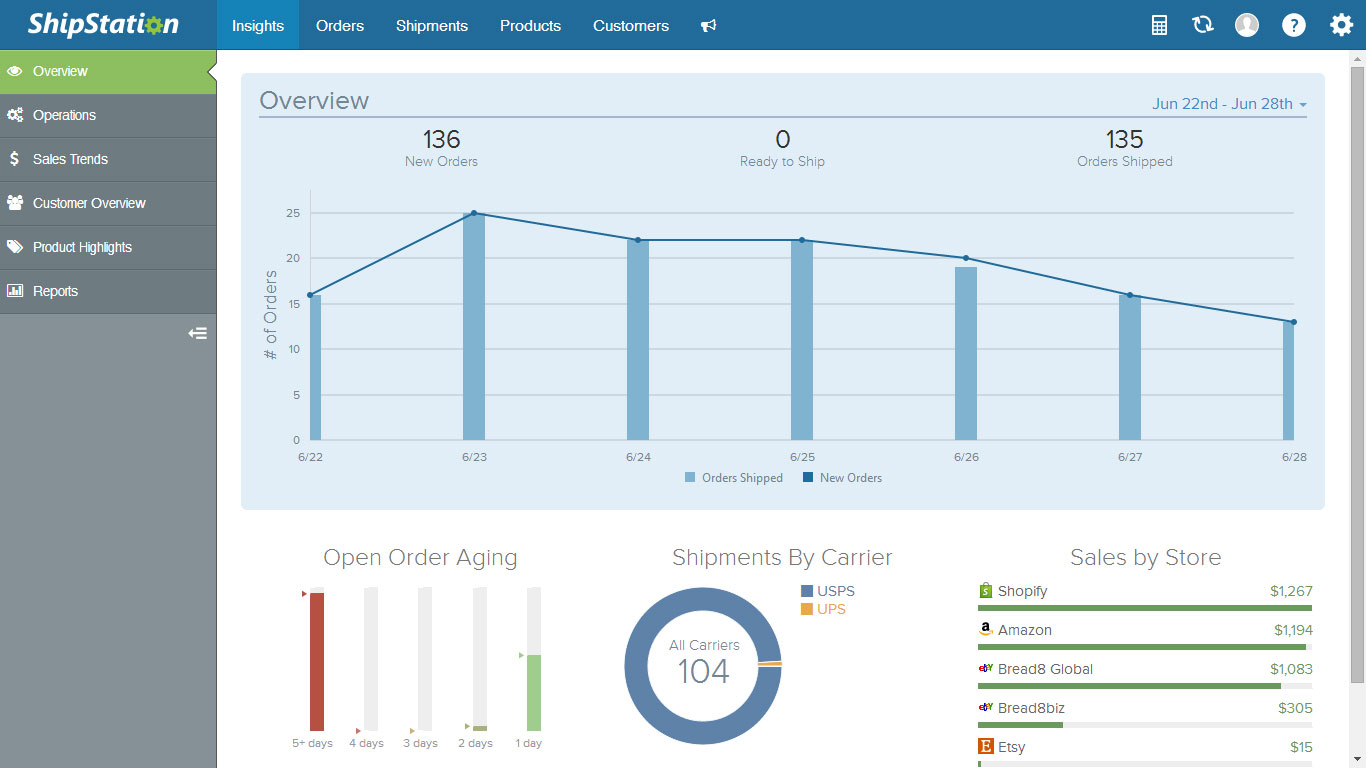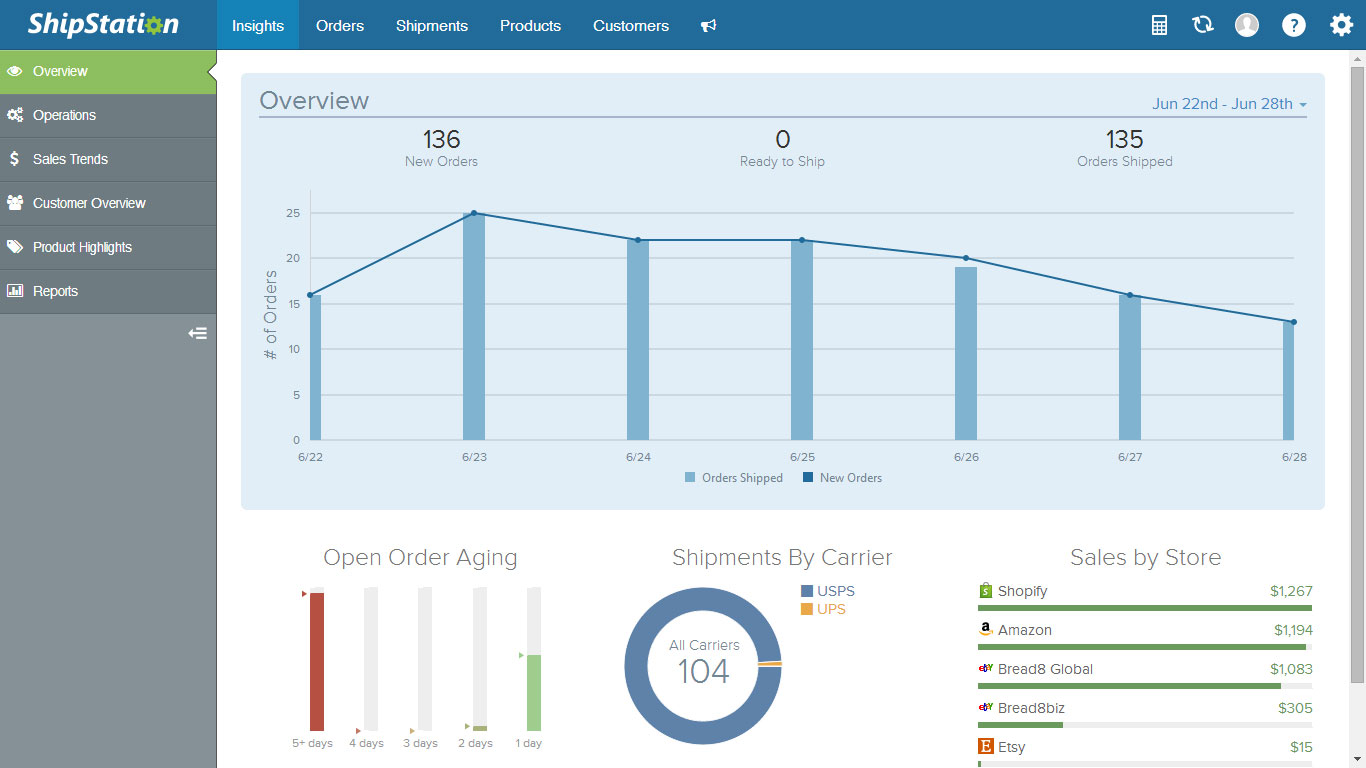 On the contrary, ShipStation has been in the industry for almost a decade. Since 2011, the program helps online merchants with their shipping processes. ShipStation allows integrations with various ecommerce websites, including Shopify. With this software tool, you can automate shipping tasks. As a result, you can oversee shipped products efficiently. Moreover, this process lessens customer complaints about their purchased items.
Since online transactions happen not only between merchants within the same country, it is crucial to assure clients that their purchased products are in good hands. Through ShipStation, the system provides timely and automatic updates to your customers regarding the status of the shipped items. What's more, you don't need to do this manually. You can even set specific alerts per buyer.
Since you already have an introduction to both software solutions, it's now time for the main Shopify vs ShipStation comparison article. Both programs will be examined based on shared features, such as catalog management, order management, content management, cross-platform availability, reporting, and pricing plans.
Catalog Management
Through catalog management tools, you can add, delete, and manage products. Every ecommerce platform must feature user-friendly catalog management. This way, business owners can start selling their products right away.
In Shopify, you need to add products manually if you are entirely new to online selling. But if you already have an ecommerce website, you can import data from your previous catalog to Shopify's system. As a result, you don't need to spend time and resources to add items to your Shopify store. What's more, the program allows you to customize your virtual store. This way, you can align your store's theme to your brand.
Since you can connect your Shopify account with ShipStation's system, you don't need to worry about adding products to ShipStation. Due to this integration, purchased products from your store are automatically added to your ShipStation account. This way, you can have a streamlined shipping process. However, it is worth noting that ShipStation recognizes only physical items. Hence, you will not see fulfilled digital products on your ShipStation account. If you use other ecommerce platforms without integration to ShipStation, you need to input the products manually.
Both programs allow you to manually or automatically add products to your account. Hence, in terms of catalog management, no platform poses no advantage over the other. 
Order Management
Shopify allows a hassle-free order management system. If you are selling globally, you can check an order's currency based on what customers see on their account. Additionally, Shopify's system enables you to add notes to a purchased item. This process helps you in communicating with a customer efficiently. As a result, you don't need to use another messaging app to contact a buyer. Still, the app allows you to resend an email to a customer. 
Due to its user-friendliness, Shopify is considered as an established ecommerce platform. You can read and compare shopping cart software solutions here for the list of top 10 online shopping programs.
In terms of order management, ShipStation offers flexible tools to online merchants. Even after you have imported the products to your Shopify account, you can still edit order notes, item details, payment information, and even the address. You can also combine orders from the same shipping address. This way, you can save shipping costs, especially for international deliveries.
Shopify and ShipStation offer intuitive tools that help you manage orders from customers. These platforms enable you to change purchase details from customers around the world. This process contributes to a high customer satisfaction rate. Thus, similar to catalog management, Shopify and ShipStation provide users with reliable services: Shopify with online orders and ShipStation with fulfillment services.
Alerts and Notifications
There are times where you might overlook an order. Fortunately, Shopify and ShipStation help you avoid these circumstances. Thus, they have a built-in alert system for online merchants.
With Shopify, you can view your notifications on the Settings page. Besides updating you on shipping statuses, you can also use Shopify to send emails to your employees and customers. You can even customize your templates to align with your brand's theme. Additionally, Shopify offers SMS notifications. Through this process, every involved individual is updated regarding ordered items.
Although ShipStation also sends notifications to users, it does not sends alerts to your employees. Unlike Shopify, this platform does not provide email templates for your clients. Hence, you might need another software solution if you want to send regular email alerts to your customers.
In this Shopify vs ShipStation comparison article, the former offers an advantage when it comes to alerts and notifications.
Cross-Platform Availability
Shopify and ShipStation are available in Android, iOS, and mac-OS run devices. Since the two platforms are web-based, you can also access their features using any browser with an internet connection.
Shopify is also available in-store through a POS system. Like its web-based counterpart, Shopify POS is also included in the list of top 15 point-of-sale software. Read this article to discover other programs for your physical store.
Reporting
For businesses of every size, it is crucial to analyze your online store's performance using data-backed reports. Fortunately, both Shopify and ShipStation provide users with in-depth analytics that can help them increase their store's growth.
With Shopify, you can review your recent activity, including transactions, sales, payments, inventory, and profit. What's more, the system offers insights regarding site visitors, and this process helps in lead generation. As a result, you can create marketing strategies that speak to your target audience.
Shopify offers technical reports on shipments, sales trends, product highlights, fulfillment, and returns. However, unlike Shopify, it does not provide insights on customer behavior since the app does not transact directly with buyers from your store. Thus, in terms of analytics, Shopify has more to offer than ShipStation.
Integrations
Both Shopify and ShipStation connects with numerous apps. For instance, Shopify integrates with MailChimp, QuickBooks, Fulfilrite, itDuzzit, Zapier, KISSmetrics, and Chargify. Through these integrations, you can review your financial information, send email campaigns, and analyze your site's SEO performance.
On the other hand, ShipStation offers more integrations. The system connects with Shopify, Amazon, eBay, WooCommerce, Squarespace, and Etsy, among other ecommerce sites. It also integrates with local and international courier services, such as USPS, UPS, FedEx, DPD, Canada Post, and Global Post. Like Shopify, it partnered with QuickBooks to help you analyze your store's financial situation.
Pricing Plans
Shopify offers three plans: Basic Shopify, Shopify, and Advanced Shopify. Basic Shopify costs $13 per month and allows you to post unlimited products. This version also accommodates two of your employees. Alternatively, Shopify requires a fee of $54 and allows up to 5 staff. With this option, you can have professional reports of your virtual store. Lastly, the Advanced Shopify plan costs $107 per month with reduced transaction fees of up to 0.5%.
On the other hand, ShipStation has six pricing options. The Starter version costs $9 and allows up to 50 shipments, while the Bronze plan requires a monthly fee of $29 for 500 deliveries. You need to pay $49 for 1,500 dispatch orders. Also, if you want to ship 3,000 orders per month, you need to pay $69. The Platinum option then requires $77 per month and allows up to 6,000 deliveries. Lastly, you can send 10,000 shipments per month with the Enterprise package. This plan costs $159 and is great for large companies.
The Better Ecommerce Platform
Shopify and ShipStation have different roles, but both are related to the ecommerce industry. You can even use ShipStation to improve your Shopify store. However, ShipStation does is not recommended for freelancers, whereas Shopify is great for individuals and businesses alike.
If you are only starting with your online business, then you might not need ShipStation's services. But, if you conduct over 50 shipments per month, ShipStation is an excellent addition to your business processes.