Remote work is quickly becoming the new normal.
It is predicted that by 2022, the global remote workforce will be on 77%. That means that by 2022, more than half of the world's labor force will be doing remote work. Such an increase is unprecedented given that it took a while for businesses to acclimate to video conferencing tools in their operations. However, since the onset of the COVID pandemic, businesses were left with no choice but to zone in on remote work. Now is the best time to set your workflow infrastructure and find the right tools for your employees.
Video conferencing tools are front and center when it comes to solid remote work experience. Tools for communication will play a big role because it is the sense of presence and togetherness that will be lacking. If you're on an active search for trending tools and features when it comes to communication software, click here.
Skype and BlueJeans are two of today's leading video conferencing software. This Skype vs BlueJeans comparison article is helpful for you if you're on the lookout for a video conferencing software and you happen to be choosing between the two.
What do users say about Skype and BlueJeans?
Of the two video conferencing software, Skype is the more popular choice. However, both platforms equally have loyal and supportive fans and users. Skype users love how the software is free and easy to use. On the other hand, BlueJeans users love how the software is reliable when it comes to instant group meetings as users can easily start and join active video conferencing in just a click.
About Skype
Skype has been providing video conferencing tools since 2003. Formerly owned by Skype Technologies and then eBay, Microsoft acquired Skype for 8.5 billion USD in 2011. Since the acquisition, Skype has been actively incorporated and integrated into and across all Microsoft products.
The popularity of Skype is partly due to how its developers made it easy for users to consistently have a means of video conferencing in a stable and reliable manner at absolutely no cost. Skype brought everyone to the future as it popularized video conferencing tools not just for business but for personal use as well.
Pro – Has a forever free version.

Con – Can only take on a limited number of users in a meeting.
About BlueJeans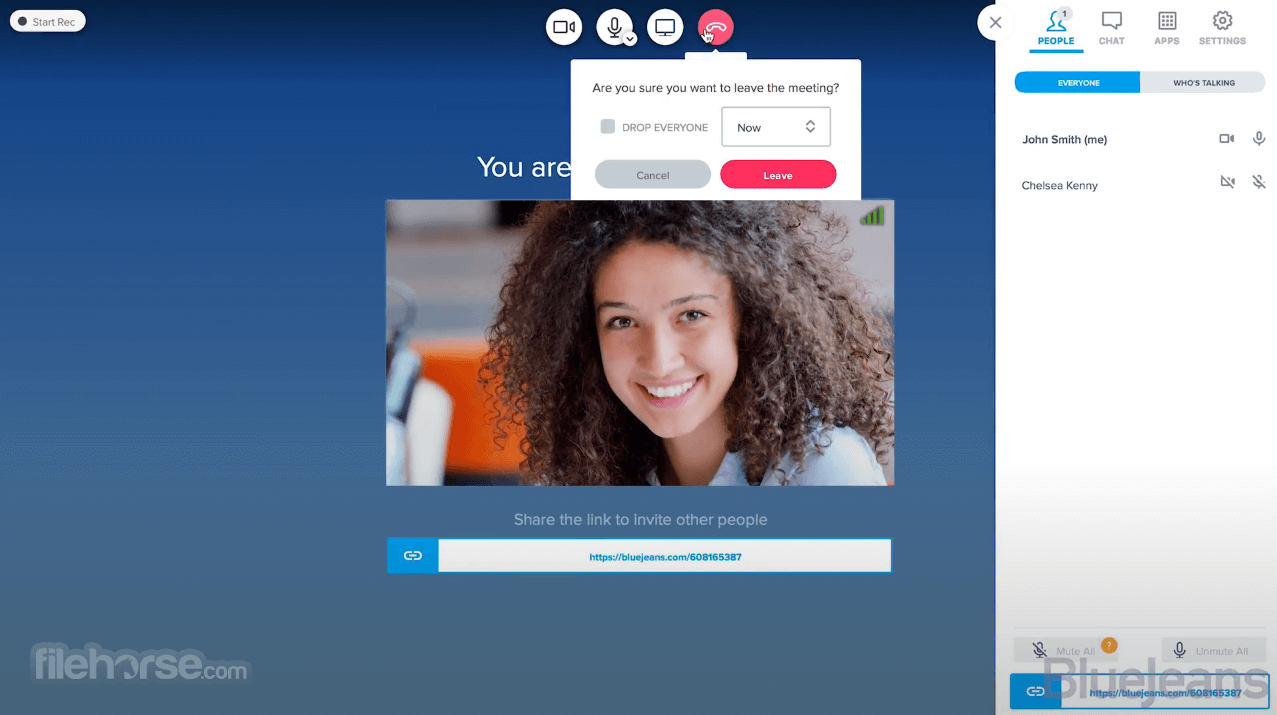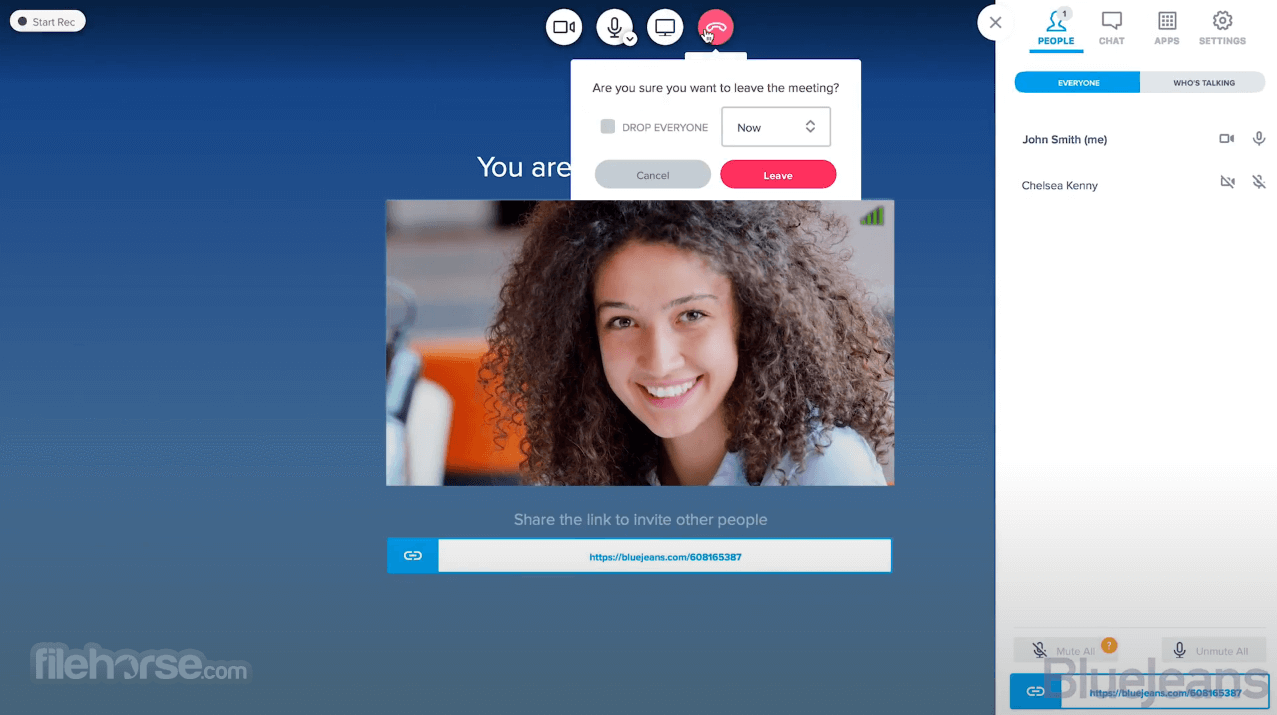 BlueJeans came later after Skype was launched. It was launched as a Verizon product in 2009 and has since then been an industry giant when it comes to providing video conferencing tools to users with different devices.
Skype is limited because it requires individuals and businesses to limited devices. BlueJeans, however, is more flexible as it can even connect to SIP and H.323 room systems. Hence, it caters to a different market with different needs and fixed gaps and holes in digital communication. It answers to the demand of businesses with analog tools that want to still utilize and slowly transition to full-time video conferencing.
Pro – More devices can be connected for active call and video conferencing.

Con – Buggy mobile application.
Points of Comparison
You need not be confused between Skype and BlueJeans. This comparison article will make it easy for you because you truly just have to consider the following essential factors: pricing, video conferencing capacity, recording tools, collaboration tools, analytics, and integrations.
Pricing
This Skype vs BlueJeans comparison article will not be complete without looking into the platform's offered pricing plans. It should be the first in your checklist of factors to consider as different businesses have different financial allocations and constraints.
As these two video conferencing platforms offer premium communication tools, service comes for a fee. So how much are you willing to invest?
Skype is the more viable choice for businesses with a limited budget as it has a forever free version. It offers three paid plans: Online Plan 2, Office 365 Business Essentials, and Office 365 Business Premium. Online Plan 2 goes for $5.50 per user per month while Office 365 Business Essentials goes for $5 per user per month. Its most expensive paid plan is Office 365 Business Premium and it goes for $12.50/month. Most of Skype for Business tools have been integrated with Microsoft Teams. However, updates and upgrades for Skype for Business are still available to Mac users.
BlueJeans offers three paid plans: BlueJeans Standard, BlueJeans Pro, and BlueJeans Enterprise. Blue Jeans Standard goes for $9.99 per host per month while BlueJeans Pro goes for $13.99 per host per month. BlueJeans Enterprise pricing is quote-based. All plans are billed annually.
Consider the pricing difference between the two platforms: Skype pricing is based on active users while BlueJeans pricing is based on the number of hosts. BlueJeans would appear to be the cheaper option because one only has to pay for the account of active hosts. However, BlueJeans' pricing is billed annually.
Video Conferencing Capacity
Video conferencing capacity is important as your software of choice needs to be robust enough to take on your needs. How many employees do you have? How many team members do you intend to be working with? Do you see a significant spike in the number of your required workforce in the next five years? You need to have a clear vision as you must choose a video conferencing tool that can service your demands.
When it comes to participant capacity, Skype is better as it can take on as much as 250 active participants in one call. BlueJeans can only take on 100 active participants in one video conferencing session.
For security, BlueJeans is a more protected platform because AES encryption is applied. Tools for SSO and SAML are also available.
If you're looking for webinar tools, both platforms have no specialized features for such. It's best to look for dedicated apps so do check our article where we did a software ranking of leading webinar platforms.
Recording Tools
Skype and BlueJeans are both capable of recording. The difference is in the capacity and saving mechanism.
Skype meetings can be recorded and saved on the desktop or via the cloud. Each user has access to 1 TB of data storage that can be easily utilized for storing recorded meetings.
BlueJeans allows for the saving of recorded meetings only via the cloud. Storage is stellar as users have access to an unlimited cloud storage capacity.
Collaboration Tools
The availability of collaboration tools differs between Skype and BlueJeans.
Skype allows for individual and group screen sharing. Tools for automated meeting scheduling and personal notes are also available.
Apart from screen sharing and automated meeting scheduling, BlueJeans allow for more collaboration as it can integrate with learning tools and productivity tools from third-party developers like Canvas and Slack. It can also stream meetings on Facebook. Through it, more participants and collaborators can actively work and pitch in.
Analytics
The future belongs to businesses that utilize collected data. Although videoconferencing tools are far from business intelligence per se, analytics can be duly applied. Upon application and utilization of gathered data, users can significantly improve their workflow speed and productivity.
Between the two, BlueJeans has more tools for business intelligence. It offers tools for historical meeting analytics and travel and emission savings. Its business intelligence feature for the measurement of travel and emission savings single-handedly makes it the greener video conferencing tool.
Integrations
Integration tools are important because video conferencing apps don't exist in a vacuum. The more integrations an app can allow, the more powerful it can be. Between the two, Skype allows for more integrations.
As Skype is a Microsoft product, it can seamlessly integrate with all Microsoft software. It can also integrate with numerous third-party apps like Bitium, Yugma, and SalesExec.
BlueJeans has limited integrations but it can connect with powerhouse third-party apps like Slack, Canvas, Zoho, and Okta.
Integration needs primarily depend on the nature of your business. Businesses in the medical industry will need different integrated tools compared to businesses in the customer service industry. If you need to integrate with call center software, do check our guide here.
What is the best video conferencing software for you?
This Skype vs BlueJeans comparison article will fully be beneficial for you if you're going to take note of the following:
Skype is the better option if you run on a limited budget.
BlueJeans is the better option if you're willing to invest big on videoconferencing tools and software.
Skype is best for you if:
You're a Windows user because it can seamlessly integrate with all Microsoft products.
You own a small business and you don't see yourself hiring more than 250 employees in the future.
You prefer more integrations with third-party apps.
You prefer recording meetings and saving files on your desktop.
You won't need to store more than 1 TB of data in the cloud.
You don't need complex collaboration tools.
You don't need tools for business intelligence.
Bluejeans is perfect for you if:
You want to access video conferencing calls using more devices.
You only want one active host in your meetings.
You do not need as many integrations with third-party apps.
You prefer unlimited cloud storage capacity.
You need complex collaboration and streaming tools.
You need tools for analytics and business intelligence.
Ultimately, your knowledge of how your business works and how you see it in the future will play a big role in choosing between Skype and BlueJeans. Make a list of all your priorities and compare them with our essential factors. Intelligently compare all your needs with our points. At the end of the day, your intimate knowledge of your business workflow and operation know-how will sail you through.