The way we shop and do business has changed drastically over the last 2-3 years. Technological developments like artificial intelligence, mobile wallets, digital payments, mobile commerce, data analytics, and social media integration have all come together to create the digital marketplace we all have – in one way or another – utilized. Digital e-commerce is the culmination of all these elements and in order to successfully participate in this, business owners need to have the right combination of tools and services enveloped in an appropriate business model that is anchored on a strong eCommerce platform. To help people along the decision-making process of choosing an eCommerce platform, read this in-depth PrestaShop vs OpenCart comparison article that looks at what each platform has to offer.
What is an eCommerce Platform? 
An eCommerce platform is a digital space where businesses can set up a digital storefront where they can sell products, goods, and services online. With the integration of business software, all the different functionalities have combined to develop a unified digital infrastructure that houses different brands for more efficient shopping experience for the customer.
To learn more about these two platforms, check out this payment gateway software analysis and comparative review of the different elements that make up eCommerce platforms.
PrestaShop Basics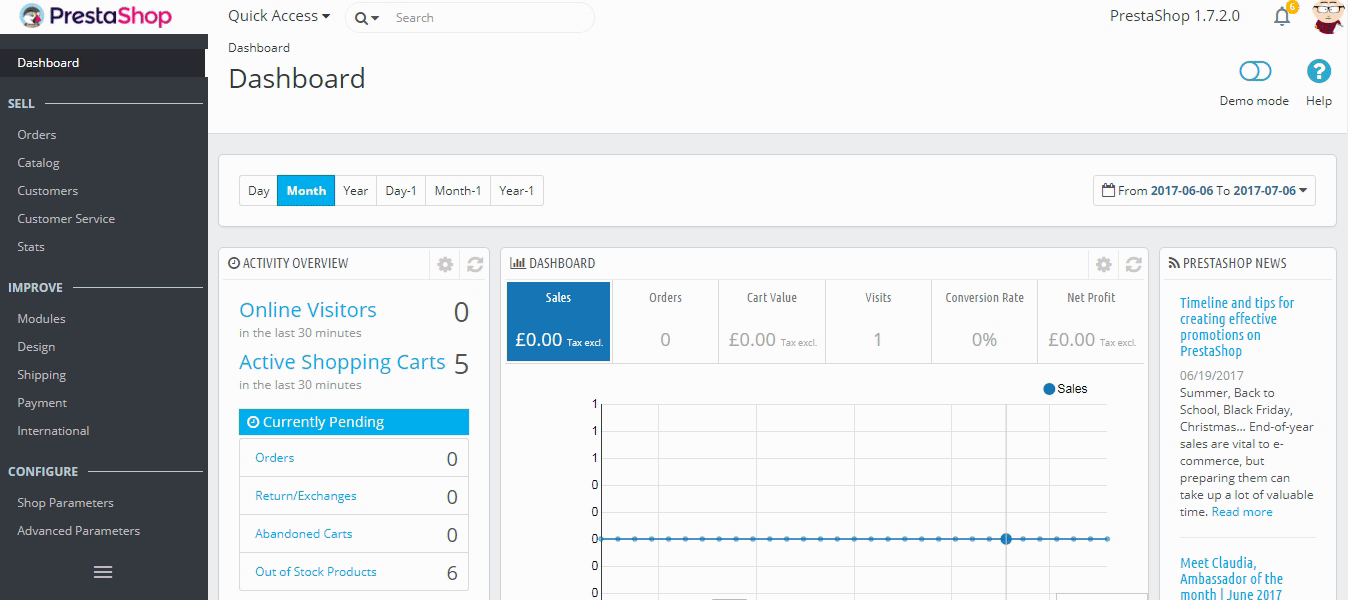 PrestaShop is one of the more established eCommerce platforms in the market. Some of its strong points include payment gateway integration, warehouses, ERPs, and much more. The cloud-hosted eCommerce platform was established back in 2007 and offers both free and premium paid membership.
In terms of design and interface, PrestaShop offers a selection of free templates and themes that come with admin support. For those who want to modify the theme layouts, it's possible but it would require users to have at least a basic grasp of HTML or CSS coding and design. For those who are not that well versed in technical design, PrestaShop is a good platform because, for the most part, the interface is intuitive, user-friendly, and flexible to suit your needs.
In addition to this, PrestaShop casters to online stores from all over the world and support a wide range of currencies. The system also supports multi-store management through a single admin panel making eCommerce much easier for those with multiple brands/ product lines.
In terms of back end support, PrestaShop has a strong user community that includes outlets such as forums and services but the degree of available services depends on your plan. The rate starts at $249 per month and comes with a monthly maximum support of 3 hours. For others, they can avail of the annual subscription of $399 which gets you s6 hours of support per annum. PrestaShop's available support mechanisms include phone, live, through email, support, training, or tickets.
According to our shopping cart software research, some strong areas of PrestaShop include compatible payment gateways, multiple language support, analytics, and integrated shipping. However, some critiques you may wish to consider include the possible conflict between add on modules, sometimes slow checkout, to name a few.
There are Pros and Cons to PrestaShop; its strong SEO capabilities, high website loading speed, easy migration between themes, easy-to-use design, and wide language and currency support must be tempered with observed slow processing, developer skill requirement, and a number of key features are part of add-on modules.
OpenShop Basics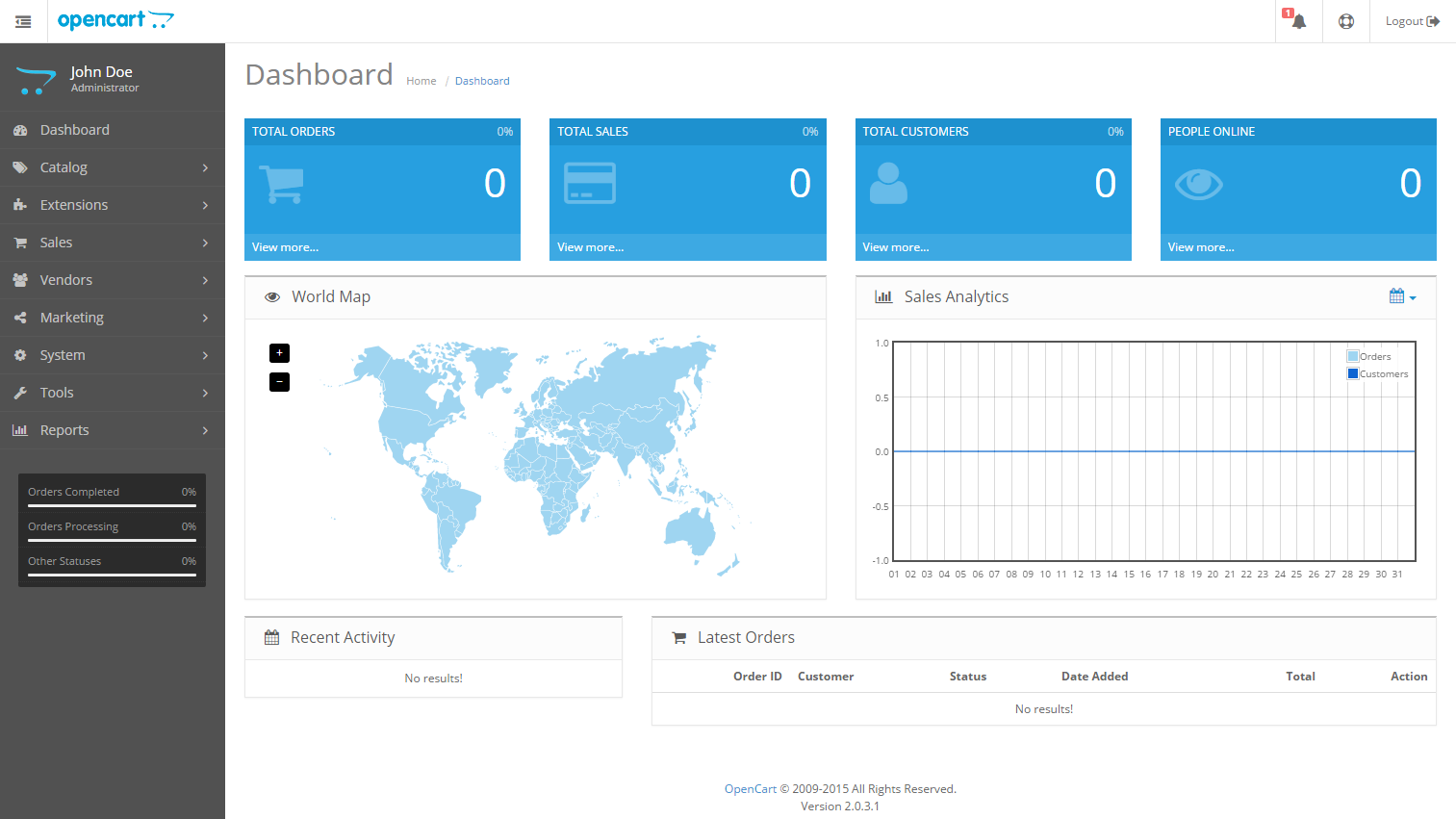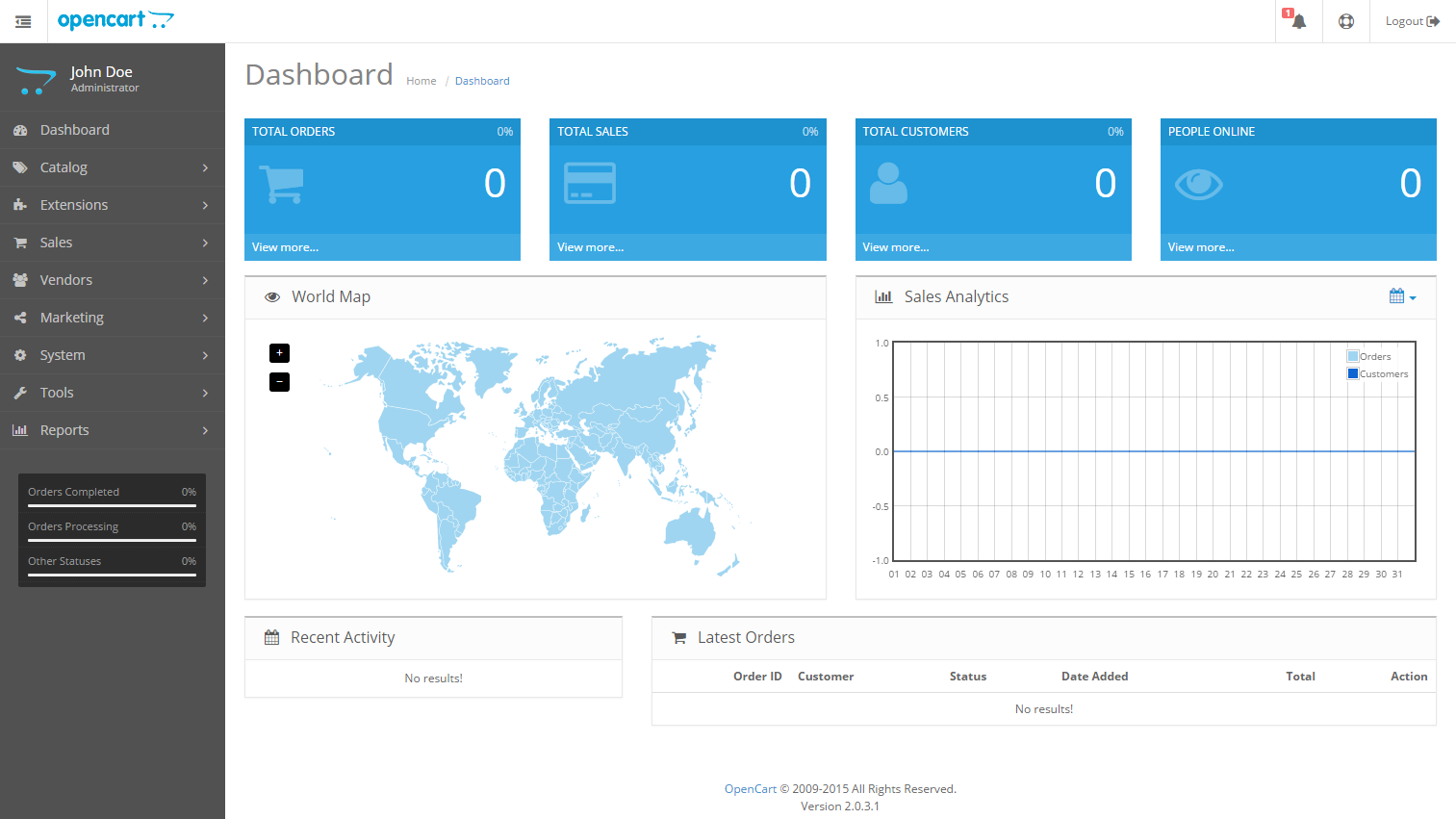 On the other hand, OpenCart is an eCommerce platform that's PHP-based that boasts of a strong order processing procedure and a high functionality catalog. It has easy to use features and offers a range of functions for both free and paid subscribers.
Comparatively, in addition to having a range of templates, OpenCart also supports multi-store setups which are ideal for business owners who want to differentiate their product lines or have multi-brands under their belt. In our review of PrestaShop vs OpenShop, customizing, and designing around the channel is easier as those who are familiar with WordPress will be able to navigate the dashboard efficiently.
For customer service, OpenCart's free Community has dedicated commercial support and developers are on hand to respond to questions. Dedicate support comes with a price tag of $99 with two payment options, a one-time payment or monthly billing. Available support for the OpenCart is the same as PrestaShop and can be a phone, live, through email, support, training, or tickets.
According to research, some strong areas of OpenCart include compatible payment gateways, multiple language support, analytics, and integrated shipping. However, some critiques you may wish to consider include the possible conflict between add on modules, sometimes slow checkout, to name a few.
StoreFront and Inventory Management
Doing a PrestaShop vs OpenCart comparison along with inventory management, item movement and stocking is a freeze. Their tracking system and inventory management data can be exported from the system into your hardware in CSV format.
Users can access the system through various means, PrestaShop supports Android, Windows, iPhone/iPad, Mac, and Web-Based systems.
OpenCart's system is a bit more basic but does the job. Its inventory management is enough to allow merchants to track their items in stock via the admin dashboard.
On the other hand, OpenCart has fewer options for access; it is available through 3 devices, Windows, Mac, and Web-Based access.
Search Engine Optimization
PrestaShop comes with SEO features that allow users to rank generate strong SEO URLs, edit pages, and so on to ensure that products are easily carried and recognized by search engines. However, in terms of popularity, Google Trends tends to show PrestaShop more so than OpenCart.
OpenCart also has SEO features some of which include the use of keywords, descriptions, and meta tags. The platform also aids the development of unique SEO URLs by using plugins which can boost SEO performance.
Navigation and Use
PrestaShop generally has a higher quality search and navigation system and is quite well known for this feature. Aside from layered navigation filter, some of its touted features include:
Filtering by color and material;
Priority search using various filters including description, title, etc.);
Search indexing; and
Price, Name as well as reference autocomplete.
Searching with OpenCart is pretty straightforward. While it isn't as intuitive as the PrestaShop system, it can maximize filters and narrow down searches by categories making it easier to find and buy items that buyers are looking for.
Pricing 
One of the major considerations prior to diving into an eCommerce platform is cost.  While PrestaShop is a free and open-source platform, additional services will cost you. Buy ons, depending on the service you wish to avail of has an average cost of $50 to $150 per optional service.
OpenCart, as an open-source platform, is free-to-download, and also requires add-on services to increase the functionality with varying prices. However, when compared to PrestaShop, the average cost of additional modules is relatively lower. The average model cost ranges from a lower $20 to $100 per module.
Which is Best for You?
It would also be good to note that both platforms cater to businesses of different sizes, from small to medium to large firms. However, with the size and advanced features offered by PrestaShop, it is also suitable for large enterprises, more so than OpenCart.
eCommerce platforms are different and even if it has the same goals and business model, no two systems are exactly the same. The debate as to which system is better is highly subjective so the decision of which eCommerce platform best suits your needs really depends on a varying number of factors, your needs, your IT abilities, as well as your budget. When doing a PrestaShop vs OpenCart comparison, the decision ultimately rests on your but hopefully, this article was able to help you narrow down your choice.