Dominating the world of e-commerce is easy when you have the right tools. For WordPress users, WooCommerce is the plugin to beat when it comes to easily empower a site to become a hotspot for online mercantile. Among the many e-commerce WordPress plugins, WooCommerce is loved by many as it has robust features and is available for free. However, it lacks some features that users need for smoother and faster e-commerce transactions. Hence the rise in demand for Dokan and WCFM Marketplace plugins. Which is the better plugin though?
In this article, you're going to learn the important factors to consider when it comes to choosing the best WooCommerce plugin for your online store. This Dokan vs WCFM Marketplace comparison will give you the essential tools to look for when it comes to making a successful online store.
The key to e-commerce success is flexibility. As all factors are digital, online stores can quickly rise to the needs and demands of the market in just a click. You should consider the tools and features that will make it easier for you to rise to ever-changing consumer demands. You will make the most out of this Dokan and WCFM Marketplace comparison if you would take note of the top seven factors that customers consider when purchasing in an online store:
A clear

 statement of price
Credible design
Speed

A calculator

 that incorporates hidden fees for shipping and tax.
Searching tools
Privacy protocols
Real-time customer support – live chat
For your convenience, we have incorporated the following factors in this Dokan vs WCFM Marketplace comparison article. To read more on factors to consider for increased sales, you should check out our article on leading sales software.
An overview: Dokan vs WCFM Marketplace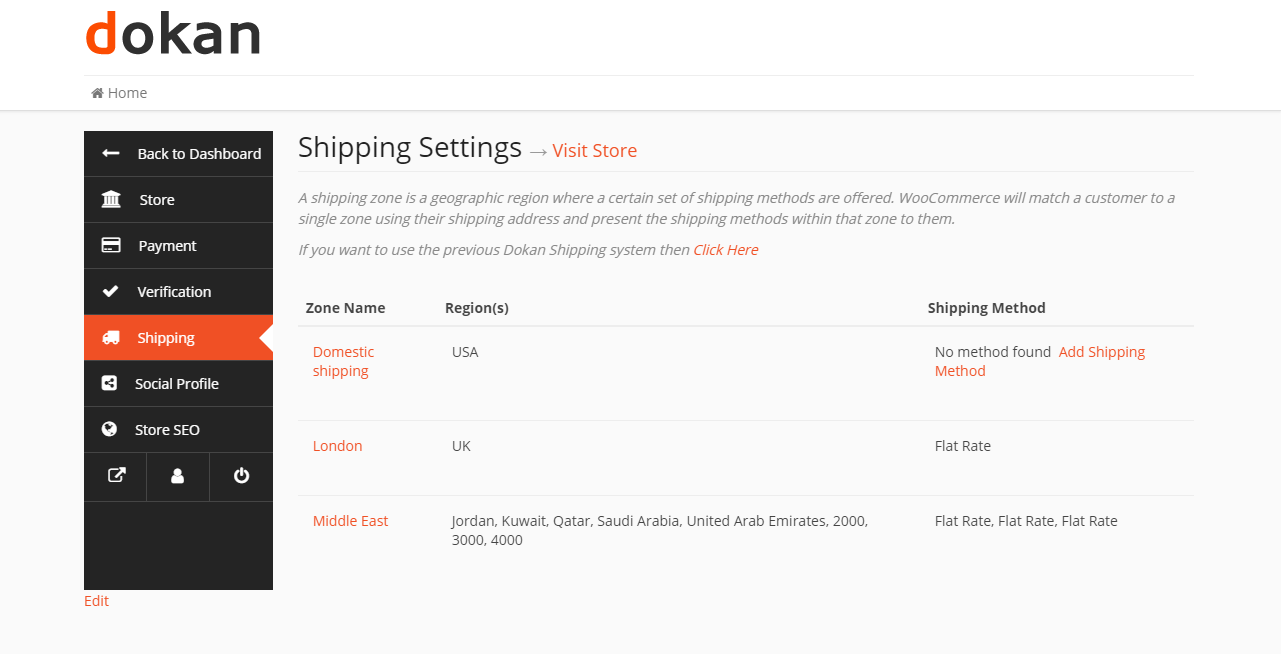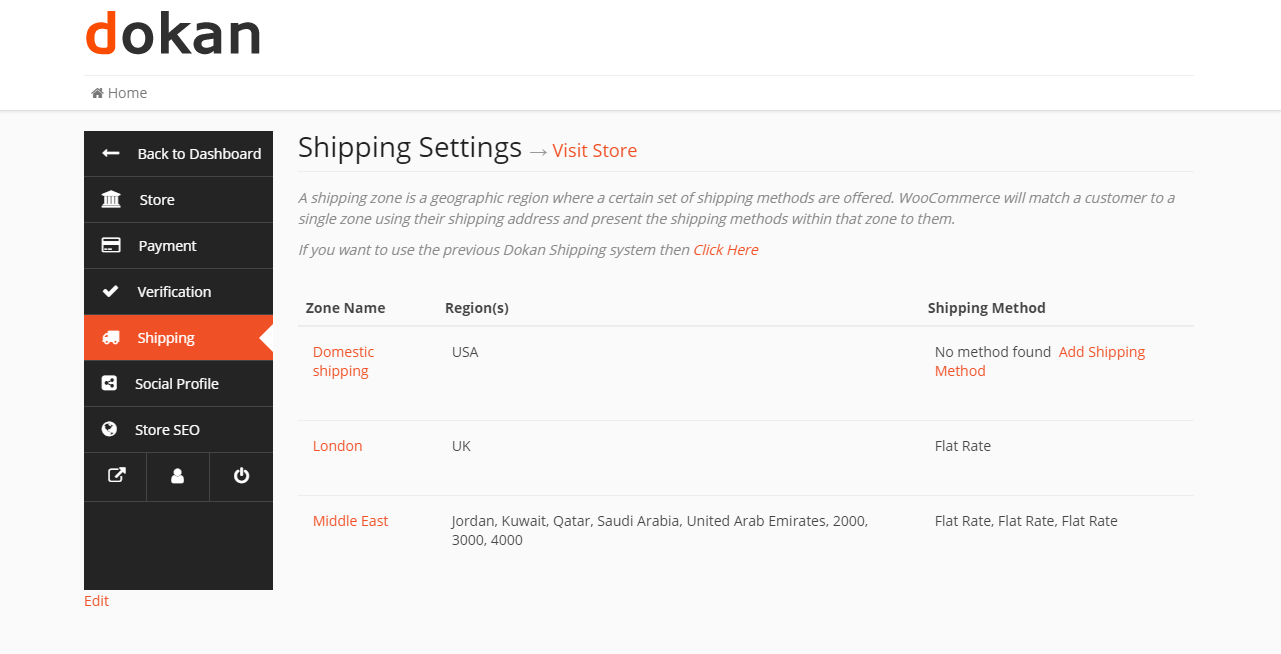 Dokan and WCFM Marketplace are WordPress plugins that seamlessly work with a WooCommerce ecosystem. The developers of Dokan has been around in the business of creating plugins for WordPress since 2014. Dokan developers first ventured on the creation of themes before fully focusing on Dokan tools and features for e-commerce. On the other hand, WCFM Marketplace was launched in 2018. It was introduced in the market as a dedicated e-commerce plugin for WordPress users that prefer the WooCommerce architecture. The two are currently the leading e-commerce plugins in WordPress. As Dokan has been in the market for almost seven years, it now has a total number of 40,000+ users. For a plugin that has only been in the market for two years, WCFM Marketplace has a remarkable user count of 20,000+.
Both Dokan and WFCM Marketplace are unquestionably stellar e-commerce plugins. The fact that you're down to choosing between the two speaks so much of your good researching skills as you've come up with two of the ultimate best when it comes to e-commerce plugins. Dokan packs a punch when it comes to stability and reliability while WCFM Marketplace is the plugin to beat when it comes to advanced features. In choosing between the two, you need not be confused as you just need to consider the following factors: pricing, overall toolset, customer support, and integrations.
1. Pricing
To begin with, both Dokan and WCFM Marketplace offer free versions. Dokan's free version has a frontend vendor dashboard that has tools for order management and vendor withdrawals. It allows for unlimited vendors and store widgets. WCFM Marketplace's free version also allows for vendor withdrawals together with toolsets for refunding, inventory management, reviews, and shipping. If you're after more features at absolutely no cost, you should opt for WCFM Marketplace. But if you're after accommodating unlimited numbers of vendors, you should opt for Dokan.
When it comes to pricing, Dokan is more expensive. Paying users can choose from four plans. It's most affordable plan comes with one site license and is available for $149/year. It has an enterprise plan that goes for $999/year that comes with 20 sites license. As it is on the pricier end, it offers a 14-day money-back guarantee to unsatisfied users. This makes it ideal for users who are still figuring out the right plugin for their online stores.
WCFM Marketplace is the budget-friendly option as its lowest-paid plan goes for $49/year with one site license. It does not offer specific plans as it gives users the liberty to choose particular features to pay for like tools for affiliates, delivery, and analytics.
2. Tools and Features
Dokan and WCFM Marketplace have particular highlights and features that can tend to different kinds of users.
Dokan has been in the business of providing tools for multi-vendor WordPress sites since 2014. It is considered as the pioneer e-commerce plugin in WordPress. It offers standard tools for vendor management, order management, commissioning, widgets, booking, and auction. As it has been operating for more years, it has more tools for integrations with third-party apps like ShipStation.  It also offers more features for refunding like its dedicated request manager for vendors. It offers more tools for batch edits when it comes to managing multiple vendors vis a vis a product for specialized multi-vendor management. Dokan users can also meticulously program display results on all frontends. Through it, users can fully optimize product displays and inventory management. This tool makes Dokan at par with today's best inventory control software.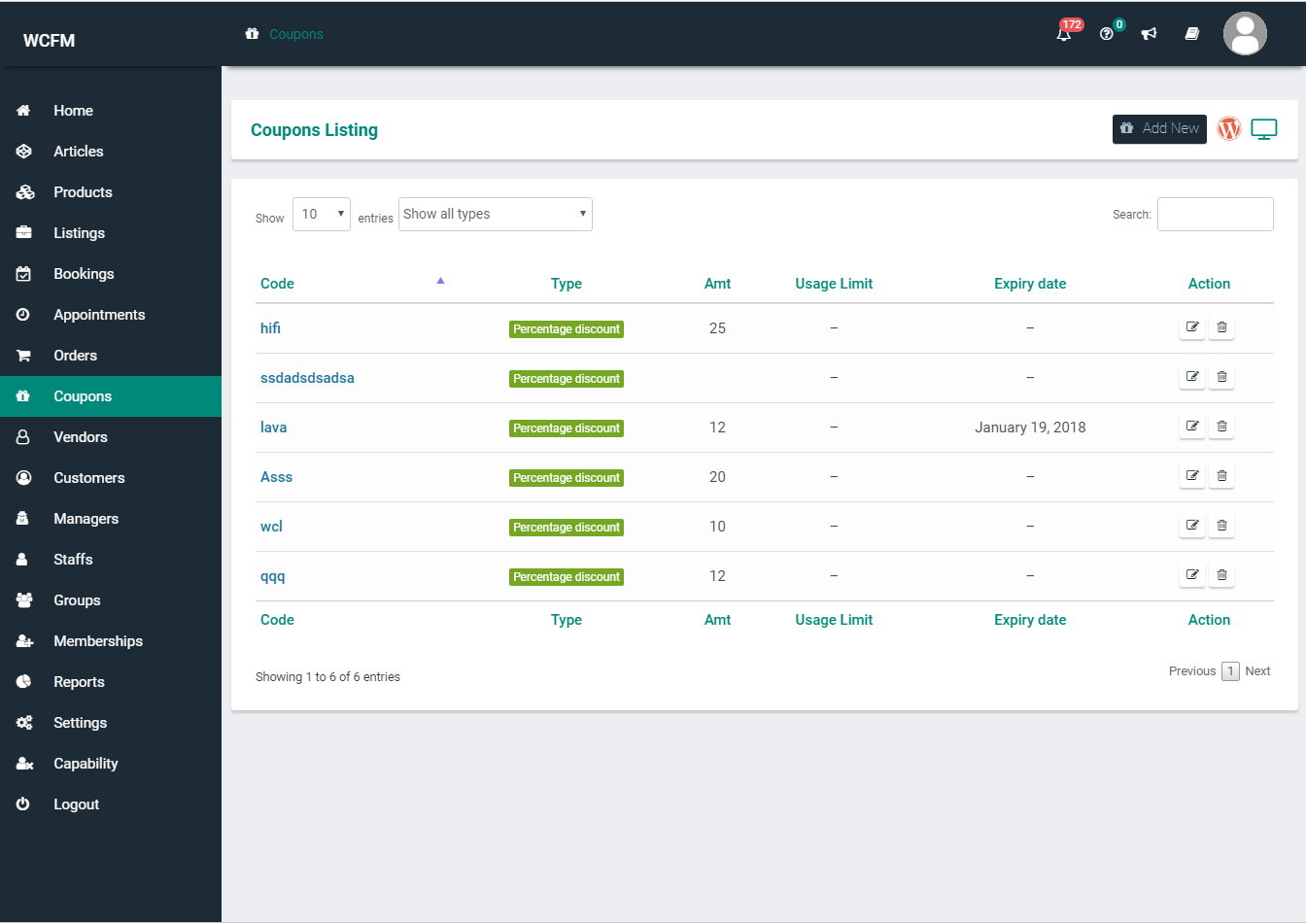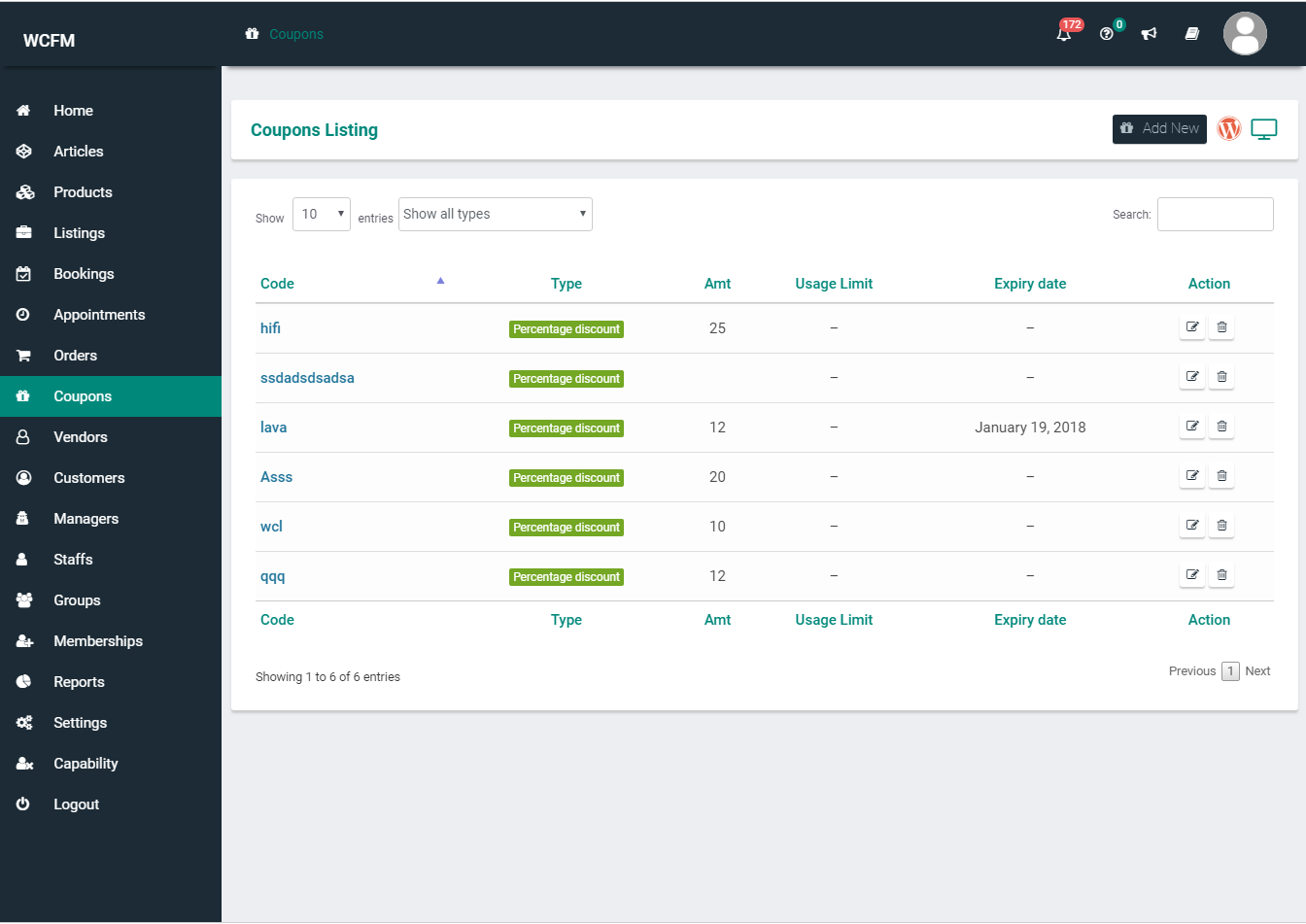 WCFM Marketplace was launched in the market as a fully developed e-commerce plugin for WordPress. Upon release, it was packed with advanced e-commerce features that both beginners and experts raved about. For starters, WCFM Marketplace comes with a free mobile app toolset that caters to vendors and delivery tracking. WCFM Marketplace can easily provide all vendors with a dedicated mobile platform to track sales, inventories, and deliveries. Parties for deliveries also get a dedicated shipping tracker. WCFM Marketplace also has more specialized tools for commissioning. It can track commissions by vendor, by product, and by quantity. Advanced analytics for visit count, referrals, regional sales, and top categories. are also offered. There are also more specialized tools for coupons, reviews, withdrawals, mobile experience design, shipping, and vendor interaction.
3. Customer Support
When it comes to customer support, Dokan users experience more perks as Dokan offers tools for ticketing. Different Dokan plans even offer specialized tools that allow for faster customer support. Dokan users can also utilize live chat tools for questions before purchase.
WCFM Marketplace does not offer live chat and ticketing tools. However, it has a specialized forum that can tend to customer queries. Email support and Facebook help are both available for Dokan and WCFM Marketplace users. WordPress support is also available for both plugins.
4. Integrations
A Dokan vs WCFM Marketplace comparison article will not be complete without checking out how easily each can work with third-party apps. Upon test, both Dokan and WCFM marketplace can seamlessly work with all plugins that work with WooCommerce.
Dokan is specifically compatible with 300+ WooCommerce themes and 100+ payment gateways. On the other hand, WCFM Marketplace integrates with 100+ third-party apps and all WooCommerce-compatible payment gateways.
Which plugin will bring in more value to your online store?
For sure, you already know which plugin to pick if you've reached this point and you read all the essential factors to consider. But if you're still confused and clueless as to which plugin to choose, please take note of the following:
Per the top seven factors that users look for when it comes to online stores, Dokan is the plugin to choose because it comes with a tool for live chat. WCFM Marketplace also answered to all top demands except for the live chat functionality.
If you are on a limited budget and you want to test the waters, you should opt for Dokan as it comes with a 14-day money-back guarantee. Dokan is the risk-free choice because users can explore all available tools with no strings attached. Users can easily request for a refund after checking out the effectivity and compatibility of Dokan tools and features to their online store needs.
If you have no budget at all and want to proceed cautiously and securely with as many features that a free plan can offer, you should opt for WCFM Marketplace. Dokan and WCFM Marketplace both offer stellar free versions but it is WCFM Marketplace that packs more features. So much so that WCFM Marketplace even offers advanced tools for user reviews and shipping to non-paying users.
If you are on a limited budget and you know the features that you particularly want for your online store, opt for WCFM Marketplace. WCFM Marketplace tools can be availed of a la carte. Through it, users can put more value on their money as they need not avail of packages with ready-bundles of tools and features that they may not even need. This also makes WCFM Marketplace ideal for advanced users that know their distinct business needs.
At the end of the day, choosing between Dokan and WCFM Marketplace will ultimately depend on the budget you have and the particular features that you want for your business. Take a moment to visualize the online store that you want and pair it with your current financial power. Regardless of your choice, we can assure you that you won't go wrong if you're choosing between Dokan and WCFM Marketplace as both are uniquely excellent plugins for multi-vendor e-commerce sites. For further research, you may visit this link to read more on outstanding e-commerce software.