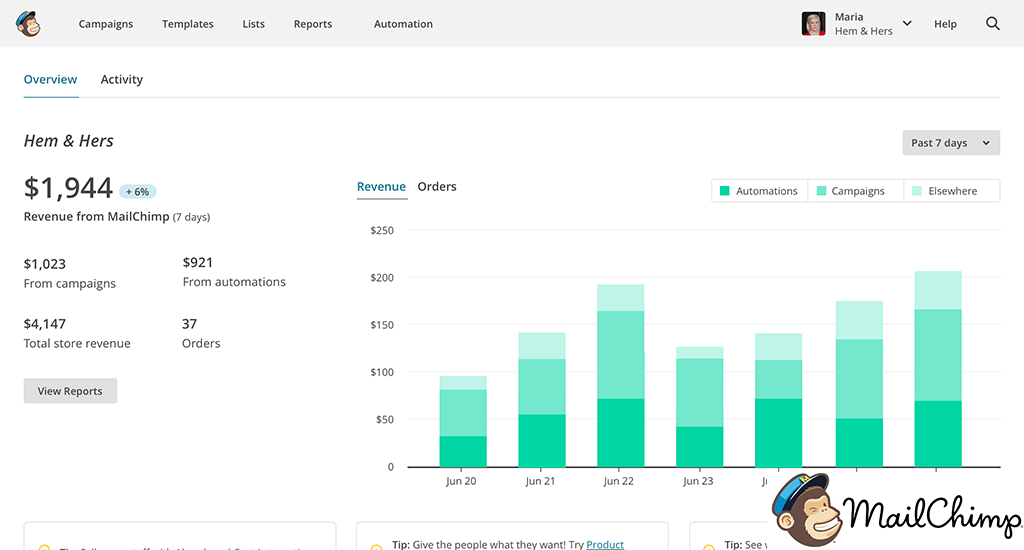 The main benefits of MailChimp are automation, custom forms, email blasts and targeted emails, and reports and analytics. Here's an overview of the product's advantages:
Automation
With MailChimp, you can automate tasks using the default marketing automation settings. This frees up your time so you can give your attention to marketing strategies and communication tactics for your campaigns. This will also give you a chance to enhance the actual content of your emails and personalize them.
Custom Forms
Sign-up forms are an important customer touch point. With MailChimp, you can customize these forms and add your organization's logo. You can also add your social media handles on these forms. Furthermore, you can integrate your list of contacts from your mobile devices to your MailChimp list. Now, you can have your data up to date across your systems.
Email Blasts and Targeted Emails
With MailChimp, you can send an email blast to all your subscribers or you can group your subscribers into segments to target them better. Your targeting parameters can be set to geographical location or click/open history. MailChimp allows you to send emails via your set triggers with the RSS-to-email and automated workflow features.
Reports and Analytics
MailChimp also offers you a dashboard filled with easy-to-understand visual reports. You will be able to know who is interested in your emails via open, clicking, and reply rates. These reports can easily be viewed anywhere from your PC to your mobile device. This can also be shared with your team members. MailChimp also has Google Analytics integrated so you can better understand how your email campaigns affect your site traffic and, ultimately, your sales. Furthermore, there is a tweet trend feature so you will be updated on what your subscribers are talking about on Twitter.