The e-commerce industry is getting bigger and bigger by the day. In 2019, the industry raked in $3.53 trillion dollars. By 2022, it's expected to earn $6.45 trillion. If you want a slice of the pie, you need a good e-commerce platform. You've been doing research if you came across this article as it means that you've come up with two of the best e-commerce software in the market: Magento and nopCommerce. This Magento vs nopCommerce comparison article will share essential points to consider to make it easy for you to choose which e-commerce software is best for you.
What do users say about Magento and nopCommerce?
Magento and nopCommerce serve two very different groups of users. But regardless of the difference, both groups of users are highly satisfied and extremely loyal. Magento users laud how user-friendly and robust the platform is while nopCommerce users love its fully customizable and cost-efficient features. To read on more e-commerce software reviews, check out our list on the best order management software today.
About Magento
Magento is a giant in the industry. It serves over 300,000 global merchants worldwide and it earned $155 billion in 2018. It powers 25% of all e-commerce sites worldwide. Ever since its launch in 2008, it has been introducing advanced mercantile toolsets for all its users. It boasts of a 99.99% uptime and guarantees that it offers the fastest payback period of only five months among all e-commerce software in the market. In 2018, it was purchased by Adobe for $1.68 billion. Magento empowers the e-commerce platform of the following international brands: CocaCola, Zumiez, BevMO!, Tom Dixon, and Sigma. Check this article to know more about the top players in the e-commerce software industry.
Pro – User-friendly UI. Requires no advanced technical knowledge from users.
Con – Can be costly.
About nopCommerce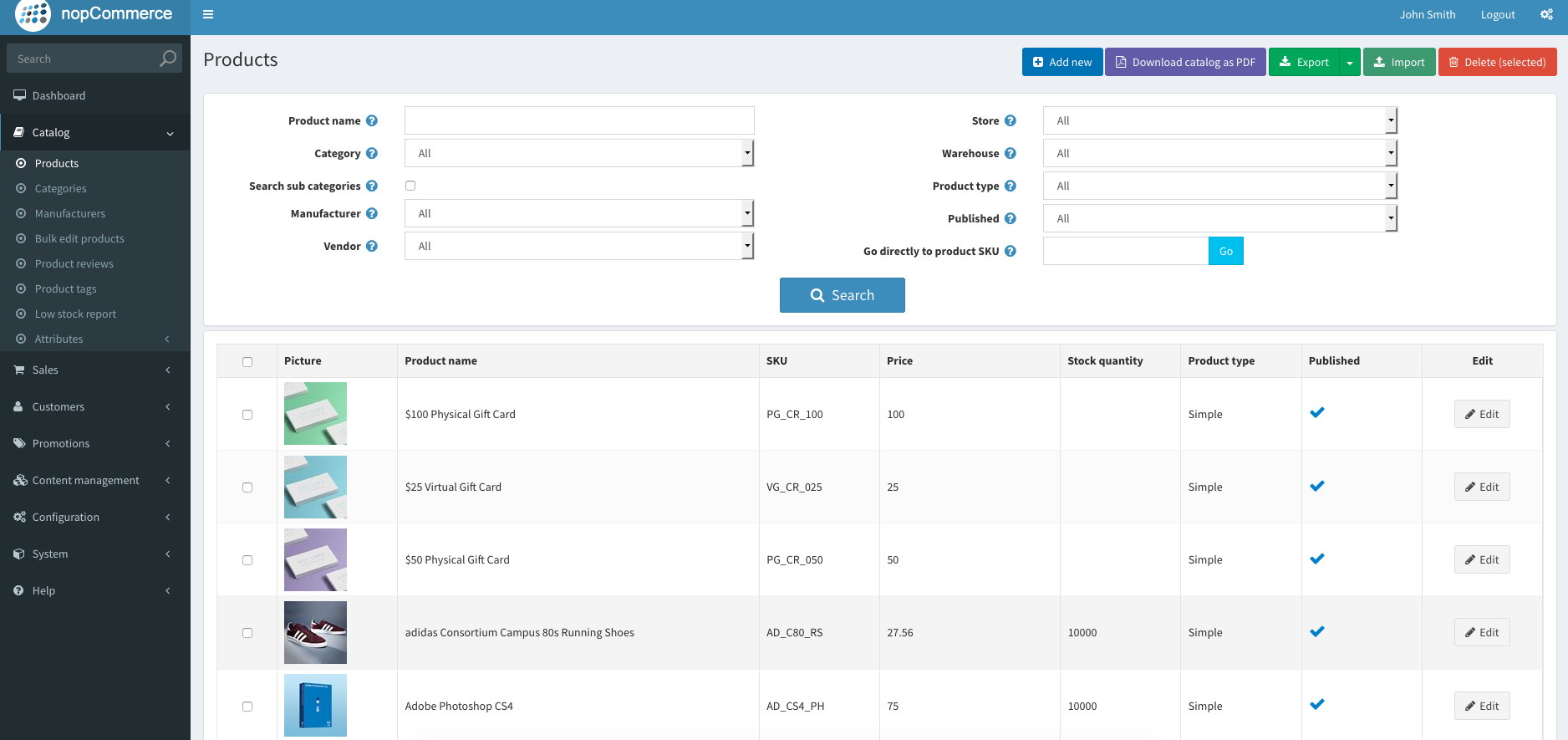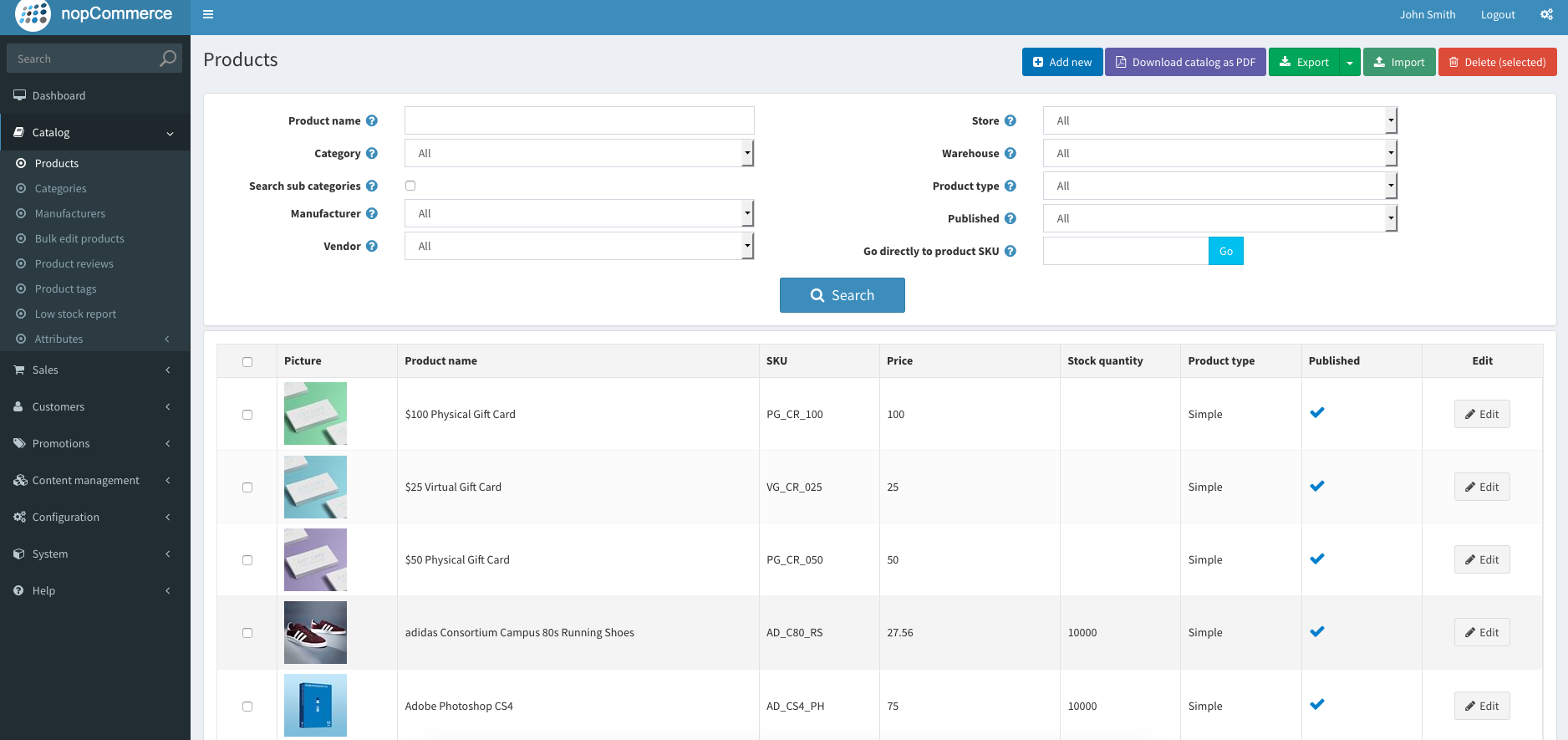 nopCommerce is a Microsoft-based open-source e-commerce platform. Same as Magento, it has been in the market since 2008. It currently powers more than 36,000 e-commerce websites across the globe. It's considered as one of the top alternatives to Magento because it can be used at absolutely no cost with no design limit. As it is open-source, users are free to customize it in any way possible. International brands such as Speedo, Volvo, Rebook, Puma, and Columbia put their trust in nopCommerce as gives its users total control on all possible e-commerce aspects, factors, and dynamics. As of 2020, it's been downloaded for over 3 million times.
Pro – Comes for free.
Con – Limited scalability.
Points of Comparison
This Magento vs nopCommerce comparison article will simplify the main distinctions between the two e-commerce platforms. You need not be overwhelmed as there are only six important points of difference that you should be aware of: pricing, compatibility, ease of use, overall toolset, scalability, and customer support.
Pricing
Earning in the e-commerce industry comes at a price. In choosing between Magento vs nopCommerce, you just really need to ask yourself the following: how much are you willing to spend? More importantly, how much are you able to spend.
NopCommerce is a top e-commerce software choice for users with a limited budget as it is available for free. Downloading it is free and using it daily is free. No monthly subscription is required from its users.
Magento tools and features are pretty expensive. It offers two paid plans to its users: Magento Commerce Starter and Magento Commerce Pro. Magento Commerce Starter is priced at $2,000/month while Magento Commerce Pro goes for $3,417/month. The provided monthly pricing is its base rate as each plan could cost higher depending on availed services and add-ons.
Compatibility
After you've considered your financial parameters, make a current inventory of your current software and hardware. Magento and nopCommerce are both web-based but they differ when it comes to OS systems that can run them.
Magento can work with the following systems: Windows, MAC, iOS, and Android. NopCommerce only works on Windows and Mac systems.
If you work on the go and consider working through smartphones and tablets, Magento will be the better choice for you as it can run and be configured on iOS and Android devices.
Ease of Use
Your choice of e-commerce platform must not contribute additional burdens to your business endeavors. How skilled are you when it comes to information technology? Can you code? Are you open to hiring developers and coding experts? These are the questions you should have answers to before choosing an e-commerce platform for your business.
Magento is known for having an intuitive interface and a very user-friendly design. It's the platform of choice of individuals that have no advanced technical knowledge when it comes to coding and programming. Magento users need not hire developers and programmers to set-up their store as people with no technical knowledge whatsoever can easily run the platform.
On the other hand, nopCommerce is not the best e-commerce platform for non-technical users. It entirely works on codes and protocols that need to be set-up by its users. If you're a coding expert and you want to run an e-commerce business with significantly lesser cost, nopCommerce is definitely for you. However, if you have no idea whatsoever when it comes to coding and technical configurations, best to stay away from nopCommerce.  If you're willing to hire coders and developers, you can still use it. But plainly on the question of which is easier to use, it's a no-brainer, Magento definitely wins.
Key Features
Both platforms get the job done when it comes to online selling. They both offer robust features for order management, payment, and online store administration. This Magento vs nopCommerce comparison article will highlight their uniquely offered tools for efficient differentiation.
Apart from the standard e-commerce software tools and features, Magento boasts of robust functionalities for advanced SEO, integrations, mobile-friendliness. Users also have the option to utilize more than 5,000 extensions and integrate with third-party apps like Facebook, eBay, Twitter, SOFORT, MigraShop, and more. Magento also offers advanced analytics to its users.
It's futile to describe Magento tools vis a vis nopCommerce tools because nopCommerce is open-source. This means that anything that Magento can do, it can do too! Sometimes even better, as it can be fully manipulated and optimized by coders and in-house developers. But default tools that nopCommerce offers and Magento lacks are its:  product and price comparison engine, shipping calculator, and one-page checkout. Read our shopping cart software analysis to know more about the latest must-have tools and features for every e-commerce software.
Scalability
Do you have a vision of how much you intend to grow your business? What's your target for your first year? Where do you see your business in five years? These are important questions that you should answer to help you decide as to which is better between Magento and nopCommerce.
Magento should be your choice if you're after scalability. Its toolsets can easily grow and expand with your business. NopCommerce can also support you should your business go large-scale, but you'd need a dedicated team of developers and coders to help you every step of the way. If you're already an expert coder, then that will not be a point of concern. But if you're not, you have to be open to such expenditure.
Customer Support
Customer support will always play an essential role when it comes to software services. Running a 24/7  online store is not a small feat and you need to make sure that you have adequate urgent support should circumstances require it.
As nopCommerce comes for free, users can't expect for it to provide any structural form of support. Users often rely on its active community support composed of developers from all over the world. Support can be had for an additional fee.
Magento offers 24/7 support but only to its enterprise-grade users. For regular paying users, no direct customer service is provided. But just like nopCommerce, Magento users can go to its active community forum for FAQs and concerns. Magento also offers paid training sessions.
Which e-commerce software is best for you?
This Magento vs nopCommerce comparison article will fully work for you if you're going to take note of the following points:
nopCommerce is best for you if you're looking for open-source e-commerce software.
Magento is best for you if you're willing to spend on monthly fees for e-commerce tools and features.
nopCommerce is best for you if you have advanced coding skills and knowledge.
Magento is best for you if you have no advanced technical knowledge and you're looking for a user-friendly e-commerce platform that you could personally run.
nopCommerce is best for you if you want to create unique tools and features for your online store.
Magento is best for you if you want to utilize advanced analytics in increasing site visits and sales.
nopCommerce is best for you if you run a small business and you have no plans of making it an enterprise.
Magento is best for you if you run a small business and you intend to have it grow into an enterprise.
nopCommerce is best for you if you're fine with operating an e-commerce business with no 24/7 support.
Magento is best for you if you need 24/7 support.
It would also do you well if you'd answer the following questions:
How much am I willing to spend?
What are the software and hardware that I'm currently using?
What features do I prioritize?
Can I code and do basic programming?
How do I see my e-commerce store five years from now?
Do I need 24/7 support?
Answering the following questions and a good understanding of the main point of comparisons between Magento and nopCommerce will definitely lead you to the right choice. Getting to know yourself, your limits, and your absolute business needs will be the key to making the right decision.