Companies are now limitless in their preference to hire remote workers. Before, hiring remote employees poses various challenges. But, the development of remote work applications bridges the gap between employers and workers. Here is a list of top remote work software that can help you and your team members collaborate and communicate from anywhere in the world.
Businesses want to venture into hiring remote workers since it reduces operating expenses while increasing efficiency. Moreover, it allows you to engage with people who have exceptional abilities from around the world. These software tools also enable you to communicate with various organizations and expand your company's connections. Hence, online webinars and meeting programs are now essential tools for every business.
GoToWebinar and GoToMeeting are two platforms that respond to your online meeting and webinar needs. Both programs are excellent choices for startups, professionals, training institutes, and organizations. This article then provides a comprehensive GoToWebinar vs GoToMeeting comparison to know which system is right for you.
GoToWebinar Overview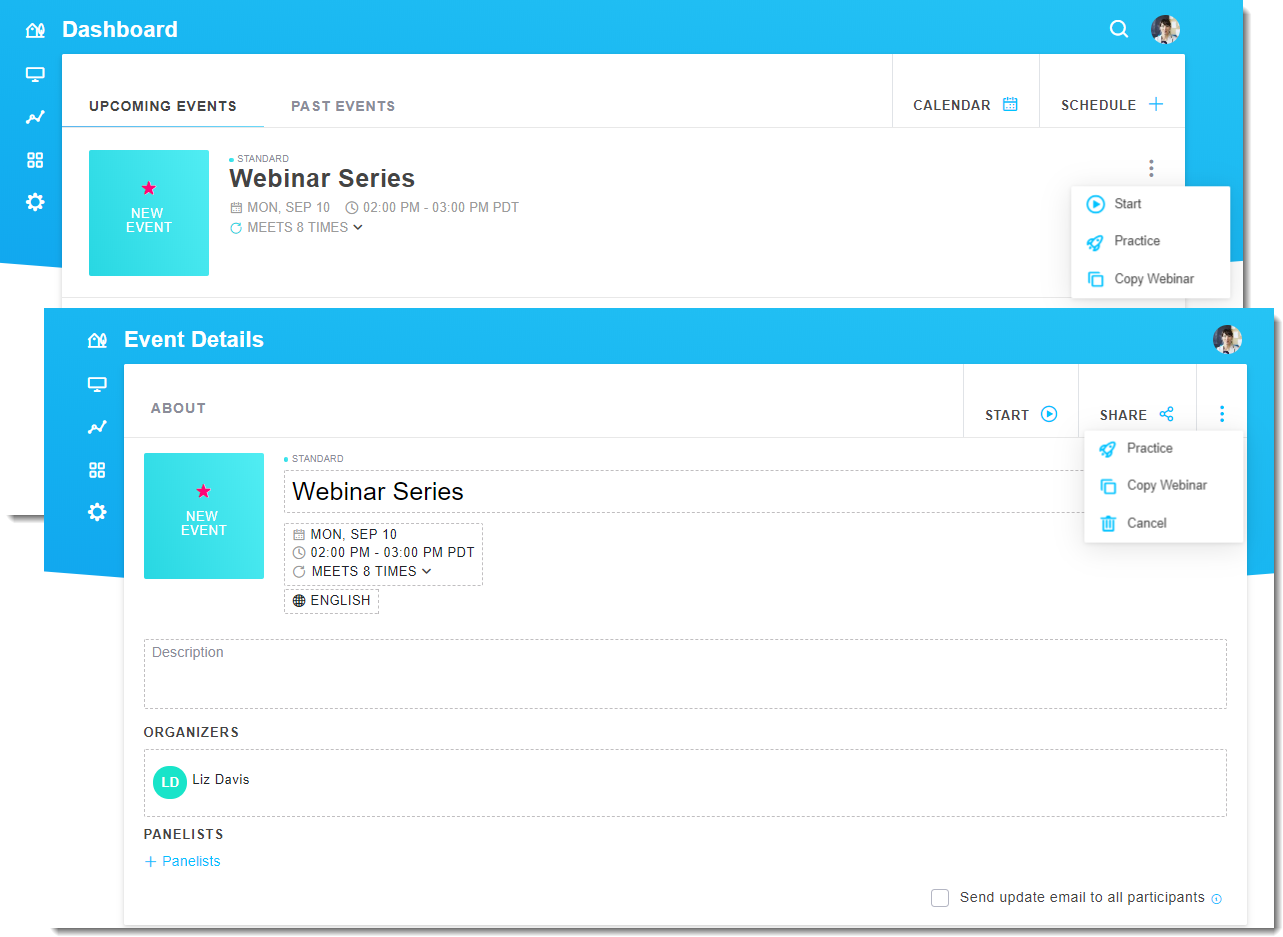 GoToWebinar is a software solution that offers comprehensive tools to individuals and businesses. It features speakers, audio, and video functionalities that allow you to create and manage online video meetings, webinars, and related tasks. GoToWebinar has Android, iOS, and Windows applications. You need to download the app on your devices before hosting a meeting or participating in a webinar.
Due to this program's effectiveness, it has been listed as one of the best webinar software. You can read a webinar software analysis here to know why GoToWebinar is included in the top 10 webinar tools of 2020.
Below are some of GoToWebinar's features;
Online Meeting Room
Online Meeting Recording
Conference Calling
Practice Sessions
Email Templates
Automated Reminder Emails
Attendee Registration
MS Outlook Integration
Screen Sharing
Q&A and Polls
GoToMeeting Overview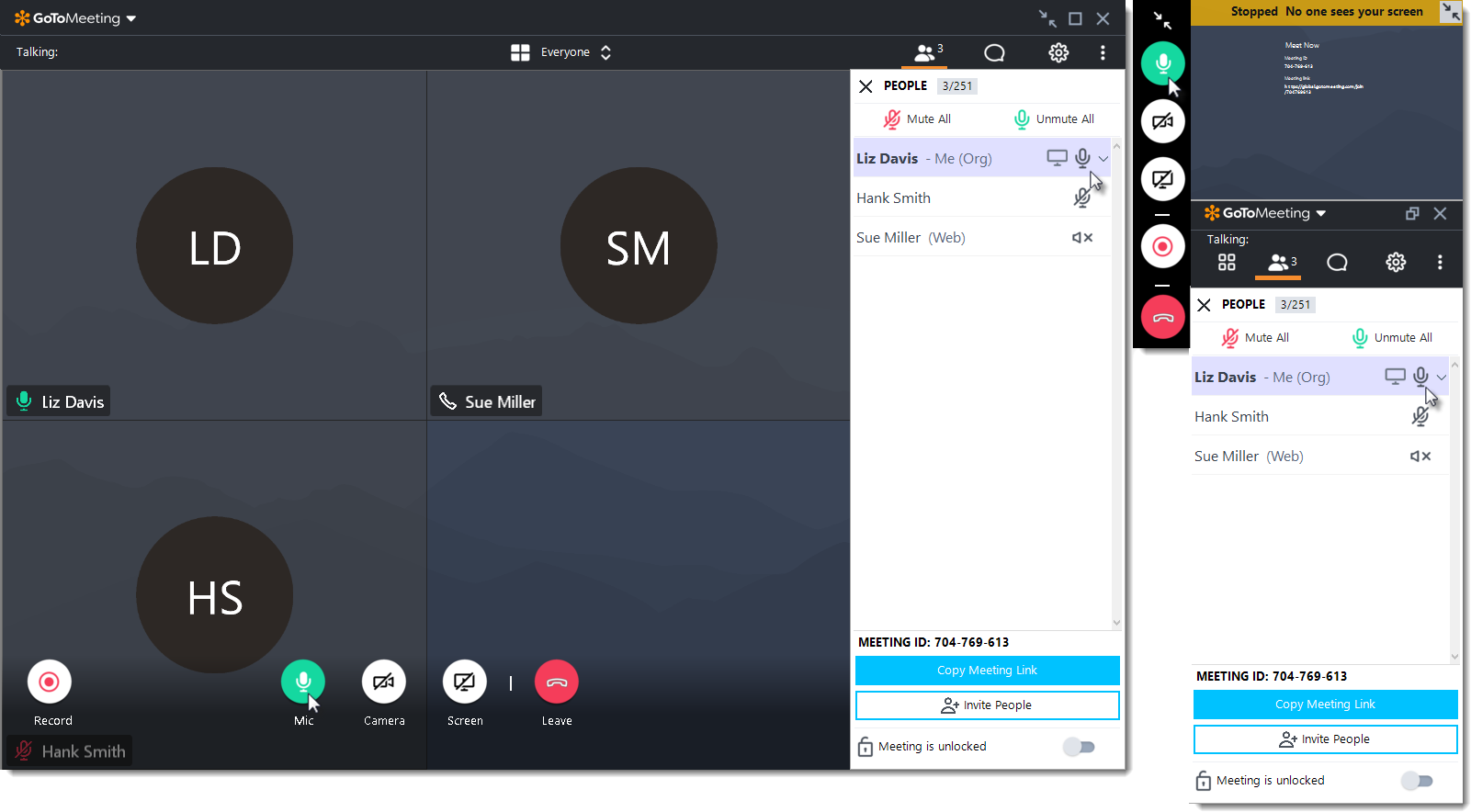 GoToMeeting is a web-based video conferencing tool that allows individuals to join meetings, webinars, and training. The program offers chat messaging functionality that enables participants to engage in video meetings while having a shared or private discussion with other individuals.
Moreover, it features video and recording capabilities that enable you to see all participants. What's more, you are free to turn off the audio or video when you are not the presenter. This way, there are no unnecessary background noises during the meeting. As a result, you can have an uninterrupted conferencing session.
Similar to the GoToWebinar, GoToMeeting requires a downloaded application before joining or hosting a meeting.
Here are some of GoToMeeting's highlighted functionalities:
Online Meeting Room
Online Meeting Recording
Meeting Drawing Tools
Instant and Scheduled Meetings
One-Click Meetings
Presenter Control
Conference Calling
International Conferencing
Screen Sharing
Now that you are aware of their features, it's time to look into the main GoToWebinar vs GoToMeeting comparison based on shared functionalities.
Custom Branding
Remote meetings must not look like typical video calls. It is essential to have a customized online environment for your company's conferences. This process creates and encourages a professional atmosphere. As a result, your team and business partners, will not feel that a particular meeting is merely a video call. With a customizable program, your online conferences can successfully replace face-to-face meetings.
Both programs provide branding options, such as URL invite personalization. This way, you can incorporate your personal name, brand, or organization's name to the invitation link. Also, GoToWebinar and GoToMeeting enable you to add your business' logo to the meeting room.
GoToWebinar's system helps you generate personalized registration questions, invitation link, and waiting room. These actions help you create a lasting impression on your partners and employees.
Maximum Number of Participants
In terms of the allowable number of participants, GoToWebinar has a considerable advantage over GoToMeeting. GoToWebinar allows up to 1,000 individuals to join a conference, while GoToMeeting can only accommodate 26 participants. Hence, enterprises that manage large meetings, webinars, and lectures must choose GoToWebinar, while individuals and small businesses can opt for GoToMeeting's services.
Scheduling of Meetings
With GoToWebinar, you need to spare four minutes or more for the set-up process. Moreover, the system asks for a participant's contact information, such as name and email address, before proceeding to the meeting room. This set-up process ensures that no uninvolved individual can enter a business' private conference session. Also, this procedure allows the system to have a list of who joins a particular meeting.
On the contrary, GoToMeeting does not ask for such information before allowing an individual to join a meeting. For first time users of GoToMeeting, you just need to download the application on Android, iOS, and Windows-run devices. After that, you can simply click on the invite link to enter the online conference room.
Within one to two minutes, you can start an instant meeting. Moreover, you can schedule a meeting or webinar easily using the app. The system asks for your preferred date and time, and it automatically schedules the activity. Thus, GoToMeeting offers the easiest way to join or start a video conference.
Multiple Language Support
Online conferencing software must feature multiple language support since users come from different parts of the world. Both programs support various languages and offer guides on how to change language preferences. This way, they promote inclusivity during meetings and conferences.
GoToWebinar supports up to nine languages. These are English, German, Spanish, French, Italian, Chinese, Japanese, Korean, and Brazil Portuguese. It is worth noting that the app allows you to choose your preferred language during a meeting and installation. This way, you are free to change language preferences anytime.
Survey and Report Management
Polls and surveys are essential aspects of every video conferencing software. It improves the overall experience of online meetings and webinars. Moreover, it encourages increased interaction among participants. With these activities, you can be aware of your employees' and partners' opinions.
In GoToWebinar, you can create custom polls and surveys for your participants. The system allows you to generate questions and review poll answers during a meeting. Alternatively, the program automatically sends queries after the session ends. As a result, you can think of ways on how to improve your management of online conferences.
In the same way, GoToMeeting allows for surveys and reporting. However, it offers limited tools compared to what GoToWebinar can provide. Thus, GoToWebinar is the best option if you want to create polls, surveys, and have an in-depth report of your online meetings and webinars.
Sharing Capabilities
Aside from audio and video calls, online meeting programs must also exhibit screen and video sharing functionalities. These features are beneficial for group decision making. Moreover, they improve collaboration among team members. A screen sharing functionality also eliminates the need for multiple screenshots sent through the chatbox or email platforms.
In GoToWebinar, only the host and other designated members can share screen, video, and audio. This restrictive functionality is excellent for a large group of participants since it avoids unintentional screen sharing from other members. It is only during the Q&A session that participants can interact with one another.
On the other hand, GoToMeeting allows all participants to share their screen, audio, and video. What's more, all individuals can see the attendees. Hence, if you plan to host an online meeting where all participants can interact with each other through shared screens and videos, GoToMeeting is the better option.
International Conferencing
It is unavoidable for businesses to engage in international calls. However, international calls are costly and provide limited opportunities for collaboration. Through continuous software developments, online meeting programs are now replacing mobile phones to make calls internationally.
With the use of GoToWebinar and GoToMeeting, you can make international audio and video calls to your employees and business partners. Moreover, these programs include other functionalities, such as drawing tools and automated email templates. The system also reminds you of scheduled meetings and conferences.
If your business requires active customer feedback, read this call center software research to know the top ten apps that can improve your relationship with customers. This way, you can attract more customers and retain regular clients for an increase in profit.
Which is Right for Your Business?
Since you already know how each program fare on every shared feature, it's time to decide which of the two suits your business' needs. Throughout the GoToWebinar vs GoToMeeting comparison, both software solutions provide comprehensive tools for video conferences and webinars. Hence, no program poses a considerable advantage over the other.
GoToWebinar is ideal for meetings with external partners since it restricts chat messaging among participants. This way, your business partners will experience no distraction while listening to the meeting. Moreover, it can host up to 1,000 participants, which means even your employees can join the conference.
Alternatively, GoToMeeting is excellent for meeting within your company since it can only accommodate 26 individuals. Also, with GoToMeeting, all participants can share their screens. This feature is a great way to encourage collaboration among your employees. Both applications offer playback or recording functionalities that enable participants to review meetings.
In conclusion, GoToWebinar and GoToMeeting have different functions. GoToWebinar is great for large meetings and presentations, while GoToMeeting is excellent for internal conferences.