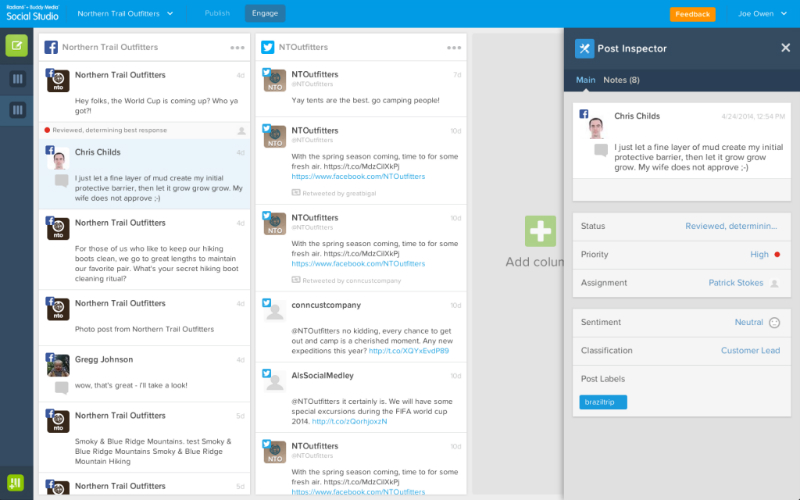 The main benefits of Social Studio are its stable functionalities, ease of use and mobile support.  Here are the benefits of Social Studio in details:
Quicker and More Relevant Feedback
Social Studio generates reports about your social accounts. This provides users with relevant feedback in real time in relation to your service, sales, and marketing campaigns. This allows users to improve their market intelligence by being empowered by the capability to analyze sentiments and brand awareness through mentions and discussions in all social networks.
Engage your Community
All your social media accounts are accessible and manageable via a single platform. Social Studio allows users to integrate customer interactions and mentions across different social media channels and emails to your CRM platform. By routing these into one dashboard, you can engage your community easier. Other than that, Social Studio helps you gain more intelligent insights like gauging brand sentiment and determining post priorities.
Streamline and Optimize
Content management becomes easier as Social Studio simplifies the creation, sharing, scheduling, reviewing, and approval of content across different social media channels. By having one platform, your procedures over separate channels can now be easily understood and managed by your internal team. Consistency in brand personality can be achieved easier. Furthermore, Social Studio allows you to create group-based or role-based access to workspaces. This allows you to maintain security easier.
Monitoring is also made easier. Users can see their brand health, campaign results and customer feedback tracked real-time. Customer relationships can be viewed through multiple channels so one can explore customer experiences more comprehensively. This integrates social platforms to email accounts.
Social Studio is also available on mobile. This gives your team easy access wherever they may be. Users can stay on trending topics. Stock photos are also made available by the Salesforce Social Studio team.