Small businesses operate differently from large and established enterprises. As such, they need unique tools such as small business management software to run all aspects of their operations with limited manpower. With small budgets, these businesses cannot use enterprise-level solutions with features that they will barely use. They need streamlined functionalities that centralize everything in one place.
More and more people are choosing to become their own bosses nowadays. There are currently 30.7 million small businesses in the United States, which is equal to almost 99% of all companies in the country. This large market requires software solutions created with them in mind.
Small business management software significantly differs from enterprise solutions. Platforms for SMBs are usually more flexible, where owners can pick and choose the features that they need. These are designed to accommodate the rapid growth of the business while making sure that no aspect of the operation is left unmanaged.
This article discusses what a small business management software, along with its core features and benefits, is. Additionally, we will explore the best small business management software in the market and how they can help your business.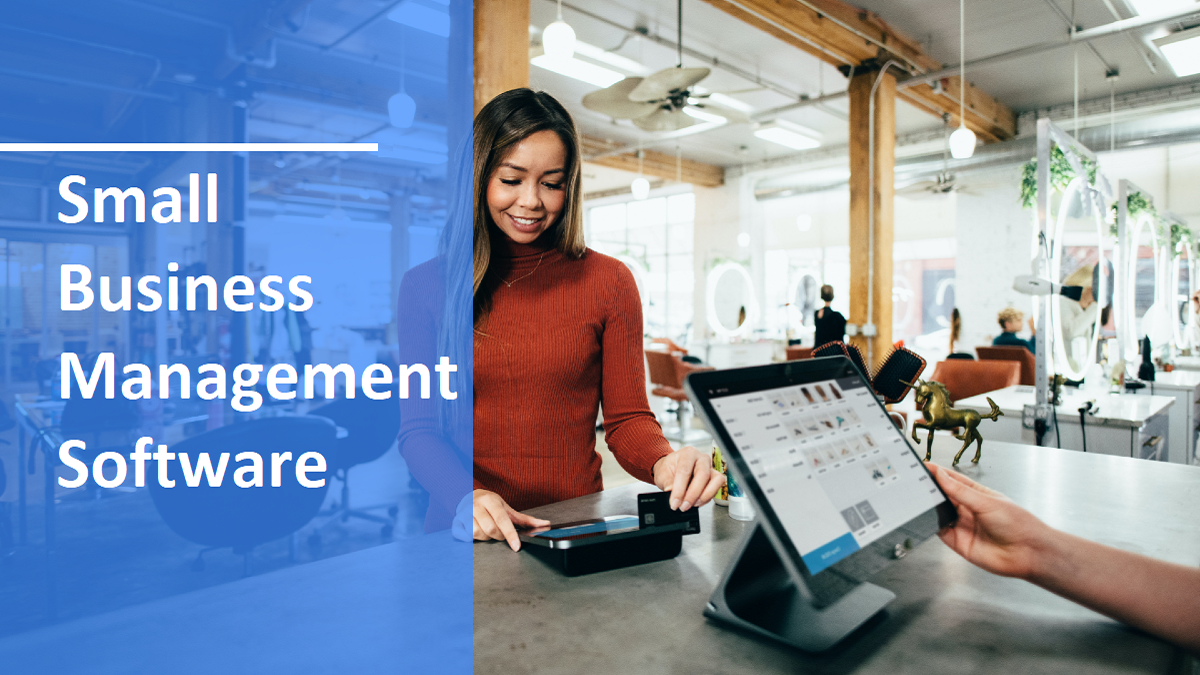 Small Business Management Software Table of Contents
What is Small Business Management Software?
A small business management software is an integrated system that allows small- and medium-sized companies to handle processes such as administration, sales, marketing, procurement, and more. As most SMBs have limited staff, these platforms automate many processes in the day-to-day operations of the enterprise. These tasks include, but are not limited to, customer management, employee management, project and task management, sales activities, inventory management, and more.
A typical small business management system is composed of various applications or modules. These parts work together to ensure updated databases and processes within the system. A centralized dashboard usually serves as the headquarters of the entire business operations.
Additionally, some small business management software centers around a specific solution such as CRM or marketing. The other functionalities are integrated as extensions or add-ons that work with the main features. This ensures seamless data transfer between the separate apps or even third-party software.
List of Best Small Business Management Software
There are countless small business management software solutions on the market. However, the most popular solutions are flexible, scalable, and efficient. Here are some of the best:
Common Features of Small Business Management Software
Small business management software comes in various types, from simple task management apps to an entire Work Operating System. Most, if not all, include the following core features:
Task and project management – Tracking various tasks under projects is essential to the operation of any business. This may also include time tracking apps to determine how much time is spent on projects and tasks. Managers can assign tasks to different staff and monitor their progress accordingly.
Customer relationship management (CRM) – This covers all information and processes related to the customers. It includes a client database, contact management, help desk, support, and more.
Human resources (HR) – It includes all information and operations relevant to the administration of the business and its staff. The functions include payroll, employee management, scheduling, attendance, and more. Other platforms may also include applicant tracking, learning management, and performance reviews.
Accounting – This part of the software allows for the management of the financial aspect of the business. It includes the collection and management of various information, such as revenue, expenses, profit, loss, and other cash flows. It may also closely integrate with other parts of the system, especially where funds are involved.
Sales and marketing – Small businesses usually have these two departments in one. And as such, platforms have marketing and sales closely integrated. Marketing campaigns and their performance are incorporated with the sales funnel to turn leads into customers.
Inventory management – For businesses that offer products, this allows owners to manage their supplies and product inventory. It also allows automation of ordering, tracking, and categorization.
Reports and analytics – The system should track all aspects of the business and key performance indicators. This allows owners to identify opportunities and potential issues. It also provides data-driven information to optimize the key aspects of the business. Owners can also generate reports in just a few clicks.
Aside from the key features above, platforms may also include functionalities, such as workflow management, scheduling, content management, ecommerce management, and more.
Benefits of Using a Small Business Management Software
Managing a small business that is continuously growing can be complicated. As your revenue grows, your operation expands as well. That is why it is important to have tools, such as small business management software to provide the following benefits:
Manage business processes in one place – By integrating all data and processes in one place, even one-man businesses can operate smoothly. The seamless transfer of data between departments ensures that you are always on top of opportunities and issues.
Save money and time – Using one system instead of multiple standalone applications reduces the installation, maintenance, and updates of various platforms. Furthermore, the seamless nature of small business management software saves a significant amount of time, which translates to more time with other parts of the business.
Efficient workflows – Processes may be simple at the beginning of the venture, but it will start becoming complicated once the business grows. Having a system in place ensures that you have SOPs to follow even when processes become more complicated. The reporting and analytics features of the platform also allow business owners to identify points for improvement.
Scalability – As the business grows, it may venture into new markets, take in new customers, offer new products, and provide new services. A small business management software ensures that new operations and information are managed carefully without the owners and managers missing anything.
Flexibility – Modern applications are not bound to the machine anymore. Cloud technology and mobile computing allow businesses to have access to their platform wherever they are on various devices. This saves money spent on infrastructure as well as updates and maintenance.
Small Business Management Software Purchasing Considerations
Now that you are on the market for a small business management software, there are a few things that you should consider before making the purchase:
Business-Specific Needs
While an all-purpose small business management software is flexible enough for any type of enterprise, it might not offer some specific capabilities that you need for your industry. As such, you might want to look for one with business-specific features.
For example, if you own a software development agency, then your operations revolve around projects and tasks. As such, you will need a dedicated task and project management software. Choose a platform that includes add-ons or allows for integration with other services to ensure that you will not be dealing with independent apps.
On the other hand, if you are a business that offers products such as a retail store, you will need a solution that centers on sales solutions and inventory management. Their automation functionalities will help you streamline your entire operation that may not be available in non-specific small business management applications.
Deployment Infrastructure
Applications are available in various deployment options, such as on-premise, cloud-based, or hybrid. On-premise solutions will require services and other network infrastructure. You will be responsible for the installation and updates of the system along with the maintenance.
On the other hand, modern applications are available in the cloud. That means they are responsible for the installation, updating, and maintenance of the platform. The upfront costs are usually lower than those of on-premise options. Additionally, more providers offer custom features with opportunities to upgrade as you need them.
Integration With Other Services
While small business management software can do a lot, it cannot do everything. At its core, it should serve as your central platform where various apps and services integrate. As such, it is important to evaluate how a system integrates with other apps.
Integration is also important to minimize your migration from one application to another. If you are already using popular business solutions, such as SalesForce or Quickbooks, you need to make sure that your small business management platform integrates with them.
Future Trends in Small Business Management Software
Small businesses are evolving rapidly, and so are the tools used by these companies. As such, we can expect to see innovations such as:
AI for improved business intelligence – Aside from enhanced collection and analysis of data, artificial intelligence can evaluate existing workflows and processes. Using past data, it can produce improved workflows that can increase scalability, flexibility, and efficiency of the entire operation. Currently, over 70% of business leaders believe AI is a major advantage. The increasing demand for AI in business intelligence may push developers to start rolling out advanced features within the next few years.
Mobile systems – Mobile devices and related technology are getting better each year. Similarly, developers are creating applications optimized for smaller screens. Proprietors can now bring their businesses to their clients. Additionally, teams can communicate with their clients and each other even on mobile devices.