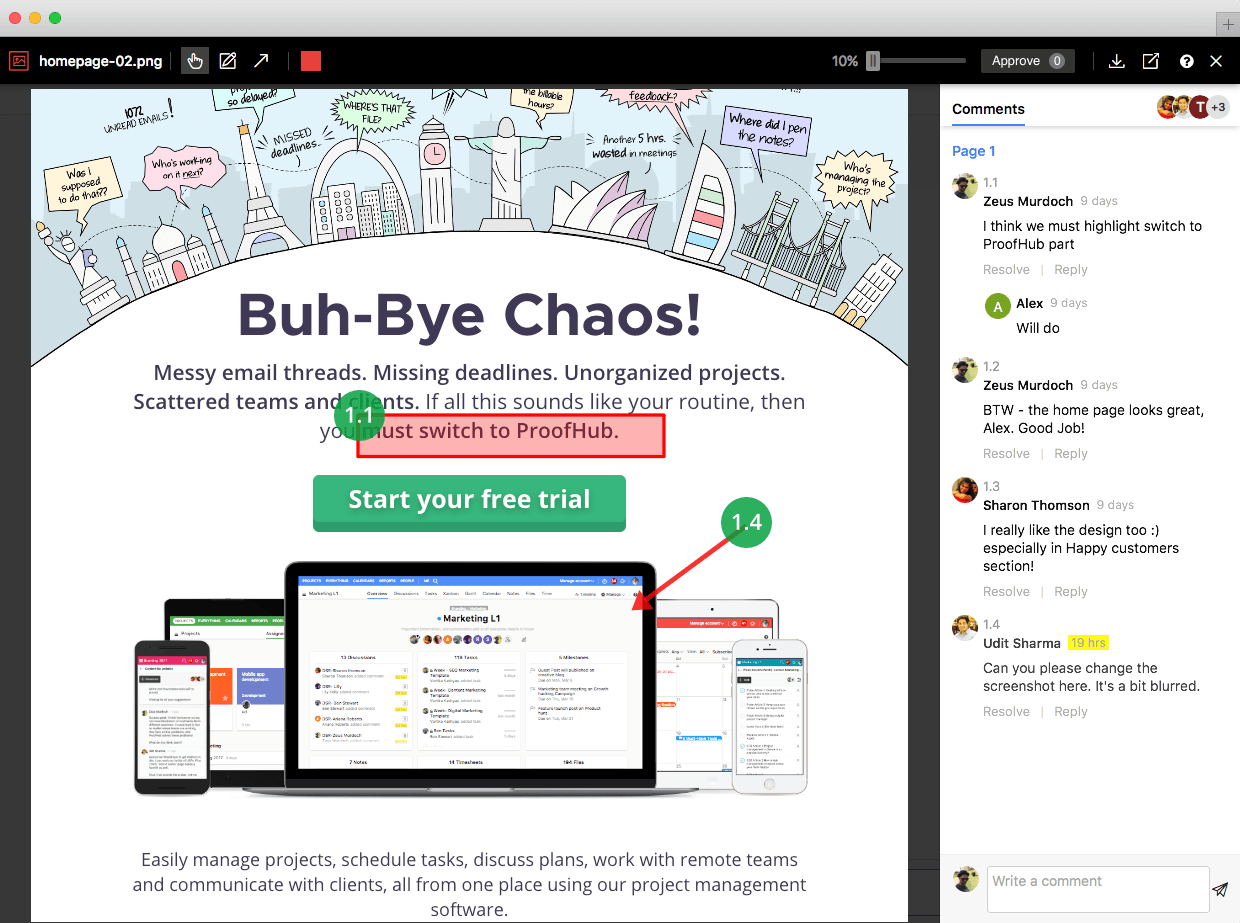 The main benefits of ProofHub are its ease of use, advanced features, reliable customer support, and great integrations. Here are more details:
Easy to use
One of the benefits we consistently note in our ProofHub reviews is that the tools and functions are intuitive and straightforward even for lay users. You can organize teams into separate groups based on a chosen parameter for a cleaner layout and enhanced data security. Plus, you can get instant email alerts on changes to project tasks, milestones, and status to help you stay on top of everything. Users have the choice of selecting only specific notifications.
Versatility
You can sync your ProofHub calendar with external calendar apps such as Google Calendar and iCal for greater flexibility and to save time. On top of that, you can import from Basecamp and Basecamp Classic files for free including text documents, tasks, discussions, people, and projects.
ProofHub is compatible with leading operating systems like Windows, iOS, Android to provide you anytime, anywhere access using Internet connection. Another advantage is you can customize the feel and look of the user interface to suit your preferences.
Advanced features
This app is a cut above standard project management systems because it offers robust features such as time tracking, and proofing. Plus, you can boost your team members' productivity by utilizing the solution's steady boards and workflows. These two features provide clarity to businesses to enable them to direct tasks in the needed manner.
Reliable customer support
The product website hosts a knowledge base that contains video tutorials, use cases, and FAQs that provide answers to common customer queries. Plus, there is an Update Page that keeps users informed about the latest issues and features. The company is active on social media channels like Facebook and Twitter and you can get prompt responses on these networks.
Mobile Optimization
The ProofHub Bolt app can be utilized by iOS and Android users to manage their projects, tasks, teams, and clients, and track progress on the go.
Integrations
ProofHub offers a set of developer APIs that allow you to connect the solution to literally any third-party software application.