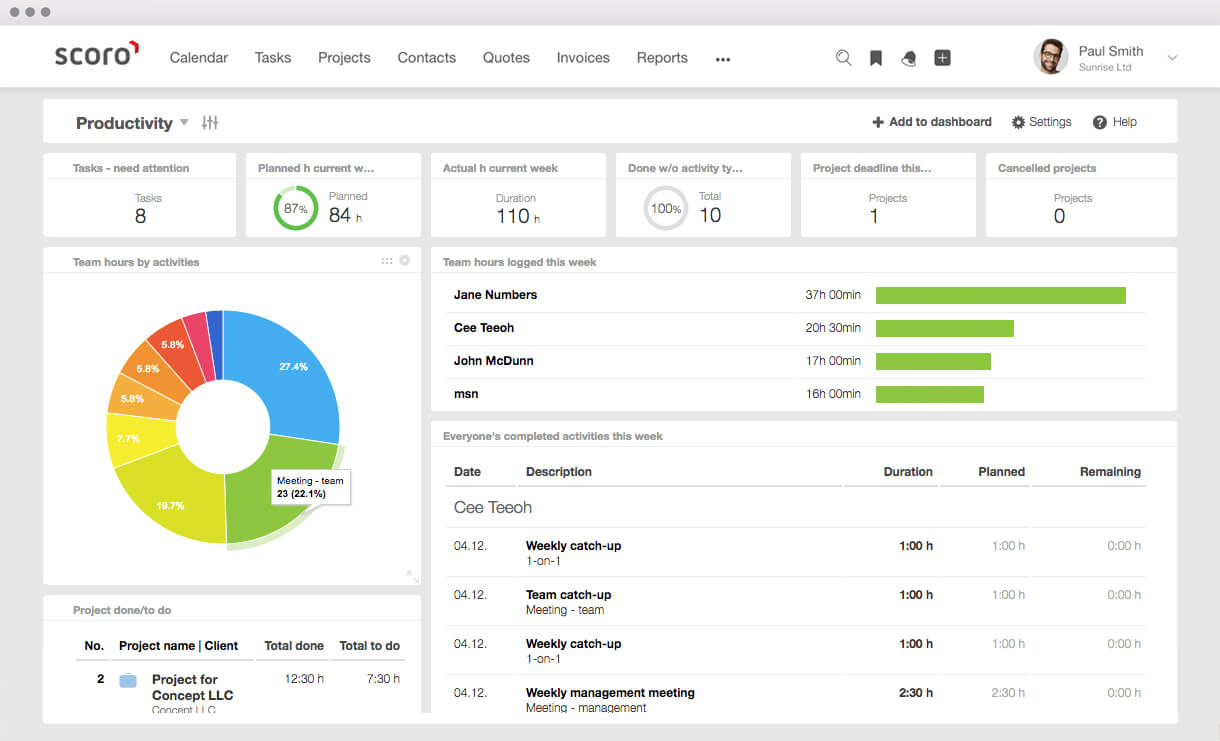 The main benefits of Scoro are its comprehensive feature set, great integration and mobile support. Here are the benefits in details:
Scoro is a comprehensive solution for work management, which provides users a platform to manage work processes in one place. This software gives users the advantage to be in the know about their business performance since Scoro allows them to monitor work changes in real time. All tasks are automatically merged in one list and are scheduled daily, weekly or monthly, depending on the user's preference. Also, Scoro offers a security measure wherein only the involved staffs of the company are allowed to work on a specific project.
Scoro helps your businesses save a lot of time in terms of project management. You can add tasks anytime to make every process seamless and faster. All these tasks are automatically linked to your clients and the email tasks could be archived in the smart inbox. Apart from that, Scoro compiles all your suppliers' and customers' contact details in one place for quick access. With the same interface, you can even create and issues invoices.
Scoro can help your business issue invoices for sales, credit, and pre-payment in different currencies and it helps you track all your bills and expenses in a certain project, making your finances and accounting processes easier and faster.
Its elegant dashboard lets you see and track the progress of your project in real-time. It also gives you a good view of billable or non-billable projects and tasks that are not yet assigned or completed. You can work with the solution according to your business preference and it offers options so you can choose PDF templates for orders, reports, quotes, and invoices. Furthermore, Scoro can be integrated with different leading software and it supports Android and iOS devices to become accessible from anywhere at any time. Its plans are flexible and it offers a fourteen-day trial so you can evaluate the performance of the software before making a final purchase.