The graphic design industry registered an average growth of 2.5% from 2015 to 2020. In 2019, the sector reached around $14.6 billion. And, it is not just creative agencies and media firms that have graphic design software users. It is also being employed by other companies and individuals.
For instance, SMEs need some form of graphic software to put their brands on internal documents, such as memos and forms. Also, graphic design software solutions are being used to create promotional materials for offline and online use. And, if they don't have in-house talent, they turn to freelancers. And, freelancers turn out to be one of the biggest segments of graphic design software users. Experts estimate freelance designer activity amount to 90% of total industry participation. Also, 18% of these graphic designers are self-employed.
Industry growth is expected to further thrive, given that markets are craving for digital content. And, graphic design software tools are the main tools of the trade. So, if you want to get to know the best graphic design software solutions out there, you have come to the right place. Also, if you are not familiar with this type of software, we'll help you familiarize yourself with them before deciding to purchase one.
In this article, we'll not only reveal what we think are the best graphic design platforms. We'll also discuss important factors, such as common payment schemes, key features, benefits, and trends in graphic design technology, among others. This way, you can exercise better judgment on which one you'll use. But, first, let's give you a quick rundown of what a graphic design software application is.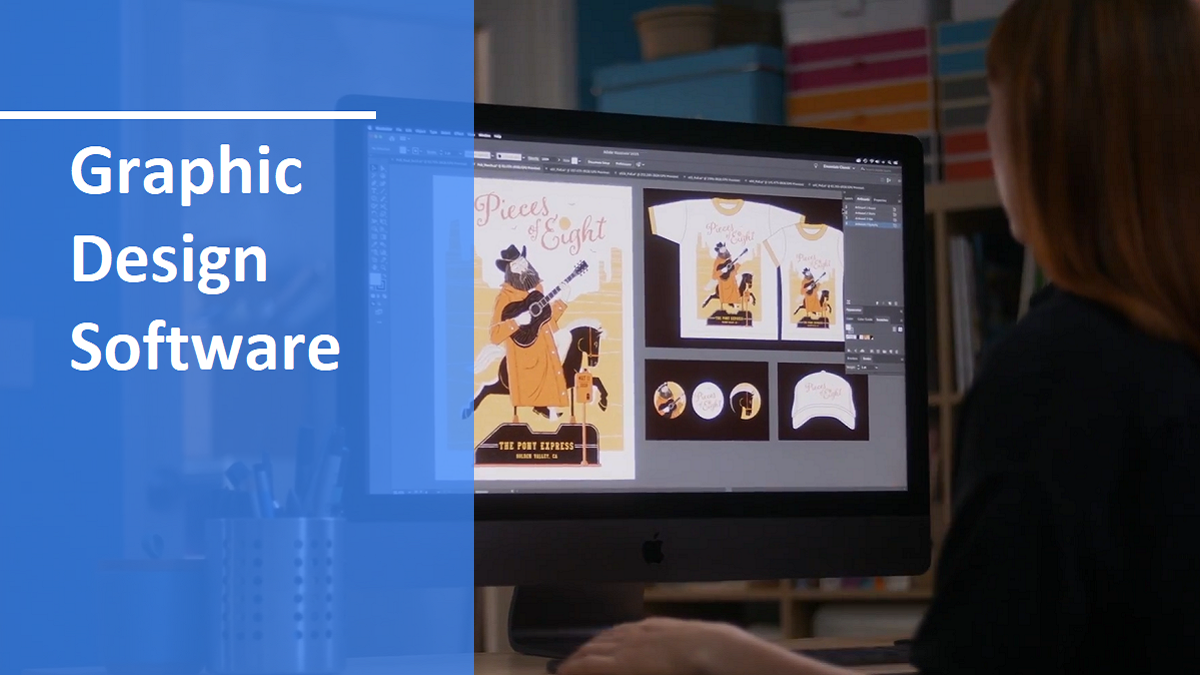 Graphics Design Software Table of Contents
What is Graphic Design Software?
Essentially, graphic design software solutions are programs that enable people to manipulate images and models using a computer. They allow users to edit, design and publish created media. Some programs only support 2D designs. Others allow for 3D rendering. And, the top ones today have collaboration tools that are perfect for design teams and their clients.
These platforms are used in a variety of industries, ranging from advertising to game creation. They are also popular in architectural and building designs. However, they are mostly used in media-related industries, such as the movie industry and marketing.
It is also good to note that many graphic design needs can also be satisfied by using programs with graphic design interfaces. These include word processors and presentation software.
But, they won't get you so far if you want better quality graphics and an ample workspace to unleash your creativity. The best ones allow artists to create detailed designs, graphics, and even interactive mock-ups of products like user interfaces. Also, they are being used to create product prototypes and even beautiful pieces of art. High-end products are so advanced that they even provide modules akin to project management software.
So, without much further ado, get to know our top 10 best graphic design software solutions today.
List of Best Graphic Design Software
Surely, the best products are the most powerful, the fastest, and the ones with more features. However, we would like to remind you that you may not need the most expensive or comprehensive solution. There are even free ones that are more than enough for basic and even complex graphic design tasks. Thus, we'll include some of them here.
Types of Graphic Design Solutions
Almost all industries somehow utilize graphic design software solutions. However, they need different types of it for their different needs. For instance, both game developers and business consultants may need graphics for their jobs. However, one set of requirements differ from the other. In this section, we'll list the most common types of graphic design software solutions. 
Word Processor.

Our current word processors do not only allow us to process text. They have graphic design modules embedded in the overall program. Most of them are more than enough for publishing flyers, brochures, and ebooks. 

Presentation Software.

This class of programs allows you to create visual slideshows. Some even allow for high interactivity. 

Illustration Software.

This type of graphic design platform helps you layout brochures, greeting cards, postcards, booklets, business cards, and letterheads. Most have tools you can use to adjust kerning, spacing, and create needed graphics. They also have spelling and grammar checkers. 

Desktop Publishing Software.

This is used to make more sophisticated publication materials, such as advertisement materials, magazines, and newspapers. This usually has a great mix of advanced image and text editing functions. Some can even be used to create beautiful and detailed digital artwork. 

Drawing Software. These solutions allow you to draw freehand and with computer-assistance to create professional logos, portraits, and other images. 
It is also worth noting that all of the types of graphic design software solutions above can help you publish work on the web. Even the lower-end software tools can be enough to help you design web pages and ads. Also, you can use them to create works in different formats, ranging from PDF to HTML. 
Key Features of Graphic Design Software
Different types of graphic design software have different features. However, there are general features that you would find in all of them. In this section, we'll list the key features that graphic design software solutions tend to have. 
Text Editor.

This feature allows you to add texts and characters using different fonts, sizes, colors, and other effects in different languages. It also allows you to manipulate other text properties like shapes and kerning, among others. 

Image Editor.

A module, usually present in both low-end and high-end programs that allows you to manipulate photographs and graphics. These include color filters, textures, and other types of effects. 

Freehand Drawing.

Almost all graphic design platforms allow you to draw freehand using your mouse or your digital pen. However, drawing software solutions have the best features enough to let you create realistic images, artworks, and models. 

Publishing Templates.

This module gives you different options as to what you want to create. Templates can range from brochures to ebooks and magazines to business cards. 

Media Database. Graphic design software tools also usually include a database for royalty-free images and design tools. Design tools include cookie cutter shapes, lines, brushes, pens, and many more. Plus, there are products out there with asset management modules that rival the best standalone file management software solutions. 
The Benefits of Graphic Design Software
There are many benefits from using graphic design software for businesses of all forms and sizes. However, the top benefit here is it helps companies to create and maintain a professional look and branding throughout various touchpoints. Of course, you need creative and technical people using it too.
Nowadays, you always have to be online and quick with your content. With a graphic design software solution handy, you'd be able to create or modify media that pass through various channels. Use it to create quick and catchy promotional graphics.
Also, it can help improve your internal brand reputation. You can use graphic design software tools not only to improve customer experience but to enhance those of employees as well. This will be handy in the creation of internal memos, internal PR newsletters, and HR materials. This way, you won't only look professional with your customer community but also with your internal community.
Deployment Types of Graphic Design Software
There are three main deployment types for graphic design software. These are (1) on-premise, (2) cloud, (3) hybrid.
On-Premise. This is the traditional software deployment in the way that you need to install the software on your machine. Before, we install software via storage devices like CDs. Now, most software companies let you download their installers from their websites. Many also offer demos and trial versions. Once the trial period expires or you want more features that the demo doesn't offer, you can purchase the crack from your software providers. However, high-end ones may have heavier hardware requirements.
Cloud. These types of tools allow you to edit photos and images online. They are also being used to create branding materials. Moreover, they tend to have the same key features with full on-premise solutions. However, they are usually not as powerful as them. Despite that, they are very able and handy as you can access them anywhere with an internet connection. Also, many are free. And, this deployment model has lesser hardware requirements.
Hybrid. Software products such as Adobe Creative Cloud offers a hybrid deployment capability by interfacing both on-premise and cloud features. The advantage of this type of deployment is easy collaboration. Professional graphics design teams and creative agencies use tools that have hybrid deployment capabilities. It allows them to save, send, and modify media files easily.
Potential Issues with Graphic Design Software Use
There are some issues with graphic design software use, especially with collaboration. Firstly, different people may use different programs. So, file compatibility can be an issue, especially when your collaborator wants the edit file. As such, you better choose a program with file type flexibility. Alternatively, you can choose the same software provider that your collaborators also have. This is especially ideal for creative agencies.
Secondly, for novices, they must also learn design conventions, including choosing colors for printing or online use. In addition, they must know the best practices before trying to break the "rules" and be unique. Graphic design software allows for great flexibility and creativity. However, one must put the reins on creativity sometimes, especially for business use. Even the choice of colors can affect purchases. Things like these have to be taken into account.
Thirdly, users must be very flexible themselves. This is especially true for start-ups and micro-businesses. Many times, small business owners have to wear many hats. And, sometimes that is the graphic designer hat. Thus, one must not only be digitally literate but also knowledgeable of design fundamentals. As a result, there may be a steep learning curve, especially for people that are just getting into using these programs. Luckily, there are many free video resources available.
Latest Trends in Graphic Design Software 
The one very long-term trend with computer-assisted graphic design is getting smarter software. Users want the software to "understand" what they want to execute.
Now, AI is becoming more powerful in graphic design. One example is Adobe Photoshop's scene stitch. This feature intelligently fills in a scene that an artist wants to cut using machine learning and stock photos. The feature is useful when clients want to get rid of something on the image. The artist doesn't have to fill it out tediously; they can let this technology do it for them.
Also, graphic designers may need to be able to design virtual spaces in the near future. Customers are highly receptive to virtual interactive marketing. And, traditional graphics design teams may not be able to do this without training and new software tools. AR and VR already became a thing. Graphic design suites may adopt new features or new integrations just for these. And, as technology improves and cheaper wearables become available, graphics teams may need to pivot to designing virtually immersive brand spaces.
Common Graphic Design Software Payment Schemes
How much, when, and how you pay play an important role in how you choose a software product. To help you get a general idea of how it goes, here are the usual payment schemes for graphic design software: 
Free.

There are free versions of graphic design software solutions available. However, providers may offer paywalls for features or a better version once a critical mass of users has been amassed. 

One-Time Payment.

Many software products are offered through a lifetime license. This is convenient, but you have to pay for the full one-time price. Also, your version will likely become obsolete in years when providers release a newer and better version of your application. 

Monthly Plan.

In this payment scheme, you renew your access to the software every month. It is somewhat of a hassle, but it is easier to opt-out when you don't think the platform is for you. This payment scheme is common among cloud graphic design applications. Also, there are hybrid graphic design software providers that have monthly plans for certain cloud features like storage, collaboration, and sharing. 

Yearly Plan.

An annual payment scheme requires you to pay a set amount to renew your access to your account or cloud features. Moreover, providers generally price this lower than the annual total of monthly plans. 
What to Look for in a Graphics Design Software
This depends on your company's needs. For instance, if you have a small business and you just want to create logos and social media promotions materials, you can do away with free cloud graphic design tools. However, if you plan to have a full-fledged creative team, then you'll maybe need a full software suite with hybrid on-premise and cloud deployment capabilities.
However, make sure that you choose a product with high usability. This means it is easy to learn and use. You want your graphic design experts to enjoy using the product and not wrestle with its features. A less grumpy graphic designer will likely dish out better designs and faster.
Another important feature that you should be aware of is popularity. This is especially true when you want to attract good graphic design talents for your team. When you choose a not-so-popular product, you may be forcing people to adapt. And adapting takes time. There is a learning curve, and maybe, you will likely be making people use a product they may not want to use. You want users to be comfortable and be already skilled with the program. Thus, choosing a popular product amongst graphic designers is a good way to go.
Tips on Choosing the Right Graphic Design Software
Now that we have laid the informational groundwork, it's time for you to choose the right graphic design software for you. Of course, this ultimately depends on what you need. However, we'll provide some general rules of thumb that you may find useful.
Create a list of what you will need the software for and how many people in your company will use it.
Check whether the software solution can be used on your current devices.
Test different solutions by signing up for free trials and demos. Check for ease-of-use. Better to have potential end-users do this too.
Create a cost projection for payment schemes and identify the right ones that fit your budget.
Check online user communities for sentiment, issues, and bugs.  There is no shame in asking honest questions.
 View tutorial videos and user-generated content. This will give you insights into what you can do with the program.
Well, that's as general as it's going to get and we hope that some, if not all of these tips, can help you find the best graphic design software for you. Happy software hunting!