Along with the growth of an organization comes the increased workload required to manage its members. As such, plenty of organizations leverage membership management software to adjust to the expansion of their organization without neglecting existing members. However, not all groups have taken steps to implement this technology yet.
Many still use spreadsheets to keep records of both members and their transactions. Many still employ emails to facilitate communication. Plus, managing events involves different software altogether. To top it all off, they have to consolidate membership applications from different platforms as organizations often use different recruitment channels, ranging from word-of-mouth (69%) to email (62%).
Membership management software helps businesses in that regard by aggregating all their members' data and providing the tools needed to access and manage them. What's more is that a lot of these solutions are tailored specifically for different fields. Therefore, whether you have an association with different members or a business with particular membership management needs, there's a good chance of finding a software that's ideal for you.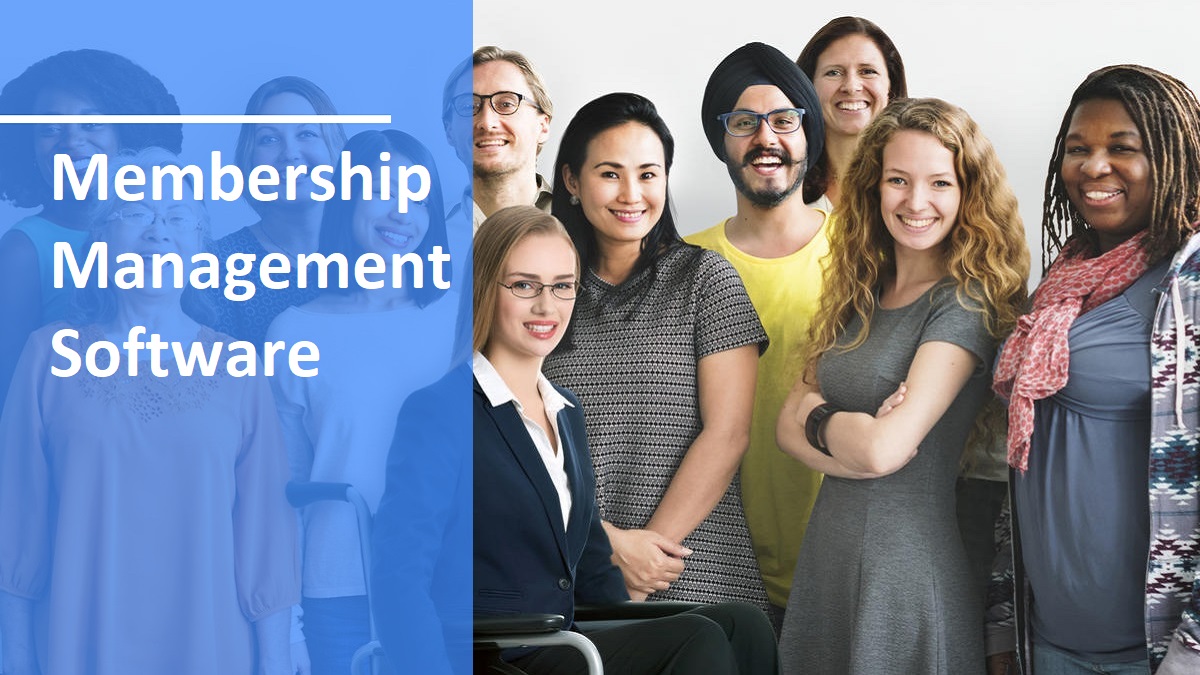 Membership Management Software Guide
What is Membership Management Software?
Membership management software allows membership-based organizations, such as nonprofits, associations, and clubs to manage, track, and keep the records of their members in an organized database. It also helps organizations in engaging with their members and enhancing their membership experience through communication, sharing resources, promotion of events, etc.
Furthermore, a membership management solution automates or centralizes essential processes, such as the collection of fees, enrolling new members, membership renewals, and more. By having organized membership management, organizations have a higher chance of keeping their members active. Aside from that, businesses will also enjoy other benefits of using membership management software, such as faster payment processing and building a stronger community.
List of Best Membership Management Software
A lot of membership management systems have a set of features composed of membership management and other types of solutions, such as event management software. However, that doesn't deter them from being useful for managing the members of your organizations. Here are some of the best solutions in this field.
Types of Membership Management Software
We can group membership management systems into two according to the specificity of the audience they want to cater to.
All-in-one membership management platform. These are the software solutions that provide all the basic and advanced features for managing members. These include an organized database, auto-enroll feature, events management tool, self-service portals, and more. They cater to a broader audience and can serve the needs of membership-driven organizations that do not require very specific, field-dependent features. All-in-one membership management solutions can also be the cheaper options since some of them offer features through add-ons. Therefore, you only pay for the features you need.
Specialized membership management software. These are the platforms that combine the most basic and niche membership management features. The entire solution is tailored to fit the needs of certain organizations, such as gyms, nonprofits, ecommerce, alumni, etc. Their primary purpose is to serve a unique composition of members and, thus, is more focused on helping them achieve their missions and goals.
Targeted Businesses of Membership Management Software
In a nutshell, membership management systems are useful for any organization aiming to organize the way they handle their members. These include any group that needs a system for enrolling members, keeping track of their information, collecting dues, promoting events, and more. Here are some of the businesses that most benefit from this type of software solution:
Nonprofits. This type of organization relies heavily on donations, which usually comes from their members, to push through with their activities. Through membership management solutions, their members can see where their donations go so that they can keep supporting the cause.
Health Clubs and Gyms. Fitness-oriented groups such as gyms need a good system to manage the membership of their organizations. Platforms tailored to these businesses typically offer features, such as gym access control, time restrictions, and connection of members with gym employees/trainers.
Alumni. Schools, universities, colleges, and corporations need to build a database to provide records for their alumni. It also helps with events like reunions, fundraising, talent acquisition, mentorship, and more.
Associations. These include trade, professional, local, and national associations. Membership management software helps these organizations with stuff like online event registration, website content management, etc.
Churches. This type of institution employs membership management software to help them keep an organized record of their congregations. They also use it to easily register new donors, help with fundraising events, and express gratitude to those who support them.
Benefits of Membership Management Software
Membership management software is proven helpful, especially to growing member-driven organizations. Check out the list of benefits below.
Streamlined operations. Membership management solutions typically centralize all aspects of your membership. You can track renewals, process dues, administer benefits, create and manage events, and more in the same place. Therefore, your organizations can have a much more straightforward and holistic view of each supporter's membership.
Improved efficiency. Membership management platforms allow users to track all pertinent member information in one place so you don't have to keep on switching between tasks. They may also enable automation of other processes. Generally, this software allows you to accomplish more in less time without spending much effort.
Gain insight into members' behaviors. With membership management software, all membership-related information is at your fingertips. You don't need to go through the exhausting search for data from multiple software systems. You can form a big-picture understanding of your members' behaviors, wants, and expectations.
Scalable tool. Managing the operation of a member-driven organization usually becomes challenging as the number of members grows. A dedicated membership management solution can help you deal with the problems that go along with a growing business.
Grow your business. Membership management software makes mundane tasks, such as email management easier and simpler. Some processes can even be automated. So you can focus on acquiring more members than just spending your working hours keeping the ones you've got.
Optimized member experience. Membership management software helps you understand your members' needs and expectations so you can also provide quality service and keep them satisfied and happy. You can also process their payments faster. Aside from that, some membership management systems offer a self-service portal that allows members to sign-up, log-in, update their data, and more without the help of your staff.
Key Features of Membership Management Software
Membership management software offers a wide range of functionalities. Some come with complex features, while others stick to the basics. But nearly every solution includes the following features:
Member database. All membership management software allows you to collect and store basic member information, such as their contact details. But there are also more sophisticated solutions that can do more like recording the member's event attendance, membership levels, and more. Some even offer a self-service portal that allows their members to sign up, log in, and keep their information up-to-date without the help of your staff.
Payment Processing. Some membership management software allow you to accept credit cards and other payment methods. Other tools also integrate with some of the best accounting software or CRM apps so you don't have to enter transactions manually. Integrations also enable you to seamlessly track and manage membership purchases, recurring payments, and registration and ticket purchases, to name a few.
Dues Management. Your membership management software should also be able to keep track of those who pay, when they pay, and how much they should pay.
Communication tools. Some solutions allow you to create member lists and customize messages to members on the list while other platforms support mass text messaging. You may also find solutions that can help you with email marketing.
Mobile Applications. Some membership management software come with mobile apps as part of their software, while other providers offer them as an add-on. This feature gives members simpler access to their membership information. It also allows them to contact or donate even while on the go.
Reporting. A good membership management software offers robust reporting features. Usually, it can filter and export information for various uses, such as budget planning, marketing, and fundraising. Reports will help you know what worked well and what didn't so you can also make better decisions and know how to move forward.
Latest Membership Management Software Trends
Here are some of the trends that are related to membership management software.
AI Integration. More membership management software is incorporating artificial intelligence into its core functions. This helps them identify the trends and patterns that are helpful in membership retention. AI-driven insights such as renewal predictions are also useful for identifying the issues that could hurt members' interest in the organization.
Mobile Adoption. More and more consumers are spending more time on their mobile devices. That's why more membership management software are adopting features, such as mobile-oriented member portals. This is a good tool that helps with member acquisition as well as retention. In fact, mobile apps are quickly becoming one of the most critical features of a membership management system.
Potential Membership Management Software Issues
Of course, systems created for membership management have their shortcomings. For instance, they can have a steep learning curve and be difficult to navigate for novice users. What's more, its tendency to provide too many features is one of the biggest problems with membership management platforms. Other issues you might run into while using membership management solutions include:
Lack of on-premise support. Almost all of the membership management software available in the market today are specifically cloud-based. While there's a good reason for this, some organizations still find value in on-premise solutions. This is especially true for those who want to be in complete control of their members' data.
Finding the balance between a one-size-fits-all solution and a niche platform. As we've mentioned, membership management software can be a versatile all-in-one solution or software tailored specifically for a certain industry. The first type might be trying to do everything but will fall short in capabilities. The latter, on the other hand, might prove troublesome if you change some aspects of your business