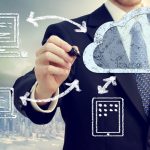 B2B e-commerce sales worldwide are predicted to hit $6.7 trillion gross sales by 2020, according to a Frost & Sullivan study. Within this period, B2B sales, including business solutions riding on the growing strength of cloud infrastructure, will easily be two times the size of the B2C market, which is at $3.2 trillion.
Think about how typical B2B customers look today. They no longer sit at the office waiting for your call to learn about your product; they're searching for you online. By the time your sales rep makes that first contact, the prospect will have read as many reviews as he could about your software and will have a fairly clear opinion about it. Will he trust your product based on what he's seen online? The challenge that you face now is how to build trust across your digital presence. To increase your sales you must make your potential clients trust you more. You can almost smell the potential of user trust to double, triple, even quadruple your sales, right?
Here are the five sources that can generate trust:
Expert Social Proof: Approval from a credible expert, for example an industry blogger or other authority
Celebrity Social Proof: Approval or endorsements from celebrities, especially valuable if they are not paid for it
User Social Proof: Approval from people currently using your product, for example customer testimonials, case studies, and reviews
'Wisdom of the Crowds' Social Proof: Approval from large groups of people
'Wisdom of Your Friends' Social Proof: Approval from your friends or people you know
Your problem now is that most of these sources require a long-term plan to build trust and you're wasting the opportunity to make more sales. But the expert and user social proof can be implemented right away. Most of online marketing for B2B studies show that there are basically three very efficient trust streams that you can easily tap into to be able to increase your sales without a lot of effort. These are: trust marks, media mentions, and user reviews. Read on to find out how each of these works and how you can use their power to gain more trust in your product.
1. Trust marks will increase your credibility fast
Trust marks show your clients that your website and product are credible. A third-party company does a quality check of your product and confirms you're legitimate to do business and that you offer high quality of services with your product. Some of the critical information assessed are: experts' opinion about your product, positive and negative mentions from its users, verified contact details, level of customer support and other factors important to clients. Security seals that provide technical protection of your site, for instance, firewall or server backups, are also often considered as trust marks that guarantee visitors' safety.
Why you should use trust marks
If you're looking for that first step to kickstart your trust building plan, logically, trust marks provide the first push.
A survey by Econsultancy/Toluna showed that trust seals are the number one reason that makes people trust a site. It even surpassed the other two major factors: referral by family or friends; and displaying clear contact details. Meantime, another study by Baymard Institute showed that collectively, trust marks are more recognizable to shoppers than security seals.
You should place trust seals in strategic on-site locations, where visitors can see them during points of interaction when they're either about to buy a product, download an asset, or lead into something.
Here are some strategic locations for trust marks on your site:
Homepage
Landing page
Product page
Checkout page
Likewise, you should also have trust seals in off-site locations, such as:
Email marketing campaigns
Your social networks
Your product page in third-party review sites
How to use trust marks in a cost-effective way
Popular security marks can be effective, but they're costly. On the other hand, new and specific quality trust marks will give you credibility plus they are more affordable and specialized for the SaaS market. Here's a way to optimize both types of seals instead of displaying numerous expensive trust marks:
Consider a quality trust seal that focuses on SaaS market to highlight your specialization and quality of the product you sell
Get a security trust seal like Norton for technical security
Pair the two seals side by side in strategic locations across your digital presence
Optionally, you can add one more trust seal, a popular badge of doing business like BBB, and place the quality seal between this badge and Norton
You just paid less while optimizing trust ROI and covering three trust aspects: technical security, business legitimacy, and quality.
2. Media Mentions Can Increase Your Trust A Lot
You've probably seen websites that highlight they were mentioned by big media, such as Huffington Post, The New York Times, Washington Post, and Forbes. Usually in a section labeled "They wrote about us." Media mentions are an indirect validation of your credibility, they show that you're a legitimate source of information. Not only can these high-ranking sites give you SEO juice via backlinks, but their mentions send trust signals to you as an authoritative source. All you need to do is add a As Seen On section or bar on your website and put a few logos of well-known media sites that wrote about your product there: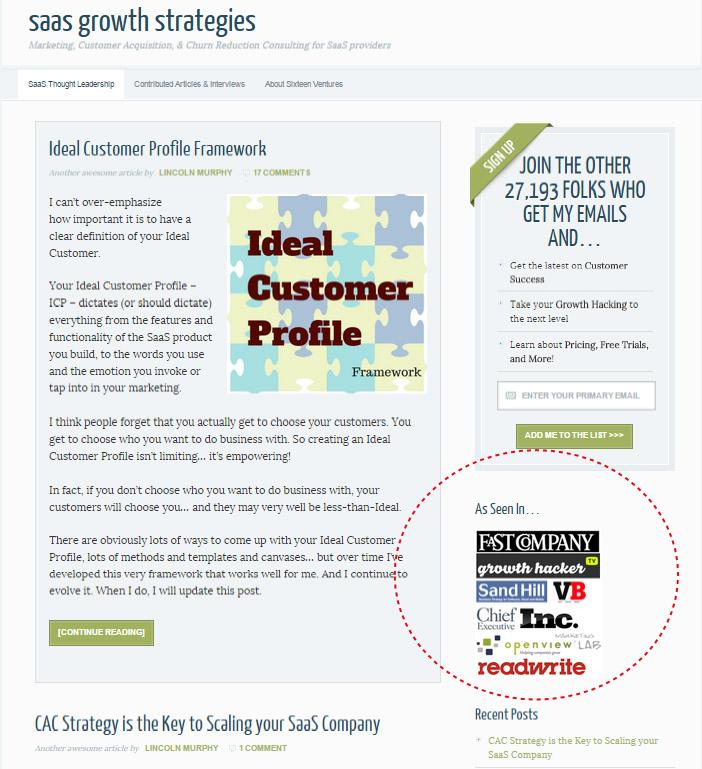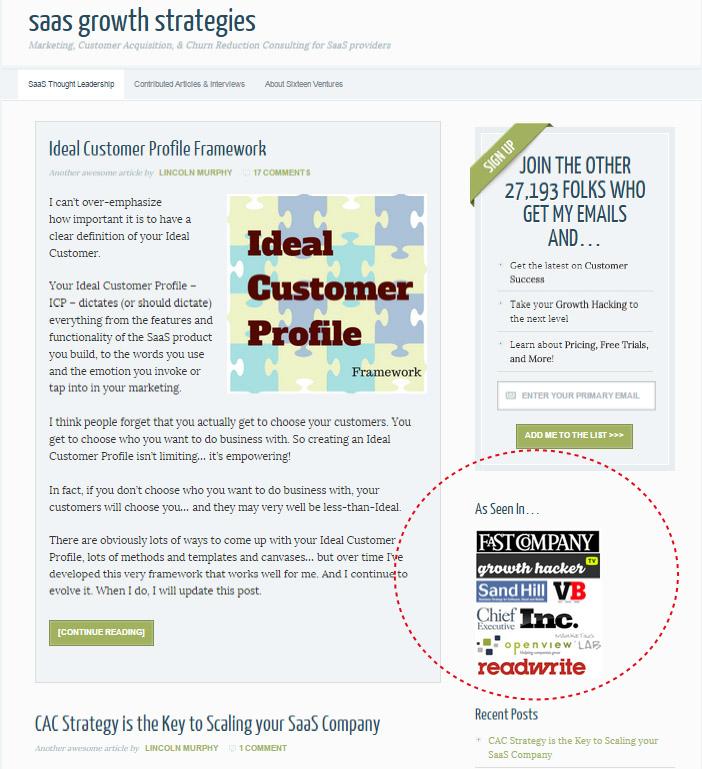 Here are three quick ways to claim the same "bigness" advantage:
Search if your brand have been picked up by media and claim that mention. Moz.com estimates there are 92,000 press releases articles posted on the Internet every day and one of these posts may have mentioned you. It's a long shot but worth a try.
Try these search keywords on as many media sites as you can think of in a day:[media site] + [your company or product name][media site URL]: [your company or product name]
Have you won an award or had your product highlighted in any other way? Make sure you always mention any awards and favorable reviews about your product on your website. Awards trigger a winnability picture in your customers' mind and, in most cases, visitors hardly spend the time to get the details of the award so even if it's a minor quality certificate it still counts. An image of an award for being a product with great free trial or a quality customer support award can appear just as important to your customers.
Pay for a post about your product. Did you know many big media outlets offer content posting for a fee? However, you need to prepare, not a product story, but a story pitch that only relates to your product. For instance, a project management software vendor can write about traditional versus agile management. Unlike an ad, a story post can be claimed as "having been published" on a media site. Get in touch with the media outlet's sales departament to explore this avenue.
Incidentally, don't just target generalist big media outfits; SaaS content sites may have low volume readership, but they have a high quality targeted readership that, in the end, they can give you more prospects.
Of course the best way to get picked up by media is to create original and insightful content, but this step takes time to develop. In Content Marketing Institute's report "2015 Benchmarks, Budgets, and Trends" producing engaging content and creating it with consistency topped the challenges faced by B2B marketers. Lack of skilled staff such as writers and researchers also played a major challenge. That's why many companies decide to outsource content writing to external companies that already hire teams of journalists capable of creating top quality content.
The trend for 2015 is that B2B companies will invest more and more in successful content marketing solutions. For example, a very successful startup Shopify spends approximately $220,000 per month on their search marketing efforts but the bulk of their traffic comes from blogging and high-quality website support resources they offer. The ability to create such resources and having a clear content strategy is key to a B2B company success and in 2015 we will see a visible shift from investing in SEO to investing in content marketing. According to Kelsey Jones from Search Engine Journal:
"Amazing content is the only thing that is Google update-proof. Google will never penalize useful, unique content that the user is actually looking for. Instead of spending your time on trying to beat Google algorithms, you should be focusing on asking yourself what your ideal end user really wants. After all, that's what Google is doing."
3. Use the power of user reviews
User reviews sites are third-party websites that offer a platform for customers to share their experience with the product. Customers telling nice things about you to other customers is a single most powerful social proof that no ad can match. A Google study showed that 70% of Americans say they read product reviews before making a purchase. Similarly, a separate study by CompUSA and iPerceptions revealed the same trend: 63% of consumers say they're likely to buy from a website with product ratings and user reviews. According to PeopleClaim.com conversion rates have been proven to increase by as much as 74% only by implementing customer reviews on a website.
On the other hand, customers ranting about you can also be devastating to your business. That's why you need to monitor and manage user reviews and leverage their power.
Here are some effective ways to achieve this:
Encourage customer testimonials – browse your client database and look for happy customers. Invite them to write about their product experience. Instead of asking them to write nice things about you, highlight the idea that their write-ups will help other customers to decide if the product is for them. Likewise, you'll be surprised how a small token of appreciation can elicit nice testimonials.
Paid listing – Many review sites offer paid listing and various ways to highlight your product. With so many B2B products trying to get your potential customers' attention it's easy for them to miss your product altogether. Paid listing allows you to feature your product more prominently making it stand out more from your competitors.
Provide all product information to reviewers – Most review sites have in-house experts that assess your product. These are opinionated but authoritative reviews and can set the tone for comments by users. Although you cannot influence their reviews, you can help them focus on your product's strengths and unique features. Make sure that the reviewers have all the information about your product specifications and important company details and that you draw their attention to your product's value proposition.
CONCLUSION
In a nutshell, here are the three fast ways to generate authoritative trust:
Use trust marks, specifically, get a popular security seal and a quality seal to optimize trust ROI.
Claim and promote your media mentions in your As Seen On section and make sure you include even small awards that you got.
Use the power of user reviews in third-party sites.
It's really easy to implement these three steps right away, and increase your sales without much effort on your side.