What is ZeroBounce?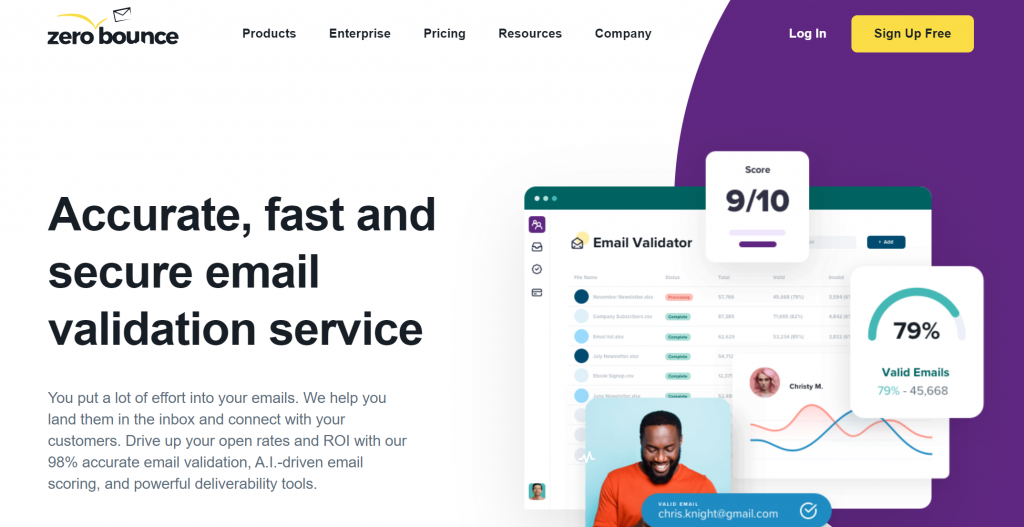 ZeroBounce is an email validation and deliverability platform. A five-time Inc. 5000 honoree, ZeroBounce helps you land more emails in the inbox and connect with your customers.
The 98% accurate email checker removes invalid, fake and risky contacts, thus helping you prevent bounces and other deliverability issues. Fewer bounces lead to a better sender reputation, and that gives you a higher chance of arriving in the inbox. If you send cold emails, newsletters or email marketing campaigns, having ZeroBounce by your side can make a difference in your metrics. 
ZeroBounce also offers a deliverability toolkit. The tools allow you to test your email server configurations, inbox placement and blacklist status. 
The Activity Data feature is another useful addition to the platform. It gives you unique insights into your email database to improve segmentation and personalization.
ZeroBounce's main features
Sending marketing emails has never been more profitable. Its ROI can be as high as $42 for every $1 you spend, so it's easy to see why so many businesses invest in email. 
Not all of them succeed, of course. 
For anyone sending mass emails, reaching the inbox has become a challenge. About 15 out of 100 emails wind up in the Spam folder, and 31 billion emails bounce – every day. Many factors play a role in email deliverability, but data quality is paramount. A clean email list shows that you're honoring email marketing best practices, so Internet service providers are more likely to trust you and deliver your campaigns to the inbox.
With more than 13 billion emails verified to date, ZeroBounce is a go-to solution for companies looking to improve their data quality and deliverability. 
Let's take a closer look at what ZeroBounce does and how it helps you maintain data hygiene and connect with your audience. 
Email validation and verification
Effective email communication starts with the ability to connect with a real person. In the age of spam bots, that's becoming increasingly difficult – and this is where ZeroBounce comes into play.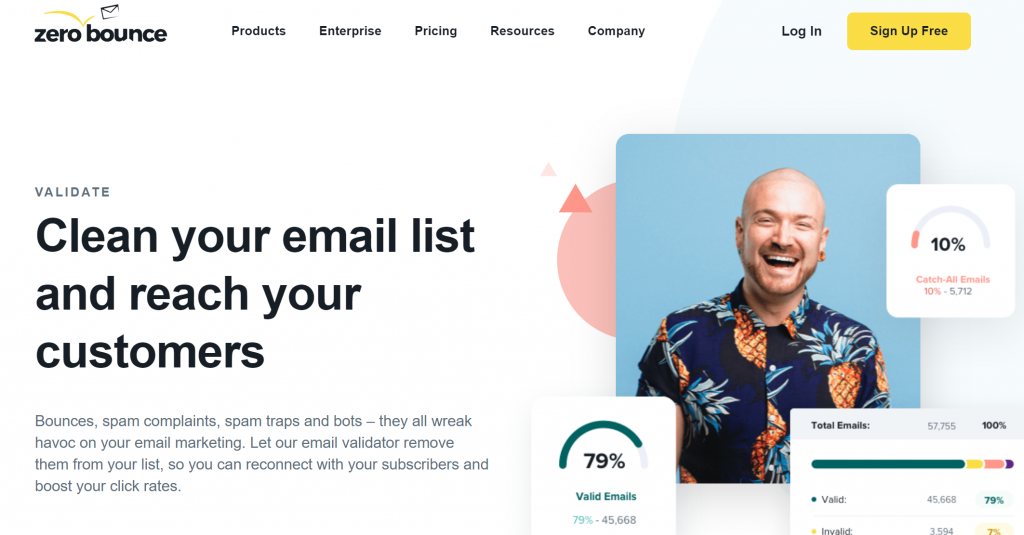 The email verifier checks contacts with 98% accuracy and detects a variety of fake and harmful addresses:
Invalid emails.

Whether misspelled or no longer in use, they bounce and leave a negative mark on your sender reputation. 

Spam traps.

Designed specifically to attract spam senders and block them, they can cause serious deliverability issues.

Catch-all emails.

Their nature makes them prone to bouncing, so identifying them is a must.

Abuse emails.

They belong to people who have a tendency to report many emails as spam. ZeroBounce gives you the ability to remove them.

Role-based emails

. These types of contacts (admin@, office@) have no marketing and sales value since they're not monitored by a single individual.

Temporary emails

. Their lifespan can be as short as 15 minutes, so keeping them in your list will only increase your bounce rate.

Toxic domains

. Spotting these domains helps you avoid fake and bot-created accounts that will hinder your email marketing efforts. 
ZeroBounce can validate emails both in bulk and in real time, via an API that you can connect to your email signup forms or CRM software. On average, the email verifier checks 100,000 contacts in 45 minutes. The API returns a result within two to three seconds.
Email scoring
Catch-all emails are impossible to validate. Many email verification services can detect them but cannot tell whether they're real. ZeroBounce built a dedicated tool to help you check their validity.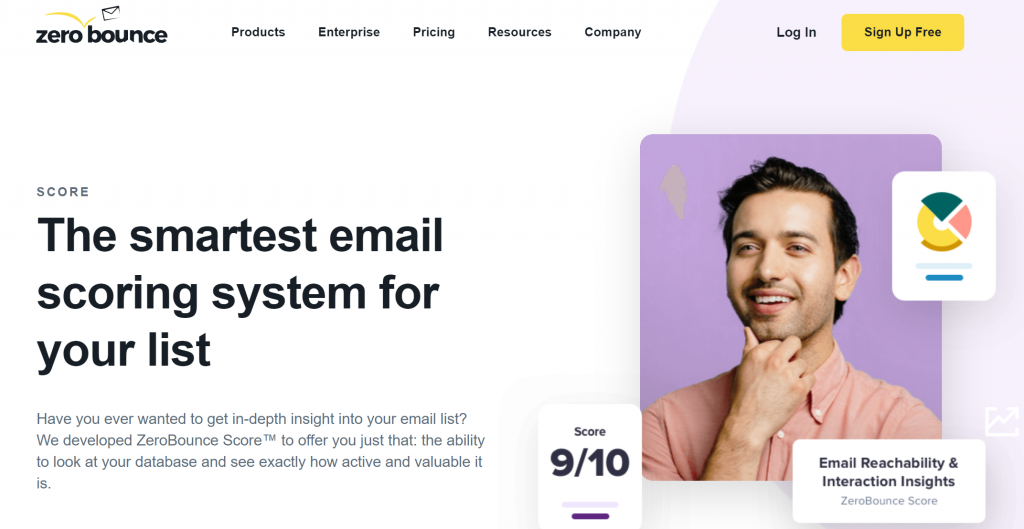 The email scoring service analyzes a catch-all contact and returns a quality score ranging from 0 to 10. A score of 8+ is a good indicator that the contact is valid and safe to email.
Email deliverability tools
ZeroBounce is more than an email validation platform. Cleaning your email list is a great first step to boost your deliverability. But if you want to go further, the company gives you all the tools you need.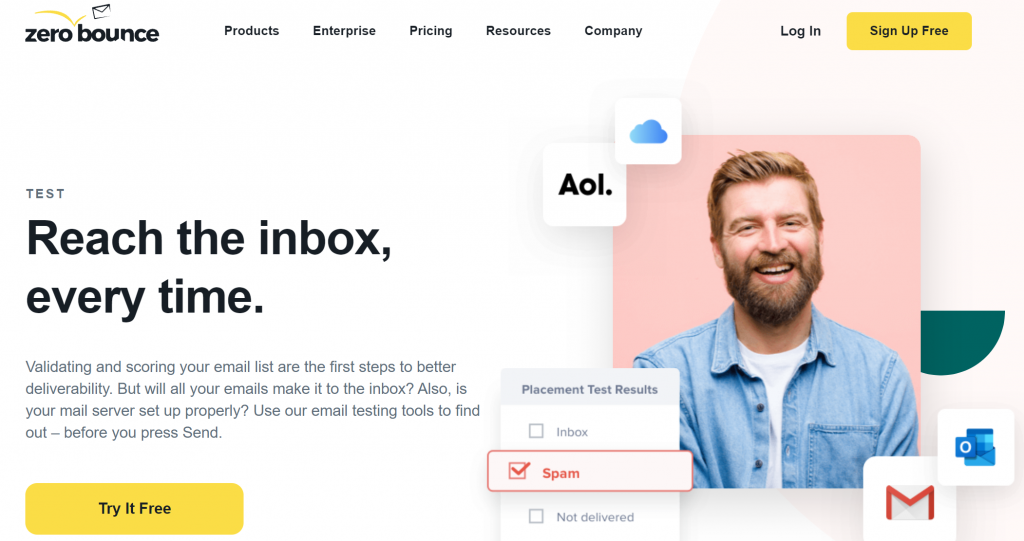 Email server testing
Your email server configurations matter when you hit Send. This tester pinpoints potential issues so you fix them and ensure your server is in best shape. 
Inbox placement testing
What if you could find out where your email is going to go – before you send it? This tester allows you to do just that. If you don't hit the inbox, it's not too late to make changes.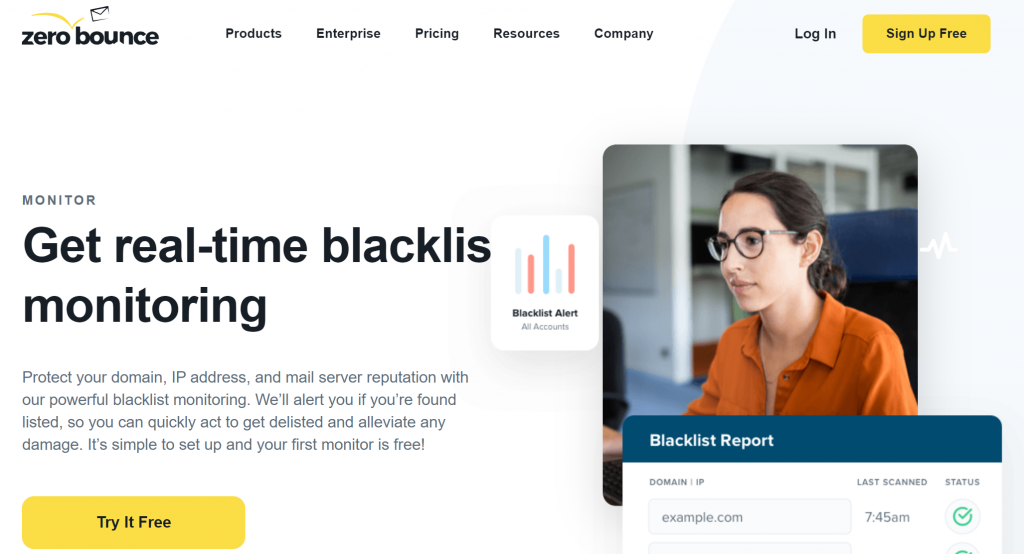 Blacklist monitoring
Just provide your IP and domain, and this tool runs hundreds of daily checks to determine if they're blocked. It will alert you right away so you can reach out to those blacklist providers and get off their lists.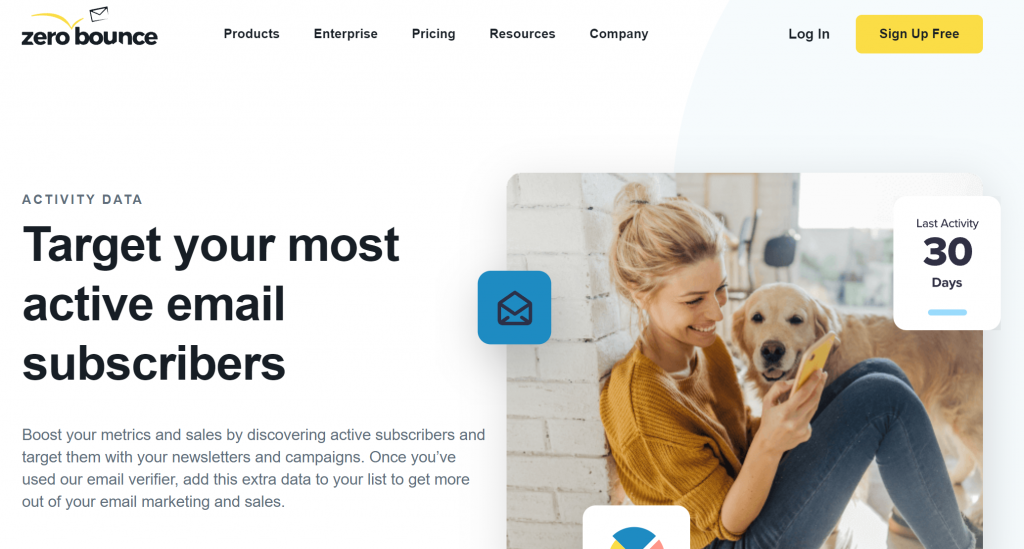 Activity Data
Ask any marketer and they'll tell you: the better you know your audience, the more effective your message will be. This tool reveals which of your subscribers have had any activity in the past 30 to 365 days. By adding this extra segmentation criterion to your data, you can fine-tune your targeting – and sell more.
Integrations
Being able to save time on your email marketing is priceless. ZeroBounce integrates with more than 45 tools so you can be productive while keeping your list in check. 
From email service providers like Mailchimp or AWeber to popular platforms like HubSpot and Marketo, you'll find your favorite tools in ZeroBounce's integrations directory.
The process is simple: once you connect ZeroBounce to the tool of your choice, just import your contacts, verify them and export them back. You can use ZeroBounce inside other platforms both in bulk and in real time.
ZeroBounce Benefits
The main benefits of using ZeroBounce revolve around building a better sender reputation and improving your deliverability. 
Restoring and maintaining your sender reputation
Hitting spam traps, getting bounces and being labeled as spam will have an impact on your reputation as a sender. By pruning out poor-quality contacts from your list, ZeroBounce helps you improve and maintain your reputation.
Boosting your email deliverability
The only way to connect with your prospects and customers is by being where they can see you: in the inbox. A solid reputation paired with well-targeted, relevant content are a surefire way to start landing in people's inboxes. 
Customer Support 
ZeroBounce provides 24/7 customer support – not just to paying customers, but to anyone who visits the platform. You can reach out to the team anytime via live chat, email or phone. More than 40 email experts will be there to answer your questions. 
Free Trial
Creating a ZeroBounce account takes seconds and come with some useful monthly perks:
100 free email validations

one free mail server test 

one free inbox placement test

one free blacklist monitor
Pricing
You get flexible pricing options at ZeroBounce. With both pay as you go and subscriptions available, finding the right choice for you is easy. 
If you don't need to verify lots of emails every month, you can opt for the Pay as you go system. The minimum purchase is 2,000 credits ($16) and the price per email address goes down the more contacts you check. 
Is your list growing fast and you need to validate your contacts consistently? Subscriptions start at $15 and they're a great way to save in the long run.
Your credits never expire and you can use them for the email verifier, the email scoring service and for Activity Data.
ZeroBounce also provides a money-back guarantee, a benefit that few email verification platforms offer.