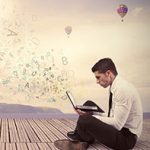 The good news is Gartner predicts that since 2013 through 2016, $677 billion worldwide will have been spent in cloud services with SaaS cornering 14% of the pie. The bad news is more vendors are crowding the market and that means a new SaaS company will have to work double time to get its precious slice.
SaaS online marketing is different from traditional marketing. I cannot overemphasize the value of nurturing customer relationship in SaaS more than in any other business model. Business model of SaaS and B2B companies involves a tight integration of both software and service. In a SaaS ecosphere, customer support is not merely a by-service as with consumer goods or on-premise software, but a critical extension of the product. In fact, customer support is one of the defining factors SaaS users consider, and for some people like small business owners with no technical know-how or team to fix glitches, they judge the B2B product by support more than price or functional terms.
There are a dime a dozen tips on how to sell SaaS products. Many of these you may already know or even be doing now, for example:
offer a free trial
feature your product on online review platforms
be prepared for long sales cycles
deliver your promises
ensure support is competent to handle calls
You may also find more B2B marketing ideas in this article that explores some very interesting possibilities.
On the other hand, there are plenty of genuine, out-of-the-box, and even mutually exclusive pieces of advice shared by fellow SaaS marketers like Lincoln Murphy of SixteenVentures, Kissmetrics, and Jason Lemkin that can wield golden opportunities. They also highlight some great places to feature your product. In this article I'll give you an online marketing guide for B2B and B2C SaaS companies that should offer you valuable insights into how you can market your product better.
7 Guidelines From Successful SaaS Marketers:
1. Gain credibility by hosting your reviews on an external review platform
Not all SaaS companies will have the chance to get their ultimate fan, which makes the Nintendo case like killing the goose that lays golden eggs. The next best thing?–user reviews, where customers hark positive things about your SaaS app. User reviews can benefit you in three ways: boost your SEO; increase your online reach; and ultimately drive more prospects to your site.
But user reviews are a double-edge sword. They can bite back with negative comments. If you have a sincere customer support program you need not worry about angst-ridden reviews. The key is to manage your own army of positive reviewers. Here's how you do it: make it an SOP to ask for reviews from customers. But don't use a solicitious language for positive remarks; rather, ask for their actual experience and give them an outline on what to assess. Tell them that their views can help other customers decide and you, the vendor, to improve the product. When you sound sincere and transparent customers are likely to forgive your shortcomings and put you in a more positive light. It's a humanity thing, I guess.
Once you have their reviews, don't post them on your website. Instead, post it on a third-party site that hosts user-generated content and has wider reach than your product website. Review platforms such as FinancesOnline.com can improve your brand awareness and significanlty improve user trust in your product. They are also a great source of potential clients. For example, lead generation campaigns offered by FinancesOnline provide an averege conversion rate of 10% for less-known brands and more than 20% for popular vendors. There are quite a few popular SaaS and B2B software review platforms out there so make sure you're on each one for maximum exposure. What is more important such sites will generate leads for you and ultimately increase your sales. It's also a great supplement to your content marketing strategy. It's ok though to quote a line or two from the reviews and publish them in your own site. If you're not on any of these sites you should add your product to their listing as soon as possible, sice you're wating a very good source for building trust in your brand. Adding a review of your product usually won't be a problem and is a pretty straightforward process. For example, with FinancesOnline.com you can request your product review here.
2. Create the image of an ideal customer and focus your marketing on it
Yes, because not everybody is your customer. The key is to optimize for the right audience. Murphy advised that you define your Ideal Customer, who immediately sees the value of your product. They can be a specific set of professionals in a large enterprise or a specific type of business owners. Give them a profile, stick it on a wall and base your promotions, such as inbound marketing, content marketing, paid advertising, and SEO on it. A good customer profile reminds you of a real person, someone you can see, hear, and talk about (oh, it's Jimmy of finance). There are plenty of ways to profile customers based on their personal traits, beliefs, habits, fashion, leanings, etc. Yes, stereotyping is allowed and what you actually should be doing when identifying the customer. Here are a few questions that help to visualize the Ideal Customer:
what is his or her work or position?
what's the least and best thing he or she likes about work?
specify a few of his or her habits and routine at the office
what are his or her hobbies and passions?
what does she or he like to wear everyday?
what does he or she like to talk about often?
Keep the Ideal Customer specific enough to recognize the person, but general enough to apply to a set of people.
Likewise, big isn't always good. The SaaS market operates in niches, not mass production. The ability to find your niche will be critical to your software's success. There are plenty of ways to find the right audience. You can sell by industry, scale, specific uses, unique benefits, different kind of support, price terms, etc. My guess is SaaS wars will be fought in small but specialized nooks and crannies, not in major open fields. As jobs are specialized, so are SaaS apps that people will be using. Scour the competition and find gaps that are not being articulated or, if ever, not specific enough. TrackingTime and Trello understand this strategy. They both operate in a crowded B2B software industry replete with robust features. However, both softwares focus on a single winnable feature and highlight it. Instead of promising the best project management and collaboration functions, TrackingTime just wants you to calculate billable hours down to the minute, while Trello simply gives you a clear visual board of cards to see your tasks. If the story sounds familiar, it's because it's what Google did in their search engine.
3. Leverage your fan network and let them copy your work
Some years ago, a Super Mario Bros. (the game) fan put up a fansite that lets gamers customize their Super Mario games. It was a hit and created a massive group of followers. What did Nintendo do? Send a cease-and-desist order to stop the unauthorized reproduction of the game on PC. Unfortunately it also killed its number one fan that had introduced the eighties phenomenal game to millennials.
Fan sites make it a lot easier to share your product at no cost to you. But instead of reprimanding the fans, influence him or her, even put him on a covert payroll. A disclaimer will help clarify to his followers that he doesn't represent the company but the consumer, which only increases his credibility and popularity that you can piggyback on. Sometimes there's a fine line between a pirate and brand ambassador and Nintendo realized their mistake. It turns out the fan site is back.
Know this–some users can fall in love with your product and they will create their fan site and even tinker with your API. You'll be surprised how these ultimate users can create a new product out of yours. Moodle, an open-source learning platform, was copied many times over and every time it only gets more popular and became a sort of benchmark for open-source LMS. If this happens to you, resist the war hawks who are eager to invoke copyright infringement; rather, leverage the fan's network and arrange a deal that protects your core territory (for example, the Mario fan site only works for PCs, where Nintendo doesn't sell), while promoting your app. It's a great trade-off.
4. Use the number of freeloaders of your product in your campaigns
Do you ever get a thousand app downloads of your free trial or freemium, but only a couple of dozens actually decide to move into paid subscription? Freeloaders can be a bane, but they're not without some use, so don't hate them. Murphy said punishing non-paying prospects by things such as slashing a 30-day trial to 7 days won't solve the problem. It will only diminish what little sun is shining on your SaaS. The freeloaders are there for a valuable insight. They are the wrong customers! This means your marketing messages and platforms can only be wrong. It's time to rethink and redo your messages and campaigns based on your Ideal Customer. Go back to tip #1.
In the meantime, you can use the number of free downloads in your campaigns. It projects bigness and market acceptance. For what they're worth the wrong downloaders can be a recipe for Robert Cialdini's social proof: people will do a thing when they see others are doing it. The freeloaders might just attract the right customers, after all.
5. Be transparent – never lie about your product and don't hide fees
Customers are a sensitive lot, especially in the SaaS market. Vendors can be judged on the little things, such as, harmless hidden or double charges that destroy customer's trust. I remember the fuss about XboX Live Gold promising Netflix in the console. Some gamers were upset to learn in fine print that they need to pay Netflix on top of the Live Gold fee. Why upset your customers when you can be honest with them? It's also a good idea to say upfront the things customers will not get upon signing. It builds goodwill and customer confidence. We all hate being misled and dishonesty has two faces: saying something that's not true or not saying something that's true. It's the second face, a white lie, that some vendors love using to lure customers. These vendors hope that after catching prospects in a free trial a small lie won't matter and will be glossed over by the awesomeness of their software. Truth is, a small lie is like a crack in a glass of consumer trust. Nobody wants to use a cracked glass, right?
Some SaaS vendors understand the importance of building client trust that eventually leads to the moment of truth when a prospect signs up. To break that trust in the critical stage with hidden charges or terms is to risk losing a conversion.
6. Learn which KPIs are really important to keep track of
Focus only on the most important metrics, no more than five for Kissmetrics, to make it easier to define the business' progress. Kissmetrics puts monthly recurring revenue (MRR) as the most important growth indicator. It's a straightforward calculation of how much you're earning or losing month over month. By plotting the numbers in a chart you can see the growth curve or lack of it and predict the future, right? Not quite, because MRR only shows you the past and present and the future is mainly filling in the space set by the current pattern; in short, guessing what will happen next. For James Lenkin, who has had built up two successful SaaS products, MRR is great but not enough. It tells you the present but not the future. As a CEO or business owner, you want to know where the business and you will be in a year. This is possible by tracking lead velocity, the rate qualified leads are growing month over month. If your sales team is generating monthly leads many times over monthly sales, the business rides on a steady growth curve. If this gap closes in, your SaaS may be reaching a plateau or sales is not working hard enough. Either way, business may stagnate sooner than later.
Once a lead is converted, you want to drive up revenues through scale. How much is revenue per lead? How much can you scale it with an upsell or cross-sell? An upsell moves the customer to the higher product value, while a cross-sell is convincing them to buy add-ons or supplementary products. Kissmetrics believes online businesses including SaaS should put more emphasis on average revenue per order because, as any marketer will tell you, it costs a lot to get a new customer so you might as well juice him out for the most dollars. Likewise, aside from calculating revenues per lead, a.k.a. customer acquisition cost (CAC),  Lenkin advised that you measure lead revenues down to the individual sales rep to see what tactics are working and what aren't. Then you can shortlist the best practices and retrain your low performers with inputs from your star players. An MRR cannot provide this level of insight.
For small SaaS company, tracking the funnel is a good starting point to see the big picture. The formula is simple:
You can see your churn rate or those who leave the app every month and CAC. You can also gauge the rate of transition for each phase and pinpoint where you're losing most of the prospects/customers across the funnel. That's where you should focus first. Are there fewer people signing up each month? It's time to rethink inbound marketing. Or are there fewer trial users converting to users? Then focus more on improving your email marketing to upsell.
7. Know the right time and the right way to reach out to your trial users
Fancy sign-up forms that put "required" fields. You should only be putting up just the required fields, anyway, to make it easy for new trial users to get started. Any non-required field is one second that wastes prospects' time and is one more reason to drive them away. However, once they sign up make sure to engage them across the trial-to-conversion trail. It's the right time to bombard them with messages. All in a good sense, that is. After all they signed up so they expect communications with you. This is the best time to send text, email, or push messages to new trial users with some degree of aggressiveness. Make sure each of your messages has a new value in it, and is not just a repetitive reminder or annoying upsell. Try to make your messages clear-cut instructions on what to do next. Too often, many vendors simply inform prospects of an update without guiding them on the next step. Guess what happens when poor customer doesn't know what to do after the trial has expired? Nothing. Murphy gave us a clear picture on how to "spam" leads with value:
"So if someone downloads a whitepaper, get them to sign-up for a webinar.If they come to the webinar, get them to download a case study. If they download a case study, get them to watch a demo of the product. If they watch a demo, get them to start a Free Trial. If they start the Free Trial, get them to take certain actions so they get to a point where becoming a paying customer is the most logical next step. When they reach that step, make them an offer to convert to a paying customer."

I dare add to continue this tactic beyond the moment of conversion and into upselling and cross-selling the customer and, as a matter of helpdesk policy, staying connected with the customer, albeit cutting down the frequency of messages. A good CRM software should help you automate the entire process, while maintaining a personal touch down to each customer.
CONCLUSION
Just to sum up all the key tips from our online marketing guides for B2B and B2C SaaS companies:
Profile your customers
Promote and support your brand ambassadors
Ask for reviews from your customers and post them on review sites for a wider reach
Too many freeloaders can mean your marketing messages and platforms are wrong; use freeloaders anyway to project bigness and attract the right customers
Be transparent especially in the moment of truth: when a user signs up
Focus only on a few metrics to track the business, namely, lead velocity, MMR, and your sales funnel
Message your customer as often as you have something valuable to guide them across the sales funnel
Best of luck to your SaaS business!