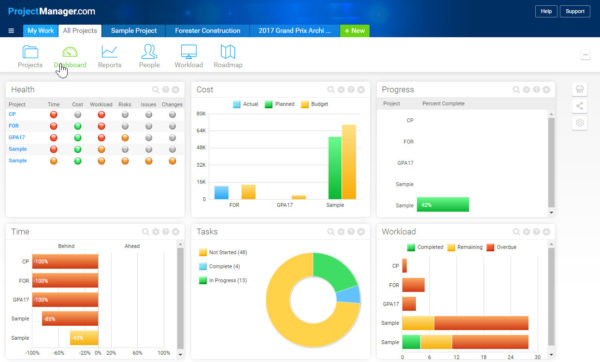 The main benefits of ProjectManager are its ease of use, mobile support, and great integration. ProjectManager will be a good fit for your company if you like an end-to-end system that manages project processes with ease and efficiency. Here are some advantages you'll have from using the PM platform:
Easy For First Timers
New users can easily manage crucial project management tasks quickly with ProjectManager's tools.  The program is designed to efficiently manage essential project processes, such as creating tasks, structuring task lists, attaching helpful comments and crucial files, and using simple tools. If you still need more help in operating the program, ProjectManager has a collection of webinars, live demos, tickets, a training hub, and knowledge base for your instructional needs.
Well-Equipped PM Platform
ProjectManager enables you to cover every essential process in your project management. Its tools allow you to assign tasks to your team, receive dashboard updates and check your project progress with one look and send automated e-mails to your team to follow up on their advance. Lastly, the solution generates reports on workload, the budget, time, and other aspects with a single click and lets you print them out or send them online to your colleagues and senior officers.
Adapts To All Situations
ProjectManager can be customized to fit your style or approach with your project. This helps you improve your team and task management, time monitoring, project planning, and real-time collaboration with your project members. You can do it easily with a few clicks and by dragging and dropping elements across the interface. To top it all off, the program can also create reports with your specified criteria and save it in your preferred file format. It then gives you the option to print out copies or to send it to your co-workers online.
Dashboards Updated by the Second
The project dashboard is your command center where you can oversee important details about your project, its progress, and your assigned teams. It updates in real time as your teams actively report, which eliminates the need for written reports and complicated spreadsheets. Similar to the project data reports, you can also share your project dashboard as email attachments or as printouts.
Work Together, Succeed Together with ProjectManager
Most projects need teamwork to succeed and ProjectManager gives you the tools to make that possible with your team. The software allows you to discuss your projects online, organize team discussions, and freely invite team members online through their PCs or smartphones. More than active collaborative group discussions, you can also work on online timesheets to hasten approvals and create smoother workflows. Even if you have teams working in different parts of the world, the process removes communication problems among your members.
Universal Device Compatibility
The software also provides freedom to access your work on any platform anywhere, as it is a cloud-based platform. You can also download native apps for iOS and Android devices,  which allow you to perform your management duties while you are on the go. With these web and mobile apps, your team can use any device or machine with an active internet connection to collaborate at all times regardless of the location.
Optimized Integration
More than its groundbreaking features, ProjectManager is also integrated with over 400 business applications for file storage, CRM, office, communications, account, sales, helpdesk, file management, and productivity. It is compatible with Microsoft Project and Office files, allowing you to seamlessly import and export important files like spreadsheets and project plans. Moreover, it also has the REST API for further development and customization.
Detailed Support at the Ready
ProjectManager offers support through phone, email, tickets, and chat. The product's support team also provides live demos, on-demand training, and webinars. The platform has articles and guides about how you can navigate and maximize the software's tools as well in its knowledgebase. Lastly, it has a dedicated page about security framework that tackles industry practices and standards to keep your files and project data secure from cyber threats.