Cybersecurity issues are becoming a continuous struggle for businesses, especially with the growing sophistication of techniques used by hackers and cybercriminals. Recent trends indicate a massive upsurge in breached and hacked information from sources that are increasingly common in the workplace, such as the Internet of Things (IoT) and mobile devices.
This is why most businesses use solutions like LastPass and Bitdefender to counter cyberattacks through encryption, prevent unnecessary downtime, and ensure continuous business operations. Outlined in this comprehensive LastPass vs Bitdefender comparison guide is a detailed analysis of each solution so that you can find the most suitable for your activities.
LastPass Overview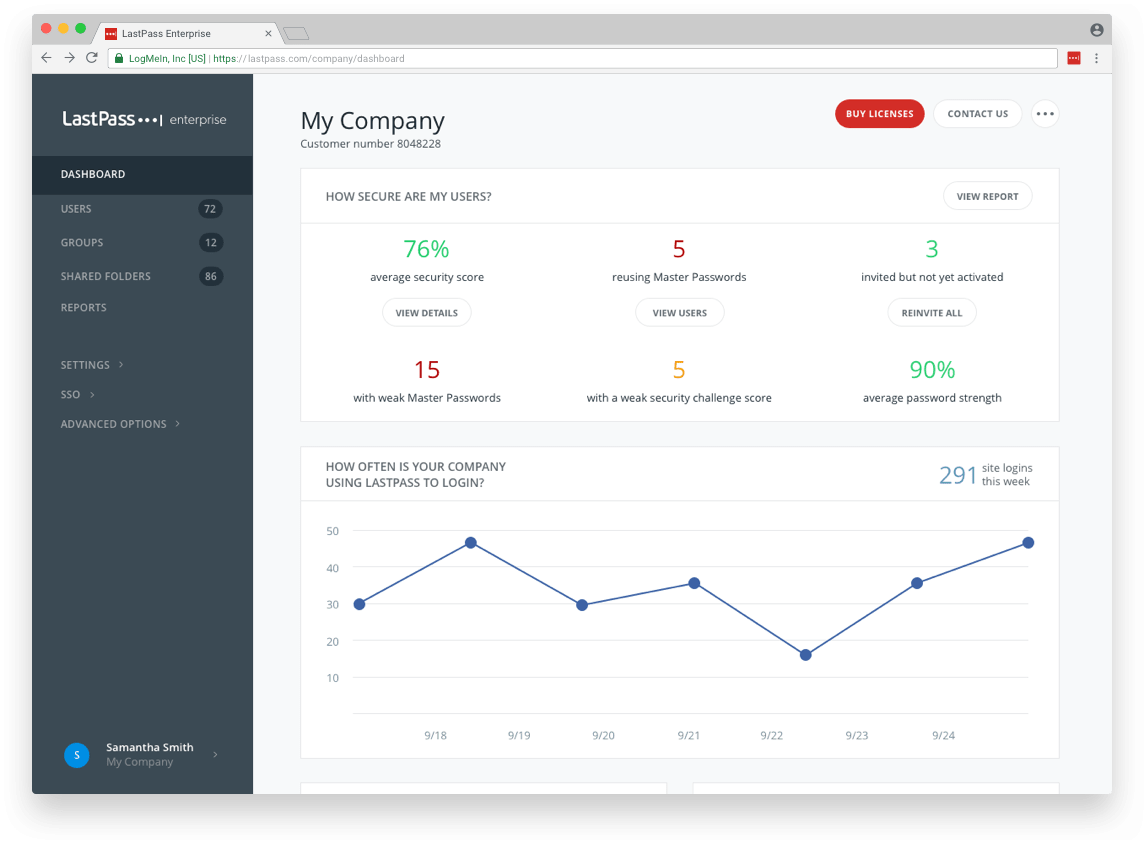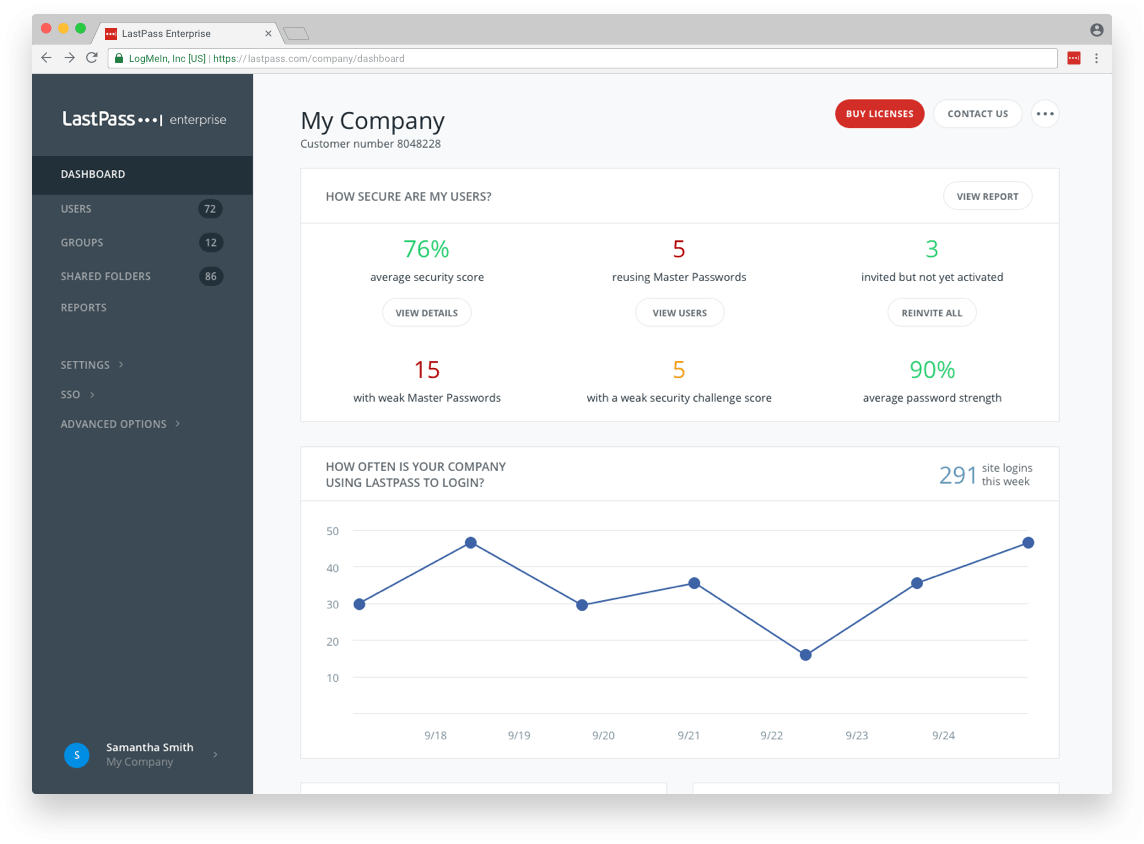 LastPass is an award-winning password manager that stores encrypted passwords online and provides users with secure access to their information from every mobile device and computer. Initially developed by LogMeIn in August 2008, this password manager solution works well with multiple platforms including Windows, Android, iOS, Opera, Safari, Internet Explorer, Google Chrome, Firefox, macOS, Maxthon, AMD64 Linux, and UWP. 
What's more, LastPass has employed AES-256 bit encryption geared with salted hashes and PBKDF2 SHA-256 capabilities to make sure that your information is entirely protected on the cloud. In connection with encryption, the software also encrypts and decrypts your information at the device level, which means that your data won't be sent to online servers. 
Unlike other password managers, users will only have to remember a single master password to protect the vault, which is a database that keeps all your information and passwords for multiple platforms and devices. Besides that, LastPass also eliminates shared spreadsheets with its straightforward and secure password sharing plugin that ensures everyone is up to date and on the same page.
Moreover, LastPass also caters to businesses of all sizes thanks to its ability to provide secure password storage and a streamlined administrator oversight. This added plugin reduces the risk of data breaches and eliminates password obstacles, thus, achieving higher productivity levels. With comprehensive user management, secure password sharing, and customizable user interface, LastPass provides the control IT requirements and the convenience users expect. 
Other than that, LastPass also assists IT departments control password security in their organization by managing reporting, policies, user management, directory integrations, and other tasks on a single yet functional Admin Console. This Admin Console can also offer comprehensive controls and generate actionable insights that make it easier to customize more than policies to ensure employee access is secure and authorized. 
Furthermore, LastPass has a unique set of features in place which include a password generator, two-step verification, digital legacy sharing, automatic duplicate password removal, secure note-taking, and site or password searching. Recovery and backup plugins such as SMS account recovery are also on tap to prevent primary data loss or corruption. Check this software ranking article to learn more about backup software features that can minimize cybersecurity threats.
Pros:
Accessible to Use and Affordable

Spots Weak Passwords

Handy Browser Plugin

Works Well with Popular Devices
Cons:
Tedious Password Changing Process

Occasional Bugs with Browser Extensions

Password Autofill Issues

Lack of Support for RDP Sessions
Bitdefender Overview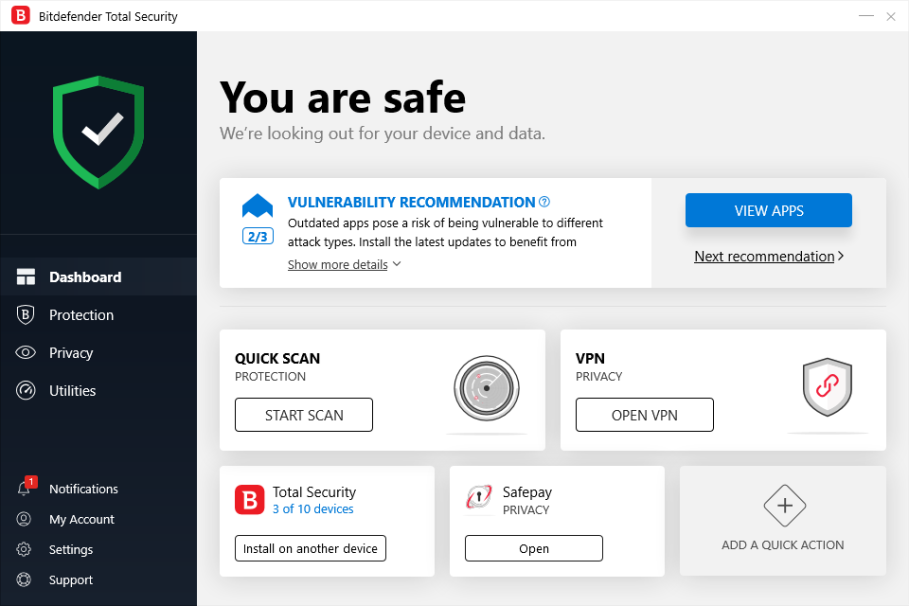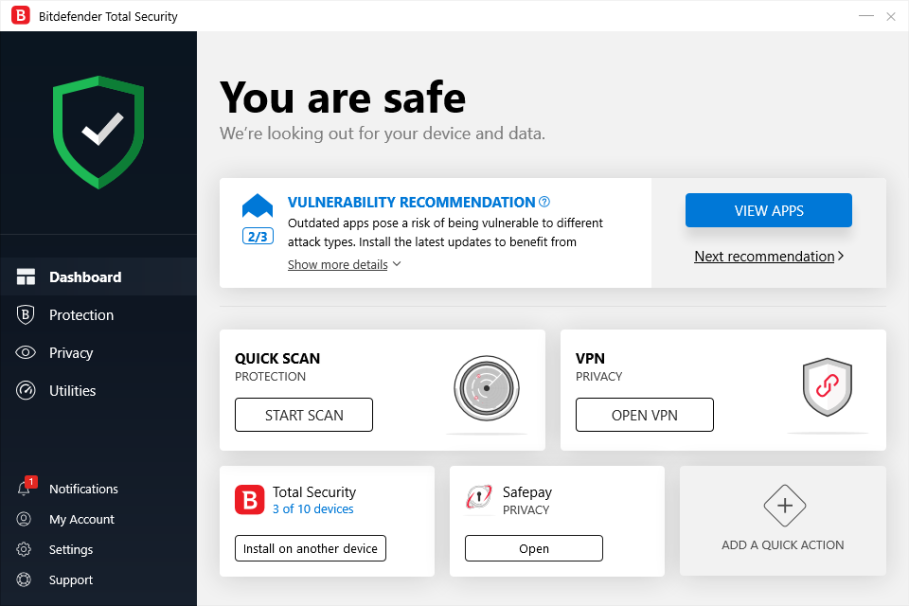 Bitdefender is a Romanian antivirus and cybersecurity organization that provides businesses with industry-grade endpoint security, internet security, antivirus solutions, and other cybersecurity products to ensure advanced threat protection. It was founded by Florin Talpes in 2001 and currently has more than 500 million users worldwide which include NetMD, EventLink LLC, Gray Construction, Fairfield and Woods P.C., and Slash Blue. 
The company also uses powerful technologies which include Active Virus Control, Content Filtering, Photon, Licensing, and Machine Learning on its solutions to ensure that its products can identify malicious URLs, malware, and other online threats. By processing and evaluating big data, Bitdefender can acquire behavioral patterns and develop insights that predict future advanced threats. At the same time, users can also facilitate the development of signatures to establish new malicious files proactively. 
Dissimilar to LastPass which is only a password manager service, Bitdefender is the whole enchilada offering not only a password manager but also an antivirus solution, an ultra-fast virtual private network (VPN) service, and a privacy firewall. Through the Bitdefender VPN, users can keep their online identity hidden and completely anonymous, which makes it relatively ideal for downloads and online media streaming. Check this VPN tools comparison article to learn more about the technicalities and the top VPN software in the market today and see how they stack up against Bitdefender. 
Besides its VPN service, Bitdefender also sports a reliable antivirus software that is free and specially designed for Windows devices. It is powered by incredible features such as real-time threat detection, virus scanning, malware removal, anti-phishing tools, and anti-fraud capabilities. They work conjointly to monitor your apps closely and ensure real-time elimination of spyware, rootkits, worms, viruses, and Trojans. 
The Bitdefender password manager is also as robust as its VPN and antivirus services with its ability to monitor passwords and provide a secure browsing experience. Although not as comprehensive as LastPass, its password manager does offer users a single master password which makes it easier for users to keep their passwords secure in a wallet. 
Overall, Bitdefender delivers an incredible combination of quick scans with minimal impact on the general system performance. While it is pricier than LastPass and many other password manager solutions, Bitdefender does bring a bang for your buck thanks to its host of security features that can make your online workplace a safe environment to work. 
Pros:
Easy To Use And Straightforward

Offers A Reliable VPN

Decent Anti-Malware Protection

Free Trials For All Available Plans
Cons:
Too Expensive

VIP Tech Support Costs Extra

Time-Consuming Installation Process

Standard Package Only Works With Microsoft Operating Systems
In the previous LastPass vs Bitdefender comparison section, we learned that each solution differs in so many ways. While LastPass only offers password manager features, Bitdefender is a bit more versatile, providing users with not only a password manager but also firewalls, VPN, and antivirus software. In this section, we will take a close look at their identical features and find out which suits better for your business. 
Security
Security features are the big kahuna of cybersecurity solutions, and both LastPass and Bitdefender have them in spades. They also secure your information in the cloud or on your machine using the most potent form of encryption, but it is worth noting that they are relatively unique. 
LastPass focuses more on ensuring efficient password management by providing users with security plugins such as password auditing and military-grade encryption throughout the entire password vault. It also comes with several two-factor and multi-factor authentication options to verify any logins on new devices and prevent unauthorized access. 
On the other hand, Bitdefender is a tad more robust than LastPass thanks to its array of security features that span from a VPN service and Antivirus software to a reliable password manager. At the same time, its password manager is not as reliable as LastPass; the software more than makes up for its shortcomings with its ability to defend against unknown attacks, threats and potentially unwanted applications to the system's Unified Extensible Firmware Interface. 
All paid Bitdefender plans also come with an anti-tracking plugin which makes web browsing more secure and displays page-load times and blocked items. That being said, Bitdefender is a step ahead of LastPass in the security features department, though, it is worth noting that the former often tend to register more false positives than the latter. 
Backup and Restoration
Backup is another critical aspect of a reliable cybersecurity solution since there is no surefire method of prevention for a data breach. Bitdefender makes it easier to concoct a robust cybersecurity strategy with its Rescue Mode plugin, which is solely responsible for scanning and disinfecting all existing hard drive partitions in and out of your operating system. 
The moment Bitdefender detects malware and rootkits that cannot be removed, it systematically prompts users to reboot the computer in Rescue Mode for backup and restoration. As an alternative, users can manually back up their data by connecting the software to Microsoft SQL Server Management Studio.
While Bitdefender has an extensive backup capability, the same cannot be said for LastPass, which only limits users to the typical account recovery options. These recovery options include Recovery One-Time Password, SMS Recovery, Mobile Account Recovery, and Master Password Hint. In other words, users with complex cybersecurity needs may be better off opting for Bitdefender because of its complete security backup and protection. 
Integrations
LastPass gets the better off Bitdefender in the integrations department thanks to its ability to work well with third-party solutions such as SecureAuth, Internet2, Entersekt, PasswordPing, Duo Security, RSA Ready, and Yubico. Besides that, LastPass also bodes perfectly with popular browsers like Microsoft Internet Explorer, Opera, Microsoft Edge, Google Chrome, Mozilla Firefox, and Apple Safari. 
It can also integrate with top Computerized Maintenance Management Software (CMMS) platforms to reduce human errors, ease regulatory compliance, and increase overall productivity. You can search and compare CMMS software reviews here to find out if it works well with password manager systems such as LastPass. 
Meanwhile, Bitdefender also has its set of integrations which include Gravity Zone, Kaseya, Lab Tech, and ConnectWise. Nevertheless, integrations with third-party solutions usually take time and may require technical help of the complexity of the installation process. 
Pricing
LastPass and Bitdefender boast reasonable pricing plans that are designed based on user needs. The LastPass pricing packages are divided into two specific categories, particularly the Single Users & Families and Business plans.
The Single Users & Families packages which come with a 30-day free trial is subdivided further into three categories. These include the Free, Premium, and Families packages which are priced at $0, $3, and $4 monthly, respectively. 
Like the Single Users & Families offerings, the Business plans also have several packages, though, it is worth noting that they only come with a 14-day trial. The MFA and Teams packages which charge users individually per month are pegged at $3 and $4 while the Enterprise and Identity plans are available at $6 and $8 per user monthly. 
Bitdefender also comes with a free trial, but the software offers a unique subscription method. Users may take advantage of the Bitdefender Box 2 for a one-time fee of $249. For its Antivirus and VPN plans, users will have to contact Bitdefender and ask for an annual quote as the price will depend on the number of devices. 
So, Which Is Better For My Cybersecurity Strategy
In this LastPass vs Bitdefender comparison article, we found out that both solutions make strong cases for providing businesses with the needed security protocols to combat cyber threats. However, medium-sized companies and large enterprises may be better suited to opting for Bitdefender because of the robust features and functionalities of the software. 
Alternatively, LastPass may be the most cost-effective option for small businesses and single users who only process and safeguard a little amount of information. All things considered, subscribing to either LastPass or Bitdefender will add an extra layer of protection against cybercriminals, hackers, and other agents of fraud.