What was once imaginary in the past is now perfectly possible today—we're talking, of course, about virtual reality (VR), a piece of technology that creates a computer-generated simulation that immerses the user in a virtual environment. It has been traditionally associated with the gaming industry, but today, several industries have tapped into this technology and largely benefited from it.
One of today's most common uses of VR technology is the virtual tour, a simulation of an actual location, allowing interested people to check out a place before visiting it. Used mostly in real estate and travel and tours, virtual tours have helped clients visit different locations in a virtual setting before making their travel choices and purchasing decisions.
Virtual tours attract more clients to visit a region or locale or to check out a property. Thus, investing in virtual tour software can boost your travel and leisure or property businesses. But what exactly is a virtual tour software? In this post, we'll tell you everything you need to know about a virtual tour software—its key features, benefits, and examples.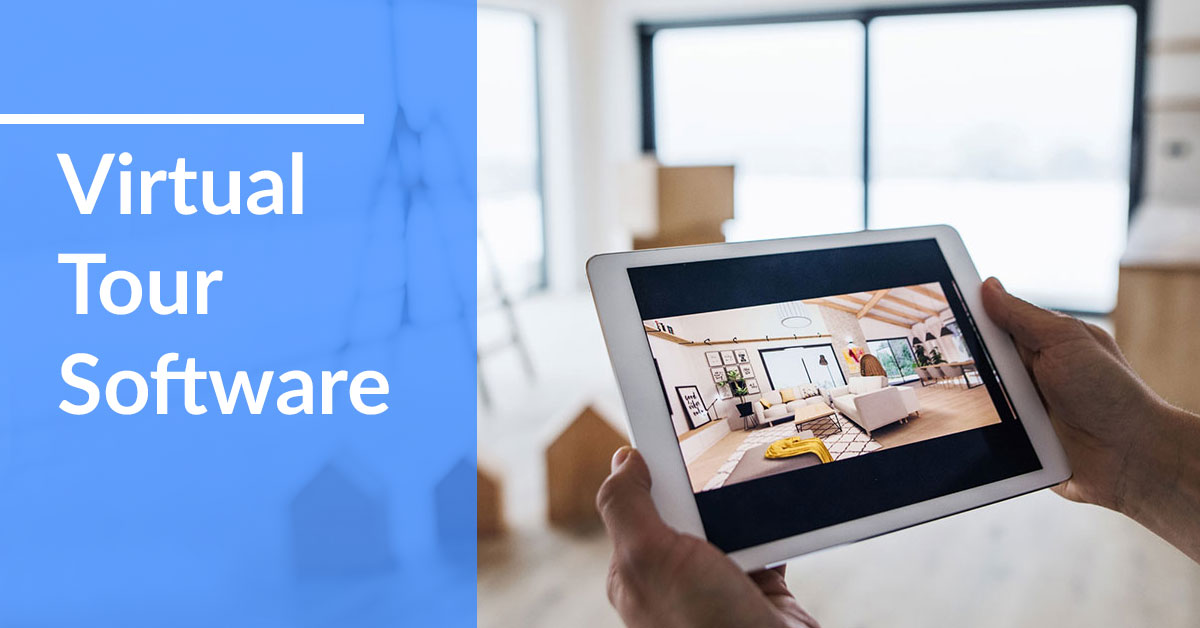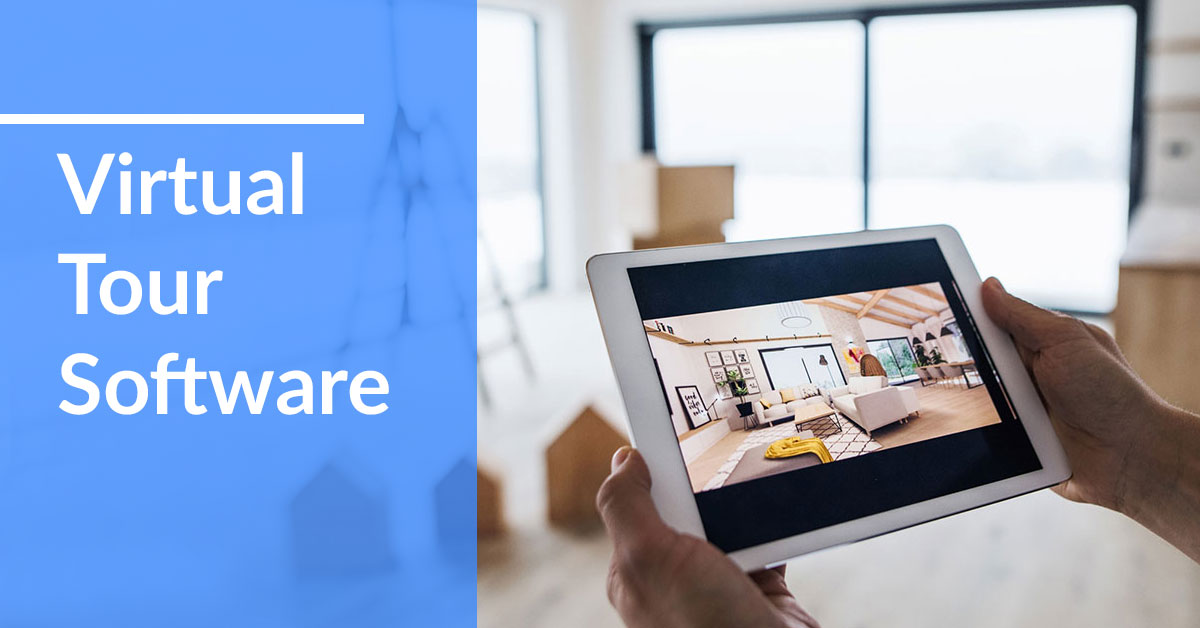 Virtual Tour Software Table of Contents
What is a Virtual Tour Software?
A virtual tour software allows you to create a 360-degree panoramic view of the spaces and destinations you are promoting to potential customers. Used mostly in the real estate and travel and tours industries, this type of software lets you use virtual visualizations to depict an accurate representation of grounds and tourist attractions.
Most products in this category provide video creation and editing functionality. They let you add videos, sound, and text, enabling you to provide your clients with a real-time video presentation. With the help of a virtual tour software, you can present a 360-degree look, complete with panoramic view and transitions, of the location or space you are marketing.
A virtual tour software facilitates the creation and presentation of virtual tours, allowing you to offer your clients a 360-VR experience of properties and landscapes they are interested in. Aside from providing immersive experiences, virtual tours also help you reduce the costs of hiring video recording professionals.
List of Best Virtual Tour Software
For a product to fall into the virtual tour software category, it needs to have features such as 3D video creation and editing functionalities, customizable templates, and display order management. Below, you'll find a list of the best virtual tour software that you can choose from.
Key Features of a Virtual Tour Software
Below, we listed down the key features you need to look for when buying your first virtual tour software. By having a better understanding of how these features work, you'll be able to choose a product that covers your needs and puts real value into your money.
360-degree tour creator
This is the most crucial element in a virtual tour software. Using your own VR hardware, camera, V-Ray, or 3DS Max, you can take and render panoramas to create stunning and immersive 360-degree virtual tours. A virtual tour software then allows you to enhance and customize these images, allowing you to build interactive 360-degree panoramas and videos.
Multimedia
Some virtual tour software lets you add background music to your virtual tours for a more immersive 3D tour. You can add any music you like to separated scenes, giving you the total control of the vibes you want to create in your virtual tours.
Hotspots
A hotspot is a button that you can add to your virtual tours. These buttons let you move between the spaces in your panoramas and virtual spaces. This feature makes your virtual tours more interactive, engaging, and enjoyable for your clients.
3D modeling
A 3D modeling feature is used to create a real-time preview of the objects included in your virtual tours. You can freely customize or preview the size and the 3D effect you want to use on certain objects in your virtual tour. Mostly, 3D effects are supported in Flash VR, Flash VR (swf), and Flash VR (exe) formats.
Auto-scaling
An auto-scaling feature ensures that all the virtual tour components you have will fit any browser on different devices. This prevents your clients from viewing distorted images when they are using different browsers and devices when opening your virtual tours.
Benefits of Using Virtual Tour Software
As the popular adage says, a picture is worth a thousand words. However, in industries such as real estate, travel, and tourism, high-quality pictures go a long way in attracting clients. Stunning photographs, HD videos, and immersive virtual tours can mean the difference between closing a deal with interested clients or putting up with a long wait on the market. Below, you'll find a breakdown of the benefits that you can reap from using a virtual tour software.
Greater reach
A virtual tour software can help you get a better reach among your target market. It lets you create appealing visuals of tourist destinations and more detailed sketches of properties. In turn, clients can easily find loads of information from their VR experience, and make informed purchasing decisions, increasing the sales potential of your tours and properties.
Detailed visual information
With a virtual tour software, you can present all the information that your clients need to know in one immersive experience, allowing them to get a 3D tour of the location or property they will be purchasing. This detailed visual information carries an attractive appeal to your customers, letting them have a complete idea of the finished project or a real-time walkthrough of the sights they will be visiting.
Engaging presentations
A virtual tour software helps you go beyond flat photos and videos. Using VR technology, you can create panoramic views and virtual tours. You can then engage interested clients with a visual presentation and allow them to experience a more immersive and engaging brochure of potential locations.
Advertising opportunities
By using modern forms of marketing, such as virtual tours, you are letting your clients know that you are at the forefront of technological developments. This could give you an edge over the competition, attracting more customers and intriguing them enough to check out your products. Most virtual tour software also offers one-step sharing and publishing features, allowing you to share your virtual tours on your website or social media accounts with just a few clicks.
Increase in ROI
Virtual tours are a powerful marketing weapon. In one 3D tour, you can easily orient your clients on the key selling points of your project, increasing your chances of closing deals with interested clients. Coupled with a marketing software, virtual tours can help you promote your products and bring an increase in your ROI.
Potential Issues When You Create Virtual Tours
Using a virtual tour software can bring many benefits for real estate agents and tour operators. However, there are also some challenges that lie ahead when you decide to use virtual tours in promoting your projects. Below, we compiled some of the potential issues you may encounter when using a virtual tour as marketing material.
Costs
Creating a virtual tour does not come cheap. First, you need to have the right equipment to produce high-quality 3D images. Then you need a specialized application to render the 3D videos and images you took and publish them on your own domain or on the virtual tour platform you have chosen before you can actually share them with your clients. Because of their high price tags, many tour operators and real estate agents use virtual tours only for some of their ultra-luxe listings.
Time-consuming
If you want to produce a stunning virtual tour for your clients, you have to spend a lot of time capturing panoramic scenes and then transforming them into one immersive virtual tour. The editing and rendering of virtual tours can be time-consuming, and sometimes certain skill sets are required if you want a top-level quality virtual tour. While there are virtual tour software products that promise a simple and easy process for virtual tour creation, it can still get too technical for some users.
Things to Consider When Creating Virtual Tours
While the likes of marketing platforms and real estate software let you manage your listings and maximize your marketing campaigns, virtual tours still bring a different impact when it comes to promoting sights, landscapes, and properties. To improve your chances of attracting more clients through virtual tours, consider the following points below:
Use the Right Equipment
The first thing you need to consider when creating a virtual tour is the right equipment you need to use. 360-degree or HDSLR cameras work well in capturing 3D scenes and have functions that make rendering easier for you later on.
Select the Best Software
It's also essential to select the best virtual tour software. Some virtual tour software even eliminate the need for 3D cameras, allowing you to use only your mobile cameras in capturing panoramic views. With the right software, you'll have all the tools you need to transform your images into 3D scenes and publish a virtual tour for your clients.
Sharing Your Virtual Tour
Once you have finally rendered your virtual tour, the application you used will provide you with a shareable link or code to the tour. This way, you can embed the finished output into your website or on your social media account. For your virtual tour to gain more exposure on the web, consider using paid advertising services via Google or Facebook. Video email programs are helpful in sending your virtual tours to your leads.
Latest Trends
As virtual reality gains steam and hits the mainstream, many industries are taking advantage of and adopting VR into the sales and marketing strategies. The latest virtual tour trends can tell us where this technology is headed.
AR, AI, and VR in marketing
VR, AI, and AR technologies are joining forces to empower the ecommerce industry. These advanced applications are becoming more in-demand as online business owners scramble to find ways to enhance their brands and attract more customers. Ecommerce software with image recognition technology and visual analysis features help customers find products. These tools also provide business owners with better chances of reaching their target market.
VR shopping
Virtual shopping is now also gaining ground as the use of VR technology becomes more common. Ecommerce giant Alibaba led this trend as it introduced VR shopping, allowing customers to experience buying products from a virtual marketplace. With the use of VR technology, users can browse and purchase items from the comforts of their own home.