Are you seeing your company the way your customers do? You should and it all boils down to customer experience. In the field service business, you're only as good as your last job order. The dozens of positive reviews you've earned in the past can go down the drain in a snap with the latest complaint about you, or to be precise, about your service team.
That's why it is important to have a 360-degree view of your business and much of that is focused on how your field personnel performs the job on the ground. A field service software can help you do just that. 
It consolidates all the workflows across multiple layers of coordination typical to home or commercial servicing. That means servicing customers on time, using the right tools, and being rewarded with a 4-, if not 5-star rating.
But what is field service software? In this article, we will walk you through its fundamentals, the benefits and features, as well as issues to watch out for before getting a plan. We'll also touch on the trends shaping the industry to date, so you know what you're getting into.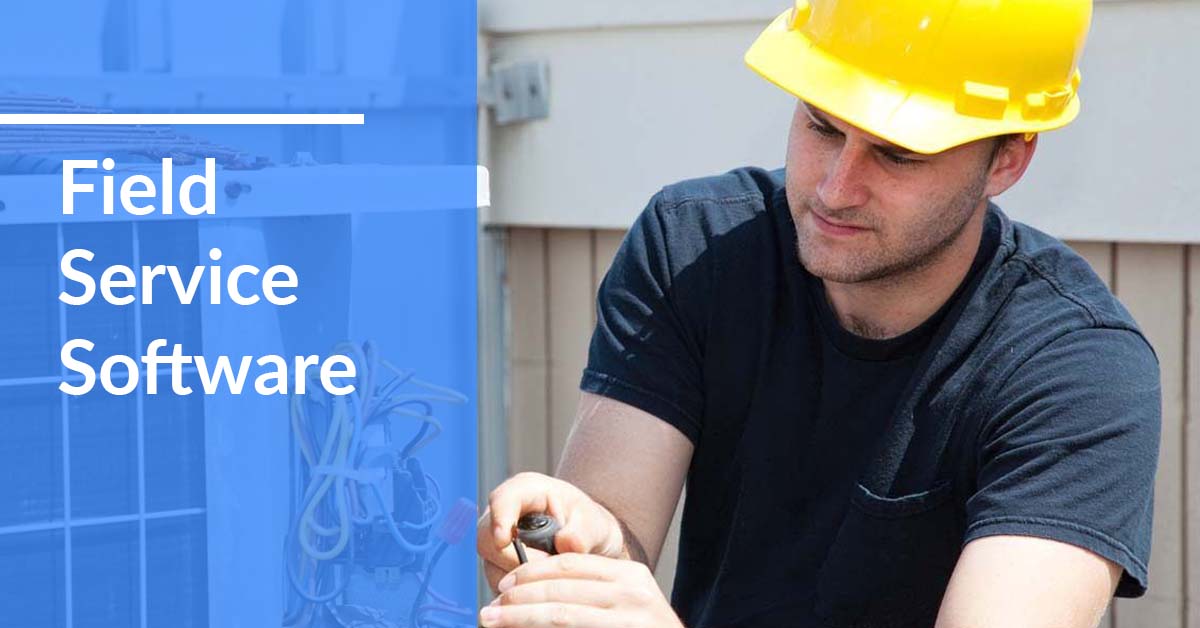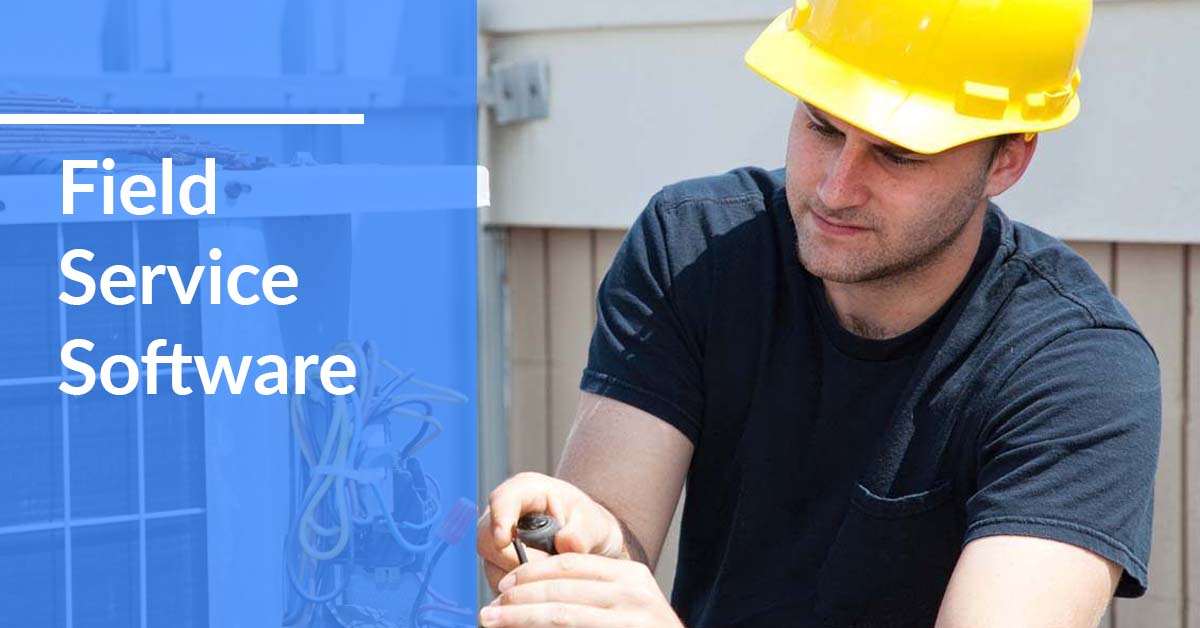 Field Service Software Table of Contents
What is Field Service Software?
Also referred to as field service management software or FSM, this system enables real-time coordination between the office, field team and customers. Using a centralized location, often a cloud-hosted system, customers can book a service, the office can schedule the job order and the field team can provide the right service at the right time and place. This level of coordination afforded by field service software makes it an indispensable tool for a mobile workforce in industries such as utilities, home repair, telecommunications and other home services.
More advanced field service software also feature CRM and business analytics. The former helps you to reach out to more customers, thus expanding the business, while the latter enables you to gain insights into your operations, resulting in more efficient workflows. 
Not all FSM platforms are designed similarly though. As with other SaaS categories, a field service app can be specific to a particular set of features or it can be an end-to-end solution much like an ERP. At its core, an FSM should allow you to receive bookings, provide a customer portal, schedule job orders, monitor job statuses and track field teams via GPS.
You can also go for additional features like invoicing, inventory management and regulatory compliance management. 
Whatever type of FSM that you plan to use, the app will help you increase customer satisfaction and, generally, make your business more competitive. In a crowded service sector, the software can be your make you stand out.
List of 10 Best Field Service Software
What are the Benefits of Field Service Software
Field service software addresses the major areas in running a service business, which include office-field coordination, customer relationship and employee accountability. Here are the benefits of field service software, from the ones with the most impact to the least.
Improve operational efficiency.

Field service software allows you to run the business with clear, transparent and accountable communication from start to finish. Customers are assured you get their bookings, the field team is notified of the job order and management can monitor which team is doing what. You avoid overlapping servicing, delayed dispatching and missed bookings. The result? A more efficient workflow that runs the gamut of your business.

Satisfied customers.

When you can provide service on time and predictably, your customers are more likely to be satisfied with the work. Even if mistakes are made, having an open, real-time communication line that field service software affords customers allows you to resolve issues faster. Many field service apps also feature user ratings where customers can rate the field team's service. This keeps your mobile workforce on their toes at all times.
Increase the bottom line.

With efficiency and customer satisfaction comes better margins, either through reducing costs or increasing repeat bookings because customers are simply happy with you. Right off the bat, avoiding missed bookings means your revenues are optimized. Conversely, dispatching job orders at the right time and place means you save on fuel, man-hours and other operational costs. All these result in improved profits for your business.
Get paid faster.

Field service software ensures invoicing and payment alerts are sent on schedule, so you get paid on time and your cash flow stays at healthy levels. Likewise, invoicing can be set up to bill customers by the hour so you always get paid accurately.
Prioritize urgent tasks.

With a big-picture view of job orders, you can schedule priority tasks. It can be by value, geo-location or SLA. 
Optimize dispatch.

With an integrated route and map tools, field service software helps you direct traffic to the most optimal route. You can schedule shared resources like transportation, equipment and manpower around location clusters plotted along a route, for instance. More advanced field service apps also feature inventory management and tracking so you can monitor where your assets are fielded in real-time.
Standardized process.

A field service app also provides you with a consolidated place to start organizing workflows around rules. From bookings to dispatching and invoicing, workflows can be automated and, with it, standardized. Having put order into your process, the business is easier to manage and issues are more predictable and easier to resolve.
Less paperwork.

Once you start running operations around the field service system, much of the manual work can be eliminated via automation. For example, instead of printing out job orders and invoices, you can simply send them via email or save them right inside the app. Anyone with permission can access the files from their laptops or smartphones.
Key Features of Field Service Software
Having presented the benefits, let's take a look at the key features you should consider before subscribing to a plan. As with most SaaS or cloud software solutions, field service software is usually offered at price points that scale from basic to advanced features.
At the least, your field service app should have these standard tools:
Job scheduling/dispatching. Where backoffice issues haunt many a field service company, this feature allows you to assign job orders to the right teams. It usually features an integrated calendar or Gantt chart-like interface where you plot the schedules. This feature also lets you mark sick leaves, undertime or overtime so you can adjust dispatching in advance based on team availability. Alerts can be set so your team is notified of new job orders. Some of the more advanced tools allow you to organize the teams by skill, skill level and geo-location.
Job order management.

Once a customer books a service, field service software can automatically create and assign the job order. You can set the rules and triggers here to fit your workflow. For example, the app details the job order and a team accepts the order. Upon dispatch, the manager can track job status. The field team marks the task complete in the system, thereby notifying the office in real-time. The app can capture the entire process, which you can use for seasonal performance evaluation or operational assessment, among others.
Mobile access.

Being a field app, an FSM is expected to be mobile-ready. Some solutions have native Android and iOS apps, while others can be accessed via a mobile browser. Although a native app provides more seamless user experience, the drawback is it eats up mobile storage, which can be an issue for some field team members. On the other hand, a mobile browser may save storage space, but it may not be as flexible as, for instance, a native app's offline sync capability.
GPS routing.

Often an advanced feature available in premium plans, GPS routing enables you to plot the best route for your field team. This saves them fuel and time and, generally, make field deployment more efficient. Likewise, this feature allows you to track your team's whereabouts during the field call, helping you to stay on top of your operations.
Customer portal.

While not all field service apps provide this feature, it is a must-have if you want to reach a wider market. The customer portal allows prospects to book your service outside of your geographical territory. This feature often allows you to embed a widget on your website, thus helping customers in the next county, for example, book your service online. The portal may also have a rating system that lets you get a feel of how your customers perceive your business.
Some field service software solutions also provide advanced tools that you may or may not need at the moment.
Reporting and analytics.

It is usually packaged in a premium plan. Reporting and analytics may seem an extra feature if you are just starting but aspire for this tool as you grow the business. It helps you evaluate your operational efficiency, income vs expense status and, overall, make smart decisions based on field and office data.

Built-in messaging.

Basic plans normally integrate with a chat app or SMS to enable office-field-customer communication, but some of the more robust apps have their own built-in chat-text system. This helps keep conversations inside the system so all relevant parties are on the same page. Similarly, a built-in communication tool is more convenient for the field team than shuffling between apps using a smartphone.
CRM.

Robust field service software may also include a CRM to help you consolidate customer data and work history. This is practical for repeat servicing, enabling the field team to provide a personalized service based on historical data. Furthermore, the CRM tool can feed data into the app's analytics, thus enabling you to spot insights and opportunities. 
Issues with Field Service Software
Like many SaaS solutions, field service software is not without its issues. Some problems are borne out of a poorly designed UI while others are due to mismatched expectations from the user's end. Here are the issues to watch out for when getting field service software:
Lack of flexibility, customization options

. If you have diverse job orders, you wouldn't want to be boxed in by the software's configurations. Providing HVAC services entails a different workflow and dynamics compared to, for instance, lawn mowing jobs. If you are offering both, make sure the app has rule-based automation that you can customize to match a variety of workflows. The lack of which will only lead to inefficiencies and, worse, your team reverting to a manual process.

Cannot scale to enterprise.

If you envision the business to grow into a franchise, it is important to look into the years to come. A small business field service app may work for now, but what if you start fielding teams from various locations and for different reasons? Even so, many cloud-hosted field service apps won't have difficulty scaling by the number of users and feature set. 
Counter-intuitive UI.

It is critical that the interface is easy to follow and navigating the tools is simple, especially when you are accessing the system from a smartphone out in the field under the glaring sun or less-than-ideal setting. User login must be a few entries away. Shifting from one dashboard to another should be within a few clicks, as well. Retracing navigation should also be intuitive. These are small things that may prove critical to your field team adopting the app for their daily work.
Hidden fees.

The standard charges for a cloud-hosted field service app include a monthly fee based on the number of users and the type of plan. Still, fine-print terms may state that your plan will be automatically updated without notifying you should you exceed the number of users. Other hidden fees may charge you for transaction fees or service charges that are not clearly stated on the vendor's website. To guard yourself against unexpected costs, make sure to talk to a sales rep and ask for the fee schedule.
Lack of SLA.

A vendor that does not provide dedicated customer support to its premium clients may prove problematic down the road. That means even as you pay for a higher plan, you are treated as the next guy using a free version. As an important client, you should opt for a vendor that will treat you like one.
Trends in Field Service Software
The field service software global market is expected to reach $4.45 billion by the end of 2020. The niche is only expected to grow as technologies drive it further to making life easier for field service companies. Here are the trends that are happening now, as well as pushing the envelope in field service management.
75% of organizations are already relying on mobile apps for their technical projects, field service included.

By the end of 2020, things will be 26 times more connected than humans, thanks to the Internet-of-Things. This impacts field service that works on fixing equipment and materials.

Ten percent of companies are opting for AI to track their field service efficiency.

AR and VR are boosting the training of field service employees with simulations.

Companies that tap into their big data sets will mine opportunities and generally be more competitive than those who do not.

Veteran field service professionals are retiring early and being replaced by younger people who are more adept at relying on technology to do their work.