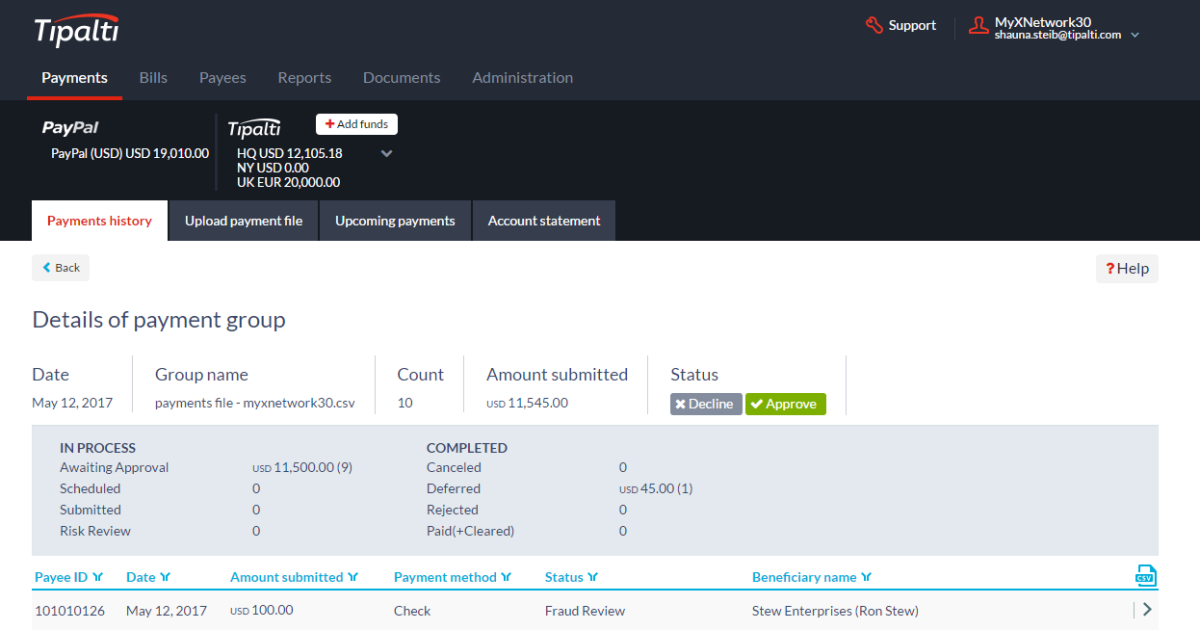 The main benefits of Tipalti are financial reporting, AP, and payment reconciliation. It can normalize data across a wide range of payment gateways and then feed it to ERP apps for extended use.
Operations are carried in the Supplier Management portal. This is the area where suppliers can organize and input their taxation details. Not only will this aid in simplifying supplier control, but it also eradicates human errors and downstream problems.
Tipalti is a KPMG-certified app that can gather W-9 and W-8 tax forms. This gives users the power to withhold payment for payees who are not compliant. The app can also create 1099 forms at the end of each calendar year.
The software makes it possible for companies to skip admin fines and other problems. Irresponsible payees are frequently scanned against the U.S. and international blacklists. This significantly minimizes the chances of issuing payment to illegal parties such as law-evading entities, drug traffickers, terrorists, and money launderers.
Tipalti's W-9 and W-8 tax compliance will ensure FATCA compliance. This minimizes the time for AP personnel to scan and adhere to rules. Teams will have the ability to automate taxes accurately, come up with forms quickly, prepare 1042-S tax reports, and allow companies outside the U.S. to conduct storage and self-billing according to their ID and VAD details.
Users can conduct payment to 150+ countries. They have the option to choose between 100+ currencies and several payment methods including prepaid debit cards, Global ACH, local bank transfer, and PayPal.
Tipalti's payment configuration offers numerous financial controls. These include signatory rights, payer/payee splitting, advanced payment reconciliation, currency selection, audit trails, and payment threshold setting. Payment reconciliation reports are comprehensive and precise. Users can create them automatically without worrying about regional considerations, varying payment method options, and taxation regulations.