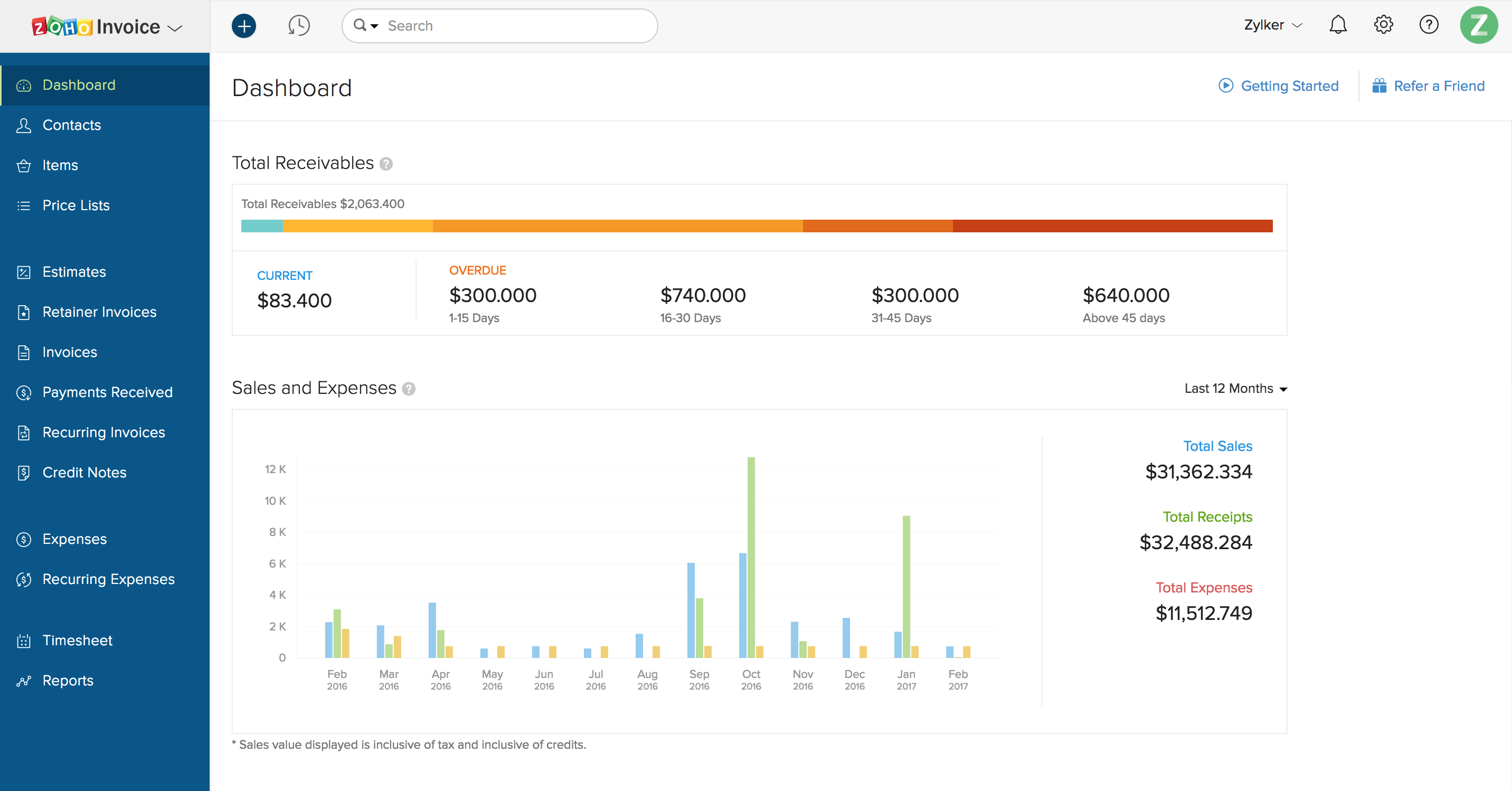 The main benefits of Zoho Invoice are efficient invoicing, accessibility on mobile, expense tracking, project time tracking, simplified estimates and reliable payment gateways. Aside from affordable prices, they will also be surprised to find benefits one wouldn't expect from a simple invoicing system.
One of the most obvious benefits to Zoho Invoice is that it allows users to handle invoices in foreign currencies with decimal precision. Online payments are a breeze as well as Zoho Invoice lets customers pay using their gateway of choice. Users do not need to switch to another platform when on Zoho Invoice, as transactions and all operations related to it can be done there.
The Review Feature is another standout Zoho Invoice feature. It gives users a view of all vital business information, such as best-selling products and services or customers who are prompt with their payments. Zoho Invoice also helps in estimating the time needed for customers to pay up, and how long a business needs to process those payments. The time tracking and expense tracking features also help users follow up on their own payments, as well as use visual graphs to track and record their finances.
Collaboration is also smooth with Zoho Invoice as users can easily assign tasks to members as well as oversee their roles. Data retention is taken seriously, too, with users able to recover data anytime they need it, thanks to a local server and external data centers. Automatic backups are done frequently, as well as data replication so no information is lost. Data is kept safe and protected by 256bit SSL encryption.
Zoho Invoice's open API makes it easy to integrate with a business' existing IT infrastructure, and importing and exporting data can be done with different systems as no restrictions exist since everything is done in the cloud. Its availability in the cloud also makes Zoho Invoice available on mobile devices. Best of all, there is a free Zoho Invoice plan for users who only need to manage five customers or less.