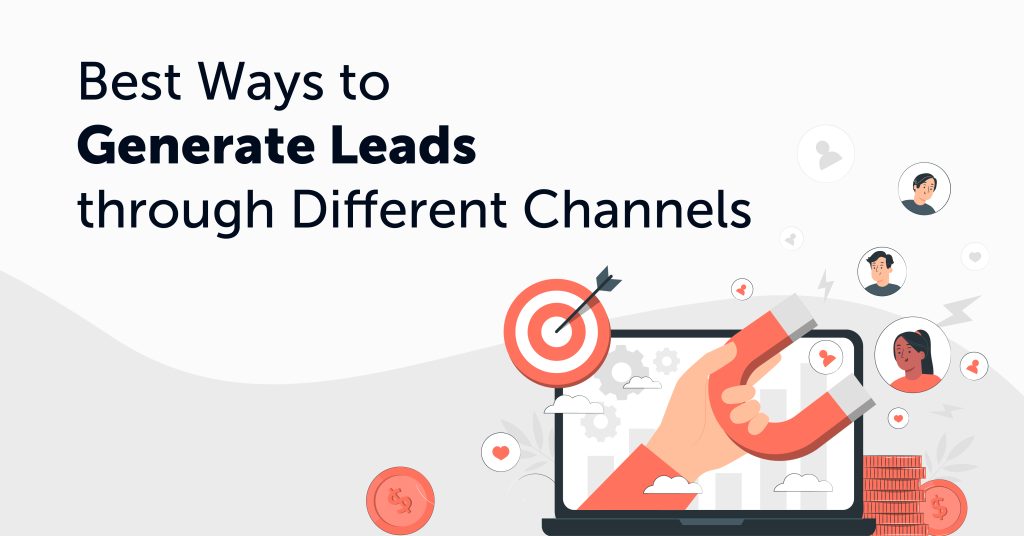 Lead generation is a top priority in the B2B world. It plays a vital part in increasing sales and revenue. Among marketers, 53 percent are spending a minimum of 50% of their budget on lead generation. Generating top-quality leads has become more important than ever. This is particularly evident during a pandemic situation where businesses have suffered great losses and are looking for ways to get back on track and continue to march forward.
There's no one best way to generate targeted leads. You may need to explore different strategies to come up with the best lead generation plan. Furthermore, taking a data-driven, multichannel approach could help you get the results you want in your lead generation campaigns. Here are four top lead generation strategies that use different channels.
#1 Video marketing
Video marketing is a powerful lead generation strategy that allows B2B marketers to evoke emotion, create impactful messaging, and increase engagement. Among B2B marketers, 74 percent agree that video converts better compared to any other content type. To realize a high video marketing ROI, make sure you have a great landing page, create optimized videos, and add effective CTAs in the right places.
Not all of your B2B lead generation videos need to be promotional. If you adopt the "value first, selling second" approach, you'll have a better chance of generating leads and even converting them. Testimonial, how-to, product review, and informative videos can help you improve brand visibility, build authority, and better engage leads. You can also repurpose your videos to be used in other lead generation campaigns like email.
#2 Email marketing
Did you know? Email is used as the primary channel for lead generation by 89 percent of marketers. When it comes to generating B2B leads, email marketing is one of the best strategies you can implement. Create a well-researched email marketing campaign that is tailored to the needs, pain points, and interests of your target audience. Don't forget to build email lists as they are among your greatest assets for email marketing.
Using B2B contact data is an effective and faster way to build accurate and verified email lists. You can also use B2B company data including intent, firmographic, technographic, and account-based data to personalize your email marketing campaigns, create more relevant messaging, and improve results.
#3 Social media marketing
Social media is a powerful tool for B2B lead generation. B2B companies can use social media platforms such as LinkedIn, Twitter, and Facebook to connect with potential customers and generate leads. Here are a few ways to generate leads through social media:
Creating a company page on LinkedIn and sharing valuable content such as blog posts, infographics, and videos. This will help to establish your company as a thought leader in your industry and attract potential customers.

Utilizing LinkedIn groups and Twitter chats to connect with potential customers and start conversations around topics related to your industry.

Running social media ads targeting specific demographics and interests to increase visibility and drive traffic to your website.
LinkedIn is a frequently-used B2B lead generation platform in the social media space. Compared to other social media networks, it's 277% more effective for generating leads. Take advantage of its mammoth business user database to connect to scores of targeted leads and build a rapport with them. Join groups, publish relevant articles/posts, share your valuable comments, send an InMail, and use advanced search functions to find and engage leads on LinkedIn.
Facebook, Twitter, and Instagram are other social media platforms you can leverage to stay in front of your targeted B2B leads and capture them. Publish personalized posts, offer rewards or discounts, conduct interesting contests or sweepstakes, create targeted ads, use content that leads can resonate with, or consider influencer marketing. These tips work great to generate and nurture quality leads through different social media platforms.
#4 Content marketing
When it comes to B2B lead generation, you can't afford to not include content marketing in your plan. Content marketing costs 62 percent less than traditional marketing while generating 3X as many leads.
Start by creating buyer personas to understand who your target audience is, what their likes and dislikes are, what solutions they are looking for, and what triggers their interest or intention to buy. After you've closely studied and researched your audience, focus on creating highly targeted, personalized, and relevant content to attract and generate leads. Segment your leads to target each segment with specific, tailored content.
Use different forms of content like ebook, whitepaper, blog, video, infographic, PowerPoint template and case study and the right content promotion channels to boost your B2B lead generation. Gated content, newsletters, content syndication, guest blogging, and co-marketing content are other ways to generate leads through content marketing.
#5 Influencer Marketing
Influencer marketing is a type of marketing that involves working with influential people in your industry to promote your products or services. This can be an effective way to generate B2B leads because influencers have a large following and can help to increase brand awareness and credibility.
Here are a few ways to use influencer marketing for B2B lead generation:
Identifying influencers in your industry and reaching out to them to collaborate on a campaign or project.

Creating a brand ambassador program and working with influencers to promote your products or services to their followers.

Leveraging influencer's content to reach a wider audience and convert their followers into leads by adding a call-to-action in their post or video.

Influencer's testimonials or reviews can also be a great way to establish credibility and trust with potential customers.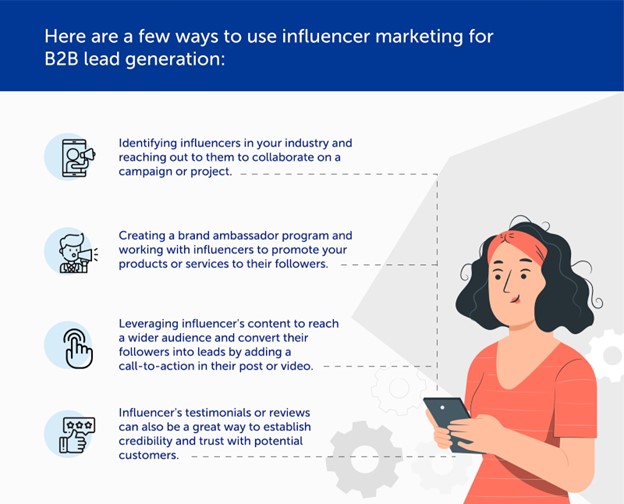 How To Create Lead generation Campaign
Creating a Lead Magnet
A lead magnet is a valuable piece of content or offer that is given away in exchange for a potential customer's contact information. This could be an e-book, webinar, whitepaper, or any other type of content that is relevant to your target audience. The goal of a lead magnet is to attract potential customers and capture their contact information, which can then be used for lead nurturing and future sales efforts.
Developing a Lead Nurturing Campaign 
A lead nurturing campaign is a series of targeted emails, messages or touchpoints that are designed to keep potential customers engaged and interested in your products or services. The goal of a lead nurturing campaign is to move potential customers through the sales funnel and convert them into paying customers.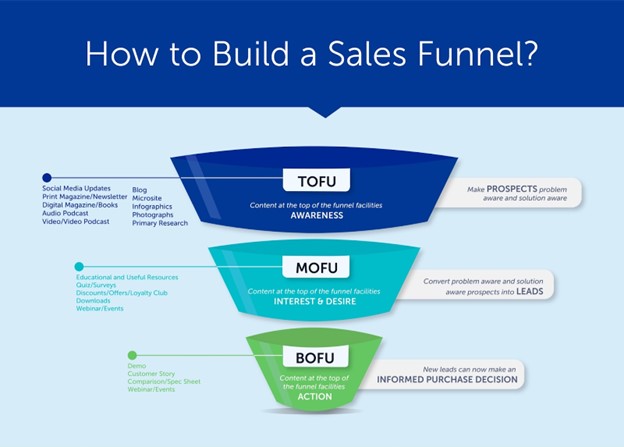 Implementing a Referral Program
A referral program is a way to incentivize current customers to refer their friends, family or colleagues to your business. This can be an effective way to generate leads because people are more likely to trust the recommendations of people they know.
Using Landing Pages and Forms
Landing pages and forms are a key component of lead generation. Landing pages are standalone pages that are designed to convert visitors into leads. Forms are used to capture contact information from potential customers. Landing pages and forms should be optimized for conversion and should be easy to use.
Tracking and Analyzing Lead Generation Results
It's important to track and analyze the results of your lead generation efforts in order to understand what is working and what isn't. This will help you to make data-driven decisions about how to improve your lead generation strategy. Tracking and analyzing metrics such as website traffic, conversion rates, and lead quality can help you to identify areas of improvement and adjust your strategy accordingly.
The Final Word
In addition to the strategies explained above, you can use webinars and podcasts, search engine optimization, retargeting, website visitor identification, and pay-per-click advertising to power your B2B lead generation efforts. Lastly, ensure that you measure your results to find the best combination of lead generation strategies to adopt, and make improvements wherever necessary.