Content creation is one of the most effective marketing approaches for brands that want to attract, engage, and retain customers. But the fickle nature of today's customers means that to remain relevant; you've to continually adjust the way you research, strategize, create, and publish content. Put simply, you need to stay abreast of the latest content trends to create a material that strikes a chord with customer's habits, preferences, and search needs.
In this post, we'll discuss all the trends that are running the show in the subtly complex content marketing arena. The goal is to illuminate your way and help you adopt highly effective tactics, channels, and tools to create amazing content that is perfectly suited to the new generation of buyers.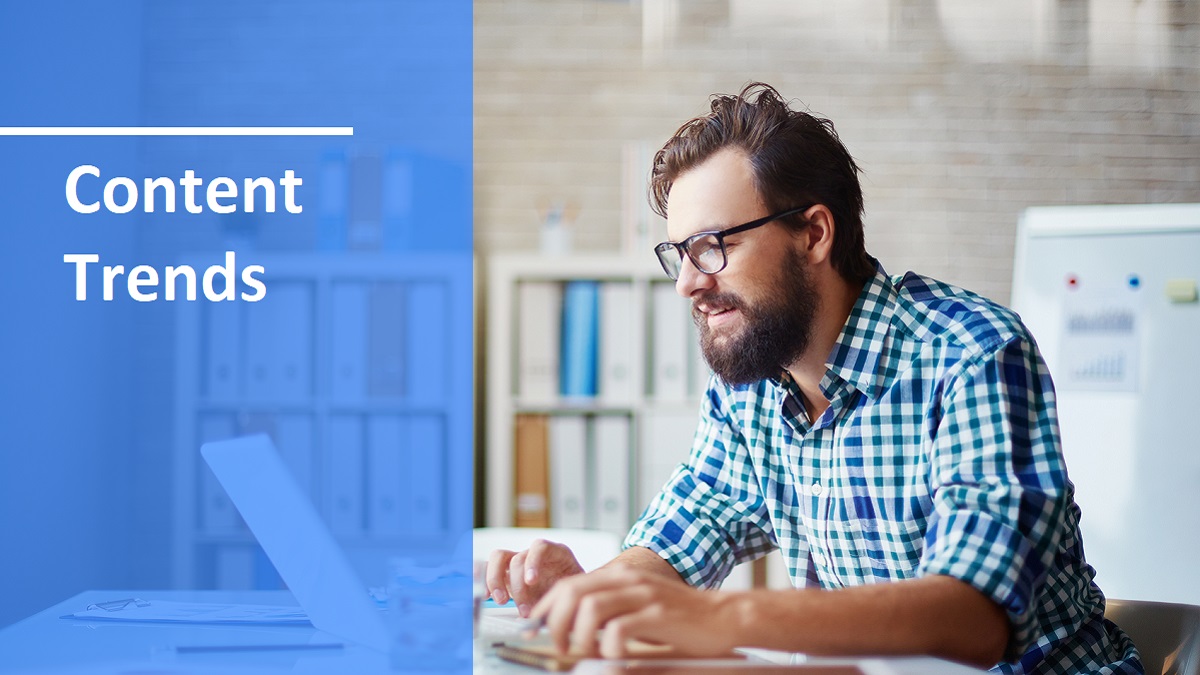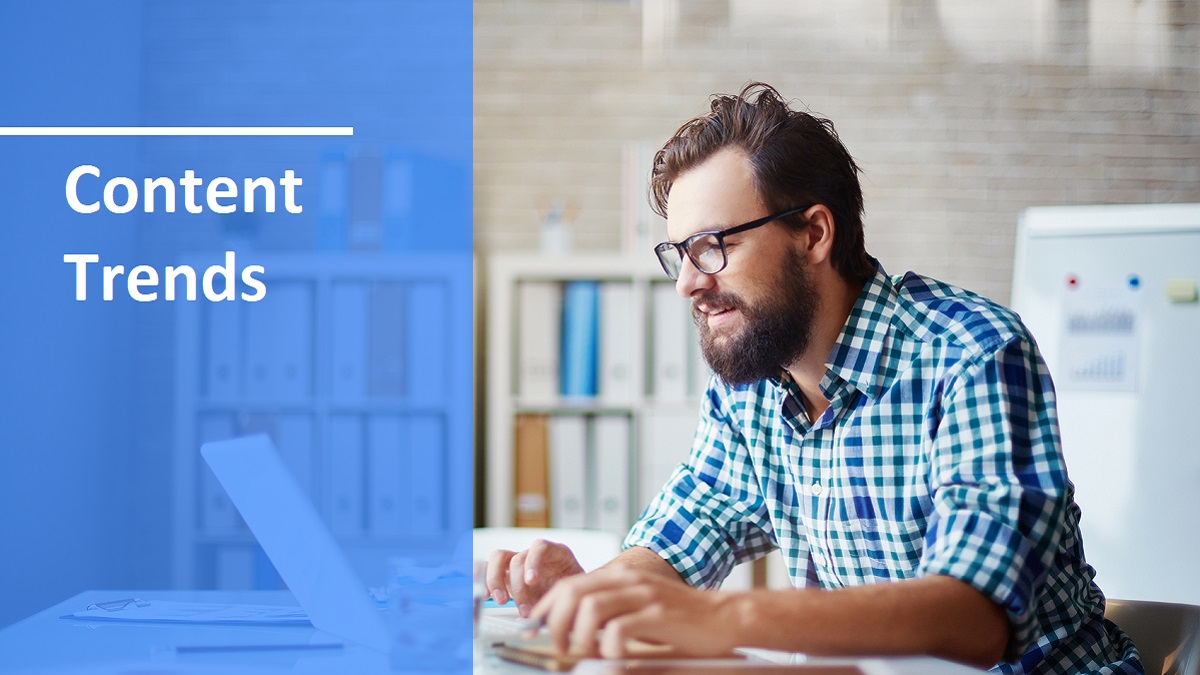 Latest Content Trends Table of Content
Content marketing is one of the most effective marketing strategies for businesses in a wide range of industries. It's highly cost-effective, and it enables businesses to improve their ability to engage their buyer persona and connect with their audience. Most importantly, it boosts brand awareness and enhances lead conversion.
These alluring benefits tell the story of why 70% of brands are actively engaging in content marketing. Even in 2020, which has been labeled as the year of adversities, more than 24% of companies plan on increasing their investment in content marketing to reap the benefits.
To succeed, however, you should be prepared to turn and twist with the ebbs and flows of content marketing. In this arena, no tactic is guaranteed to deliver amazing results forever. Things do change quickly, and your ability to adapt defines the level of success you can achieve with content marketing. To help you keep pace with the evolving world, we've compiled the following content trends.
1. User-Generated Content
User-generated content (UGC) refers to content—blog posts, videos, testimonials, pictures, and everything in between—crafted by customers or users of a brand. Top brands like Coca Cola (Share a Coke campaign) have, in the past, leveraged this strategy to good effect, and so it's not new.
Recently, however, this marketing approach has gained a lot of traction, and for a good reason. Businesses have realized that 85% of today's customers trust genuine advice from previous buyers more than a brand's advert. As a result, many are tapping into their community and giving loyal customers explicit freedom to share their humanizing stories and feedback about a brand. User-generated content is also a top choice when it comes to video marketing strategies, but just make sure that it goes through a proper screening process to check if there is any need for content moderation.
Generally, customers have unique ways of speaking about your brand than the words you're using. Besides, they've achieved ridiculous outcomes from using your product than you're aware of. As such, interviewing them will help you gain valuable information and details about your product. This way, you can add a dash of their perspective to your content to deliver stories that resonate with the needs and preferences of the target audience.
2. Video and Live Stream Are on High Gear
According to the latest statistics by HubSpot, video is the number one form of media used in modern content strategy. It has overtaken infographics and blog content in the pecking order, and it's poised to remain as the go-to content for brands. The steady growth is largely attributed to the increased popularity of YouTube, the advent of revolutionary AR technology, and the growth of dynamic imagery innovations.
Besides, consumers have developed an innate liking for video content, and marketers have taken note of this new development. It's therefore not surprising then that 92% of brands claim that this form of marketing is integral to their marketing strategy. Perhaps most strikingly, 59% of marketers have realized the effectiveness of video content and have plans to use this strategy in 2020.
As this happens, video marketing is shaping up to be a highly competitive arena. But, whether you're an early-stage bootstrapper or a small business, there is no need to panic. There are scads of underutilized opportunities for you to explore around video marketing. All you need to do is to keep your eyes open to spot the lurking chances and be creative enough to create content that outshines competitors.
3. Personalized Content is King
Personalization rings in the ears of today's consumers. Actually, 75% of customers who interact with your brand expect nothing less than highly personalized content. They want you to serve content, be it newsletters, email, or video, that's tailored to their unique needs and preferences. In other words, in today's content marketing world, there is absolutely no room for content that's randomly generated for "all."
If your brand hasn't heeded this call, time is running out. You need to roll up your sleeves and restrategize to create dynamic, personalized content to woo customers. Furthermore, you should endeavor to deliver a stream of content in the customer's most preferred channels.
Taking personalized content to the doorstep of your customer will earn you a top reward. It will boost engagement and motivate customers to interact with your brand further. Ultimately, your deteriorating conversion rates will begin to look up, and monthly recurring revenue (MRR), as well as the bottom line, will grow.
4. Voice Search and Natural Language Processing
The time when voice searches will run, the show is coming. And, going by the most recent statistics, this monumental shift is just around the corner. The adoption of smart devices has grown tremendously, and it's predicted that in the US alone, there will be 21.4 million smart speakers by 2020.
Also, looking at the usage of smart devices, we can confidently say they will massively impact the way people search. According to Google, 52% of people who own smart speakers keep them in their living rooms. The devices are conveniently placed at "the center of the home" to spring to action when the users want to multitask or access instant information. This stunning revelation points to the fact that people are weaving voice-activated devices into their busy lives and routines.
In addition, voice technology has crept into the devices that customers use to conduct online searches. Today, when customers open the Google app on their smartphone, it's easier for them to just "say" the search question than type it. So, believe Comscore when they say 50% of all searches will be voice search by 2020.
5. Podcasting Has Hit a Fever Pitch
Podcasting (formerly known as audio blogging) has been around since the 1980s. Looking at statistics, this content strategy was a slow burner until 2004 when digital audio playback devices and internet access came to life. From this point on, the idea has continued to gain popularity, and it seems, recently, that the use of podcasts has hit a fever pitch.
Much like video marketing, podcasting has grown into an acclaimed mainstream media landscape. Notably, over the last decade, the number of podcast listeners has more than doubled, and the number is projected to keep the upward trend. The prodigious growth of podcasting is mainly attributed to the benefits it provides.
On one side, the convenience offered by podcasts means that consumers can listen to their favorite episodes anytime, anywhere. They can listen to podcasts while driving, riding, taking a walk, or while exercising on treadmills. On the other hand, podcasts allow businesses to cover a wide range of topics and connect with customers on a personal level to build loyalty and trust.
6. AR-Powered Visual Storytelling
The human brain processes visuals faster and retains more information when content is delivered using visuals. With this in mind, if you want consumers to remember your brand and care about it, you've to weave stunning visuals into your content. This way, you'll banish boredom in your communication and give consumers a reason to yearn for more content.
Moreover, visual data makes the content look appealing and be more engaging. It improves the content experience and allows your audience to have fun while reading it. In addition to helping you create interactive content, visuals add clarity, thus enabling readers to digest information quickly.
Social media networks like Snapchat are going all-in on visual storytelling. Thanks to the power of the revolutionary AR technology, Snapchat provides lenses and filters to help users create fun visual content. Brands have jumped the bandwagon, and some like Taco Bell have custom lenses that help customers create content that's unique to the company.
7. E-A-T Takes Precedence in Content Creation
E-A-T stands for Expertise, Authoritativeness, and Trustworthiness. It's a content framework or rather a criterion offered by Google to help creators deliver great content. According to a blog published by Google on Webmaster Central, the search engine giant emphasizes the need to read and understand the E-A-T criteria.
The fact that this comes from Google's mouth so to speak, offers a sneak peek into the future of rankings. According to the tech giant, weighing your content in terms of the E-A-T criteria helps you align it with the different signals used to rank content. Google hasn't explicitly declared E-A-T as a ranking factor, but reading between the lines, there is a possibility that this could affect ranking directly.
Fortunately, many businesses have always adhered to the E-A-T guidelines. If you haven't, it might be high time for you to start creating content that's backed by E-A-T. On the other hand, if you've kept conformity to these guidelines, just tighten the screw and continue delivering exceptional content.
8. Purposeful and Concise Content
When it comes to content creation, prioritizing quality over quantity is crucial. Two things keep fueling this content trend. One, the attention span of today's customer is on a downhill trend. What this means is that if you whip up content just for the sake of doing it, readers won't read it.
Second, consumers have busy schedules, and thousands of promotional articles and copies are scrambling for their attention. So, what makes your content deserve some minutes from the customers? The answer is to create purposeful content that is tailored to the needs of the target audiences.
This means that you've to bring your A-game and conduct a deep exploration of each topic. You should prioritize your customer's needs over your promotional message. This is the secret weapon for 90% of marketers who have succeeded in content marketing. But, remember to operate with the boundaries of your brand's identity. In other words, in everything you do, strive to deliver content that's consistent with your brand style and tone.
How Often Do Marketers Prioritize Their Audience's Informational Needs?
Source: CMI
Created by CompareCamp.com
9. Dynamism in Content Delivery is a Necessity
Today, customers have a plethora of options or brands to choose from. This is a nice tune to their ears since they are sure to get the exact product they want when they want it. For the business, however, this means cutthroat competition. To stand out, you've to be unique, not just in the way you create content but also the way you deliver it.
Enter dynamic content. This type of content allows businesses to take personalization to a higher level. The content is created to change based on the customer's behavior, interest, demographics, and preferences. Dynamic content enables you to deliver content that's relevant and interesting to each user. This way, it boosts engagement and encourages readers to take the next step in their buying process.
10. Data-Driven Content is the New Norm
Much like every other strategy, content marketing has an end goal—to deliver specific value to the target audience. The problem is if you approach it haphazardly and rely on gut feeling to determine progress, this goal will remain elusive.
Today more than ever, brands have to measure progress and determine how far on-course or off-course they are. This means that they have to come up with solid approaches and strategies that rely entirely on data to gauge what's delivering the desired results and what's not. Data is now critical to content creation, and marketers who want to succeed have to pick up on this content trend.
It's a new trend, and everyone has a role to play to ensure the organization as a whole isn't left behind. But, even as you use data to drive your content creation, you've to discern what data is important to your bottom line. Evaluate your past successful content marketing campaigns and pinpoint KPIs that brought the intended results. Then, use them as the guardrails of your next content marketing campaign to ensure it hits the same high notes.
11. Messaging Apps Have Opened a New Horizon
The world is changing, and technology is evolving to keep pace. One thing that has taken the world by storm is the proliferation of messaging apps. These apps open up a new avenue for content marketers and present a new way to tap into a new audience. Users, including Gen Z and millennial consumers, are coming in droves to these applications.
As of March 2019, the messaging apps had billions of monthly active users. The top five messaging apps include WhatsApp, Facebook Messenger, WeChat, QQ Mobile, Telegram, and Snapchat. The best part is that consumers spend time sharing emotions on these messaging apps.
Looking at it from a marketing perspective, the apps offer an incredible opportunity to engage the audience on a personal level. They will impact content strategy in the coming years, and it's good to start leveraging this chance early on.
12. Battle for Snippets Has Intensified
Google has long strived to ensure that users get ultra-relevant results for every search term. Over the years, the tech giant has made numerous changes to the way it serves up this information. The search engine evaluates the search intent and springs up pages that provide the most useful information.
Traditionally, businesses made great efforts to appear on the first page of Google or better, be number one on Google's SERPs for specific keywords. Being the leading website was a much-coveted position as it brought a steady stream of valuable traffic. But now, the advent of the Google snippet has changed the dynamics of the ranking race.
Today, every business wants to be featured on the Google snippet. It's the new number one spot, and featuring on a few snippets is a sure way to earn a massive amount of traffic to a website. This is because the snippets offer a rundown of the key information within an article. As a result, they persuade the readers to open the piece of content to gather more information.
With this benefit in mind, it's easy to see why the race to appear on the snippet is on high gear. To be a partaker, you've to optimize every piece of content you create for Google snippet. To put it plainly, you should aim to create content that quenches the reader's thirst for information. Use relevant long-tail keywords as much as possible, and show expertise when responding to customer questions.
13. Customer Journey Mapping
Customer journey mapping entails visualizing the way customers interact with your business from the first to the final touchpoint. It helps unravel customer's motivations, be it their needs, preferences, and pain points. According to a study by Altimeter, 73% of B2B businesses have mastered customer journey mapping. On the other hand, 55% of B2C companies say they map digital customer journeys.
By mapping customer journeys, businesses can easily tweak processes and restructure their touchpoints to deliver the most effective and efficient experience for the customer. The strategy is intricate because customers are known to take multichannel, back and forth, and cyclical journeys. But businesses that crack this hard nut can use this inbound marketing tactic to good effect.
Percentage of Brands That Have Created Digital Customer Journeys in 2019
Percentage of Brands That Have Created Digital Customer Journeys in 2019
Have fully mapped the digital customer journey: 62%
Have fully mapped the digital customer journey
62%
Percentage of Brands That Have Created Digital Customer Journeys in 2019
Are currently building the digital customer journey: 32%
Are currently building the digital customer journey
32%
Percentage of Brands That Have Created Digital Customer Journeys in 2019
Have plans to do so in the next six months: 5%
Have plans to do so in the next six months
5%
Percentage of Brands That Have Created Digital Customer Journeys in 2019
Have no plans to create digital customer journey: 1%
Have no plans to create digital customer journey
1%
Source: Altimeter
Created by CompareCamp.com
14. Automated Content Creation
Automation is a new theme in the business world. Some of the tasks that took time and money and required skilled manpower have been relinquished to machines. Emerging technologies such as artificial intelligence (AI) have played a massive role in propelling automation to its current heights.
And now, it seems these technologies are just about to relieve content creators. AI has enabled developers to generate robotic algorithms that can create simple pieces of content for different industries. Startups such as Articoolo, an Israeli-based company, are at the forefront of improving this technology. The company says that its AI engine is capable of creating original, low-cost content on a wide range of topics in just minutes.
Of course, this technology isn't past the inception stage yet. However, with the need to produce content in large quantities intensifying by the day, more companies will go all out to make it a reality. As it stands, there is nothing to smile about as the technology hasn't convinced experts on its ability to deliver coherent content.
It's a long way before we see the widespread adoption of this robotic algorithm. But, as the adage goes, the journey of a thousand miles begins with a single step. Developers have put their best foot forward, and as soon as they clear the hurdles, content marketers may catch a lucky break.
15. Conversational Marketing
Nowadays, authenticity and personalization have become all the more important. In a bid to exhibit realism, businesses have mastered the tenets of conversational marketing. Unlike other types of marketing, conversational marketing enables brands to engage their customers with authenticity.
Consumers highly regard talking to a live person, and 39% say it leads to a better experience.
Whether it's done via online chat or person-to-person conversation, it makes it easy to connect with the audience on a personal level. As a result, brands can learn about the audience's persona, intended goals, and their specific needs.
When extrapolated to content marketing, conversational marketing can help businesses deliver highly personalized content. And as you know, personalized content inspires increased engagement and encourages consumers to move down the sales funnel.
Why Do Consumers Prefer Talking to A Live Human?
Source: Drift
Created by CompareCamp.com
16. Social Media Carousel Posts
Carousel posts offer a creative way to tell stories on social media using a combination of multiple images (slideshows) or videos. This tactic comes in handy when one image or video is not enough to put across the brand message. According to Kinetic Social, the strategy performs 10 times better than regular social content.
Instagram first introduced the carousel posts and photos back in 2015 and has continued to improve it. Today, Insta users can blend up to 10 images or videos to create comprehensive carousel posts. Also, Facebook has a carousel feature designed to help users tell their stories with stunning posts and ads.
The beauty of carousels posts is that you can add different headlines, URLs, and descriptions to each image or video. This means you can tell different stories or market different products in a single social post.
Keep an Eye on These Content Trends
There you have it, a compilation of the key content marketing trends you should be aware of. Hopefully, the above content trends have opened your eyes, allowing you to easily tell the direction things are taking. To summarize, the shake-up is on, and the key aspects of the content marketing world are changing.
One thing that has come to the fore is that the voice of the audience isn't to be ignored. You should prioritize creating content that meets the informational needs of the customer over promotional messages. Essentially, this means that you need to emphasize evaluating the needs and preferences of your customers.
Besides, take note of how search engines are evolving. Creating content for the consumer is the priority, but for them to find this content, machines must be involved. As such, take into account and adhere to the SEO rules, search quality rater guidelines, and the E-A-T criterion. This way, your content will be sprung up first by search engines for relevant search terms.
Beyond that, be consistent in your communication. Determine your brand's style and tone, and ensure that every piece of content follows the guidelines to a tee. In doing so you'll build authority and trust, thus earning your brand a steady stream of a cult following. Consequently, loyal customers will become your brand ambassadors, and your business will continue soaring.
---
References:
Ecommerce personalization stats

Think Again: Tech and Media Outlook 2017

5 ways voice assistance is shaping consumer behavior

Just say it: The future of search is voice and personal digital assistants

Audio podcast consumption in the U.S. 2008-2019

Taco Bell's Cinco de Mayo Snapchat Lens Was Viewed 224 Million Times

B2B content marketing 2019

Most popular global mobile messaging apps 2019

The 2019 State of Digital Marketing

Articoolo

2019 State of Conversational Marketing

Facebook's carousel ads are 10 times better than its regular ads

State of video marketing survey 2020