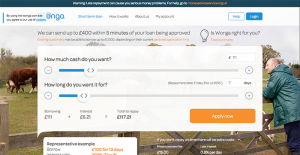 Wonga is a well-known microloan lender in the UK. This company also provides short term loans in Spain, Poland, Canada, and South Africa. If you need cash urgently for an emergency, try Wonga.com. The lender details all costs upfront and takes a single repayment.
You can select the date when you wish to repay. Wonga will take the repayment from your debit card on the set date. Borrowers can apply online and there is no paperwork. Wonga asks for basic personal and financial information. The lender says it will not contact your employer, but will perform an online credit check.
If you are approved for a loan, Wonga will send the amount in five minutes. On the repayment date, make sure you have enough funds in your bank account. You can opt to repay early to save costs. There is no fee for early repayment.
Wonga may report late repayment to credit reference companies, which can impact your credit rating and make it more difficult and expensive to get a loan in the future. You would also have to pay extra costs for delayed repayment.
How is the lender different?
Wonga stands out as it gives borrowers the chance to select the cash amount they want and shows a clear cost based on the period of time the money is borrowed. This lender says it has a transparent and flexible process.
All applications are evaluated thoroughly, and Wonga checks your information online and contacts credit reference companies too. You need to pass stringent affordability and lending criteria to get a loan from Wonga.
How much are the rates?
For every day you borrow £100, you pay 80p. Borrow £100 for a week – you pay £5.60. That's 0.8% per day.
How to apply for a loan?
Visit wonga.com to apply online. There is no paperwork or phone calls.
Lender Details
Most recurring positive comments
Great service and friendly staff
Quick and easy to get a loan
Most recurring negative comments
Previous customers have got declined for new loans
Website: www.wonga.com
Loan amount: New customers can borrow up to £400. Existing customers can borrow up to £1,000 depending on their Wonga personal application limit
Loan Period: Maximum loan term is 46 days.
Fees and charges
There is a missed payment fee of £15 if you don't repay by 11pm on the third day after your repayment date.
There will be continued interest on your balance (0.8% per day). Interest will continue to be added to your balance for up to 30 days after your repayment date. But, you'll not be required to pay back more than twice the borrowed amount. So if you borrow £100, the maximum you would have to repay is £200.
Eligibility Criteria
To be eligible for a loan, you must meet the following criteria:
Live in the UK
Be over 18 years
Be a bank account and debit card holder
Be a mobile phone owner
Personal information required
Address
Bank details
Employment details
Contact details
Phone: 0207-138-8330
Email: [email protected]
Office address: 88 Crawford Street, London, W1H 2EJ