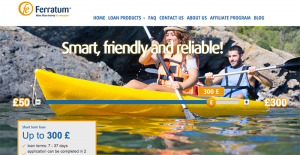 Ferratum UK is a member of Ferratum Group based in Finland, which provides consumer loans in 19 countries in Europe as well as Australia and New Zealand. This lender offers easy and fast loans to consumers. You can apply online or on a mobile device and get approved in minutes.
The online application can be completed in two minutes. If approved, you can get the amount in your bank account the same day. This facility is offered on all seven days of the week.
How is the lender different?
Ferratum offers payday loans up to £500 (for returning customers) for a period of 7 to 37 days. Costs depend on the amount you need and the period of time you need for repayment. The loan amount depends on your credit score.  This lender uses Teletrack and Experian for credit checks.
Ferratum will inform you upfront the total cost of your loan. There are no hidden charges. This lender is a good option if you want a microloan to handle occasional cash flow issues. You can use its microloan to avoid bank overdraft charges or returned item fees.
Ferratum's eligibility criteria are not tough and it is not a restrictive lender. There is no minimum income requirement and even part-time employees and self-employed people can apply. If you want the money urgently, you can pay £5 to get the amount faster.
Ferratum's customer service is efficient and its agents are available during business hours on weekdays. But this lender does not offer live chat on its website. As far as costs go, Ferratum's terms are average considering industry rates. On the whole, Ferratum is a reliable lender as it is registered and licensed, and has been in the lending business since 2005.
How much are the rates?
Representative example: Amount of credit £300 for 37 days. Interest £88.80. Interest rate 292% p.a. (fixed). Representative 1190% APR. Total amount repayable by one repayment of £388.80.
How to apply for a loan?
You can apply for a loan at ferratum.co.uk. Returning customers can send a text message. You can get a decision within minutes of submitting your application.
Lender Details
Most recurring positive comments
Responsible and reliable payday lender
Good lender if you wish to borrow a small amount
Customer service staff are efficient and friendly
Most recurring negative comments
Ferratum is an expensive lender
Website: www.ferratum.co.uk
Loan amount: First-time customers can borrow up to £300. Existing customers, if qualifed, can borrow up to £500.
Loan Period: 7 days to 37 days
Eligibility Criteria
To be eligible for a loan, you need to be employed, and have a bank account, debit card, mobile phone, and email address.
Personal information required
Name
Date of birth
Marital status
Landline number
Mobile phone number
Email address
Residential address
Employment details
Financial details
Contact details
Phone: 0151-448-7324
Email: [email protected]
Office address: Suite 318, 25 Goodlass Road, Liverpool, L24 9HJ