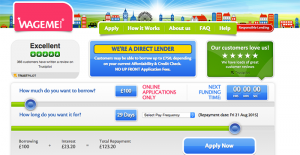 Wageme.com is a London-based online finance company that provides short term loans for one month to help businesses and individuals deal with cash flow emergencies. The lender says it is highly selective and lends only to people who can repay quickly. For this reason, Wageme.com declines about 66% of first-time applicants. It adopts an automated risk technology to take objective lending decisions in real time after evaluating the available information.
Wageme.com stands out for its speed and convenience. It has eliminated meetings and paperwork. All its services are online and in real time. You can get your loan on the web on your smartphone. Wageme.com deposits the loan amount to customers' bank accounts on the same day of the approved application.
How is the lender different?
Wageme.com's online application process is simple and user-friendly. The website provides all the required information including the full repayment costs, transfer costs and optional funds. It captures personal and banking information to finalize the loan, and if you pass a credit-check your application is approved almost instantly.
Wagme.com does not charge any hidden fees. Its representative APR is 1221.5%. The lender encourages its consumers to pay off the loan on time or early if possible to reduce costs. Borrowers should carefully consider the loan details including the term, interest rate, and repayment amount before taking the amount. They should ensure there is enough balance in their bank account to repay the loan. Failure to do so attracts an additional penalty and can affect the borrower's credit rating.
How to apply for a loan?
Visit wageme.com to apply for a loan online.
Lender Details
Most recurring positive comments
Good quality company, fast and honest
Customer service is top class
Good lender for short term loans
Most recurring negative comments
Website: www.wageme.com
Loan amount: £50 to £750. First-time borrowers can get a maximum of £400.
Loan Period: You don't have to repay your loan until your next payday. Normally it's up to 30 days from the date you are accepted for the loan. Maximum loan period is 34 days.
APR: Representative example: Loan Amount: £100 for 30 days, Interest: £24, Interest rate: 292% pa (fixed), One total repayment of: £124. Representative 1,221.5% APR.
Fees and charges
Repayment transactions that fail to clear on the specified date are charged a penalty of £15 towards missed collection. Additional interest is also charged for a maximum of 60 days after you first go into arrears.
Eligibility Criteria
To be eligible for a loan, you should be at least 18 years of age, living and working in the UK, have a UK bank account and an active debit card. You must be able to repay your loan on your next payday.
Personal information required
Name
Current address
Employment information
Details about income
Bank details
Email address
Contact phone number
Contact details
Phone: 0207-993-0742
Email: [email protected]
Office address: 55 Old Broad Street, EC2M 1RX, London, United Kingdom