As your IT infrastructure gets more extensive and more complex, you need software to monitor and manage our processes to make it more efficient. In this way, you can pinpoint potential issues like bottlenecks and outages, identify opportunities, and come up with business action plans in real-time. And, one of the best products that help companies do this today is PagerDuty. 
PagerDuty is one of the most popular and powerful IT management apps as it has machine learning (ML), real-time analytics, and incident response modules. Moreover, it can seamlessly integrate with a wide variety of third-party tools. The only problem is it's not a one-size-fits-all solution. Luckily, there are many go-to apps out there considered to be true PagerDuty alternatives. 
So, if you are here looking for an alternative to switch to or are trying to add more software to your shortlist, then you have come to the right place. In this article, we'll provide you with a list of 10 of the best PagerDuty alternatives out there today. But first, let us give you a brief overview of PagerDuty. 
An Overview of PagerDuty
PagerDuty allows users to connect to any system and analyze machine data and usage information. Using ML, it identifies both issues and opportunities. Then, it notifies the right people to make the right actions in an instant. Thus, you gain real-time visibility, faster reaction time, and preemptive knowledge of issues and opportunities. 
What's more, PagerDuty lets you learn from analytics and intelligence so you could improve your system continuously. Key features include quantified real-time business and technical impact visibility, analytics, event intelligence, incident response module, and on-call management for flexible escalations and alerts. 
Users can also extend PagerDuty's capabilities, thanks to its integration options. It seamlessly works with more than 350 third-party tools, including Zendesk, Microsoft, AWS, Atlassian, and Slack. Moreover, it is also easy to use and easy to install. Lastly, pricing starts at $10 per user per month. 
Reasons to Look for PagerDuty Alternatives
User reviews of PagerDuty are quite positive. This can be attributed to its reasonable pricing as well as its well-designed interface. However, there are certain elements that arise as issues. 
One of these is the application's mobile app. Some users like to see the number of open alerts instantly. However, in the case of PagerDuty, users can't do this except for when they acknowledge all alerts. Another issue is that sound alerts are currently not customizable. This could have been helpful in getting an initial idea of what type of issue or opportunity is being detected. Last but not least, some smaller companies can't use other PagerDuty features because of its price and complexity. 
Granted, these are only minor issues and can easily be remedied using different workarounds. But if these prove to be major concerns for you and your company, then there's nothing wrong with finding more suitable IT management tools for your business. 
Top PagerDuty Alternatives
Now, in this section, we'll present to you the top 10 PagerDuty alternatives out on the market today. However, keep in mind that these are not listed in any particular order as their offerings and features differ in capabilities and scale.
1. NetDocuments
NetDocuments is a cloud-based email and document management platform. So, why is this one of the top PagerDuty alternatives? It's because many companies out there use PagerDuty to notify them of document changes and emails. This is useful for media outfits and for enterprises that need agile issue detection. 
The platform does the same thing, especially when your company is document-heavy. With NetDocuments, you can organize your files across cabinets, folders, workspaces, and tags. It also provides users with collaboration tools to work on the same documents and create different versions if need be. 
Other features include enterprise search, disaster recovery, audit trails, security encryption, user access, user rights, and approvals, among many. It also has an iOS application to help remind and notify team members while they are on the go. As it can scale to your needs, it is offered via quote-based plans. 
2. Sift Science
Just like PagerDuty, Sift Science packages give users access to world-class IT security features to monitor systems. It is mainly used to streamline the customer experience and stop fraud and abuse. This is all thanks to its machine learning module. 
Other key features include payment fraud detection, content abuse detection, promo abuse detection, account abuse detection, and device fingerprinting. What makes Sift Science unique, however, is that it is an IT management tool specializing in security. This is its main difference from PagerDuty, making it quite flexible for almost everything IT-related. 
Sift Science also integrates well with systems like BigCommerce and Shopify, among others. Lastly, pricing plans start at $500 a month. 
3. Mule ESB
Mule ESB is a light and fast enterprise service bus (ESB) software. This allows developers to integrate applications, enabling them to exchange data efficiently. This way, you can connect your data, information, and processes from various sources, from your legacy systems to your SaaS applications. 
Key features of this platform include universal connectivity, real-time business insights, data transformation, reusable IT assets, intentional self-service features, message routing, SLA monitoring, stage event-driven architecture, and collaboration tools, among many others. 
Mule ESB can be integrated with different business systems, notably Google and Salesforce, to name a few. Lastly, it is offered via a personalized quote. 
4. Betty Blocks
Betty Blocks is a no-code citizen app building platform built for the everyday man and woman. What makes it a top PagerDuty alternative is that it lets you create apps that can have similar features with PagerDuty and even more. 
Moreover, this service empowers your business citizens to create apps from within their departments. This is perfect for both SMBs and enterprise-level organizations. Thanks to its design, you can create complex applications without coding. It is the first real no-code IT development software service. Plus, its user interface is easily understandable and beautifully designed. 
With Betty Blocks, you can create apps in just days. Thus, this can shorten your time-to-market. Also, if you are designing apps for in-house use, then this can shorten your eventual use. Of course, trials and experimenting should be done before adopting in-house built apps fully. Pricing starts at around $1,412 per month billed annually.
5. Symphony SummitAI
Symphony SummitAI is known for its AI-driven IT and Enterprise Service Management Suite. This provides complete IT control that can be beneficial to both employee productivity and consumer experience in the digital age. With SummitAI, users can make issue resolution more efficient by preempting problems and opportunities. 
What's more, SummitAI has an easy-to-use interface as well. All of its comprehensive features are housed in a beautifully-designed dashboard that you won't get tired of using every day. Thanks to its powerful AI, it has a conversational interface and a decision engine. 
Other key features include project management, pattern analysis, gamification, knowledge management, and IT service management, among others. Also, the platform offers options for integrations like REST API and DB. Lastly, pricing is available by quote. 
6. SaaS Vulnerability Scanner
SaaS Vulnerability Scanner, as its name suggests, scans your system and hosts for vulnerabilities and issues. It can scan devices and systems such as routers, servers, CCTV cameras, cloud infrastructure, and even smart houses. 
Key features include detecting security vulnerabilities, detecting configurations, scheduled scans, and sending tailored alerts about your security status. Also, SaaS Vulnerability Scanner uses a hybrid approach, mixing human assets and machine learning. 
Another great thing about it is that it offers real-time threat detection, and it provides 24/7 monitoring of media and social networks. Plus, it has an up-to-date vulnerability database and exploits. The product seems to work with every application out there. Lastly, pricing starts around $141 per month.
7. JCppEdit
JCppEdit is another IT development software that can help you create in-house apps for your business. In essence, it is a multiple programming language IDE (Integrated Development Environment). It allows users to code several programs in just one environment. JCppEdit is also named as one of the best IDE for beginners. 
Key features include auto compilation, autosave, autocomplete, and multi-coding support from C++ to XML. The great thing about the offering is that it is free. You can easily download the software and try it out. You are just required to have an operating system of Windows XP S3 to Windows 10 with a 258 MB RAM. It will also take up only 580MB hard disk space. 
The most current version is JCppEdit v4.0. And, the software provider states that this will always be free. Now, if you are great at coding, you can create applications native to your business that have functionalities similar to PagerDuty. 
8. Hosted Graphite
Hosted Graphite cloud monitoring service is a go-to service for many organizations worldwide. The solution allows you to track the health and performance of your digital assets like servers, apps, and websites, among others. Plus, you get to view your data via interactive graphs in real-time. 
Just like PagerDuty, Hosted Graphite provides alerts for unexpected events. It also allows you to track alert incidents, owing to its full alert history feature. Key features include tool exporting, real-time monitoring, production infrastructure metrics, and no platform lock-in of data. This way, you are the one who owns your data—not the platform. Moreover, it comes with backup and recovery systems that rival the features of some of the best backup software.
What's more, its interactive dashboards are shareable as well. It also has great automation tools to keep you from doing menial tasks that computers are best at doing. Hosted Graphite works seamlessly with other systems, including Slack and AWS. Pricing plans start at $25 a month. 
9. Squadcast
Squadcast is a comprehensive incident management solution designed specifically for site reliability engineering (SRE) and DevOps. It is equipped with features such as asset management and change management to help users keep tabs on digital assets at all times. What's more, it is equipped with actionable alerting and on-call tools to help users respond, resolve, and gain in-depth insights from incidents they may encounter.
Moreover, the platform provides users with smart tools for incident detection. This way, you only get alerted to situations that actually require action. It even ranks the order of incidents so you know which ones need your immediate attention. 
Key features include asset management, help desk, incident reporting, workflow management, ticketing, and performance analytics. The platform works with popular software systems such as Google Hangouts, Slack, and JIRA. It is also conducive to the best data analysis software. Pricing starts at $9 per user per month.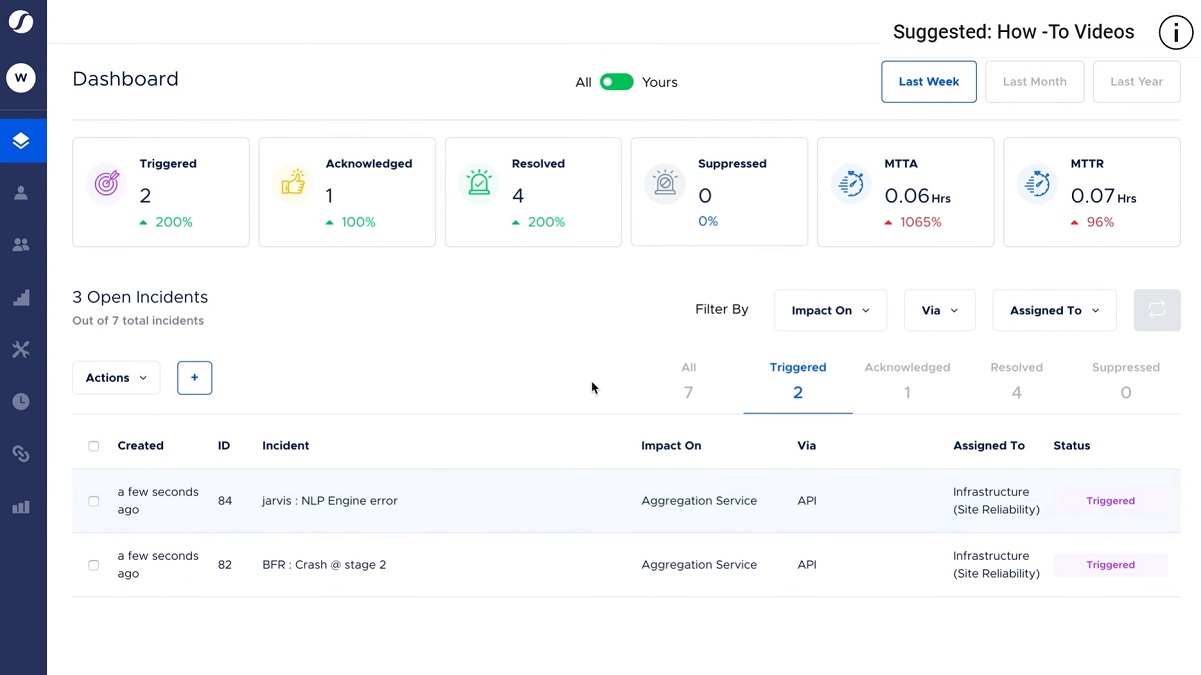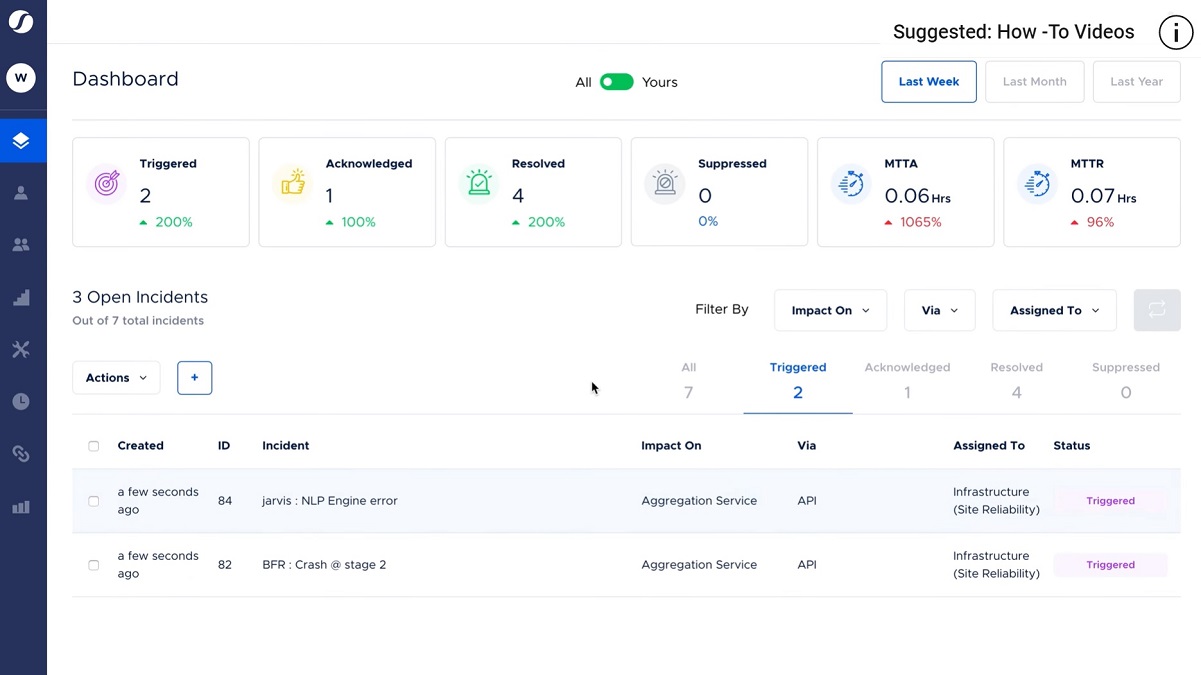 What's the Best Alternative to PagerDuty?
PagerDuty has many uses, including IT-based, to customer-facing notifications. It is a flexible solution that can be used for different business infrastructures and processes. So, you can either choose it to retain the capability to extend its use, or you can choose more specialized products. 
For example, if you want an IT management solution for security purposes, you can choose Symphony SummitAI. It is complete with fraud detection tools that can help both you and your customers stay safe. However, if you need a software solution to monitor your data center, then Sunbird DCIM is probably a better choice. 
On the other hand, if you want to create your programs from scratch to meet your needs, you can either choose between JCppEdit and Betty Blocks. Of course, you choose the latter if you don't know how to code. 
So, what is the best alternative to PagerDuty? Answers will be pretty subjective yet very valid. If you want to know which one is best for you, we suggest that you try the ones here using their free trial offerings. Thus, you'll be able to test-drive these top PagerDuty alternatives without commitment. Good luck!