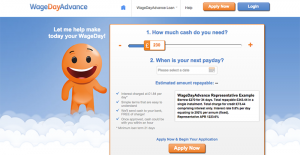 WageDayAdvance is a leading cash loan company in the UK and you can apply online to borrow money for a short term. The company was founded in 2004 and offers unsecured loans of up to £750. It has more than 150 employees based in Leeds and Nottingham.
WageDayAdvance is owned by SRC Transatlantic Limited which employs more than 3,000 people in the UK, US and Canada in over 300 locations. The parent company is a well-known financial services firm that offers cash loans and other financial products. WageDayAdvance says it is committed to responsible lending and assesses its customers' applications to check if they can afford to repay the loan.
How is the lender different?
WageDayAdvance offers short-term payday loans to UK residents. The lender expects the borrower to repay the loan plus an interest charge on their next payday. The company is a member of the United Kingdom Consumer Credit Association.
Approved customers can get the funds within three business days by BACS free. But, you can pay an additional charge of £15 to get the funds the same working day. Customers can call the lender's contact number for assistance with the application.
How much are the rates?
Annual interest rate is 292%. Representative APR is 1223.6%. Interest rate is 0.8% per day (21 day minimum).
How to apply for a loan?
To apply for a loan, complete a simple online application that requests information about your income and employment.
Lender Details
Most recurring positive comments
Service is very good and they offer flexible rates
Good lender for financial emergencies
They give loans for all purposes
Most recurring negative comment
Lender takes three days to give the loan amount
Website: www.wagedayadvance.co.uk
Loan amount: £80 to £750. Maximum loan amount is £350 for new customers.
Loan Period: Minimum loan term is 21 days. Loans are repayable on your next payday, or the following payday if you get paid within the next 21 days.
Fees and charges
Unpaid direct debit/debit card fee is £15.
Default interest (Charged per day on the amount outstanding excluding default charges and default interest, up to a maximum of 100% of the principal amount loaned) is 0.8% per day.
Eligibility Criteria
You must meet the following eligibility criteria to get a loan:
You are a UK resident and over 18 years of age.
You are currently employed and your last salary payment occurred within the period beginning 30 days before the date of your loan application.
You have no reason to believe that your future salary payments will not be paid to you on or before the due date, into the bank account specified by you.
If the account is a joint bank account, you have individual, full and unrestricted authority to offer debit card and direct debit payments from it.
You are not a borrower under any proceedings in bankruptcy and have no intention to file a petition for relief under the Insolvency Act 1986.
Personal information required
Basic personal and financial information
Date of birth
Email address
Home phone number
Mobile phone number
Residential address
Employment information
Monthly income
Contact details
Phone: 0333-006-2000
Email: [email protected]
Office address: Wellington Plaza, Wellington St, Leeds, LS1 4DL