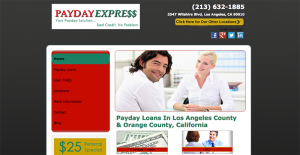 Payday Express was launched in 1997 and provides quick cash loans with locations in Los Angeles and Orange Counties in California. The lender says even those with bad credit, no credit or a bankruptcy record can get a loan. Payday Express says many of its current customers have filed bankruptcy before.
The loan approval process is easy and customer information is kept confidential. Process approval takes just a few minutes on the phone. Payday Express' customer service staff will help you complete the approval process quickly.
Payday Express branches are open 9 a.m. to 6 p.m. on weekdays, and 10 a.m. to 2 p.m. on Saturdays. The lender's website does not have any details about interest and APR rates. Therefore, get this information clarified with a customer service agent before you agree to take the loan amount. The company says it takes the accounts of delinquent customers to a small claims court for resolution.
How is the lender different?
Payday Express has a simple cash advance process. Walk into the any of the lender's branches with the required documents and a post-dated check, and walk out with the cash in just 10-15 minutes. This lender levies a set fee and there are no unexpected charges. Payday Express doesn't check your credit history, so those with bad credit can benefit by approaching this lender.
The post-dated check will cover the principal amount and fee. Payday Express will hold your check until your pay day. The lender says its interest rates comply with state and federal regulations. Thus, Payday Express is an ideal lender for emergencies. It is a good option to paying exorbitant non-sufficient funds, overdraft fees and penalties.
Payday Express says it works with people in all credit and income brackets. Returning customers will find it easy to get another loan right away. You need to have a job and should receive a paycheck to get a quick cash loan from Payday Express.
How much are the rates?
Costs may vary depending on the state. Call a Payday Express branch nearest to you for details.
How to apply for a loan?
Call (213) 632-1885 or walk into any of Payday Express' branches with the required documents to get a loan.
Lender Details
Most recurring positive comments
It is quick and easy to get a loan
Staff is friendly and helpful
Most recurring negative comments
Could not find any negative comments online about Payday Express
Website:  www.paydayexpresscashadvance.com
Areas being served: Payday Express has branches in Los Angeles County, Orange County and The San Fernando Valley in California.
Documentation required
Take the following documents to a Payday Express branch to get a loan:
Proof of local address (utility bill, mail, etc.)
Personal pre-printed blank check from your checking account
Identification (California driver's license, ID, or valid passport)
Proof of income (pay statement)
Current bank statement
Contact details
Phone: (213) 632-1885
Email: [email protected]
Office address: 3547 Wilshire Blvd, Los Angeles, CA 90010