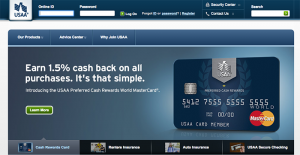 The United Services Automobile Association (USAA) is a Texas-based Fortune 500 diversified financial services group of companies. It offers banking, investing, and insurance products and services to people and families that serve, or served, in the U.S. military. At the end of 2014, USAA had 10.7 million members. USAA began in 1922, when 25 army officers agreed to insure each other's vehicles when they could not find anyone else who would because they were considered a high-risk group.
USAA was one of the pioneers of direct marketing and most of its business is conducted over the Internet or telephone using employees instead of agents. In the late 1960s, USAA changed over from mail to phone-based sales and service. It started using a toll-free number from 1978, and Internet sales and service were started in 1999 through its website USAA.com.
USAA offers a variety of personal property and casualty (P&C) insurance including automobile insurance, renters insurance and homeowner insurance as well as umbrella and personal property insurance. Banking services are provided by USAA Federal Savings Bank which was established in 1983. USAA holds more than $43.8 billion in deposits with over 6.3 million accounts.
For customers, USAA offers ATM fee rebates (up to $15/month), free online bill pay, free standard checks for the life of the account and bank-by-mail services. USAA's major banking competitors include the Navy Federal Credit Union, Pentagon Federal Credit Union and Bank of America-Military Bank.
Eligibility Criteria
USAA membership is open to U.S. military service members, veterans with an honorable discharge, and their eligible family members. It also offers some products to individuals with no military links.
Who can join?
Active, retired and honorably discharged officers and enlisted personnel of the U.S. military
Cadets and midshipmen at U.S. service academies, in advanced ROTC or on ROTC scholarship, plus officer candidates within 24 months of commissioning
Individuals whose parents have or had USAA auto or property insurance
Former USAA members who had auto or property insurance
Widows, widowers and un-remarried former spouses of USAA members who had USAA auto or property insurance while married
How is the lender different?
USAA offers a host of benefits to its members including:
Free ATMs nationwide
Low variable credit card rates
Competitive APRs and a great rewards program
Auto loans with low rates
Competitive mortgage rates
Special APRs during deployment, PCS
How to apply for a loan?
Visit USAA.com to become a member first to apply for a loan.
Lender Details
Most recurring positive comments
USAA offers great coverage and premiums
Provides good deals to members
Great prices and good customer service
Most recurring negative comment
Auto insurance service could be improved
Website: www.USAA.com
Loan amount:
Auto loans – Your monthly vehicle payment should not exceed 20% of your monthly net income. This works out to a total loan amount of roughly half of your annual net income.
Personal loans – From $2,500
Loan Period:
Auto loans – 12 months to 84 months
Personal loans – 12 months to 84 months
APR:
Auto loans – From 1.49% to 3.49%
Personal loans – From 8.99% to 10.99%
Personal information required
Basic personal and financial information
Email address
Phone number
Mailing address
Contact details
Phone: 210-531-USAA (8722) or 800-531-USAA
Email: Log into USAA.com to send an email
Office address: 9800 Fredericksburg Road, San Antonio, TX 78288