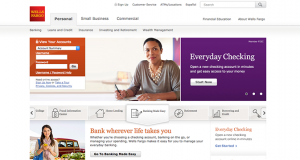 Wells Fargo & Company is an American multinational banking and financial services company with its headquarters in San Francisco, California. It is the fourth largest bank in the U.S. by assets and the largest bank by market capitalization. Wells Fargo is the second largest bank in deposits, home mortgage servicing, and debit cards. In 2011, Wells Fargo was the 23rd largest company in the United States.
Wells Fargo is one of the "Big Four Banks" in the U.S. along with JPMorgan Chase, Bank of America, and Citigroup—its main competitors. The company operates in 35 countries and has over 70 million customers globally. In 2014, Wells Fargo was named the world's most valuable bank brand for the second year running in The Banker and Brand Finance study of the top 500 banking brands.
Wells Fargo provides a range of financial services in more than 80 different business lines. The bank reports results in three different business segments: Community Banking, Wealth, Brokerage and Retirement, and Wholesale Banking.
The Community Banking segment includes Regional Banking, Diversified Products and Consumer Deposits groups, as well as Wells Fargo Customer Connection. Wells Fargo also has about 2,000 stand alone mortgage branches throughout the U.S. The bank started its personal computer banking service in 1989 and was the first bank to introduce internet access to banking accounts in May 1995.
Wells Fargo offers private student loans to help students pay for eligible college expenses. Loans are provided for undergraduate, career and community colleges, graduate school, medical school and law school. Wells Fargo also offers private student loan consolidation and student loans for parents.
How to apply for a loan?
Visit the bank's website to apply for a loan online.
Lender Details
Most recurring positive comments
Wells Fargo are reliable bankers
Smart and nice customer service agents
Most recurring negative comments
Activity fees are an issue
Interest rates on savings account are low
Website: www.wellsfargo.com
Loan amount:
Personal loan – from $3,000 to $100,000
Auto loan – from $5,000
Loan Period:
Personal loan – Unsecured personal loans range from 12 to 48 months and up to 60 months, depending on the amount borrowed. Secured personal loan terms may extend to 120 months, depending on the type of collateral you use and availability in your state.
Auto loan – 12 to 72 months
APR: The interest rate on your personal loan depends on the specific characteristics of your credit application including evaluation of credit history, amount requested and geographic location, and whether you choose a secured or unsecured product.
Auto loan APR rates:
Refinance – 3.39%
New purchase (from dealer) – 3.10%
Used purchase (from dealer) – 3.57%
Used purchase (private party) – 5.71%
Lease buyout – 3.15%
Areas being served: In 2012, Wells Fargo had more than 6,200 retail banking stores and over 12,500 ATMs in 39 states and the District of Columbia.
Fees and charges
There is no origination fee for the unsecured Personal Loan. There is a $75 loan origination fee for the Time Account (CD)/Savings Secured Loan.
Personal information required
Personal and contact information
Employment and income information
Desired term and loan amount
Contact details
Phone: 1-888-667-5250
Office address: 420 Montgomery, San Francisco, California, USA