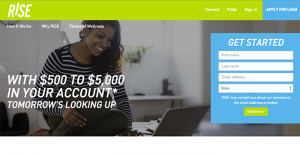 Rise Credit is a short-term lender that helps to tackle financial emergencies by providing fast and easy personal installment loans. The lender says you could get the loan amount as early as the next day after applying. It offers flexible payment scheduling and you can choose your own terms. There are no fees for paying off your loan early.
How is the lender different?
Rise encourages borrowers to pay off their debt as quickly as possible. But, if you need additional credit you can get a 50% drop in your rate on future loans after making 24 months of scheduled payments (excluding customers with starting rates of less than 75%). After 12 additional months of payments, you qualify for a 36% rate.
Rise offers a 5-day guarantee, so you have five business days from the time you take your loan. If you think the loan isn't right for you, simply repay the principal and there are no fees. Rise offers tools to help customers understand their credit and cultivate good money habits.
Rise reports payments to a major credit bureau, enabling customers to show positive financial behavior. With Credit Score Plus, it provides credit score and credit alerts for free to help customers track their progress.
How much are the rates?
APR ranges from 36% to 365% depending on the customer's state of residence and approval rate.
How to apply for a loan?
Applying for a loan is simple and secure. Use the secure form on risecredit.com to enter your basic information and find out quickly if you're approved for a loan.
Lender Details
Most recurring positive comments
Application process is simple and easy to navigate
Loan amount is deposited quickly into account
Like the free add-on services such as credit monitoring
Most recurring negative comments
Interest rates are high
Call service could be better
Website: www.risecredit.com
Loan amount: Amounts range from $500 to $5,000 – depending on the laws of your state. Returning customers can get a higher loan amount depending on their payment history and the affordability of the amount requested.
Loan Period: 4 – 25 months
APR: 36% – 365%
Areas being served: Rise loans are available in California, Idaho, Utah, New Mexico, North Dakota, South Dakota, Texas, Montana, Illinois, Wisconsin, Ohio, Delaware, Alabama, Georgia and South Carolina.
Fees and charges
Rise offers a 7-day extension on payments. In most states, interest will continue to accrue on overdue amounts when you miss a payment. If you make a late payment or a payment is returned to Rise, you may incur additional fees. Fees vary by states, so check your loan agreement for details.
Eligibility Criteria
You are at least 18 years old (19 in Alabama)
You live in a state serviced by Rise
You have a job or regular source of income
You have an active and valid checking account (savings and prepaid accounts are not accepted)
You have an email address to receive account information
Personal information required
Basic personal and financial information
Email address
Date of Birth
Social Security number
Contact details
Phone: (866) 580-1226
Email: Fill in a contact form at risecredit.com
Office address: RISE, Attn: Customer Support, PO Box 101808, Fort Worth, TX 76185