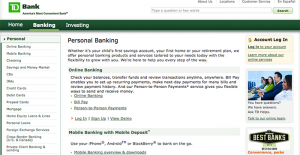 TD Bank offers banking, insurance, investment banking and brokerage services mainly in the Eastern states of the U.S. TD stands for Toronto-Dominion. The bank is a successor to the Portland Savings Bank, which began in Portland, Maine, in 1852, and later became Banknorth. The bank got its current name, TD Bank N.A., in 2008, through the purchase and renaming of Commerce Bank and its subsequent merger with TD Banknorth.
TD Bank is a part of Canadian Toronto-Dominion Bank based in Toronto, Canada. The bank's "TD" initials, first popularized in Canada, are used officially for all American operations. In 2013, TD Bank centralized its headquarters in Cherry Hill, New Jersey. The bank adopts a retail approach to banking; its branches are called "stores" and are open for extended hours.
How is the lender different?
TD Bank offers the following benefits:
It is open for longer hours than most banks. In most towns, TD Bank branches are even open on weekends.
TD Bank offers mobile banking which you can use to deposit a check, check your balance, pay bills and transfer funds.
It offers live customer service 24/7, 365 days.
You apply for an account at TDbank.com and bank online conveniently.
TD Bank has branches in more than 1,300 locations.
How to apply for a loan?
Visit tdbank.com to apply online or call 800-937-5020 to talk to a lending specialist.
Lender Details
Most recurring positive comments
Mostly have a good banking experience in the branches
Friendly and knowledgeable loan specialists
Like the fact that branches are open on weekends
Most recurring negative comments
Credit card charges are high
Customer service needs improvement
Website: www.TDbank.com
Loan amount:
Personal unsecured loan – from $2,000 to $50,000
Personal secured loan – $5,000 to no maximum
Personal unsecured line of credit – from $20,000 to $50,000
Home equity loan – $25,000 minimum loan amount
Loan Period:
Personal unsecured loan – 12-60 months
Personal secured loan – 12-60 months
Personal unsecured line of credit – 10-year draw followed by 10-year repayment
Home equity loan – 5 to 30 years
APR:
Personal unsecured loan – 9.81% to 9.99%
Personal secured loan – 5.67%
Personal unsecured line of credit – 8.25%
Home equity loan – 4.49% to 6.87%
Areas being served: TD Bank operates in Connecticut, Delaware, Florida, Maine, Maryland, Massachusetts, New Hampshire, New Jersey, New York, North Carolina, Pennsylvania, Rhode Island, South Carolina, Vermont, Virginia and Washington D.C. Canadian residents can bank with TD Bank in the U.S. as cross-border customers.
Personal information required for a loan
Basic personal and financial information
Social Security Number
Expenses including mortgage payments, rent, etc.
Employment history and income, including bonuses, overtime and income from other sources
Contact details
Phone: For loans call 1-800-937-5020
Email: Fill in a contact form on the bank's website
Office address: 1701 Marlton Pike E, Cherry Hill, NJ 08034