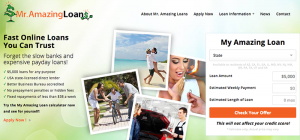 Mr. Amazing Loans is a state-licensed online personal loan company. It offers personal loans at competitive prices within the prevailing statutory rates. The lender says there are no hidden fees or prepayment penalties. The loan terms vary, based on state of residency and loan size. You can make payments of less than $38 a week to pay off your personal loan.
How is the lender different?
Mr. Amazing Loans says it is a viable alternative to slow banks and expensive payday loans. The lender offers the following features:
$5,000 loans for any purpose
Better Business Bureau accredited
Every loan application is individually assessed
Affordable interest rates and repayments
Your repayment and interest rate are fixed for the life of your loan
You know exactly what you owe at all times and exactly when it will be paid off
You are free to use the loan for any purpose
Mr. Amazing Loans is different from payday loan lenders in the following ways:
Loan amount: Mr. Amazing Loans offers loans of $5,000 compared to payday loans which are typically in the range of $100 to $1,000.
Term: Mr. Amazing Loans offers 5-year terms compared to a typical 2-week payday loan. The lender gives you time to pay back your loan with fixed low repayments, and flexibility to repay early if you can.
Principal amortization: This lender's loans are fully amortizing over the life of the loan, compared to payday loans that are designed to be rolled over into subsequent loans.
How to apply for a loan?
To apply for a personal loan, complete a simple online application on the lender's website.
Lender Details
Most recurring positive comments
Mr. Amazing Loans is easy to work with
Fast response and quick processing
Customer service is outstanding
Most recurring negative comment
Response was late from the company
Website: www.Mramazingloans.com
Loan amount: $5,000
Loan Period: 5 years
APR: 29.9% or less
Areas served: Arizona, Florida, Georgia, Illinois, Missouri, Nevada, New Jersey, New Mexico, Oregon, Pennsylvania, Texas, Utah and Virginia.
Fees and charges
Mr. Amazing Loans says it provides transparent personal loans products without any hidden or additional fees. But, you will be charged $10 for any missed payments.
Eligibility Criteria
You are a resident of Arizona, Florida, Georgia, Illinois, Missouri, Nevada, New Jersey, New Mexico, Oregon, Pennsylvania, Texas, Utah or Virginia
You are at least 18 years old
You have a minimum gross annual income of $35,000
You have a minimum credit score of 600
You have a steady employment history
You have an established checking account
You have an established credit history (based on the lender's minimum standard credit criteria)
You have a minimum of 2 years re-established credit history following a bankruptcy discharge
You have the ability to make weekly payments in order to pay off your loan
Personal information required
Basic personal and financial information
Email address
Residential address
Phone number
Date of birth
Social Security number
Loan amount
Purpose of loan
Contact details
Phone: 855-356-5626
Email: [email protected]
Office address: Mr. Amazing Loans, 6160 W Tropicana Ave, Suite E-13, Las Vegas, NV 89103