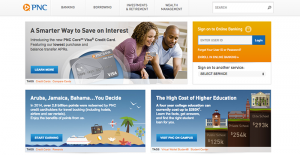 In 1982, Pittsburgh National Corporation and Provident National Corporation merged to form PNC Financial Corporation. It was the biggest bank merger in American history at that time.
Today, PNC offers a range of services for individuals, small businesses, corporations and government entities. It provides deposit, lending, cash management and investment services to more than six million consumers and small business customers in 19 states and the District of Columbia. Customers can bank anytime, anywhere through PNC's more than 2,700 branches, online and mobile services, and 8,750 ATM machines, many of which can be used to make deposits and cash checks.
PNC also delivers a range of tailored investments, wealth planning, trust and estate administration and private banking services to affluent individuals and families.  It is one of the one of the leading credit providers to middle market companies in the U.S. PNC offers a variety of borrowing options for home buyers by providing optimal mortgage solutions to ensure they get the best loan for their needs.
How much are the rates?
You can check the interest rates on loans in your zip code at pnc.com.
How to apply for a loan?
You can apply online, by phone or at a PNC branch.
Lender Details
Most recurring positive comments
Understanding and friendly customer service
Like the fact that non-branch ATM fees are reimbursed
Great bank for students
Most recurring negative comments
Overdraw fee is high
Online loan management is complicated
Website: www.pnc.com
Loan amount:
Unsecured personal installment loan and personal line of credit – from $1,000 to $25,000
Secured personal installment loan – from $2,000 to $100,000
Home equity loan – from $1,000
Home equity line of credit – from $10,000
Auto loan (buying from a dealer) – $7,500 to $50,000
Areas being served: PNC Bank serves customers in 19 states and the District of Columbia.
Personal information required
Your full legal name, social security number and date of birth
The dollar amount you would like to borrow
One form of photo ID (driver's license, state-issued ID or US passport)
Previous address, if at current address less than two years
Previous employer, if with current less than two years
Your annual income and any other income to be considered
Contact details
Phone: 1-888-762-2265
Email: Customers can contact by secure email at PNC.com
Office address: One PNC Plaza, Pittsburgh, Pennsylvania, U.S.