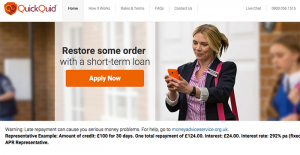 QuickQuid is one of the largest payday lenders in the UK, and was launched in 2007. It offers short-term loans to people who need to borrow small amounts for emergencies. The QuickQuid website is owned by CashEuroNet UK LLC, which is based in Chicago, USA.
QuickQuid allows its customers to borrow money easily and quickly on its website. Through its two main offerings, QuickQuid allows you to borrow a small amount either as rolling credit, or as a loan over 1, 2 or 3 months. If you application is approved, you could receive the amount within a few minutes. QuickQuid offers periodical discounts to eligible customers.
QuickQuid runs history and credit checks to assess your ability to repay the loan. They have no hidden fees and you can cancel the loan within 24 hours of receipt of funds at no cost. QuickQuid is authorized and regulated by the Financial Conduct Authority.
QuickQuid assures that your sensitive data is well protected as it is transmitted via Secure Socket Layer (SSL) encryption. It offers 24/7 customer support. The lender warns that its loans are not appropriate for long-term borrowing, or if you face financial difficulties.
How It Works
Visit Quickquid.co.uk to complete and submit an online application in minutes. Quickquid will review your information and inform you shortly after whether you qualify for a loan. If approved, you can get the loan amount in your bank account within 10 minutes of approval.
You can choose to repay the loan amount over 1, 2 or 3 pay periods. Your repayment date will always be on a pay date. You can repay early at no additional cost.
How to apply for a loan?
Visit the lender's website to apply online.
Lender Details
Most recurring positive comments
Honest and clear about repayment fees
Efficient and friendly customer service
Loan terms and conditions are fair
Most recurring negative comments
Some previous customers have got declined for more loans
Website: www.Quickquid.co.uk
Loan amount: Up to £1000 for new customers, up to £1500 for existing customers
Loan Period: 1, 2, or 3 months
APR: Representative example: Amount of credit: £100 for 30 days. One total repayment of £124.00. Interest: £24.00. Interest rate: 292% pa (fixed). 1270% APR representative.
Fees and charges
Late fee of up to £15.
Interest will continue to accrue on your outstanding principal at the same rate as your contractual interest rate, starting the next calendar day after your repayment date
Eligibility Criteria
To be eligible for a QuickQuid loan, you must meet the following criteria:
Have a valid UK bank account
Are employed and receiving a regular paycheck
Are a resident of the UK
Are at least 18 years old
Personal information required
Basic personal and financial information
Date of birth
Email address
Mobile phone number
Residential status
Time at address
Contact details
Phone: 0800-056-1515
Email: [email protected]
Office address: 483 Green Lanes, London, N13 4BS