We're living in an increasingly busy world, but technology always seems to find a way to help people be more productive. For instance, have you ever wondered how much time you spend typing on your computer? A study of full-time workers sought to find the answer to this question and it found that workers can spend as much as 82.2% of their workweek typing.
Furthermore, the study found that if you work for the tech or telecommunications industry, you probably spend most of your workweek pecking away at the keyboard. Imagine being able to cut down on this huge time consumption to do more important tasks. You can do just that by using voice to text software. The solution goes a long way in reducing the time it takes to transform thoughts into written words. After all, people tend to speak faster than they can type.
The accuracy of these voice-to-text applications has grown by leaps and bounds as well, making them more reliable for a wide range of industries. In this article, we list the 10 best voice to text software that you can consider. We also discuss some useful information on the software, such as key features and trends, if you want to learn more about them.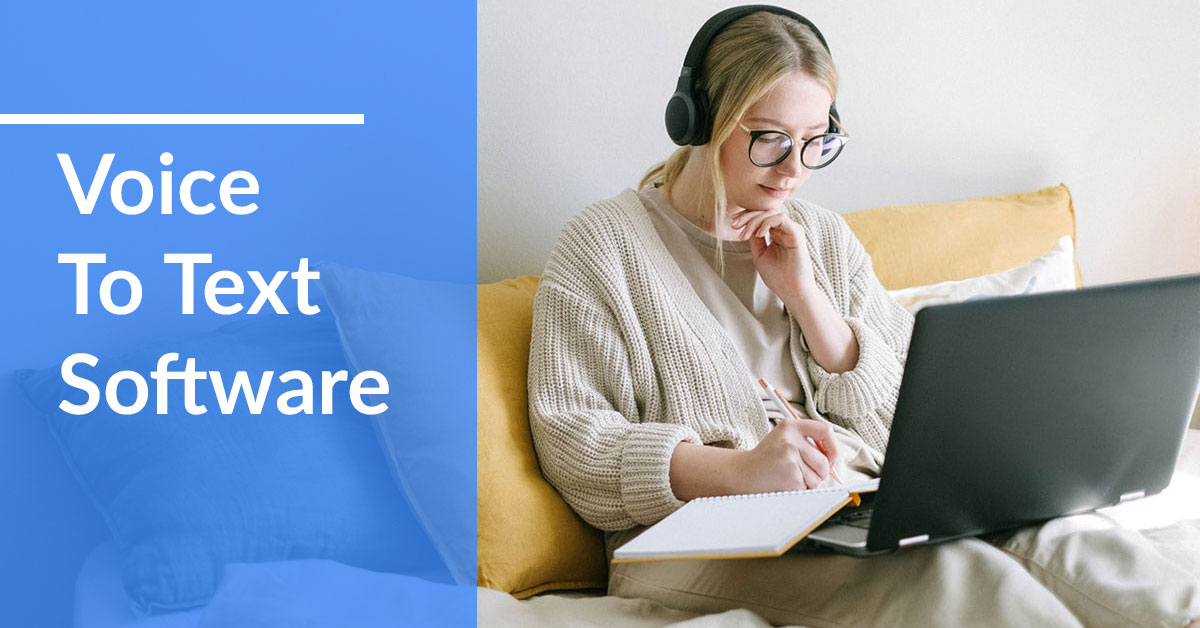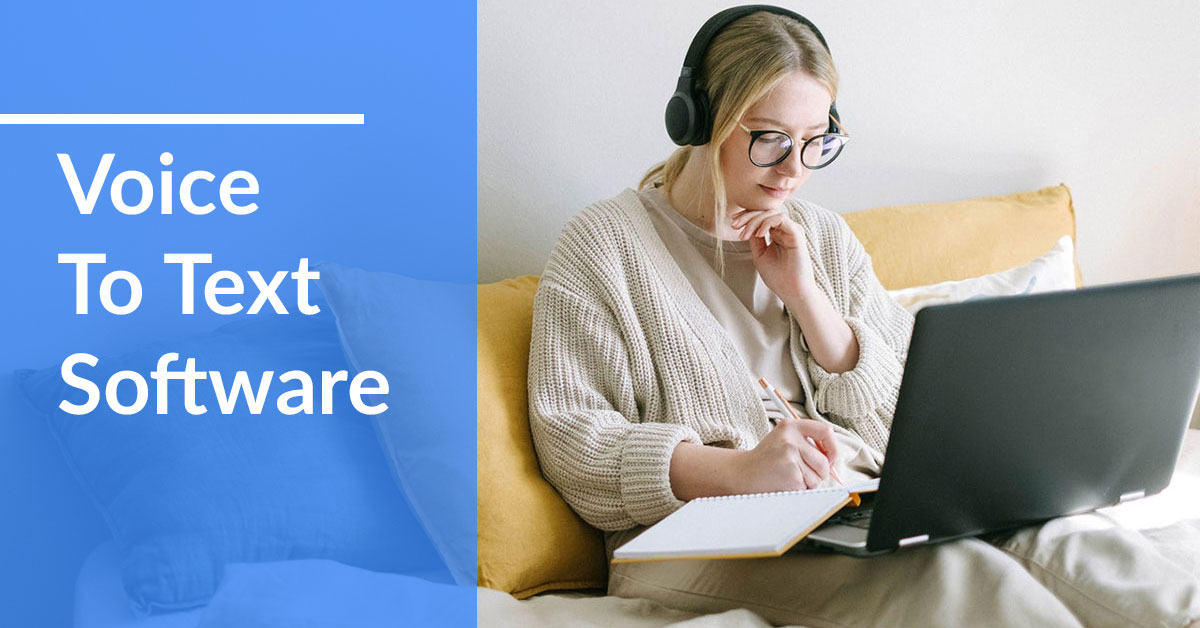 Best Voice to Text Software Table of Contents
What is Voice to Text Software?
Also called speech to text, dictation, or transcription software, voice to text software refers to applications that can translate human speech into a text transcript. Transcriptionists used to do the translation manually by repeatedly replaying recordings and typing what they hear. Speech to text software does away with this manual process, allowing users to upload recordings instead. The software then does the work of converting the recordings into text transcripts.
Voice to text software is commonly used for legal or medical purposes. Legal transcriptionists, for instance, transcribe court proceedings into a written document for archival purposes. However, most industries can find use in these applications. Marketing teams can use the software to add captions to video marketing campaigns. Teachers who conduct online classes can likewise use voice-to-text software to transcribe closed captions or subtitles for their videos.
List of Best Voice to Text Software
These applications used to be limited to desktop deployment, but the development of speech-to-text technology has improved the accessibility of these solutions. Many of these platforms can now be used on mobile devices like smartphones or tablets.
Here are 10 of the best voice to text software available today:
Types of Voice to Text Software
Dictation software—and, on a broader scale, speech recognition software—can be categorized into two distinct types. These types include:
Speaker-dependent – Speaker-dependent software has to be "trained" to adjust to a specific speaker's voice. Upon installation or first use, the user will have to say a series of words or phrases so the software can attune itself to the user's voice. This allows the software to build accuracy in its transcription. Speaker-dependent voice recognition is often used in products meant for individual use and transcription tools for people with disabilities.
Speaker-independent – Meanwhile, speaker-independent software has the capability to recognize anyone's voice. These tools are often used in systems that can facilitate more users. This may come in handy for certain scenarios, but the lack of personalization with these solutions may result in lower accuracy. Speaker-independent software may also prove to be unreliable in understanding regional accents or dialects.
Key Features of Voice to Text Software
Advancements in speech recognition technology ensure that you'll find no shortage of voice to text tools today. These platforms share the following common features:
Accurate transcription – This is the most important feature of voice to text software. These tools can quickly and accurately convert speech into text, no matter what language you're using. The accuracy of these software helps users save time. Advanced dictation tools can also handle the dictation of punctuations, special characters, and other symbols.
Audio recording and playback – Most of these software come with built-in capabilities to capture audio. Many voice to text software also allow users to upload audio files into the system. In some cases, the software has a feature that allows audio playback, as well, to let users spot mispronounced words and re-record audio if needed.
Vocabulary databases – Voice to text platforms also have built-in vocabulary databases; the software typically matches spoken words to a list in the vocabulary database. Many dictation software also let users add words to this database if needed.
Text editor – Most dictation tools also provide text editors. This feature enables users to review transcriptions and make changes if necessary. This comes in handy for transcriptions used in professional settings, like in the medical or legal industries.
Voice commands – Aside from converting speech to text, most dictation software can be also used to execute voice commands on computers. The software often comes with preset commands but you can also add new commands or edit these commands according to your preferences.
Compatibility and integrations – To be truly useful, voice to text software are often designed to be compatible with a wide range of systems and devices. For added convenience, many of these platforms come with companion smartphone apps. These tools may also come with native integrations with third-party apps such as EHR software and productivity software.
Benefits of Voice to Text Software
Voice to text software brings numerous benefits to users, especially in terms of improving productivity and accessibility. These benefits include:
Easier, more accurate transcription
With voice to text software, manual transcription becomes a thing of the past. All users have to do is upload audio recordings to the software, and the tool does all the hard work of transcription. Machine-assisted transcription often offers more accurate transcription, as well.
Reduced typing time
Dictation software drastically cuts down the time you spend on the keyboard. This way, you can spend time on more important tasks. Voice to text software also proves to be especially beneficial to individuals who spend a significant part of their days typing, like writers, professors, and students.
More convenient documentation and note-taking
With voice to text software, you don't have to multitask between listening to your boss and jotting down notes during meetings. Using the platform, you can focus on listening and talking to other team members while the software records conversations. The transcript provided by the software also serves as accurate documentation. This is why many of these tools also directly integrate with communication software.
Improved accessibility
Voice to text software also prove to be invaluable tools for disabled people. Through the software, for instance, individuals with disabilities can easily create documents using their voice. The software, especially those with voice command features, can also assist disabled people with making calls and sending and listening to text messages.
Support for marketing and SEO campaigns
Most voice to text tools can also generate captions or subtitles, a capability that can help boost videos' ranking in SERPs. Through subtitles, you can add keywords to your video, improving its relevance to search queries. Relevance, in turn, is a major ranking factor for Google. Subtitles also serve as searchable content that Google can crawl and index.
Target Audiences of Voice to Text Software
Voice to text software can prove to be useful to many types of users and industries. Here are some industries that can benefit from these tools:
Academia – Professors, students, and other individuals involved in academic research can use these tools to record lectures, interviews, and group discussions. The tools can also speed up data gathering and writing.
Medical – Transcription software is already widely used in the medical industry. For instance, medical professionals use the solution to efficiently record and share patient notes when needed.
Legal – Lawyers and other legal professionals can likewise use audio transcriptions to record important notes on cases and document interviews or witness statements. They can also use these tools to create legal documents more easily.
Journalism – Like legal professionals, journalists accumulate massive amounts of audiovisual information through interviews, press conferences, speeches, and other source material. Through transcription software, journalists can convert the information into text for easier reference.
Corporate – Voice to text software can also prove to be useful in corporate settings, where professionals can dictate notes after meetings or record these meetings themselves for later transcription. The transcripts can then be more easily shared with colleagues or stored for future reference.
Potential Issues with Voice to Text Software
Despite the usefulness of voice to text software, these tools also come with their own set of limitations. Potential issues users may encounter with the software include:
Inaccurate transcriptions or misinterpretation
Even though voice to text software now approaches near-human accuracy, these tools may be unable to achieve completely correct transcriptions in terms of context. This is often due to misinterpretation, as the software may not be able to choose the correct meaning for translated words. For instance, the software may have difficulty distinguishing between homonyms. Older versions of dictation software may also have problems translating slang and technical words.
Recognition of accents and speech irregularities
Voice to text software may also have difficulties deciphering input from users with accents or speech irregularities. If you have an accent, the software may learn to understand your speech over time, but you have to spend time training the software first. Moreover, these tools may struggle with transcribing your speech if you talk too fast or mumble.
Trends in Voice to Text Software
Trends for voice to text software often concern speech recognition technology as a whole. Here are some relevant trends to look forward to in speech to text software and voice recognition technology in general:
Significant improvements in accuracy
Dictation software continuously improves its ability to accurately convert audio to text, with certain services claiming to achieve as much as 99% accuracy. With this level of performance from transcription and voice recognition software, these tools hold great promise in integrating with other technology. More accurate voice to text software, for instance, may benefit smart devices.
Increased use of speech to text tools
A survey by Rev found that speech to text services and software have become a critical part of the workflow for various industries. These software not only help professionals save time and money but also improve content distribution across various channels. According to the survey, the industries of market research and media and entertainment are expected to increase spending on transcription in the next few years.
Important Considerations for Choosing Voice to Text Software
You'll find plenty of voice to text software available today, each with their own features and capabilities. However, not all dictation tools will be suitable for your needs. Here are some considerations to keep in mind as you choose voice to text tools:
Industry-specific needs. Certain industries have requirements that voice to text software must meet. For instance, legal and medical organizations must choose software that offer the utmost security and confidentiality for recorded data. For instance, medical professionals will want to choose speech to text tools that offer HIPAA-compliant security. Medical professionals would do well to choose a dictation software with native support for medical terminologies as well.
Mobile compatibility. A mobile app for dictation provides greater convenience compared to desktop voice to text apps. Mobile dictation software allows users to take notes even when they're away from their computers. Such voice to text software may come in handy for businesses with highly mobile workforces.
Tips on Using Voice to Text Software
Voice to text software can have a bit of a learning curve, and many of these tools won't get the transcription right the first time. Here are some tips that can help you maximize usage of speech to text software and train it on your unique speech patterns:
Plan. Create a clear, defined outline of what you want to record so you can dictate at a steady, continuous pace. Make sure the outline includes key points and information you can refer to.
Don't forget to enunciate. Speak clearly and evenly, and make sure to properly enunciate each word. This way, the software can easily decipher your speech.
Use short but complete sentences. Many speech to text software aren't designed to process lengthy sentences. Using short sentences helps the software transcribe speech more accurately. Keep in mind that you have to speak all punctuation as well.
Spell out technical terms. In some cases, you'll want to spell out technical terms to avoid errors in the text transcription. However, advanced voice to text software often have built-in capabilities to support industry-specific terms, such as medical jargon.