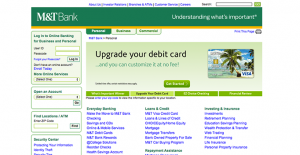 M&T Bank was established in 1856 as Manufacturers and Traders Bank. Today, it is M&T Bank Corporation, one of the 20 largest US headquartered commercial bank holding companies, with assets of $83.2 billion (as of June 30, 2013) and more than 725 branches, free account access at over 1,500 M&T Bank ATMs and more than 15,000 employees. M&T offers a wide range of financial solutions for your personal, business and commercial banking needs.
How is the lender different?
M&T Bank offers web, telephone and mobile banking services. Its service is fast, easy and secure, and you can bank from your home, office or anywhere else, anytime. This bank offers a full suite of bank accounts and lending solutions including savings accounts, checking accounts, auto and home loans. Customers can get help regarding their banking, investment, and insurance needs, as well as long-term financial concerns and goals.
How to open an account?
To open an account, visit your nearest M&T Branch or contact the M&T telephone banking center at 1-800-724-3222.
Lender Details
Most recurring positive comments
Customer support is helpful and friendly
Knowledgeable and professional bankers
Most recurring negative comments
Customer service could be improved
Getting loan approval is a hassle
Website: www.mtb.com
Loan amount:
Auto loan – minimum amount is $2,000
Personal unsecured loan – $2,000 to $25,000
Personal secured loan – $2,000 to $100,000
Loan Period:
Auto loan – terms up to 72 months
Personal unsecured loan – terms up to 60 months
Personal secured loan – terms up to 120 months
APR: Interest rate depends on your state of residency, interest rate type, loan type and amount.
Areas being served: M&T Bank has over 725 branches located throughout New York, Pennsylvania, Maryland, Washington, D.C., Virginia, West Virginia, Florida, Delaware and Toronto, Canada.
Personal information required
Basic personal and financial information
Valid U.S Social Security number
Income  and employment information
Assets and liabilities
Valid email address
Contact details
Phone: 1-800-724-2440
Email: Fill a contact form at mtb.com
Office address: One M&T Plaza, Buffalo, New York, United States