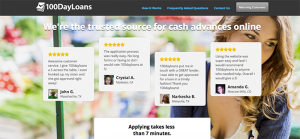 100DayLoans provides a free loan matching service to help Americans tackle financial emergencies. This broker offers real-time access to lenders who can give you a loan even if you have a bad credit history. The maximum loan amount you can get is $1,000.
100DayLoans says it helps its customers get the best available short-term credit product for their needs. You can reach hundreds of lenders with your application. The online application process is simple:
Step one: Apply on the broker's website using a secure application
Step two: Get matched to a lender who is willing to provide you a loan
Step three: Finalize the loan with the lender and get the funds overnight
You can choose to accept or reject the loan offer. If you accept the loan, work with the lender to ensure the repayment process is always on track. The 100 days in the company's title is not a typical repayment period. Consumers can expect the repayment period to be much shorter.
How is the lender different?
100DayLoans.com is not a lender. It  offers a service that submits the information customers provide to lenders to match them with a willing lender. Those with less than perfect credit can benefit as these lenders look beyond an individual's credit score at factors like finances, time of employment and income. 100DayLoans says because of its lenders' flexibility it is able to get loans for customers who have bad credit, no credit or work-in-progress credit.
The 100DayLoans matching service takes only a few minutes. The broker says it has helped more than one million Americans stay on top of their budgets since 2009.
How to apply for a loan?
Visit 100daysloan.com and apply online to get a quick response.
Lender Details
Most recurring positive comments
Customer service is awesome
Application process is really easy
It is a great service to cover short-term costs
Most recurring negative comments
There are some complaints about data security on 100dayloans.com
Website: www.100dayloans.com
Loan amount: Up to $1,000
Loan Period: Certain lenders offer up to 100 days to repay a loan. But a 100-day repayment period is not typical. In most cases, you can expect a much shorter repayment period. Please confirm the loan repayment period with your lender before finalizing the loan.
APR: 100DayLoans is a loan matching service that works with hundreds of lenders. Therefore, it only provides interest rate ranges and general loan terms. You should ask your lender to provide specific interest rates and terms for your loan. Please review the agreement carefully before signing up for the loan.
Personal information required
Basic personal and financial information
Loan amount required
Home address
Phone number
Email address
Date of birth
Social Security Number
Driver's License or State ID #
Employment details
Contact details
Phone: 1 (877) 817-8792
Email: [email protected]
Office address: 7302 East Helm Drive, Suite 2005, Scottsdale, AZ 85260