People demand so much from their smartphones yet most of them are not that willing to shell out humungous amounts of money for just one device (think Apple iPhone 6). The good news is that there are phones out there that come with all the basic goodies and high end features, perform well beyond expectations, and are priced competitively.
And you can count the Motorola Moto X and the Google Nexus 5 among such gadgets. They can deliver the goods while not busting your wallet at the same time. Observers, testers, and first hand users say that both phones do share a lot of things in common. But there are some differences that exist between these modern and edgy smartphones, no matter how similar they may seem.
So who would win a straight up, no-fuss beatdown? Read on and find out.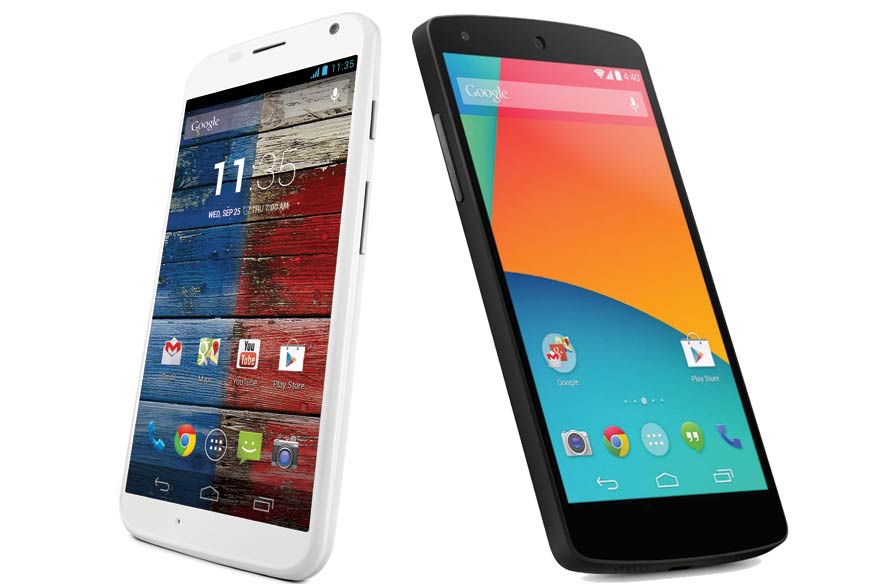 Size
Moto X is bigger, wider and thicker compared to the Nexus 5. Motorola's flagship is 141 mm long, 72 mm wide, and 9.9 mm thick. In contrast, Google's smartphone measures 138mm long, 69 mm wide, and 8.6 mm thick. Now, some people like it big while others prefer their smartphones to be just right. This one is a toss up, and the choice is pretty much up to the user's fancy and tastes.
Verdict: Even
Weight
With the Moto X being the bigger phone, it is only logical to think that it will come out as the heavier device than the Nexus 5. Weighing 130 grams, the Nexus 5 is 10% lighter than the Moto X, which registers a 144 grams at the scale. Most people look for something lightweight, so this round goes to Nexus 5.
Verdict: Nexus 5

Display
So which is better? The Moto X employs a 5.2" Super AMOLED panel with Active Display. On the other hand, you get a 4.95" 1920×1080 True HD IPS+ capacitive touchscreen from the Nexus 5. The Moto X's Active Display allows users to check notifications on their phones without draining battery life. With Nexus' smaller screen, the phone can display 5% more pixels per inch compared to the Moto X. Both phones' displays are protected by Corning Gorilla Glass 3
Winner: Moto X
Processor
Both phones come with a Snapdragon Quad-Core processor, making them fast smartphones when it comes to internal processing. But Moto X has the latest 801 unit while the Nexus 5 is fitted with the 800. Moto X has a slightly faster clockspeed at 2.5gHz compared to the Nexus 5, which runs at 2.3gHz.
Winner: Moto X
Storage
Both phones have 16GB and 32GB variants with 2GB RAM. The bad news is that neither device offers expandable memory slots. This is a huge flaw in these otherwise great devices.
Winner: Neither
Cameras
Both the Moto X and the Nexus 5 have a main (rear) and a secondary (front) camera. However, Moto X easily takes the lead as it has a 13MP main shooter and a 2MP secondary camera. It also carries advance features inlcuding autofocus, dual-LED flash, Geo-tagging, touch focus, face detection, panorama, and HDR. Nexus 5 may fall a bit short with its 8MP main camera and 1.3 shooter at the front, but this device also offers excellent options for autofocus, optical image stabilization, LED flash, and check quality.
Winner: Moto X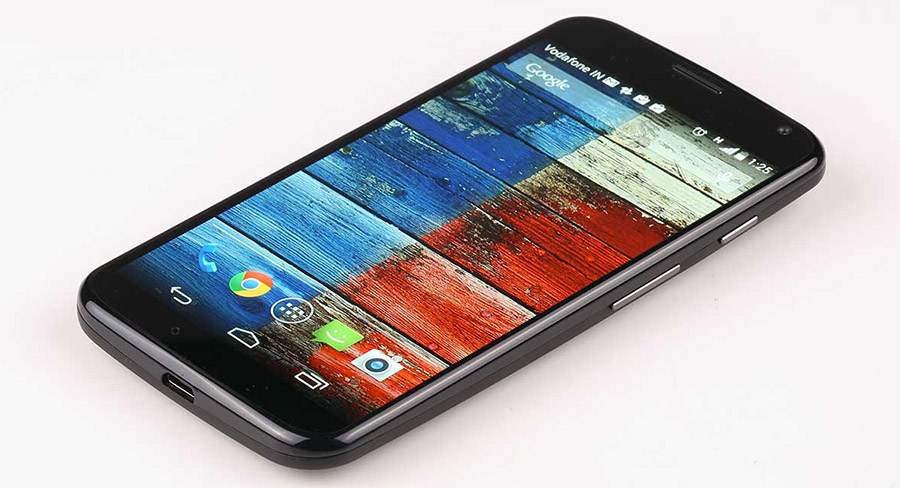 Battery
Moto X gets its juice from a 2300 mAh lithium ion battery pack, while the Nexus is powered by a non-removable 2300 mAh lithium polymer battery. There are no details as to the Moto X's battery life while the Nexus 5 has a standby time of 300 hours and talktime of 17 hours.
Winner: Nexus 5, for now
Others
The Moto X comes in a myriad of color options as well as builds (plastic, leather, and wood). Nexus 5 only comes in a plastic case with three available colors to choose from. While not entirely waterproof, the Moto X can take some spills and splashes. Special care and attention should be applied to the Nexus 5, which is significantly not water resistant.
Conclusion
Moto X beats Nexus 5 easily. But to be fair, the 1-year old Nexus 5 is pitted against a recently launched gadget. Give Google time and they will surely develop something that will get everyone's attention. But for now, pick the Moto X if you are pressed to choose between the two. You'll be better off.