The Apple iPad Air is a top iOS tablet, while the Samsung Galaxy Tab S is right up there among Android devices. If you are wondering which one is better, you have come to the right place. We compare both high-end tablets to see which one stacks more useful features, and provides better value for money. The models compared are the Apple iPad Air 64 GB and the Samsung Galaxy Tab S 10.5.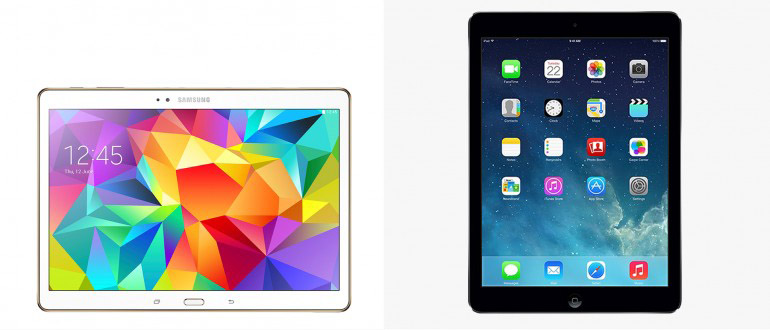 Portability and Design
Both tablets are slim and score high on portability. Both devices weigh less than 500 grams, which means you can operate them single-handed. The iPad Air has a stylish metallic finish that does not scratch easily, while the Galaxy Tab S is made of soft-touch perforated plastic.
Top Features
The Apple iPad Air runs on iOS 7, while the Galaxy Tab S uses Google's Android KitKat 4.4. The Apple tablet has a simple and clean display, while the Samsung device's display looks dense as it is packed with apps and features.
The iPad Air is a simple gadget that provides fast access to media and your apps. One drawback is the compulsion to use iTunes to copy music and movies to the tablet, which can be difficult for a beginner.
Samsung provides more customization options on the Galaxy Tab S allowing you to include widgets to your desktops. But this tab has apps like Magazine UI that provides news headlines, but cannot be removed if you do not wish to have it. The Galaxy Tab S offers an infra-red sensor that can be used to fiddle with your television.
Both tablets come with front and rear cameras, enabling you to take pics and film videos.
Movies & Display
The Samsung tab has a screen resolution of 2560 x 1600 pixels providing 287 pixels-per-inch (ppi) which is slightly sharper than the iPad Air's 264 ppi. Both devices present crystal clear HD visuals.
The Galaxy Tab S' widescreen aspect ratio is wonderful for movie watching. The iPad Air presents a square design that is compensated by black borders below and above the picture.
Both tabs offer gorgeous images thanks to their great screen quality. The iPad Air offers realistic tones, while the Galaxy Tab S displays vibrant rich colors.
If you have a huge media collection, you can use the iPad Air 128 GB model. On the Galaxy Tab S, you can increase storage by using a microSD card.
Games
The iPad Air offers a great range of entertaining games through the Apple App Store. Both tablets run on powerful processors that make it a pleasure to play the latest graphics-rich games without struggle.
Productivity and Security
The iPad Air's top notch design software makes it a breeze to browse the web and work on complex files and documents. Samsung scores with its multi-tasking element that allows you to use two apps simultaneously. So, you can chat as well as take notes in EverNote at the same time.
Samsung also offers pre-loaded communication and sharing apps like Remote PC and Side-Sync that let you access other gadgets and continue working on documents that you created somewhere else. Samsung also offers a fingerprint scanner that helps you keep your tablet locked and your data safe from prying eyes.
Apple also provides excellent security features that enable remote wiping and strict control over data.
Battery life
Both tablets offer about 10 hours of non-stop video playing on a single charge.
Price
The Apple iPad Air range of tablets starts from $499, while the Samsung Galaxy Tab S 10.5" 16 GB device retails at $499.99.
Conclusion
To sum up, the Galaxy Tab S is ideal for entertainment and watching movies, while the iPad Air is better for office work and gaming.