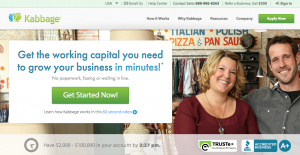 Kabbage.com is a leading online provider of small business loans. It offers the security of working capital and you can draw against your line of credit as often as once a day. Kabbage says it approves small business loans by looking at real-life data, not just the credit score.
To apply and qualify for a loan, you simple need to link the online services used by your business. There is no need for paperwork and you don't have to wait in line to get the loan. Kabbage's loans have been availed by more than 100,000 small business owners and the lender has funded more than $550 million.
Kabbage is A+ rated by the Better Business Bureau. All Kabbage business loans are made by Celtic Bank, a Utah-Chartered Industrial Bank, Member FDIC.
Who is Eligible?
Kabbage supports eligible small businesses. All you need is a valid business checking account and/or a PayPal account to apply. You can also link data sources such as your eBay, Amazon, UPS, Intuit QuickBooks, Stripe, Authorize.Net and many others to your account to potentially raise your eligible cash amount.
How is the lender different?
Kabbage is 100% online and automated. You simply need to link existing business accounts to get started.  It takes just minutes to apply. Kabbage takes instant decisions based on real-time business data. You can borrow as much as you want, when you want. Plus, a dedicated local Kabbage team offers live, personalized service on all seven days of the week. Kabbage also offers perks as it has signed up with big brands to provide exclusive deals to its customers.
How much are the rates?
Kabbage uses a straightforward cost structure. It doesn't charge any interest. Instead, loan fees are assessed. Fees are 1% – 13.5% of your selected loan amount the first 2 months and 1% for each of the remaining 4 months. Every month, for six months, you pay back 1/6th of the total loan amount plus the monthly fee. There are no early payment fees. In fact, early payoff will shorten the length of your loans and save you on future fees.
How to apply for a loan?
Kabbage has made it simple and fast. Simply click the Apply button on Kabbage.com, create an account, and choose how you would like to qualify. You can qualify utilizing your business checking account data and / or any of Kabbage's other supported data channels such as Intuit QuickBooks, eBay, Amazon, Authorize.Net, PayPal, and more. The signup and qualification process takes only minutes. Once qualified, you will have instant access to funds.
LENDER DETAILS
Most recurring positive comments
Fast approval
Offers great
You can borrow the amount you are comfortable with
Most recurring negative comment
Website: www.Kabbage.com
Loan amount: Kabbage provides loans from $2,000 to $100,000.
Loan Period: Six months
Areas being served: Kabbage is currently available in the U.S. and U.K.
Contact details:
Phone: 888-986-8263
Email: [email protected]
Office address: Kabbage, 730 Peachtree Street, Suite 350, Atlanta, GA 30308