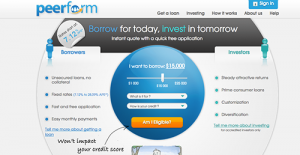 Peerform is a leading marketplace lender that provides personal loans with lower rates through an easy and fast online process. Borrowers can access Peerform's lending platform through desktop and mobile interfaces. The lender uses advanced technology to provide a good experience to its customers without middlemen and hidden fees.
Peerform is a marketplace lending platform that connects borrowers with investors. The company was founded by experienced Wall Street executives in 2010. You can borrow loans ranging from $1,000 and $25,000 from Peerform. All loans are originated by Cross River Bank, a New Jersey state chartered commercial bank.
Eligibility Criteria
Peerform's algorithm takes into account many factors so that it can offer the best possible APR and service a large customer base. The algorithm declines applications with a credit score below 600. You need not be employed to qualify. However, you do need to have a verifiable current source of income.
How is the lender different?
Peerform has a fast process and you can get an offer in two minutes on its website with no effect on your credit score. The loan amount is directly deposited in your account within a few days. APRs start at 7.12%. You can pay on time by automatic payment and build your credit.
There are no prepayment penalties. Peerform says that since it is not a bank, it does not incur the overhead costs associated with formal lending institutions. It passes on these savings to its borrowing and lending clients in a transparent way. Peerform states that its approach excludes hidden fees and out-of-the-blue charges.
How much are the rates?
APR ranges from 7.12% to 28.09%.
How to apply for a loan?
Visit Peerform.com and provide the amount you need, what it is for and your credit score. You will get an instant quote for free. Peerform will review your financial profile and offer you a selection of personal loan alternatives to choose from.
LENDER DETAILS
Most recurring positive comments
Quick and easy service
They deposit money much faster than Prosper or Lending
Monthly payments are low
Most recurring negative comments
It is a hassle to provide payslip details
Uploading the required documents is tedious
Website: www.Peerform.com
Loan amount: From $1,000 and $25,000
Loan Period: All loans are for a three-year period (36 fixed monthly payments).
APR: APR ranges from 7.12% to 28.09%
Areas being served: Peerform loans are available to residents of Alaska, Alabama, Arizona, California, Connecticut, Florida, Georgia, Hawaii, Illinois, Louisiana, Massachusetts, Maryland, Michigan, Minnesota, Missouri, North Carolina, New Hampshire, Nevada, New York, Ohio, Oregon, Tennessee, Texas, Virginia, Washington, and Wisconsin.
Fees and charges
Origination Fee
The origination fee is charged when a loan is issued and is determined by the Peerform Grade of the loan. The origination fee is included in the APRate calculation and is subtracted from the loan proceeds prior to disbursement.
For example, the final amount credited to the borrower's bank account for a $5,000 loan with a 2.0% origination fee of $100.00 will be $4,900.00. There are no application fees, and the origination fee is charged only if the loan is issued.
Unsuccessful Payment Fee
The unsuccessful payment fee is either $15 per unsuccessful attempt or a lesser amount as determined by applicable state laws.
Late Fee
The late payment fee is charged when a payment is more than 15 days late. The fee is 5.00% of the monthly payment amount, subject to a minimum fee of $15. The late payment fee is charged only once per each late payment period.
Check Processing Fee
The check processing fee is $15 per each payment.
Collection Fee
The collection fee is charged if Peerform has to use a third-party service to obtain any outstanding payments. The amount of the fee will vary.
Service Charge
The service charge is a fee paid by an investor to have Peerform service and maintain a loan. The service charge is 1.00% of the total monthly amount paid by the borrower.
Personal information required
Basic personal and financial data
Identity proof
Credit score
Bank account
Phone number
Email address
Income
Contact details
Phone: 1-800-338-8049
Email:
Office address: 369 Lexington Avenue, 28th floor, New York, NY 10017