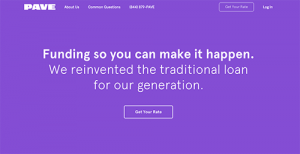 Pave.com is an online lender that offers loans up to $25,000 with rates starting at 6%, payable over 2-3 years. Pave says it looks at hundreds of factors to decide a customer's potential to succeed. It does not charge for early repayment.
Pave offers personalized loans in a flexible and transparent manner. The loans have flexible start dates. This lender makes it simple and quick to apply for a loan. Pave is based in New York City. It offers affordable rates and the lender says they look beyond a customer's credit score to gauge his/her potential for education, career, and of course repayment. All of Pave's loans are made by Cross River Bank, a federally insured, New Jersey commercial bank.
Eligibility Criteria
You must be a U.S. Citizen
You must be at least 18 years of age
You must have a U.S. bank account
You must have a credit score of 660 or higher.
You must have an income, job offer, or you're planning on attending a course
How is the lender different?
Pave's loans are targeted at young professionals and talented individuals who can borrow funding at affordable rates. Unlike credit cards' variable rates, Pave's loans have a fixed repayment term. This ensures that on funding day 1 you'll know your exact monthly payment schedule for the term of the loan.
Pave says it is able to offer low rates because it personalizes its approach to underwriting and takes a holistic view of each borrower's unique situation. Pave reviews an individual's credit score and history, as well as additional factors like use of funds, education, employment history, current employment and future earning potential. This helps the lender determine how financially responsible a customer can be, and offer him/her the lowest possible rate.
How much are the rates?
Rates starting at 6%, payable over 2-3 years
How to apply for a loan?
To get your personalized rate for a loan, sign up on Pave.com.
Lender Details
Most recurring positive comments:
Very fair rate and upfront fee
Excellent followup and service
Most recurring negative comment
Website: www.pave.com
Loan amount: You can borrow a minimum of $3,000 up to a maximum of $25,000.
Loan Period: 2-3 years, Pave currently does not offer loans with longer tenures.
APR: Rates start at 6%.
Areas being served: Pave currently does not offer loans in the following states: Arizona, Connecticut, District of Columbia, Maine, Massachusetts, Nebraska, Nevada, New Jersey, North Carolina, North Dakota, Oregon, Pennsylvania, Tennessee, Vermont, Wisconsin and Wyoming.
Fees and charges
If a customer fails to make his/her monthly payment within 15 days of the due date, Pave may charge a late fee (equal to the greater of 5% of past due amount or $15).
How to apply for a loan
Sign up at Pave.com and check out your personalized rate to get started.
Verification documents required
Identity Verification
Proof of your identity (clear photo)
Proof of your citizenship (either a valid passport, or a combination of your driver's license + birth certificate)
Employment/Income Verification
Your most recent paystub showing: the pay period, your salary, your employer's name
If you have bonuses or commission that are not reflected in your paystub, please provide an offer letter that lists your target bonus
or
Your most recent income tax return showing your sources of income.
Asset Verification
Bank statements for your liquid assets. This usually refers to bank accounts – checking, savings, retirement or investment accounts.
(Pave doesn't accept mortgages, land titles or appraisals as proof of liquid assets).
If you are using your Pave loan for a course:
A copy of your admission letter showing your full name and start date
Contact details
Phone: (844) 879-PAVE
Email: [email protected]
Office address: 200 Varick Street, New York, NY 10014